One thing we're looking forward to this season is all the summer reads! We've found some your book club's sure to love regardless of which genres they like. Captivating characters, sensational stories and amazing authors round out this list. Trust us: your summer is going to be booked with these book club picks!
The Lost Apothecary by Sarah Penner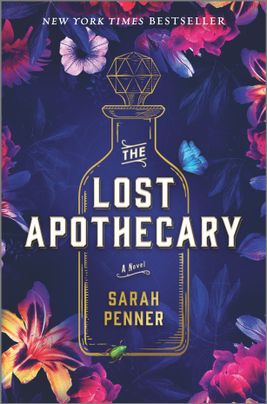 INSTANT NEW YORK TIMES BESTSELLER
"A bold, edgy, accomplished debut!" —Kate Quinn, New York Times bestselling author of The Alice Network and The Huntress
A forgotten history. A secret network of women. A legacy of poison and revenge. Welcome to The Lost Apothecary…
Hidden in the depths of eighteenth-century London, a secret apothecary shop caters to an unusual kind of clientele. Women across the city whisper of a mysterious figure named Nella who sells well-disguised poisons to use against the oppressive men in their lives. But the apothecary's fate is jeopardized when her newest patron, a precocious twelve-year-old, makes a fatal mistake, sparking a string of consequences that echo through the centuries.
Meanwhile in present-day London, aspiring historian Caroline Parcewell spends her tenth wedding anniversary alone, running from her own demons. When she stumbles upon a clue to the unsolved apothecary murders that haunted London two hundred years ago, her life collides with the apothecary's in a stunning twist of fate—and not everyone will survive.
With crackling suspense, unforgettable characters and searing insight, The Lost Apothecary is a subversive and intoxicating debut novel of secrets, vengeance and the remarkable ways women can save each other despite the barrier of time.
Available at:
Amazon | Barnes & Noble | Google Play | Kobo | Apple Books | Indiebound | Indigo | Audible | Goodreads
The Secret Keeper of Jaipur by Alka Joshi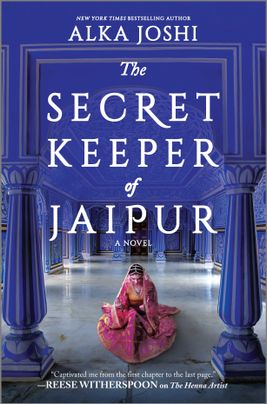 A NEW NOVEL BY THE AUTHOR OF THE HENNA ARTIST, A REESE'S BOOK CLUB PICK
In New York Times bestselling author Alka Joshi's intriguing new novel, henna artist Lakshmi arranges for her protégé, Malik, to intern at the Jaipur Palace in this tale rich in character, atmosphere, and lavish storytelling.
It's the spring of 1969, and Lakshmi, now married to Dr. Jay Kumar, directs the Healing Garden in Shimla. Malik has finished his private school education. At twenty, he has just met a young woman named Nimmi when he leaves to apprentice at the Facilities Office of the Jaipur Royal Palace. Their latest project: a state-of-the-art cinema.
Malik soon finds that not much has changed as he navigates the Pink City of his childhood. Power and money still move seamlessly among the wealthy class, and favors flow from Jaipur's Royal Palace, but only if certain secrets remain buried. When the cinema's balcony tragically collapses on opening night, blame is placed where it is convenient. But Malik suspects something far darker and sets out to uncover the truth. As a former street child, he always knew to keep his own counsel; it's a lesson that will serve him as he untangles a web of lies.
Available at:
Amazon | Barnes & Noble | Google Play | Kobo | Apple Books | Indiebound | Indigo | Audible | Goodreads
Honey Girl by Morgan Rogers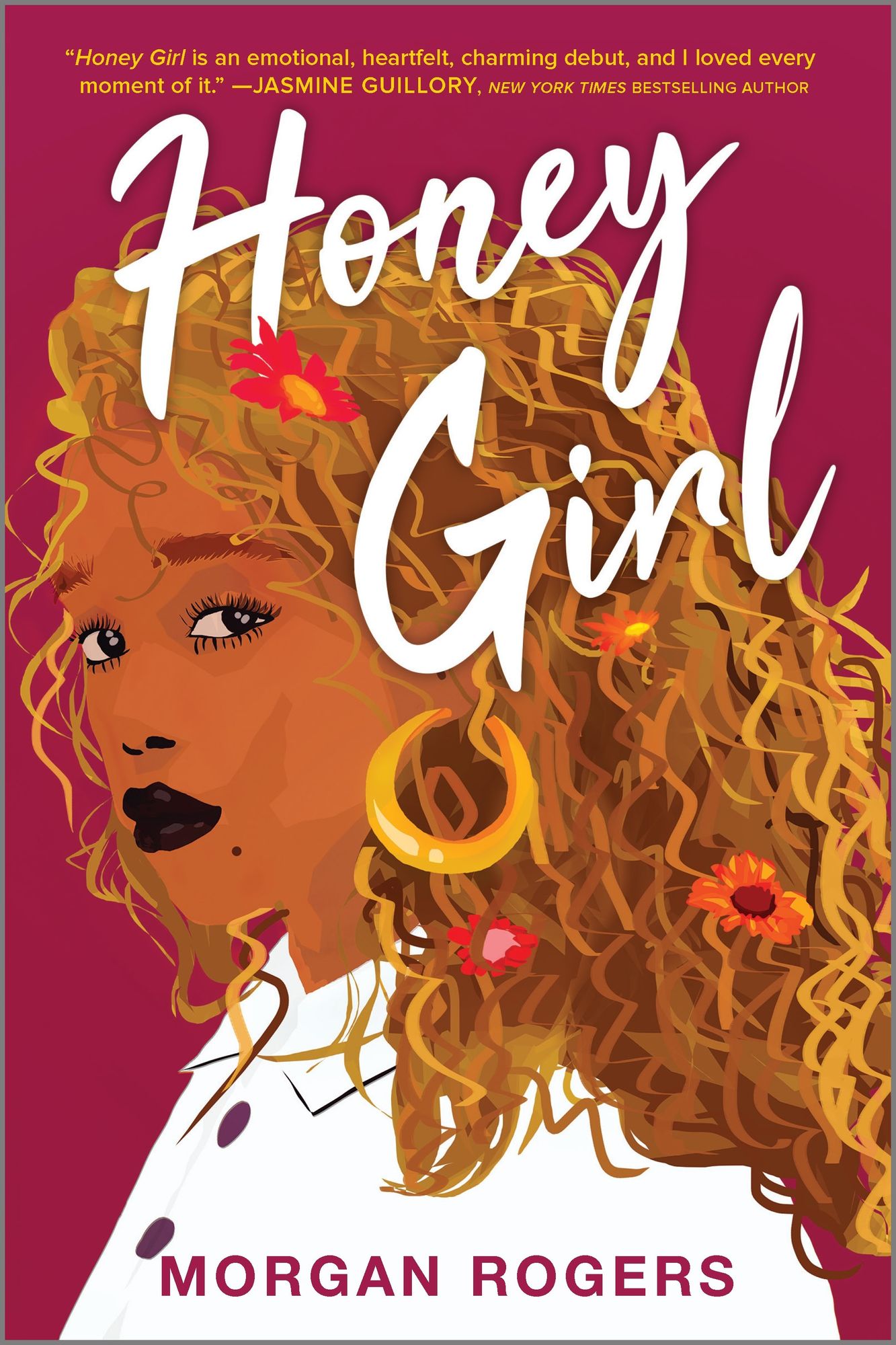 With her newly completed PhD in astronomy in hand, twenty-eight-year-old Grace Porter goes on a girls' trip to Vegas to celebrate. She's a straight A, work-through-the-summer certified high achiever. She is not the kind of person who goes to Vegas and gets drunkenly married to a woman whose name she doesn't know…until she does exactly that.
This one moment of departure from her stern ex-military father's plans for her life has Grace wondering why she doesn't feel more fulfilled from completing her degree. Staggering under the weight of her parent's expectations, a struggling job market and feelings of burnout, Grace flees her home in Portland for a summer in New York with the wife she barely knows.
In New York, she's able to ignore all the constant questions about her future plans and falls hard for her creative and beautiful wife, Yuki Yamamoto. But when reality comes crashing in, Grace must face what she's been running from all along—the fears that make us human, the family scars that need to heal and the longing for connection, especially when navigating the messiness of adulthood.
Available at:
Amazon | Barnes & Noble | Google Play | Kobo | Apple Books | Indiebound | Indigo | Audible | Goodreads
Lady Sunshine by Amy Mason Doan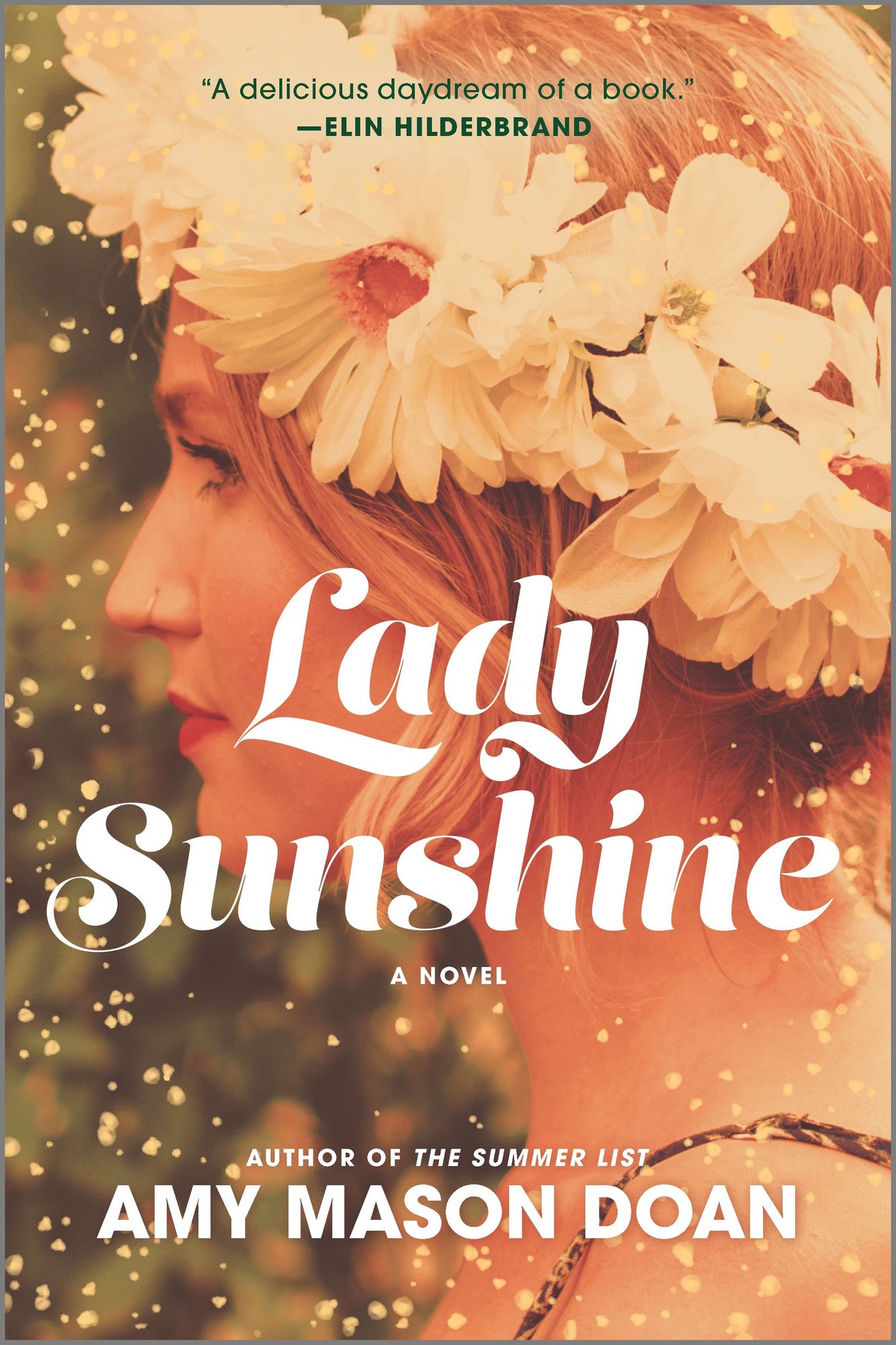 "Fans of Crossing California and Daisy Jones and the Six will be enamored with the world of Lady Sunshine." —Booklist
ONE ICONIC FAMILY. ONE SUMMER OF SECRETS. THE DAZZLING SPIRIT OF 1970S CALIFORNIA.
For Jackie Pierce, everything changed the summer of 1979, when she spent three months of infinite freedom at her bohemian uncle's sprawling estate on the California coast. As musicians, artists, and free spirits gathered at The Sandcastle for the season in pursuit of inspiration and communal living, Jackie and her cousin Willa fell into a fast friendship, testing their limits along the rocky beach and in the wild woods… until the summer abruptly ended in tragedy, and Willa silently slipped away into the night.
Twenty years later, Jackie unexpectedly inherits The Sandcastle and returns to the iconic estate for a short visit to ready it for sale. But she reluctantly extends her stay when she learns that, before her death, her estranged aunt had promised an up-and-coming producer he could record a tribute album to her late uncle at the property's studio. As her musical guests bring the place to life again with their sun-drenched beach days and late-night bonfires, Jackie begins to notice startling parallels to that summer long ago. And when a piece of the past resurfaces and sparks new questions about Willa's disappearance, Jackie must discover if the dark secret she's kept ever since is even the truth at all.
Available at:
Amazon | Barnes & Noble | Google Play | Kobo | Apple Books | Indiebound | Indigo | Audible | Goodreads
Summertime Guests by Wendy Francis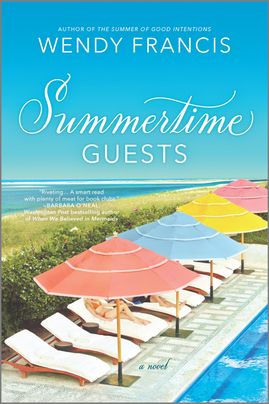 The Seafarer is the place to see and be seen in the summer…
With its rich history and famous guests, the glamorous Boston hotel is no stranger to drama. But the bustle at the iconic property reaches new heights one weekend in mid-June when someone falls tragically to her death, the event rippling through the lives of four very different people.
Bride-to-be Riley is at the hotel to plan her wedding. She would have preferred a smaller, more intimate celebration, but her bossy mother-in-law has taken charge and her fiancé hasn't seemed to notice. Jean-Paul, the hotel's manager, is struggling to keep his marriage and new family afloat, but now he must devote all his energy to this latest scandal at work. Claire, recently widowed, comes to town to connect with a long-lost love, but has too much changed in the last thirty years? And then there's Jason, whose romantic getaway with his girlfriend has not exactly gone the way he'd hoped and instead has him facing questions he can't bring himself to answer.
Over three sun-drenched days, as the truth about the woman who died—and the secret she was hiding—is uncovered, these four strangers become linked in the most unexpected of ways. Together, they just might find the strength they need to turn their own lives around.
Available at:
Amazon | Barnes & Noble | Google Play | Kobo | Apple Books | Indiebound | Indigo | Audible | Goodreads
Saving Ruby King by Catherine Adel West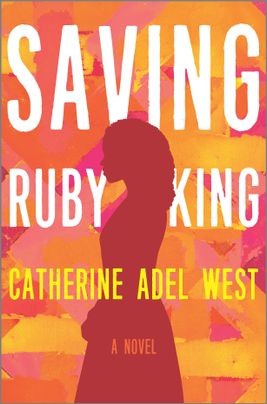 Named a Most Anticipated Book of 2020 by The Every Girl, PureWow, Book Riot, Library Journal and more.
"Forever and to the end. That's what they say instead of I love you."
When Ruby King's mother is found murdered in their home in Chicago's South Side, the police dismiss it as another act of violence in a black neighborhood. But for Ruby, it's a devastating loss that leaves her on her own with her violent father. While she receives many condolences, her best friend, Layla, is the only one who understands how this puts Ruby in jeopardy.
Their closeness is tested when Layla's father, the pastor of their church, demands that Layla stay away. But what is the price for turning a blind eye? In a relentless quest to save Ruby, Layla uncovers the murky loyalties and dangerous secrets that have bound their families together for generations. Only by facing this legacy of trauma head-on will Ruby be able to break free.
An unforgettable debut novel, Saving Ruby King is a powerful testament that history doesn't determine the present and the bonds of friendship can forever shape the future.
Available at:
Amazon | Barnes & Noble | Google Play | Kobo | Apple Books | Indiebound | Indigo | Audible | Goodreads
The Vineyard at Painted Moon by Susan Mallery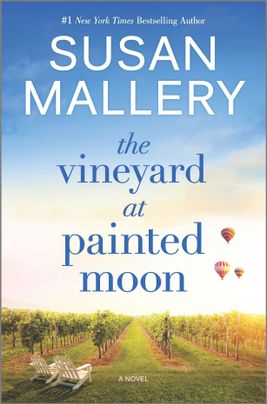 Step into the vineyard with Susan Mallery's most irresistible novel yet, as one woman searches for the perfect blend of love, family and wine.

Mackenzie Dienes seems to have it all—a beautiful home, close friends and a successful career as an elite winemaker with the family winery. There's just one problem—it's not her family, it's her husband's. In fact, everything in her life is tied to him—his mother is the closest thing to a mom that she's ever had, their home is on the family compound, his sister is her best friend. So when she and her husband admit their marriage is over, her pain goes beyond heartbreak. She's on the brink of losing everything. Her job, her home, her friends and, worst of all, her family.
Staying is an option. She can continue to work at the winery, be friends with her mother-in-law, hug her nieces and nephews—but as an employee, nothing more. Or she can surrender every piece of her heart in order to build a legacy of her own. If she can dare to let go of the life she thought she wanted, she might discover something even more beautiful waiting for her beneath a painted moon.
Available at:
Amazon | Barnes & Noble | Google Play | Kobo | Apple Books | Indiebound | Indigo | Audible | Goodreads
What books do you think your book club will be reading this summer? Let us know in the comments below. And don't forget to check out all of our must-read summer picks for some more recommendations!