We're continuing our historical fiction streak this month, with a book everyone's been buzzing about—The Woman with the Blue Star by Pam Jenoff. From the New York Times bestselling author of The Lost Girls of Paris, set in 1942 during World War II, this month's read reminds us about the power of friendship.
ARE YOU READING ALONG WITH US THIS MONTH?
RSVP TO OUR FACEBOOK EVENT PAGE TO PARTICIPATE IN A LIVE CHAT WITH THE AUTHOR ON TUESDAY, JUNE 22 AT 1:00 P.M. EST TO GET ALL YOUR QUESTIONS ANSWERED! CAN'T MAKE IT TO THE LIVE? NO PROBLEM! LEAVE A COMMENT BELOW WITH YOUR QUESTIONS FOR PAM JENOFF.
And, as always, don't forget to join in on the conversation all month long on social by using the hashtag #ReadWithBookClubbish.
JUNE 2021 READ WITH BOOKCLUBBISH PICK: THE WOMAN WITH THE BLUE STAR BY PAM JENOFF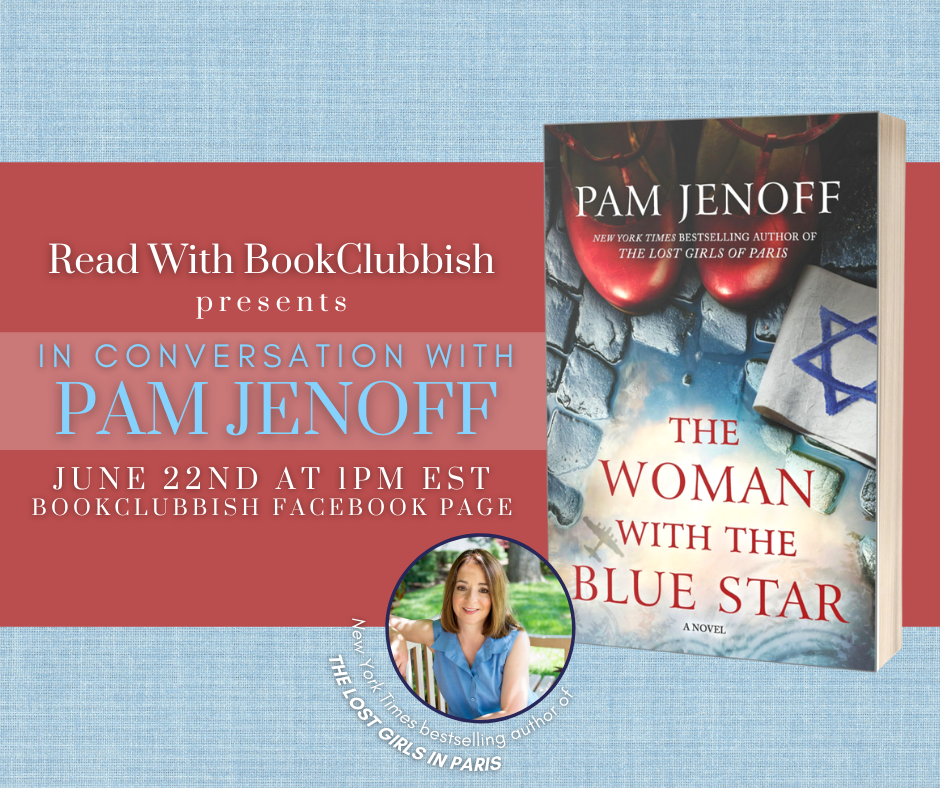 From the New York Times bestselling author of The Lost Girls of Paris comes arriveting tale of courage and unlikely friendship during World War II.
"This emotional novel is filled with twists, turns, and displays of bravery and love that you will never forget, culminating in an ending that manages to be both surprising and uplifting." —Lisa Scottoline, #1 New York Times bestselling author of Eternal
1942. Sadie Gault is eighteen and living with her parents in the Kraków Ghetto during World War II. When the Nazis liquidate the ghetto, Sadie and her pregnant mother are forced to seek refuge in the perilous tunnels beneath the city. One day Sadie looks up through a grate and sees a girl about her own age buying flowers.
Ella Stepanek is an affluent Polish girl living a life of relative ease with her stepmother, who has developed close alliances with the occupying Germans. While on an errand in the market, she catches a glimpse of something moving beneath a grate in the street. Upon closer inspection, she realizes it's a girl hiding.
Ella begins to aid Sadie and the two become close, but as the dangers of the war worsen, their lives are set on a collision course that will test them in the face of overwhelming odds. Inspired by incredible true stories, The Woman with the Blue Star is an unforgettable testament to the power of friendship and the extraordinary strength of the human will to survive.
Pick up your copy at:
Amazon | Barnes & Noble | Google Play | Kobo | Apple Books | Indiebound | Indigo | Audible | Goodreads
DISCUSSION QUESTIONS
Who did you identify with more, Sadie or Ella? Why?
Why do you think Sadie and Ella were drawn to one another so powerfully?
What parallels can you draw between Sadie's and Ella's lives and the very unique time we are living in today?
Sadie and Ella were both shaken from their lives from the war and thrust into new experiences that changed and challenged them. Can you describe a similar time in your own life?
Do you agree with Sadie's choices? Ella's? Why or why not? What, if anything, would you have done differently?
Were you surprised by the end of the book? Satisfied? Or did you wish it had turned out differently?
What are some of the key themes of the book?
Describe some of the family dynamics of the story.
The sewer was a very unique setting. What was your reaction to it?
Isolation and connection were among the key themes of this book. Discuss how they affected the story.
Did you learn anything new about history that surprised you from this book?
YOU MAY ALSO LIKE…
Do you have a question you'd like to ask Pam Jenoff? Let us know in the comments below!