Spring is nearly here and we couldn't be more excited! But not for the reason you may think. While we appreciate the warmer weather, we're actually really interested in the all the new books hitting our shelves this season! We've got an edgy debut from Sarah Penner (The Lost Apothecary), a thriller that will keep us up at night by Nadine Matheson (The Jigsaw Man), and a new release from J.T. Ellison (Her Dark Lies) to name a few.
The Lost Apothecary by Sarah Penner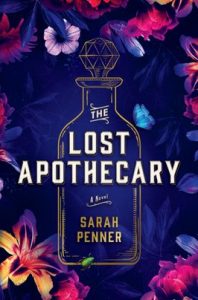 "A bold, edgy, accomplished debut!" —Kate Quinn, New York Times bestselling author of The Alice Network and The Huntress
A forgotten history. A secret network of women. A legacy of poison and revenge. Welcome to The Lost Apothecary…
Hidden in the depths of eighteenth-century London, a secret apothecary shop caters to an unusual kind of clientele. Women across the city whisper of a mysterious figure named Nella who sells well-disguised poisons to use against the oppressive men in their lives. But the apothecary's fate is jeopardized when her newest patron, a precocious twelve-year-old, makes a fatal mistake, sparking a string of consequences that echo through the centuries.
Meanwhile in present-day London, aspiring historian Caroline Parcewell spends her tenth wedding anniversary alone, running from her own demons. When she stumbles upon a clue to the unsolved apothecary murders that haunted London two hundred years ago, her life collides with the apothecary's in a stunning twist of fate—and not everyone will survive.
With crackling suspense, unforgettable characters and searing insight, The Lost Apothecary is a subversive and intoxicating debut novel of secrets, vengeance and the remarkable ways women can save each other despite the barrier of time.
Available March 2:
Amazon | Barnes & Noble | Google Play | Kobo | Apple Books | Indiebound | Indigo | Audible | Goodreads
Women in White Coats by Olivia Campbell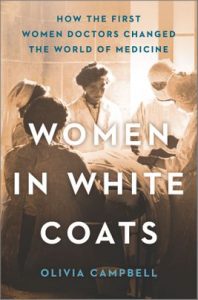 For fans of Hidden Figures and Radium Girls comes the remarkable story of three Victorian women who broke down barriers in the medical field to become the first women doctors, revolutionizing the way women receive health care.
In the early 1800s, women were dying in large numbers from treatable diseases because they avoided receiving medical care. Examinations performed by male doctors were often demeaning and even painful. In addition, women faced stigma from illness—a diagnosis could greatly limit their ability to find husbands, jobs or be received in polite society.
Motivated by personal loss and frustration over inadequate medical care, Elizabeth Blackwell, Elizabeth Garrett Anderson and Sophia Jex-Blake fought for a woman's place in the male-dominated medical field. For the first time ever, Women in White Coats tells the complete history of these three pioneering women who, despite countless obstacles, earned medical degrees and paved the way for other women to do the same. Though very different in personality and circumstance, together these women built women-run hospitals and teaching colleges—creating for the first time medical care for women by women.
With gripping storytelling based on extensive research and access to archival documents, Women in White Coats tells the courageous history these women made by becoming doctors, detailing the boundaries they broke of gender and science to reshape how we receive medical care today.
Available March 2:
Amazon | Barnes & Noble | Google Play | Kobo | Apple Books | Indiebound | Indigo | Audible | Goodreads
Band of Sisters by Lauren Willig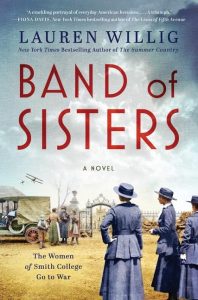 A group of young women from Smith College risk their lives in France at the height of World War I in this sweeping novel based on a true story—a skillful blend of Call the Midwife and The Alice Network—from New York Times bestselling author Lauren Willig.

A scholarship girl from Brooklyn, Kate Moran thought she found a place among Smith's Mayflower descendants, only to have her illusions dashed the summer after graduation. When charismatic alumna Betsy Rutherford delivers a rousing speech at the Smith College Club in April of 1917, looking for volunteers to help French civilians decimated by the German war machine, Kate is too busy earning her living to even think of taking up the call. But when her former best friend Emmeline Van Alden reaches out and begs her to take the place of a girl who had to drop out, Kate reluctantly agrees to join the new Smith College Relief Unit.
Four months later, Kate and seventeen other Smithies, including two trailblazing female doctors, set sail for France. The volunteers are armed with money, supplies, and good intentions—all of which immediately go astray. The chateau that was to be their headquarters is a half-burnt ruin. The villagers they meet are in desperate straits: women and children huddling in damp cellars, their crops destroyed and their wells poisoned.
Despite constant shelling from the Germans, French bureaucracy, and the threat of being ousted by the British army, the Smith volunteers bring welcome aid—and hope—to the region. But can they survive their own differences? As they cope with the hardships and terrors of the war, Kate and her colleagues find themselves navigating old rivalries and new betrayals which threaten the very existence of the Unit.
With the Germans threatening to break through the lines, can the Smith Unit pull together and be truly a band of sisters?
Available March 2:
Amazon | Barnes & Noble | Google Play | Kobo | Apple Books | Indiebound | Indigo | Audible | Goodreads
Klara and the Sun by Kazou Ichiguro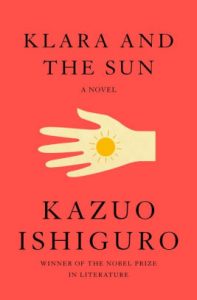 Klara and the Sun is a magnificent new novel from the Nobel laureate Kazuo Ishiguro–author of Never Let Me Go and the Booker Prize-winning The Remains of the Day.
Klara and the Sun, the first novel by Kazuo Ishiguro since he was awarded the Nobel Prize in Literature, tells the story of Klara, an Artificial Friend with outstanding observational qualities, who, from her place in the store, watches carefully the behavior of those who come in to browse, and of those who pass on the street outside. She remains hopeful that a customer will soon choose her.
Klara and the Sun is a thrilling book that offers a look at our changing world through the eyes of an unforgettable narrator, and one that explores the fundamental question: what does it mean to love?
Available March 2:
Amazon | Barnes & Noble | Google Play | Kobo | Apple Books | Indiebound | Indigo | Audible | Goodreads
Every Last Fear by Alex Finlay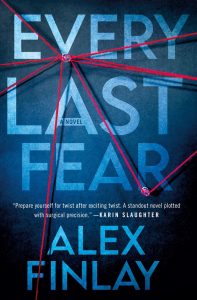 In one of the year's most anticipated debut psychological thrillers, a family made infamous by a true crime documentary is found dead, leaving their surviving son to uncover the truth about their final days.
"They found the bodies on a Tuesday." So begins this twisty and breathtaking novel that traces the fate of the Pine family, a thriller that will both leave you on the edge of your seat and move you to tears.
After a late night of partying, NYU student Matt Pine returns to his dorm room to devastating news: nearly his entire family—his mom, his dad, his little brother and sister—have been found dead from an apparent gas leak while vacationing in Mexico. The local police claim it was an accident, but the FBI and State Department seem far less certain—and they won't tell Matt why.
The tragedy makes headlines everywhere because this isn't the first time the Pine family has been thrust into the media spotlight. Matt's older brother, Danny—currently serving a life sentence for the murder of his teenage girlfriend Charlotte—was the subject of a viral true crime documentary suggesting that Danny was wrongfully convicted. Though the country has rallied behind Danny, Matt holds a secret about his brother that he's never told anyone: the night Charlotte was killed Matt saw something that makes him believe his brother is guilty of the crime.
When Matt returns to his small hometown to bury his parents and siblings, he's faced with a hostile community that was villainized by the documentary, a frenzied media, and memories he'd hoped to leave behind forever. Now, as the deaths in Mexico appear increasingly suspicious and connected to Danny's case, Matt must unearth the truth behind the crime that sent his brother to prison—putting his own life in peril—and forcing him to confront his every last fear.
Available March 2:
Amazon | Barnes & Noble | Google Play | Kobo | Apple Books | Indiebound | Indigo | Audible | Goodreads
What's Mine is Yours by Naima Coster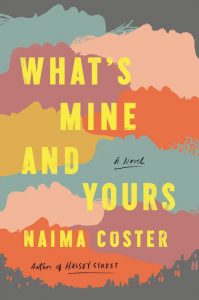 From the author of Halsey Street, a sweeping novel of legacy, identity, the American family, and the ways that race affects even our most intimate relationships.
A community in the Piedmont of North Carolina rises in outrage as a county initiative draws students from the largely Black east side of town into predominantly white high schools on the west. For two students, Gee and Noelle, the integration sets off a chain of events that will tie their two families together in unexpected ways over the span of the next twenty years.
On one side of the integration debate is Jade, Gee's steely, ambitious mother. In the aftermath of a harrowing loss, she is determined to give her son the tools he'll need to survive in America as a sensitive, anxious, young Black man. On the other side is Noelle's headstrong mother, Lacey May, a white woman who refuses to see her half-Latina daughters as anything but white. She strives to protect them as she couldn't protect herself from the influence of their charming but unreliable father, Robbie.
When Gee and Noelle join the school play meant to bridge the divide between new and old students, their paths collide, and their two seemingly disconnected families begin to form deeply knotted, messy ties that will shape the trajectory of their adult lives. And their mothers—each determined to see her child inherit a better life—will make choices that will haunt them for decades to come.
Available March 2:
Amazon | Barnes & Noble | Google Play | Kobo | Apple Books | Indiebound | Indigo | Audible | Goodreads
Her Dark Lies by J.T. Ellison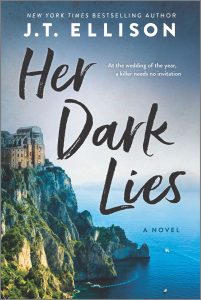 Fast-paced and brilliantly unpredictable, J.T. Ellison's breathtaking new novel invites you to a wedding none will forget—and some won't survive.
Jutting from sparkling turquoise waters off the Italian coast, Isle Isola is an idyllic setting for a wedding. In the majestic cliff-top villa owned by the wealthy Compton family, up-and-coming artist Claire Hunter will marry handsome, charming Jack Compton, surrounded by close family, intimate friends…and a host of dark secrets.
From the moment Claire sets foot on the island, something seems amiss. Skeletal remains have just been found. There are other, newer disturbances, too. Menacing texts. A ruined wedding dress. And one troubling shadow hanging over Claire's otherwise blissful relationship—the strange mystery surrounding Jack's first wife.
Then a raging storm descends, the power goes out—and the real terror begins…
Available March 9:
Amazon | Barnes & Noble | Google Play | Kobo | Apple Books | Indiebound | Indigo | Audible | Goodreads
To Catch a Dream by Audrey Carlan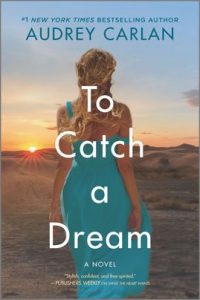 The #1 New York Times bestselling author of the worldwide phenomenon Calendar Girl series brings readers a poignant and honest look at life's most complicated relationships.
When their mother passed away, Evie Ross and her sister were each given a stack of letters, one to be opened every year on their birthday; letters their free-spirited mother hoped would inspire and guide them through adulthood. But although Evie has made a successful career, her desire for the stability and security she never had from her parents has meant she's never experienced the best life has to offer. But the discovery of more letters hidden in a safe-deposit box points to secrets her mother held close, and possibly a new way for Evie to think about her family, her heart and her dreams.
"Audrey Carlan has created a gem of a story about sisterhood, love, second chances, and the kind of wanderlust that won't be silenced, reminding us that sometimes the most important journey is the one we take home." —Lexi Ryan, New York Times bestselling author
Available March 9:
Amazon | Barnes & Noble | Google Play | Kobo | Apple Books | Indiebound | Indigo | Audible | Goodreads
Search for Her by Rick Mofina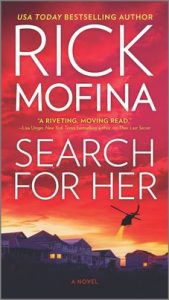 A missing daughter, a family with secrets, a race for the truth…
At a truck stop near Las Vegas, fourteen-year-old Riley Jarrett vanishes from her family's RV, turning their cross-country dream of starting over into a nightmare.
Investigators have their work cut out for them. The massive, bustling truck plaza in the desert is the perfect place for someone to disappear—or be taken.
Detectives pursue every chilling lead as all eyes fall to the newly blended family with a tragic past. With the clock ticking down on the likelihood that Riley's alive, suspicions run deep. Everyone—from Riley's mom to her stepdad to her stepbrother and her ex-boyfriend—has something to hide. And their secrets could prove deadly.
Available March 9:
Amazon | Barnes & Noble | Google Play | Kobo | Apple Books | Indiebound | Indigo | Audible | Goodreads
The Rose Code by Kate Quinn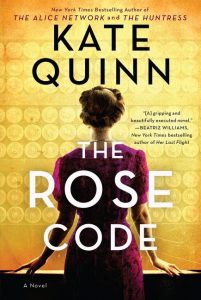 The New York Times and USA Today bestselling author of The Huntress and The Alice Network returns with another heart-stopping World War II story of three female code breakers at Bletchley Park and the spy they must root out after the war is over.
1940. As England prepares to fight the Nazis, three very different women answer the call to mysterious country estate Bletchley Park, where the best minds in Britain train to break German military codes. Vivacious debutante Osla is the girl who has everything—beauty, wealth, and the dashing Prince Philip of Greece sending her roses—but she burns to prove herself as more than a society girl, and puts her fluent German to use as a translator of decoded enemy secrets. Imperious self-made Mab, product of east-end London poverty, works the legendary codebreaking machines as she conceals old wounds and looks for a socially advantageous husband. Both Osla and Mab are quick to see the potential in local village spinster Beth, whose shyness conceals a brilliant facility with puzzles, and soon Beth spreads her wings as one of the Park's few female cryptanalysts. But war, loss, and the impossible pressure of secrecy will tear the three apart.
1947. As the royal wedding of Princess Elizabeth and Prince Philip whips post-war Britain into a fever, three friends-turned-enemies are reunited by a mysterious encrypted letter–the key to which lies buried in the long-ago betrayal that destroyed their friendship and left one of them confined to an asylum. A mysterious traitor has emerged from the shadows of their Bletchley Park past, and now Osla, Mab, and Beth must resurrect their old alliance and crack one last code together. But each petal they remove from the rose code brings danger–and their true enemy–closer…
Available March 9:
Amazon | Barnes & Noble | Google Play | Kobo | Apple Books | Indiebound | Indigo | Audible | Goodreads
Act Your Age, Eve Brown by Talia Hibbert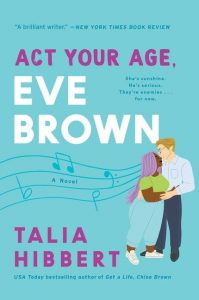 In USA Today bestselling author Talia Hibbert's newest rom-com, the flightiest Brown sister crashes into the life of an uptight B&B owner and has him falling hard—literally.
Eve Brown is a certified hot mess. No matter how hard she strives to do right, her life always goes horribly wrong. So she's given up trying. But when her personal brand of chaos ruins an expensive wedding (someone had to liberate those poor doves), her parents draw the line. It's time for Eve to grow up and prove herself—even though she's not entirely sure how…
Jacob Wayne is in control. Always. The bed and breakfast owner's on a mission to dominate the hospitality industry and he expects nothing less than perfection. So when a purple-haired tornado of a woman turns up out of the blue to interview for his open chef position, he tells her the brutal truth: not a chance in hell. Then she hits him with her car—supposedly by accident. Yeah, right.
Now his arm is broken, his B&B is understaffed, and the dangerously unpredictable Eve is fluttering around, trying to help. Before long, she's infiltrated his work, his kitchen—and his spare bedroom. Jacob hates everything about it. Or rather, he should. Sunny, chaotic Eve is his natural-born nemesis, but the longer these two enemies spend in close quarters, the more their animosity turns into something else. Like Eve, the heat between them is impossible to ignore… and it's melting Jacob's frosty exterior.
Available March 9:
Amazon | Barnes & Noble | Google Play | Kobo | Apple Books | Indiebound | Indigo | Audible | Goodreads
The Girls Are All So Nice Here by Laurie Elizabeth Flynn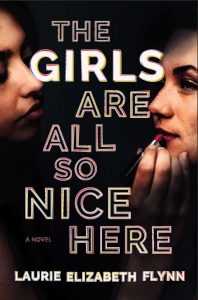 Two former best friends return to their college reunion to find that they're being circled by someone who wants revenge for what they did ten years before—and will stop at nothing to get it—in this shocking psychological thriller about ambition, toxic friendship, and deadly desire.
A lot has changed in the years since Ambrosia Wellington graduated from college, and she's worked hard to create a new life for herself. But then an invitation to her ten-year reunion arrives in the mail, along with an anonymous note that reads "We need to talk about what we did that night."
It seems that the secrets of Ambrosia's past—and the people she thought she'd left there—aren't as buried as she'd believed. Amb can't stop fixating on what she did or who she did it with: larger-than-life Sloane "Sully" Sullivan, Amb's former best friend, who could make anyone do anything.
At the reunion, Amb and Sully receive increasingly menacing messages, and it becomes clear that they're being pursued by someone who wants more than just the truth of what happened that first semester. This person wants revenge for what they did and the damage they caused—the extent of which Amb is only now fully understanding. And it was all because of the game they played to get a boy who belonged to someone else, and the girl who paid the price.
Alternating between the reunion and Amb's freshman year, The Girls Are All So Nice Here is a shocking novel about the brutal lengths girls can go to get what they think they're owed, and what happens when the games we play in college become matters of life and death.
Available March 9:
Amazon | Barnes & Noble | Google Play | Kobo | Apple Books | Indiebound | Indigo | Audible | Goodreads
The Jigsaw Man by Nadine Matheson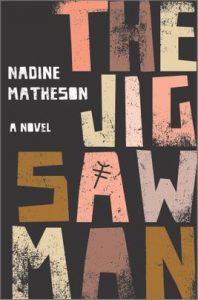 A serial killer and his copycat are locked in a violent game of cat and mouse. Can DI Anjelica Henley stop them before it's too late?

On the day she returns to active duty with the Serial Crimes Unit, Detective Inspector Anjelica Henley is called to a crime scene. Dismembered body parts from two victims have been found by the river.
The modus operandi bears a striking resemblance to Peter Olivier, the notorious Jigsaw Killer, who has spent the past two years behind bars. When he learns that someone is co-opting his grisly signature—the arrangement of victims' limbs in puzzle-piece shapes—he decides to take matters into his own hands.
As the body count rises, DI Anjelica Henley is faced with an unspeakable new threat. Can she apprehend the copycat killer before Olivier finds a way to get to him first? Or will she herself become the next victim?
Drawing on her experience as a criminal attorney, debut novelist Nadine Matheson delivers the page-turning crime novel of the year. Taut, vivid and addictively sinister, The Jigsaw Man will leave you breathless until the very last page.
Available March 16:
Amazon | Barnes & Noble | Google Play | Kobo | Apple Books | Indiebound | Indigo | Audible | Goodreads
Meant to Be by Jude Deveraux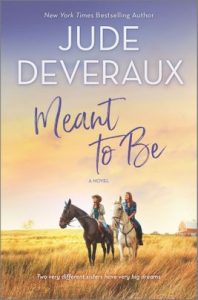 An inspiring new family saga by New York Times bestselling author Jude Deveraux

Two headstrong sisters are bound by tradition but long to forge their own path.
It's 1972 and times are changing. In the small farming community of Mason, Kansas, Vera and Kelly Exton are known for their ambitions. Vera is an activist who wants to join her boyfriend in the Peace Corps. But she is doing her duty caring for her widowed mother and younger sister until Kelly is firmly established. Kelly is studying to become a veterinarian. She plans to marry her childhood sweetheart and eventually take over his father's veterinary practice.
But it's a tumultuous time and neither sister is entirely happy with the path that's been laid out for her. As each evaluates her options, everything shifts. Do you do what's right for yourself or what others want? By having the courage to follow their hearts these women will change lives for the better and the effects will be felt by the generations that follow. Meant to Be delivers an emotional, smart, funny and wise lesson about the importance of being true to yourself.
Available March 16:
Amazon | Barnes & Noble | Google Play | Kobo | Apple Books | Indiebound | Indigo | Goodreads
The Dating Plan by Sara Desai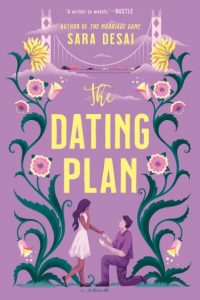 Even with a step-by-step plan, these fake fiancés might accidentally fall for each other in this hilarious, heartfelt romantic comedy from the author of The Marriage Game.

Daisy Patel is a software engineer who understands lists and logic better than bosses and boyfriends. With her life all planned out, and no interest in love, the one thing she can't give her family is the marriage they expect. Left with few options, she asks her childhood crush to be her decoy fiancé.

Liam Murphy is a venture capitalist with something to prove. When he learns that his inheritance is contingent on being married, he realizes his best friend's little sister has the perfect solution to his problem. A marriage of convenience will get Daisy's matchmaking relatives off her back and fulfill the terms of his late grandfather's will. If only he hadn't broken her tender teenage heart nine years ago…

Sparks fly when Daisy and Liam go on a series of dates to legitimize their fake relationship. Too late, they realize that very little is convenient about their arrangement. History and chemistry aren't about to follow the rules of this engagement.
Available March 16:
Amazon | Barnes & Noble | Google Play | Kobo | Apple Books | Indiebound | Indigo | Audible | Goodreads
Every Vow You Break by Peter Swanson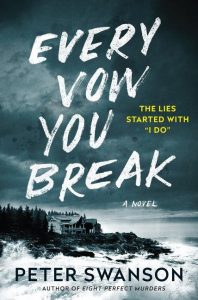 A bride's dream honeymoon becomes a nightmare when a man with whom she's had a regrettable one-night stand shows up in this electrifying psychological thriller from the acclaimed author of Eight Perfect Murders.

Abigail Baskin never thought she'd fall in love with a millionaire. Then she met Bruce Lamb. He's a good guy, stable, level-headed, kind—a refreshing twist from her previous relationships.
But right before the wedding, Abigail has a drunken one-night stand on her bachelorette weekend. She puts the incident—and the sexy guy who wouldn't give her his real name—out of her mind, and now believes she wants to be with Bruce for the rest of her life.
Then the mysterious stranger suddenly appears—and Abigail's future life and happiness are turned upside down. He insists that their passionate night was the beginning of something much, much more. Something special. Something real—and he's tracked her down to prove it.
Does she tell Bruce and ruin their idyllic honeymoon—and possibly their marriage? Or should she handle this psychopathic stalker on her own? To make the situation worse, strange things begin to happen. She sees a terrified woman in the night shadows, and no one at the resort seems to believe anything is amiss… including her perfect new husband.
Available March 23:
Amazon | Barnes & Noble | Google Play | Kobo | Apple Books | Indiebound | Indigo | Audible | Goodreads
Careless Whispers by Synithia Williams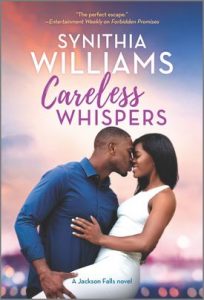 She's falling in love with the one man she can't trust…
Elaina Robidoux knows how people view her: coldhearted, ambitious, ruthless. But it doesn't matter. Running the family business is all she's ever wanted and she's so close she can almost taste it…until her father fires her and hires her nemesis—arrogant, unflappable Alex Tyson. Elaina may be hurt but she refuses to be defeated, so she throws herself into creating a business of her own. But she never dreamed that to close her first deal, she'd need Alex's help…
Alex understands the power of a family legacy better than most and the last thing he wanted was to take that from Elaina. Her beauty and fierce strength are undeniable, but there's a softer side that no one but him seems to see. She's been taught that emotions are a liability, yet one impulsive kiss starts a chain reaction that neither of them wants to stop. But can love ignite—and survive—when secrets and loyalties collide?
"[An] exceptional tale of forbidden love." —Publishers Weekly, starred review, on Forbidden Promises
Available March 30:
Amazon | Barnes & Noble | Google Play | Kobo | Apple Books | Indiebound | Indigo | Audible | Goodreads
Tell No Lies by Allison Brennan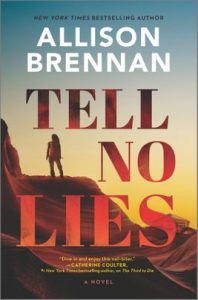 The unsolved murder of a young activist leads to the discovery of much darker crimes in New York Times bestselling author Allison Brennan's latest compelling thriller to feaure the young, edgy detective Kara Quinn and the loner FBI agent Matt Costa. This time they work to uncover possible ties to a high-stakes cartel in the Southwest desert.
Something mysterious is killing the wildlife in the mountains just south of Tucson. When a college intern turned activist sets out to collect her own evidence, she, too, ends up dead. Local law enforcement is slow to get involved. That's when the mobile FBI unit goes undercover to infiltrate the town and its copper refinery in search of possible leads.
Quinn and Costa find themselves scouring the desolate landscape, which keeps revealing clues to something much darker—greed, child trafficking and more death. As the body count adds up, it's clear they have stumbled onto much more than they bargained for. Now they must figure out who is at the heart of this mayhem and stop them before more innocent lives are lost.
Available March 30:
Amazon | Barnes & Noble | Google Play | Kobo | Apple Books | Indiebound | Indigo | Goodreads
The Path to Sunshine Cove by RaeAnne Thayne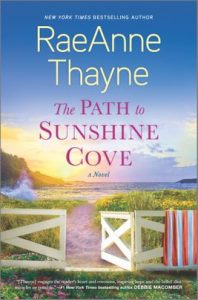 She knows what's best for everyone but herself…
With a past like hers, Jessica Clayton feels safer in a life spent on the road. She's made a career out of helping others downsize—because she's learned the hard way that the less "stuff," the better, a policy she applies equally to her relationships. But a new client is taking Jess back to Cape Sanctuary, a town she once called home…and that her little sister, Rachel, still does. The years apart haven't made a dent in the guilt Jess still carries after a handgun took the lives of both their parents and changed everything between them.
While Jess couldn't wait to put the miles between her and Cape Sanctuary, Rachel put down roots, content for the world—and her sister—to think she has a picture-perfect life. But with the demands of her youngest child's disability, Rachel's marriage has begun to fray at the seams. She needs her sister now more than ever, yet she's learned from painful experience that Jessica doesn't do family, and she shouldn't count on her now.
Against her judgment, Jess finds herself becoming attached—to her sister and her family, even to her client's interfering son, Nate—and it's time to put everything on the line. Does she continue running from her painful past, or stay put and make room for the love and joy that come along with it?
Available March 30:
Amazon | Barnes & Noble | Google Play | Kobo | Apple Books | Indiebound | Indigo | Audible | Goodreads
Of Women and Salt by Gabriela Garcia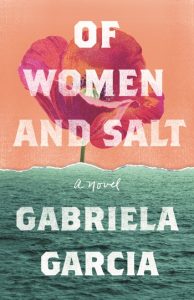 A sweeping, masterful debut about a daughter's fateful choice, a mother motivated by her own past, and a family legacy that begins in Cuba before either of them were born

In present-day Miami, Jeanette is battling addiction. Daughter of Carmen, a Cuban immigrant, she is determined to learn more about her family history from her reticent mother and makes the snap decision to take in the daughter of a neighbor detained by ICE. Carmen, still wrestling with the trauma of displacement, must process her difficult relationship with her own mother while trying to raise a wayward Jeanette. Steadfast in her quest for understanding, Jeanette travels to Cuba to see her grandmother and reckon with secrets from the past destined to erupt.

From 19th-century cigar factories to present-day detention centers, from Cuba to Mexico, Gabriela Garcia's Of Women and Salt is a kaleidoscopic portrait of betrayals—personal and political, self-inflicted and those done by others—that have shaped the lives of these extraordinary women. A haunting meditation on the choices of mothers, the legacy of the memories they carry, and the tenacity of women who choose to tell their stories despite those who wish to silence them, this is more than a diaspora story; it is a story of America's most tangled, honest, human roots.
Available March 30:
Amazon | Barnes & Noble | Google Play | Kobo | Apple Books | Indiebound | Indigo | Audible | Goodreads
Wild Women and the Blues by Denny S. Bryce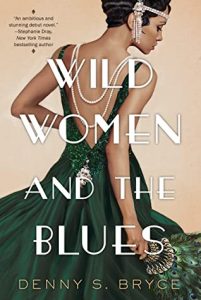 Jazz-age Chicago comes to vibrant life in Denny S. Bryce's evocative novel that links the stories of an ambitious 1920's chorus girl and a modern-day film student, both coming to grips with loss, forgiveness, and the limitations–and surprises–of love.
"Why would I talk to you about my life? I don't know you, and even if I did, I don't tell my story to just any boy with long hair, who probably smokes weed.You wanna hear about me. You gotta tell me something about you. To make this worth my while."
1925: Chicago is the jazz capital of the world, and the Dreamland Café is the ritziest black-and-tan club in town. Honoree Dalcour is a sharecropper's daughter, willing to work hard and dance every night on her way to the top. Dreamland offers a path to the good life, socializing with celebrities like Louis Armstrong and filmmaker Oscar Micheaux. But Chicago is also awash in bootleg whiskey, gambling, and gangsters. And a young woman driven by ambition might risk more than she can stand to lose.
2015: Film student Sawyer Hayes arrives at the bedside of 110-year-old Honoree Dalcour, still reeling from a devastating loss that has taken him right to the brink. Sawyer has rested all his hope on this frail but formidable woman, the only living link to the legendary Oscar Micheaux. If he's right–if she can fill in the blanks in his research, perhaps he can complete his thesis and begin a new chapter in his life. But the links Honoree makes are not ones he's expecting . . .
Piece by piece, Honoree reveals her past and her secrets, while Sawyer fights tooth and nail to keep his. It's a story of courage and ambition, hot jazz and illicit passions. And as past meets present, for Honoree, it's a final chance to be truly heard and seen before it's too late. No matter the cost…
Available March 30:
Amazon | Barnes & Noble | Google Play | Kobo | Apple Books | Indiebound | Indigo | Goodreads
Share with us! What books are you most excited about this month?