It may be the shortest month of the yet, but there's a long list of new releases coming out this February. Grab a cup of coffee, snuggle up in your favorite sweater and start adding these books to your TBR list. From some fantastic historical fiction by Michael Zapata to bone-chilling suspense by Mary Kubica, there's something new for everyone this month!
The Lost Book of Adana Moreau by Michael Zapata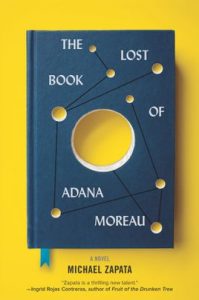 The mesmerizing story of a Latin American science fiction writer and the lives her lost manuscript unites decades later in post-Katrina New Orleans
In 1929 in New Orleans, a Dominican immigrant named Adana Moreau writes a science fiction novel titled Lost City. It is a strange and beautiful novel, set in a near future where a sixteen-year-old Dominican girl, not all that unlike Adana herself, searches for a golden eternal city believed to exist somewhere on a parallel Earth. Lost City earns a modest but enthusiastic readership, and Adana begins a sequel. Then she falls gravely ill. Just before she dies, she and her son, Maxwell, destroy the only copy of the manuscript.
Decades later in Chicago, Saul Drower is cleaning out his dead grandfather's home when he discovers a mysterious package containing a manuscript titled A Model Earth, written by none other than Adana Moreau.
Who was Adana Moreau? How did Saul's grandfather, a Jewish immigrant born on a steamship to parents fleeing the aftershocks of the Russian Revolution, come across this unpublished, lost manuscript? Where is Adana Moreau's mysterious son, Maxwell, a theoretical physicist, and why did Saul's grandfather send him the manuscript as his final act in life?
Available February 4 at:
Amazon | Barnes & Noble | Google Play | Kobo | Apple Books | Indiebound | Audible | Goodreads
The Misfortunes of Family by Meg Little Reilly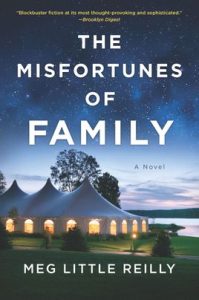 WHAT BRINGS A FAMILY TOGETHER CAN ALSO TEAR IT APART
The Bright family is the picture of perfection—attractive, competitive and a bit badly behaved. As the four adult sons of retired senator John Bright head with their partners to the annual family reunion, they have everything they need, except self-awareness. This year the senator has agreed to let a producer document the reunion at the lake house. Of course, they let their guard down.
As petty jealousies surface, Philip, the youngest, reveals a surprising personal decision that earns the ribbing—or is it scorn?—of his brothers, JJ, Spencer and Charlie. Then the senator unexpectedly announces his desire for another political run. Not everyone is on board, especially matriarch Patty, who is keenly aware of the toll it will take on their private lives. Suddenly closely held family secrets start tumbling out and keep coming, including the biggest one that will rock this family to the core.
Available February 4 at:
Amazon | Barnes & Noble | Google Play | Kobo | Apple Books | Indiebound | Goodreads
The Third to Die Allison Brennan

An edgy female police detective…An ambitious FBI special agent. Together they are at the heart of the ticking-clock investigation for a psychopathic serial killer. The bond they forge in this crucible sets the stage for high-stakes suspense.
Detective Kara Quinn, on leave from the LAPD, is on an early morning jog in her hometown of Liberty Lake when she comes upon the body of a young nurse. The manner of death shows a pattern of highly controlled rage. Meanwhile in DC, FBI special agent Mathias Costa is staffing his newly minted Mobile Response Team. Word reaches Matt that the Liberty Lake murder fits the profile of the compulsive Triple Killer. It will be the first case for the MRT. This time they have a chance to stop this zealous if elusive killer before he strikes again. But only if they can figure out who he is and where he is hiding before he disappears for another three years. The stakes are higher than ever before, because if they fail, one of their own will be next…
Available February 4 at:
Amazon | Barnes & Noble | Google Play | Kobo | Apple Books | Indiebound | Audible | Goodreads
Behind Every Lie by Christina McDonald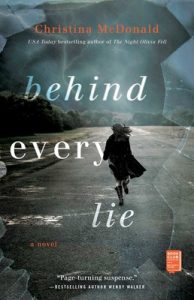 From the USA TODAY bestselling author of The Night Olivia Fell—an "emotionally charged mystery" (Mary Kubica, New York Times bestselling author)—comes a thrilling new suspense novel about the insidious nature of family secrets…and their deadly potential.
If you can't remember it, how do you prove you didn't do it?
Eva Hansen wakes in the hospital after being struck by lightning and discovers her mother, Kat, has been murdered. Eva was found unconscious down the street. She can't remember what happened but the police are highly suspicious of her.
Determined to clear her name, Eva heads from Seattle to London—Kat's former home—for answers. But as she unravels her mother's carefully held secrets, Eva soon realizes that someone doesn't want her to know the truth. And with violent memories beginning to emerge, Eva doesn't know who to trust. Least of all herself.
Available February 4 at:
Amazon | Barnes & Noble | Google Play | Kobo | Apple Books | Indiebound | Audible | Goodreads
The Light After the War by Anita Abriel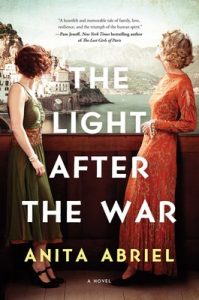 Inspired by an incredible true story of two Jewish friends who survived the Holocaust, this sweeping novel of love and friendship spans World War II from Budapest to Austria and the postwar years from Naples to Caracas, perfect for fans of The German Girl and We Were the Lucky Ones.
It is 1946 when Vera Frankel and her best friend Edith Ban arrive in Naples. Refugees from Hungary, they managed to escape from a train headed for Auschwitz and spent the rest of the war hiding on an Austrian farm. Now, the two young women must start new lives abroad. Armed with a letter of recommendation from an American officer, Vera finds work at the United States embassy where she falls in love with Captain Anton Wight.
But as Vera and Edith grapple with the aftermath of the war, so too does Anton, and when he suddenly disappears, Vera is forced to change course. Their quest for a better life takes Vera and Edith from Naples to Ellis Island to Caracas as they start careers, reunite with old friends, and rebuild their lives after terrible loss.
Available February 4 at:
Amazon | Barnes & Noble | Google Play | Kobo | Apple Books | Indiebound | Audible | Goodreads
Alone in the Wild by Kelley Armstrong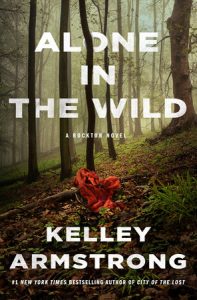 In #1 New York Times bestseller Kelley Armstrong's latest thriller, the hidden town of Rockton is about to face a challenge none of them saw coming: a baby.
Every season in Rockton seems to bring a new challenge. At least that's what Detective Casey Duncan has felt since she decided to call this place home. Between all the secretive residents, the sometimes-hostile settlers outside, and the surrounding wilderness, there's always something to worry about.
While on a much needed camping vacation with her boyfriend, Sheriff Eric Dalton, Casey hears a baby crying in the woods. The sound leads them to a tragic scene: a woman buried under the snow, murdered, a baby still alive in her arms.
A town that doesn't let anyone in under the age of eighteen, Rockton must take care of its youngest resident yet while solving another murder and finding out where the baby came from–and whether she's better off where she is.
Available February 4 at:
Amazon | Barnes & Noble | Google Play | Kobo | Apple Books | Indiebound | Audible | Goodreads
Sisters by Choice by Susan Mallery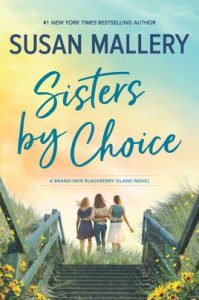 From the New York Times bestselling author of California Girls comes an all new original Blackberry Island novel told with Susan Mallery's trademark humor and charm. Sisters by Choice is a heartfelt tale of love, family and the friendships that see us through.
Cousins by chance, sisters by choice…
After her cat toy empire goes up in flames, Sophie Lane returns to Blackberry Island, determined to rebuild. Until small-town life reveals a big problem: she can't grow unless she learns to let go. If Sophie relaxes her grip even a little, she might lose everything. Or she might finally be free to reach for the happiness and love that have eluded her for so long.
Kristine has become defined by her relationship to others. She's a wife, a mom. As much as she adores her husband and sons, she wants something for herself—a sweet little bakery just off the waterfront. She knew changing the rules wouldn't be easy, but she never imagined she might have to choose between her marriage and her dreams.
Like the mainland on the horizon, Heather's goals seem beyond her grasp. Every time she manages to save for college, her mother has another crisis. Can she break free, or will she be trapped in this tiny life forever?
Available February 11 at:
Amazon | Barnes & Noble | Google Play | Kobo | Apple Books | Indiebound | Audible | Goodreads
The Unwilling by Kelly Braffet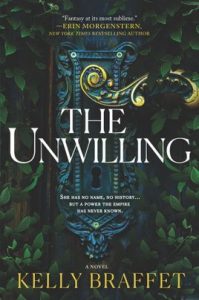 A penetrating tale of magic, faith and pride…
The Unwilling is the story of Judah, a foundling born with a special gift and raised inside Highfall castle along with Gavin, the son and heir to Lord Elban's vast empire. Judah and Gavin share an unnatural bond that is both the key to her survival…and possibly her undoing.
As Gavin is groomed for his future role, Judah comes to realize that she has no real position within the kingdom, in fact, no hope at all of ever traveling beyond its castle walls. Elban—a lord as mighty as he is cruel—has his own plans for her, for all of them. She is a mere pawn to him, and he will stop at nothing to get what he wants.
But outside the walls, in the starving, desperate city, a magus, a healer with his own secret power unlike anything Highfall has seen in years, is newly arrived from the provinces. He, too, has plans for the empire, and at the heart of those plans lies Judah… The girl who started life with no name and no history will soon uncover more to her story than she ever imagined.
Available February 11 at:
Amazon | Barnes & Noble | Google Play | Kobo | Apple Books | Indiebound | Audible | Goodreads
Mercy House by Alena Dillon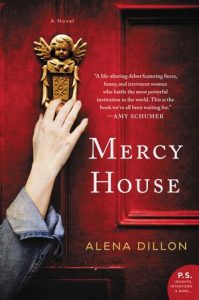 She would stop at nothing to protect the women under her care.
Inside a century-old row house in Brooklyn, renegade Sister Evelyn and her fellow nuns preside over a safe haven for the abused and abandoned. Gruff and indomitable on the surface, warm and wry underneath, little daunts Evelyn, until she receives word that Mercy House will be investigated by Bishop Hawkins, a man with whom she shares a dark history. In order to protect everything they've built, the nuns must conceal many of their methods, which are forbidden by the Catholic Church.
Evelyn will go to great lengths to defend all that she loves. She confronts a gang member, defies the church, challenges her own beliefs, and faces her past. She is bolstered by the other nuns and the vibrant, diverse residents of the shelter—Lucia, Mei-Li, Desiree, Esther, and Katrina—whose differences are outweighed by what unites them: they've all been broken by men but are determined to rebuild.
Dead to Her by Sarah Pinborough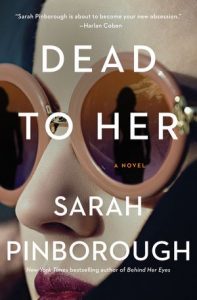 Marriage can be murder…
SOMETHING OLD
Marcie's affair with Jason Maddox catapulted her into the world of the elite.
Old money, old ties, old secrets. Marcie may have married into this world—
but she'll never be part of it.
SOMETHING NEW
Then Jason's boss brings back a new wife from his trip to London.
Young, attractive, reckless—nobody can take their eyes off Keisha.
Including Marcie's husband.
SOMETHING YOU CAN NEVER, EVER UNDO…
Some people would kill for the life Marcie has—what will she do to keep it?
Available February 11 at:
Amazon | Barnes & Noble | Google Play | Kobo | Apple Books | Indiebound | Audible | Goodreads
The Other Mrs. by Mary Kubica
Propulsive and addictive, and perfect for fans of "You," The Other Mrs. is the twisty new psychological thriller from Mary Kubica, the New York Times bestselling author of The Good Girl
She tried to run, but she can't escape the other Mrs.
Sadie and Will Foust have only just moved their family from bustling Chicago to small-town Maine when their neighbor Morgan Baines is found dead in her home. The murder rocks their tiny coastal island, but no one is more shaken than Sadie.
But it's not just Morgan's death that has Sadie on edge. And as the eyes of suspicion turn toward the new family in town, Sadie is drawn deeper into the mystery of what really happened that dark and deadly night. But Sadie must be careful, for the more she discovers about Mrs. Baines, the more she begins to realize just how much she has to lose if the truth ever comes to light.
Available February 18 at:
Amazon | Barnes & Noble | Google Play | Kobo | Apple Books | Indiebound | Audible | Goodreads
Ten Days Gone by Beverly Long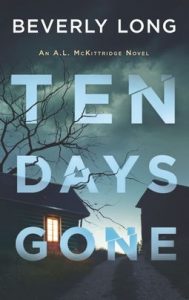 They know exactly when he'll strike… They just have to find him first.
In all their years working for the Baywood police department, detectives A.L. McKittridge and Rena Morgan have never seen anything like it. Four women dead in forty days, each killed ten days apart. With nothing connecting the victims and very little evidence, the clock is already counting down to when the next body drops. A.L. and Rena will have to act fast if they're going to find the killer's next victim before he does.
But identifying the killer's next likely target is only half the battle. With pressure pushing in from all sides, a promising breakthrough leads the detectives to Tess Lyons, a woman whose past trauma has left her too damaged to appreciate the danger she's in. Unwilling to let another woman die, A.L. and Rena will put everything on the line to keep Tess safe and end the killer's deadly spree once and for all—before time runs out again.
Available February 18 at:
Amazon | Barnes & Noble | Google Play | Kobo | Apple Books | Indiebound | Audible | Goodreads
The Woman in Apartment 49 by Ross Armstrong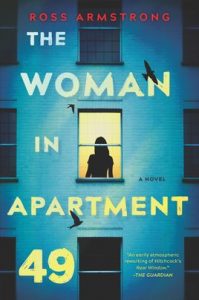 She's watching you, but who's watching her?
Lily Gullick lives with her husband, Aiden, in a brand-new apartment opposite a building that has been marked for demolition. A keen bird-watcher, she can't help spying on her neighbors.
Until one day Lily sees something suspicious through her binoculars, and soon her elderly neighbor Jean is found dead. Convinced of foul play, she knows she has to act. But her interference is not going unnoticed, and as she starts to get close to the truth, her own life comes under threat.
But can Lily really trust everything she sees?
Available February 18 at:
Amazon | Barnes & Noble | Google Play | Kobo | Apple Books | Indiebound | Goodreads
The Sun Down Motel by Simone St. James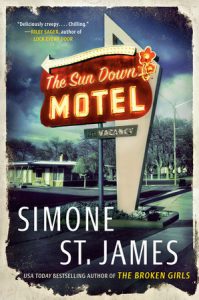 Something hasn't been right at the roadside Sun Down Motel for a very long time, and Carly Kirk is about to find out why in this chilling new novel from the USA Today bestselling and award-winning author of The Broken Girls.
Upstate New York, 1982. Viv Delaney wants to move to New York City, and to help pay for it she takes a job as the night clerk at the Sun Down Motel in Fell, New York. But something isn't right at the motel, something haunting and scary.
Upstate New York, 2017. Carly Kirk has never been able to let go of the story of her aunt Viv, who mysteriously disappeared from the Sun Down before she was born. She decides to move to Fell and visit the motel, where she quickly learns that nothing has changed since 1982. And she soon finds herself ensnared in the same mysteries that claimed her aunt.
Available February 18 at:
Amazon | Barnes & Noble | Google Play | Kobo | Apple Books | Indiebound | Goodreads
Saint X BY Alexis Schaitkin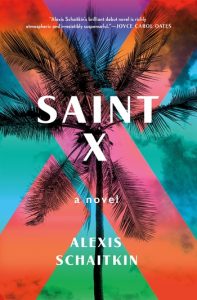 Hailed as a "marvel of a book" and "brilliant and unflinching," Alexis Schaitkin's stunning debut, Saint X, is a haunting portrait of grief, obsession, and the bond between two sisters never truly given the chance to know one another.
Claire is only seven years old when her college-age sister, Alison, disappears on the last night of their family vacation at a resort on the Caribbean island of Saint X. Several days later, Alison's body is found in a remote spot on a nearby cay, and two local men–employees at the resort–are arrested. But the evidence is slim, the timeline against it, and the men are soon released. The story turns into national tabloid news, a lurid mystery that will go unsolved. For Claire and her parents, there is only the return home to broken lives.
Years later, Claire is living and working in New York City when a brief but fateful encounter brings her together with Clive Richardson, one of the men originally suspected of murdering her sister. It is a moment that sets Claire on an obsessive pursuit of the truth–not only to find out what happened the night of Alison's death but also to answer the elusive question: Who exactly was her sister? At seven, Claire had been barely old enough to know her: a beautiful, changeable, provocative girl of eighteen at a turbulent moment of identity formation.
As Claire doggedly shadows Clive, hoping to gain his trust, waiting for the slip that will reveal the truth, an unlikely attachment develops between them, two people whose lives were forever marked by the same tragedy.
Available February 18 at:
Amazon | Barnes & Noble | Google Play | Kobo | Apple Books | Indiebound | Audible | Goodreads
The Holdout by Graham Moore
Strung Out by Erin Khar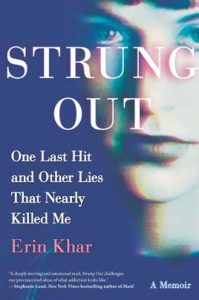 In this deeply personal and illuminating memoir about her fifteen-year struggle with heroin, Khar sheds profound light on the opioid crisis and gives a voice to the over two million people in America currently battling with this addiction.
Growing up in LA, Erin Khar hid behind a picture-perfect childhood filled with excellent grades, a popular group of friends and horseback riding. After first experimenting with her grandmother's expired painkillers, Khar started using heroin when she was thirteen. The drug allowed her to escape from pressures to be perfect and suppress all the heavy feelings she couldn't understand.
This fiercely honest memoir explores how heroin shaped every aspect of her life for the next fifteen years and details the various lies she told herself, and others, about her drug use. With enormous heart and wisdom, she shows how the shame and stigma surrounding addiction, which fuels denial and deceit, is so often what keeps addicts from getting help. There is no one path to recovery, and for Khar, it was in motherhood that she found the inner strength and self-forgiveness to quit heroin and fight for her life.
Available February 25 at:
Amazon | Barnes & Noble | Google Play | Kobo | Apple Books | Indiebound | Audible | Goodreads
Everything I Know About Love by Dolly Alderton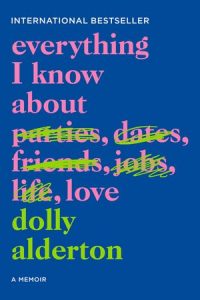 The wildly funny, occasionally heartbreaking internationally bestselling memoir about growing up, growing older, and learning to navigate friendships, jobs, loss, and love along the ride
When it comes to the trials and triumphs of becoming an adult, journalist and former Sunday Times columnist Dolly Alderton has seen and tried it all. In her memoir, she vividly recounts falling in love, finding a job, getting drunk, getting dumped, realizing that Ivan from the corner shop might just be the only reliable man in her life, and that absolutely no one can ever compare to her best girlfriends. Everything I Know About Love is about bad dates, good friends and—above all else— realizing that you are enough.
Glittering with wit and insight, heart and humor, Dolly Alderton's unforgettable debut weaves together personal stories, satirical observations, a series of lists, recipes, and other vignettes that will strike a chord of recognition with women of every age—making you want to pick up the phone and tell your best friends all about it. Like Bridget Jones' Diary but all true, Everything I Know About Love is about the struggles of early adulthood in all its terrifying and hopeful uncertainty.
Available February 25 at:
Amazon | Barnes & Noble | Google Play | Kobo | Apple Books | Indiebound | Audible | Goodreads
Follow Me by Kathleen Barber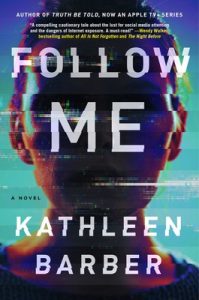 From the author of Truth Be Told (formerly titled Are You Sleeping)—now an Apple TV series of the same name—comes a cautionary tale of oversharing in the social media age for fans of Jessica Knoll and Caroline Kepnes's You.
Everyone wants new followers…until they follow you home.
Audrey Miller has an enviable new job at the Smithsonian, a body by reformer Pilates, an apartment door with a broken lock, and hundreds of thousands of Instagram followers to bear witness to it all. Having just moved to Washington, DC, Audrey busies herself impressing her new boss, interacting with her online fan base, and staving off a creepy upstairs neighbor with the help of the only two people she knows in town: an ex-boyfriend she can't stay away from and a sorority sister with a high-powered job and a mysterious past.
But Audrey's faulty door may be the least of her security concerns. Unbeknownst to her, her move has brought her within striking distance of someone who's obsessively followed her social media presence for years—from her first WordPress blog to her most recent Instagram Story. No longer content to simply follow her carefully curated life from a distance, he consults the dark web for advice on how to make Audrey his and his alone. In his quest to win her heart, nothing is off-limits—and nothing is private.
Available February 25 at:
Amazon | Barnes & Noble | Google Play | Kobo | Apple Books | Indiebound | Audible | Goodreads
Oona Out of Order by Margarita Montimore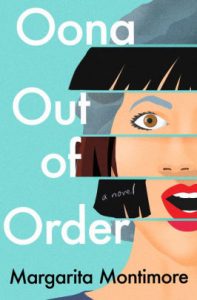 Just because life may be out of order, doesn't mean it's broken.
It's New Year's Eve 1982, and Oona Lockhart has her whole life before her. At the stroke of midnight she will turn nineteen, and the year ahead promises to be one of consequence. Should she go to London to study economics, or remain at home in Brooklyn to pursue her passion for music and be with her boyfriend? As the countdown to the New Year begins, Oona faints and awakens thirty-two years in the future in her fifty-one-year-old body. Greeted by a friendly stranger in a beautiful house she's told is her own, Oona learns that with each passing year she will leap to another age at random. And so begins Oona Out of Order…
Hopping through decades, pop culture fads, and much-needed stock tips, Oona is still a young woman on the inside but ever changing on the outside. Who will she be next year? Philanthropist? Club Kid? World traveler? Wife to a man she's never met?
Available February 25 at:
Amazon | Barnes & Noble | Google Play | Kobo | Apple Books | Indiebound | Audible | Goodreads
Pretty as a Picture by Elizabeth Little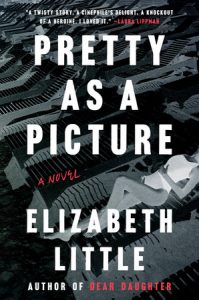 Marissa Dahl, a shy but successful film editor, travels to a small island off the coast of Delaware to work with the legendary–and legendarily demanding–director Tony Rees on a feature film with a familiar logline.
Some girl dies.
It's not much to go on, but the specifics don't concern Marissa. Whatever the script is, her job is the same. She'll spend her days in the editing room, doing what she does best: turning pictures into stories.
But she soon discovers that on this set, nothing is as it's supposed to be–or as it seems. There are rumors of accidents and indiscretions, of burgeoning scandals and perilous schemes. Half the crew has been fired. The other half wants to quit. Even the actors have figured out something is wrong. And no one seems to know what happened to the editor she was hired to replace.
Then she meets the intrepid and incorrigible teenage girls who are determined to solve the real-life murder that is the movie's central subject, and before long, Marissa is drawn into the investigation herself.
The only problem is, the killer may still be on the loose. And he might not be finished.
Available February 25 at:
Amazon | Barnes & Noble | Google Play | Kobo | Apple Books | Indiebound | Audible | Goodreads
Tell us! What books are you looking forward to reading this month?