April showers bring May flowers…and these must-read books! This month, we're adding more than a couple of these news releases to our TBR lists and we have a hunch you'll be doing so, too. The Imperfects by Amy Meyerson, This is How I Lied by Heather Gudenkauf and Family for Beginners by Sarah Morgan are taking top spots!
The Imperfects by Amy Meyerson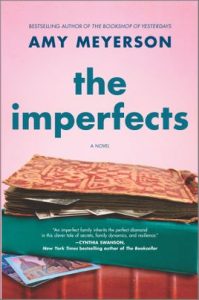 From the bestselling author of The Bookshop of Yesterdays comes a captivating new novel about a priceless inheritance that leads one family on a life-altering pursuit of the truth.
The Millers are far from perfect. Estranged siblings Beck, Ashley and Jake find themselves under one roof for the first time in years, forced to confront old resentments and betrayals, when their mysterious, eccentric matriarch, Helen, passes away. But their lives are about to change when they find a secret inheritance hidden among her possessions—the Florentine Diamond, a 137-carat yellow gemstone that went missing from the Austrian Empire a century ago.
Desperate to learn how one of the world's most elusive diamonds ended up in Helen's bedroom, they begin investigating her past only to realize how little they know about their brave, resilient grandmother. As the Millers race to determine whether they are the rightful heirs to the diamond and the fortune it promises, they uncover a past more tragic and powerful than they ever could have imagined, forever changing their connection to their heritage and each other.
Inspired by the true story of the real, still-missing Florentine Diamond, The Imperfects illuminates the sacrifices we make for family and how sometimes discovering the truth of the past is the only way to better the future.
Available May 5 at:
Amazon | Barnes & Noble | Google Play | Kobo | Apple Books | Indiebound | Audible | Goodreads
Truth: A Brief History of Total Bullsh*t by Tom Phillips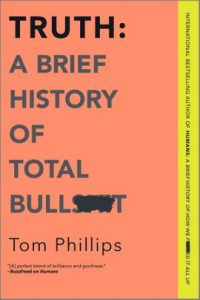 This is a book about TRUTH—and all the ways we try to avoid it—from the bestselling author of Humans: A Brief History of How We F*cked It All Up.
We live in a "post-truth" world, we're told. But was there ever really a golden age of truth-telling? Or have people been lying, fibbing and just plain bullsh*tting since the beginning of time?
Tom Phillips, editor of a leading independent fact-checking organization, deals with this question every day. In Truth, he tells the story of how we humans have spent history lying to each other—and ourselves—about everything from business to politics to plain old geography. Along the way, he chronicles the world's oldest customer service complaint, the Great Moon Hoax of 1835 and the surprisingly dishonest career of Benjamin Franklin.
Sharp, witty and with a clear-eyed view of humanity's checkered past, Truth reveals why people lie—and how we can cut through the bullsh*t.
Available May 5 at:
Amazon | Barnes & Noble | Google Play | Kobo | Apple Books | Indiebound | Audible | Goodreads
Family for Beginners by Sarah Morgan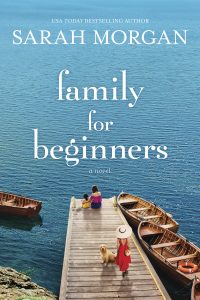 USA TODAY bestselling author Sarah Morgan returns with a life-affirming exploration of love, loss, and how families come in all shapes and sizes…
New York florist Flora Donovan is living the dream, but her bubbly optimism hides a secret. She's lonely. Orphaned as a child, she's never felt like she's belonged anywhere…until she meets Jack Parker. He's the first man to ever really see her, and it's life changing.
Teenager Izzy Parker is holding it together by her fingertips. Since her mother passed away a year ago, looking after her dad and little sister is the only thing that makes Izzy feel safe. Discovering her father has a new girlfriend is her worst nightmare—she is not in the market for a replacement mom. Then her father invites Flora on their summer vacation…
Flora's heart aches for Izzy, but she badly wants her relationship with Jack to work. As the summer unfolds, Flora must push her own boundaries to discover parts of herself she never knew existed—and to find the family she's always wanted.
Available May 5 at:
Amazon | Barnes & Noble | Google Play | Kobo | Apple Books | Indiebound | Audible | Goodreads
Grand by Charles Johnson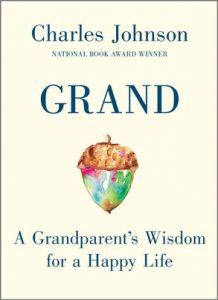 National Book Award winner and MacArthur Genius Fellow Charles Johnson reflects on the joys of being a grandparent in this warm, inspiring collection of wisdom and life lessons—the ideal gift for any new parent or grandparent
An award-winning novelist, philosopher, essayist, screenwriter, professor and cartoonist, Charles Johnson has held numerous impressive titles over the course of his incomparable career. Now, for the first time, with his trademark wisdom and philosophical generosity, he turns his attention to his most important role yet: grandparent.
In Grand, Johnson shares stories from his life with his six-year-old grandson, Emery, weaving in advice and life lessons that stand the test of time. "Looking at the problems I see in the world around me," Johnson writes, "I realize that there are so many things I want to say to him about the goodness and beauty that life offers. What are the perennial truths that I can impart to Emery that might make his journey through life easier or more rewarding?" Johnson shares these truths and more, offering profound meditations on family, race, freedom and creativity.
Joyful, lucid and deeply comforting, Grand is Johnson at his most accessible and profound, an indispensable compendium for new grandparents and growing grandchildren alike, from one of America's most revered thinkers.
Available May 5 at:
Amazon | Barnes & Noble | Google Play | Kobo | Apple Books | Indiebound | Audible | Goodreads
Best Behavior by Wendy Francis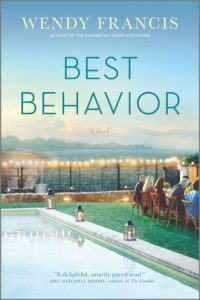 A modern-day family gathers for a weekend to remember in a novel rich in both humor and heart…
Meredith Parker has made the journey to Bolton, her twins' college, dozens of times. This weekend, though, is different. Dawn and Cody are about to graduate and move away to separate corners of the country. Meredith is proud of her kids, and she's proud of herself for helping them get this far. She just never expected the tidal wave of emotions sweeping over her—or the tangled family dynamics complicating everything.
Meredith doesn't miss her cheating ex, Roger, one bit, but sitting across from his very young, very gorgeous second wife threatens to unravel the graceful facade she's trying so hard to maintain. Joel, Meredith's husband, can see she's feeling the first pangs of empty-nest syndrome and wants to soften the blow—but he's distracted by a familiar face. Meanwhile, Cody and Dawn are sitting on their own secrets, and Roger's new wife, Lily, wonders if she really wants to be a part of this wild, mixed-up family.
As tensions simmer with each passing appetizer tray, Meredith's vision of the perfect weekend goes up in flames. But before the party's over, as best behavior gives way to brutal honesty, there'll be a chance for this new blended family to truly come together—in all its messy and glorious imperfection.
Available May 5 at:
Amazon | Barnes & Noble | Google Play | Kobo | Apple Books | Indiebound | Audible | Goodreads
The Secret of You and Me by Melissa Lenhardt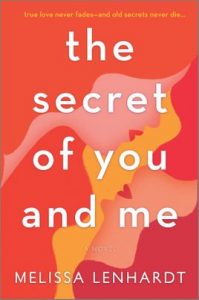 True love never fades—and old secrets never die…
Nora hasn't looked back. Not since she fled Texas to start a new life. Away from her father's volatile temper and the ever-watchful gaze of her claustrophobically conservative small town, Nora has freed herself. She can live—and love—however she wants. The only problem is that she also left behind the one woman she can't forget. Now tragedy calls her back home to confront her past—and reconcile her future.
Sophie seems to have everything—a wonderful daughter, a successful husband and a rewarding career. Yet underneath that perfection lies an explosive secret. She still yearns for Nora—her best friend and first love—despite all the years between them. Keeping her true self hidden hasn't been easy, but it's been necessary. So when Sophie finds out that Nora has returned, she hopes Nora's stay is short. The life she has built depends on it.
But they both find that first love doesn't fade easily. Memories come to light, passion ignites and old feelings resurface. As the forces of family and intolerance that once tore them apart begin to reemerge, they realize some things may never change—unless they demand it.
Available May 5 at:
Amazon | Barnes & Noble | Google Play | Kobo | Apple Books | Indiebound | Audible | Goodreads
Clap When You Land by Elizabeth Acevedo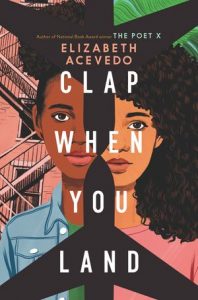 In a novel-in-verse that brims with grief and love, National Book Award-winning and New York Times-bestselling author Elizabeth Acevedo writes about the devastation of loss, the difficulty of forgiveness, and the bittersweet bonds that shape our lives.
Camino Rios lives for the summers when her father visits her in the Dominican Republic. But this time, on the day when his plane is supposed to land, Camino arrives at the airport to see crowds of crying people…
In New York City, Yahaira Rios is called to the principal's office, where her mother is waiting to tell her that her father, her hero, has died in a plane crash.
Separated by distance—and Papi's secrets—the two girls are forced to face a new reality in which their father is dead and their lives are forever altered.
And then, when it seems like they've lost everything of their father, they learn of each other.
Available May 5 at:
Amazon | Barnes & Noble | Google Play | Kobo | Apple Books | Indiebound | Audible | Goodreads
Ghosts of Harvard by Francesca Serritella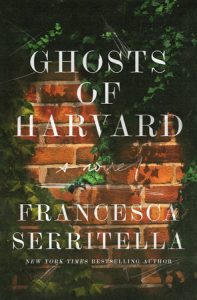 A Harvard freshman becomes obsessed with her schizophrenic brother's suicide. Then she starts hearing voices.
"Every time I thought I knew where Ghosts of Harvard was heading, I turned out to be wrong. Part mystery, part ghost story, part psychological thriller, this novel is all entertainment."—#1 New York Times bestselling author Jodi Picoult

Cadence Archer arrives on Harvard's campus desperate to understand why her brother, Eric, a genius who developed paranoid schizophrenia took his own life there the year before. Losing Eric has left a black hole in Cady's life, and while her decision to follow in her brother's footsteps threatens to break her family apart, she is haunted by questions of what she might have missed. And there's only one place to find answers.

As Cady struggles under the enormous pressure at Harvard, she investigates her brother's final year, armed only with a blue notebook of Eric's cryptic scribblings. She knew he had been struggling with paranoia, delusions, and illusory enemies—but what tipped him over the edge? Voices fill her head, seemingly belonging to three ghosts who passed through the university in life, or death, and whose voices, dreams, and terrors still echo the halls. Among them is a person whose name has been buried for centuries, and another whose name mankind will never forget.

Does she share Eric's illness, or is she tapping into something else? Cady doesn't know how or why these ghosts are contacting her, but as she is drawn deeper into their worlds, she believes they're moving her closer to the truth about Eric, even as keeping them secret isolates her further. Will listening to these voices lead her to the one voice she craves—her brother's—or will she follow them down a path to her own destruction?
Available May 5 at:
Amazon | Barnes & Noble | Google Play | Kobo | Apple Books | Indiebound | Audible | Goodreads
All Adults Here by Emma Straub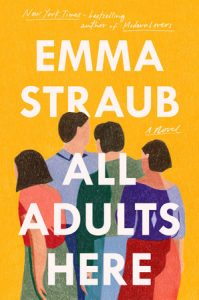 A warm, funny, and keenly perceptive novel about the life cycle of one family–as the kids become parents, grandchildren become teenagers, and a matriarch confronts the legacy of her mistakes. From the New York Times bestselling author of Modern Lovers and The Vacationers.
When Astrid Strick witnesses a school bus accident in the center of town, it jostles loose a repressed memory from her young parenting days decades earlier. Suddenly, Astrid realizes she was not quite the parent she thought she'd been to her three, now-grown children. But to what consequence?
Astrid's youngest son is drifting and unfocused, making parenting mistakes of his own. Her daughter is pregnant yet struggling to give up her own adolescence. And her eldest seems to measure his adult life according to standards no one else shares. But who gets to decide, so many years later, which long-ago lapses were the ones that mattered? Who decides which apologies really count? It might be that only Astrid's thirteen-year-old granddaughter and her new friend really understand the courage it takes to tell the truth to the people you love the most.
In All Adults Here, Emma Straub's unique alchemy of wisdom, humor, and insight come together in a deeply satisfying story about adult siblings, aging parents, high school boyfriends, middle school mean girls, the lifelong effects of birth order, and all the other things that follow us into adulthood, whether we like them to or not.
Available May 5 at:
Amazon | Barnes & Noble | Google Play | Kobo | Apple Books | Indiebound | Audible | Goodreads
This is How I Lied by Heather Gudenkauf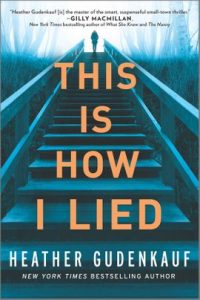 "Gudenkauf proves herself the master of the smart, suspenseful small-town thriller that gets right under your skin." —Gilly Macmillan, New York Times bestselling author of The Nanny
Everyone has a secret they'll do anything to hide…
Twenty-five years ago, the body of sixteen-year-old Eve Knox was found in the caves near her home in small-town Grotto, Iowa—discovered by her best friend, Maggie, and her sister, Nola. There were a handful of suspects, including her boyfriend, Nick, but without sufficient evidence the case ultimately went cold.
For decades Maggie was haunted by Eve's death and that horrible night. Now a detective in Grotto, and seven months pregnant, she is thrust back into the past when a new piece of evidence surfaces and the case is reopened. As Maggie investigates and reexamines the clues, secrets about what really happened begin to emerge. But someone in town knows more than they're letting on, and they'll stop at nothing to keep the truth buried deep.
Available May 12 at:
Amazon | Barnes & Noble | Google Play | Kobo | Apple Books | Indiebound | Audible | Goodreads
Secrets from a Happy Marriage by Maisey Yates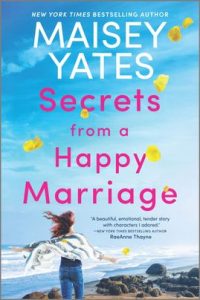 New York Times bestselling author Maisey Yates's new novel introduces the women of the Lighthouse Inn B&B. They might not have it all together, but this summer, they'll discover that together, they might still have it all…
Rachel Henderson's family is falling apart. Becoming a widow—especially at this age—is heartbreaking. With her teenage daughter, Emma, leaving soon for college, Rachel needs a friend—but local diner owner Adam is the last person she ever thought she'd lean on.
From the outside, her little sister, Anna, has a picture-perfect marriage. But the weight of it is suffocating her. The only way for her to breathe again comes at a high price, one she's not so sure she can pay.
After raising two daughters on her own, their mother, Wendy, knows just how hard life can be. She's done things she's not proud of, things she desperately wants to keep from her girls—until keeping quiet is no longer an option.
As long-held secrets bubble up and their old lives unravel, this family will need all their strength to start again and open their hearts up to the possibility of more. But most of all, they'll need each other…
Available May 12 at:
Amazon | Barnes & Noble | Google Play | Kobo | Apple Books | Indiebound | Audible | Goodreads
The Summer Set by Aimee Agresti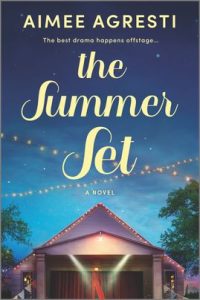 The best drama happens offstage in this undeniably charming novel about an idyllic summer theater where hot stars, has-beens and hopefuls chase roles—and each other.
Charlie Savoy was once Hollywood's hottest A-lister. Now, ten years later, she's pushing forty, exiled from the film world and back at the summer Shakespeare theater in the Berkshires that launched her career—and where her old flame, Nick, is the artistic director.
It's not exactly her first choice. But as parts are cast and rehearsals begin, Charlie is surprised to find herself getting her groove back, bonding with celebrity actors, forging unexpected new friendships and even reigniting her spark with Nick, who still seems to bring out the best in her despite their complicated history.
Until Charlie's old rival, Hollywood's current It Girl, is brought on set, threatening to undo everything she's built. As the drama amps up both on the stage and behind the curtains, Charlie must put on the show of a lifetime to fight for the second chance she deserves in career and in love.
Available May 12 at:
Amazon | Barnes & Noble | Google Play | Kobo | Apple Books | Indiebound | Audible | Goodreads
The Library of Legends by Janie Chang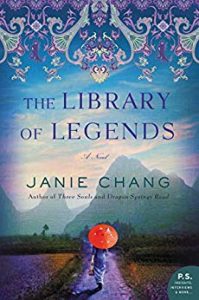 From the author of Three Souls and Dragon Springs Road comes a captivating historical novel in which a convoy of student refugees travel across China, fleeing the hostilities of a brutal war with Japan
"Myths are the darkest and brightest incarnations of who we are . . ."
China, 1937. When Japanese bombs begin falling on the city of Nanking, nineteen-year-old Hu Lian and her classmates at Minghua University are ordered to flee. Lian and a convoy of students, faculty and staff must walk 1,000 miles to the safety of China's western provinces, a journey marred by the constant threat of aerial attack. And it is not just the refugees who are at risk; Lian and her classmates have been entrusted with a priceless treasure: a 500-year-old collection of myths and folklore known as the Library of Legends.
The students' common duty to safeguard the Library of Legends creates unexpected bonds. Lian becomes friends and forms a cautious romance with the handsome and wealthy Liu Shaoming. But after one classmate is arrested and another one is murdered, Lian realizes she must escape before a family secret puts her in danger too. Accompanied by Shao and his enigmatic maidservant, Sparrow, Lian makes her way to Shanghai in the hopes of reuniting with her mother.
During the journey, Lian learns of the connection between her two companions and a tale from the Library of Legends, The Willow Star and the Prince. This revelation comes with profound consequences, for as the ancient books travel across China, they awaken immortals and guardian spirits who embark on an exodus of their own, one that will change the country's fate forever.
Available May 12 at:
Amazon | Barnes & Noble | Google Play | Kobo | Apple Books | Indiebound | Audible | Goodreads
Catherine House by Elisabeth Thomas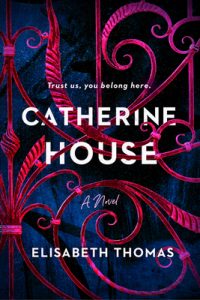 Trust us, you belong here.
A gothic-infused debut of literary suspense, set within a secluded, elite university and following a dangerously curious, rebellious undergraduate who uncovers a shocking secret about an exclusive circle of students . . . and the dark truth beneath her school's promise of prestige.
Catherine House is a school of higher learning like no other. Hidden deep in the woods of rural Pennsylvania, this crucible of reformist liberal arts study with its experimental curriculum, wildly selective admissions policy, and formidable endowment, has produced some of the world's best minds: prize-winning authors, artists, inventors, Supreme Court justices, presidents. For those lucky few selected, tuition, room, and board are free. But acceptance comes with a price. Students are required to give the House three years—summers included—completely removed from the outside world. Family, friends, television, music, even their clothing must be left behind. In return, the school promises a future of sublime power and prestige, and that its graduates can become anything or anyone they desire.
Among this year's incoming class is Ines Murillo, who expects to trade blurry nights of parties, cruel friends, and dangerous men for rigorous intellectual discipline—only to discover an environment of sanctioned revelry. Even the school's enigmatic director, Viktória, encourages the students to explore, to expand their minds, to find themselves within the formidable iron gates of Catherine. For Ines, it is the closest thing to a home she's ever had. But the House's strange protocols soon make this refuge, with its worn velvet and weathered leather, feel increasingly like a gilded prison. And when tragedy strikes, Ines begins to suspect that the school—in all its shabby splendor, hallowed history, advanced theories, and controlled decadence—might be hiding a dangerous agenda within the secretive, tightly knit group of students selected to study its most promising and mysterious curriculum.
Available May 12 at:
Amazon | Barnes & Noble | Google Play | Kobo | Apple Books | Indiebound | Audible | Goodreads
The Somerset Girls by Lori Foster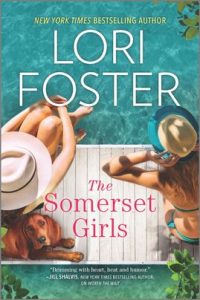 No one knows you quite like a sister…
Summer in Sunset, Kentucky, means long, hot days—and sometimes surprising new beginnings. Through it all, the ties of sisterhood will be there, guiding Autumn and Ember to the lives, and loves, they need…
When they're running the animal-rescue farm they inherited from their grandparents, Autumn and Ember Somerset are perfectly in sync. At all other times, not so much. Dependable Autumn would rather curl up with a good book than paint the town red with Ember. After the disaster that was Autumn's last relationship, it's pure self-protection. But when her high school crush comes back to town with his adorable young daughter, igniting memories best left forgotten, there's only one person Autumn can turn to…
Beneath Ember's free-spirited facade is a layer of deep hurt. She'll gladly nudge Autumn toward a second chance. But risk her own heart? Not likely. The closer Autumn gets to her own happily-ever-after, the more Ember wonders what she might be missing—and if it isn't her time to be bold, too.
Available May 19 at:
Amazon | Barnes & Noble | Google Play | Kobo | Apple Books | Indiebound | Audible | Goodreads
The Wife Stalker by Liv Constantine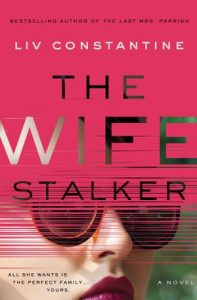 The bestselling author of The Last Mrs. Parrish returns with a psychological thriller, filled with chilling serpentine twists, about a woman fighting to hold onto the only family she's ever loved—and how far she'll go to preserve it.
Breezing into the tony seaside paradise of Westport, Connecticut, gorgeous thirtysomething Piper Reynard sets down roots, opening a rehab and wellness space and joining a local yacht club. When she meets Leo Drakos, a handsome, successful lawyer, the wedding ring on his finger is the only thing she doesn't like about him. Yet as Piper well knows, no marriage is permanent.
Meanwhile, Joanna has been waiting patiently for Leo, the charismatic man she fell in love with all those years ago, to re-emerge from the severe depression that has engulfed him. Though she's thankful when Leo returns to his charming, energetic self, paying attention again to Evie and Stelli, the children they both love beyond measure, Joanna is shocked to discover that it's not her loving support that's sparked his renewed happiness—it's something else.
Piper. Leo has fallen head over heels for the flaky, New Age-y newcomer, and unrepentant and resolute, he's more than willing to leave Joanna behind, along with everything they've built. Of course, he assures her, she can still see the children.
Joanna is devastated—and determined to find something, anything, to use against this woman who has stolen her life and her true love. As she digs deeper into Piper's past, Joanna begins to unearth disturbing secrets . . . but when she confides to her therapist that she fears for the lives of her ex-husband and children, her concerns are dismissed as paranoia. Can she find the proof she needs in time to save them?
Available May 19 at:
Amazon | Barnes & Noble | Google Play | Kobo | Apple Books | Indiebound | Audible | Goodreads
Big Summer by Jennifer Weiner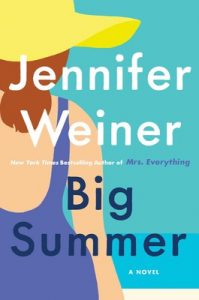 The #1 New York Times bestselling author of the "nothing short of brilliant" (People) Mrs. Everything returns with an unforgettable novel about friendship and forgiveness set during a disastrous wedding on picturesque Cape Cod.
Six years after the fight that ended their friendship, Daphne Berg is shocked when Drue Cavanaugh walks back into her life, looking as lovely and successful as ever, with a massive favor to ask. Daphne hasn't spoken one word to Drue in all this time—she doesn't even hate-follow her ex-best friend on social media—so when Drue asks if she will be her maid-of-honor at the society wedding of the summer, Daphne is rightfully speechless.
Drue was always the one who had everything—except the ability to hold onto friends. Meanwhile, Daphne's no longer the same self-effacing sidekick she was back in high school. She's built a life that she loves, including a growing career as a plus-size Instagram influencer. Letting glamorous, seductive Drue back into her life is risky, but it comes with an invitation to spend a weekend in a waterfront Cape Cod mansion. When Drue begs and pleads and dangles the prospect of cute single guys, Daphne finds herself powerless as ever to resist her friend's siren song.
A sparkling novel about the complexities of female friendship, the pitfalls of living out loud and online, and the resilience of the human heart, Big Summer is a witty, moving story about family, friendship, and figuring out what matters most.
Available May 19 at:
Amazon | Barnes & Noble | Google Play | Kobo | Apple Books | Indiebound | Audible | Goodreads
Rodham by Curtis Sittenfeld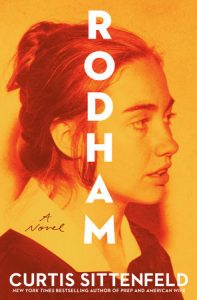 From the New York Times bestselling author of American Wife and Eligible, a novel that imagines a deeply compelling what-might-have-been: What if Hillary Rodham hadn't married Bill Clinton?

In 1971, Hillary Rodham is a young woman full of promise: Life magazine has covered her Wellesley commencement speech, she's attending Yale Law School, and she's on the forefront of student activism and the women's rights movement. And then she meets Bill Clinton. A handsome, charismatic southerner and fellow law student, Bill is already planning his political career. In each other, the two find a profound intellectual, emotional, and physical connection that neither has previously experienced.

In the real world, Hillary followed Bill back to Arkansas, and he proposed several times; although she said no more than once, as we all know, she eventually accepted and became Hillary Clinton.

But in Curtis Sittenfeld's powerfully imagined tour-de-force of fiction, Hillary takes a different road. Feeling doubt about the prospective marriage, she endures their devastating breakup and leaves Arkansas. Over the next four decades, she blazes her own trail—one that unfolds in public as well as in private, that involves crossing paths again (and again) with Bill Clinton, that raises questions about the tradeoffs all of us must make in building a life.

Brilliantly weaving a riveting fictional tale into actual historical events, Curtis Sittenfeld delivers an uncannily astute and witty story for our times. In exploring the loneliness, moral ambivalence, and iron determination that characterize the quest for political power, as well as both the exhilaration and painful compromises demanded of female ambition in a world still run mostly by men, Rodham is a singular and unforgettable novel.
Available May 19 at:
Amazon | Barnes & Noble | Google Play | Kobo | Apple Books | Indiebound | Audible | Goodreads
Beach Read by Emily Henry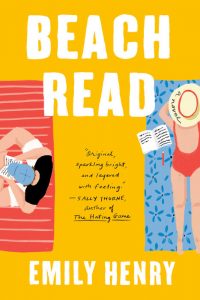 A romance writer who no longer believes in love and a literary writer stuck in a rut engage in a summer-long challenge that may just upend everything they believe about happily ever afters.

Augustus Everett is an acclaimed author of literary fiction. January Andrews writes bestselling romance. When she pens a happily ever after, he kills off his entire cast.

They're polar opposites.

In fact, the only thing they have in common is that for the next three months, they're living in neighboring beach houses, broke, and bogged down with writer's block.

Until, one hazy evening, one thing leads to another and they strike a deal designed to force them out of their creative ruts: Augustus will spend the summer writing something happy, and January will pen the next Great American Novel. She'll take him on field trips worthy of any rom-com montage, and he'll take her to interview surviving members of a backwoods death cult (obviously). Everyone will finish a book and no one will fall in love. Really.
Available May 19 at:
Amazon | Barnes & Noble | Google Play | Kobo | Apple Books | Indiebound | Audible | Goodreads
Sister Dear by Hannah Mary McKinnon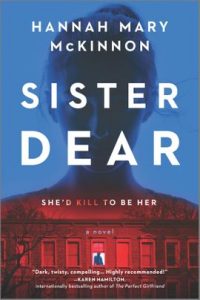 Beauty. Wealth. Success.

She's got it all.

And it all should've been mine.
When Eleanor Hardwicke's beloved father dies, her world is further shattered by a gut-wrenching secret: the man she's grieving isn't really her dad. Eleanor was the product of an affair and her biological father is still out there, living blissfully with the family he chose. With her personal life spiraling, a desperate Eleanor seeks him out, leading her to uncover another branch on her family tree—an infuriatingly enviable half sister.
Perfectly perfect Victoria has everything Eleanor could ever dream of. Loving childhood, luxury home, devoted husband. All of it stolen from Eleanor, who plans to take it back. After all, good sisters are supposed to share. And quiet little Eleanor has been waiting far too long for her turn to play.
Available May 26 at:
Amazon | Barnes & Noble | Google Play | Kobo | Apple Books | Indiebound | Audible | Goodreads
East Coast Girls by Kerry Kletter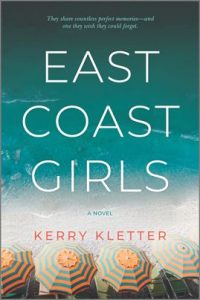 Childhood friends Hannah, Maya, Blue and Renee share a bond that feels more like family. Growing up, they had difficult home lives, and the summers they spent together in Montauk were the happiest memories they ever made. Then, the summer after graduation, one terrible night changed everything.
Twelve years have passed since that fateful incident, and their sisterhood has drifted apart, each woman haunted by her own lost innocence. But just as they reunite in Montauk for one last summer, hoping to find happiness once more, tragedy strikes again. This time it'll test them like never before, forcing them to confront decisions they've each had to live with and old secrets that refuse to stay buried.
Available May 26 at:
Amazon | Barnes & Noble | Google Play | Kobo | Apple Books | Indiebound | Audible | Goodreads
The Jane Austen Society by Natalie Jenner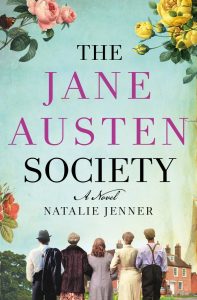 "Fans of The Chilbury Ladies' Choir and The Guernsey Literary and Potato Peel Pie Society will adore The Jane Austen Society… A charming and memorable debut, which reminds us of the universal language of literature and the power of books to unite and heal." —Pam Jenoff, New York Times bestselling author of The Lost Girls of Paris
Just after the Second World War, in the small English village of Chawton, an unusual but like-minded group of people band together to attempt something remarkable.
One hundred and fifty years ago, Chawton was the final home of Jane Austen, one of England's finest novelists. Now it's home to a few distant relatives and their diminishing estate. With the last bit of Austen's legacy threatened, a group of disparate individuals come together to preserve both Jane Austen's home and her legacy. These people—a laborer, a young widow, the local doctor, and a movie star, among others—could not be more different and yet they are united in their love for the works and words of Austen. As each of them endures their own quiet struggle with loss and trauma, some from the recent war, others from more distant tragedies, they rally together to create the Jane Austen Society.
A powerful and moving novel that explores the tragedies and triumphs of life, both large and small, and the universal humanity in us all, Natalie Jenner's The Jane Austen Society is destined to resonate with readers for years to come.
Available May 26 at:
Amazon | Barnes & Noble | Google Play | Kobo | Apple Books | Indiebound | Audible | Goodreads
Hideaway by Nora Roberts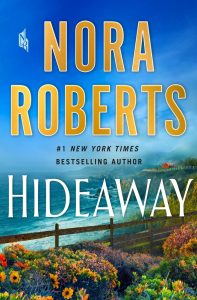 A family ranch in Big Sur country and a legacy of Hollywood royalty set the stage for Nora Roberts' emotional new suspense novel.
Caitlyn Sullivan had come from a long line of Hollywood royalty, stretching back to her Irish immigrant great-grandfather. At nine, she was already a star—yet still an innocent child who loved to play hide and seek with her cousins at the family home in Big Sur. It was during one of those games that she disappeared.
Some may have considered her a pampered princess, but Cate was in fact a smart, scrappy fighter, and she managed to escape her abductors. Callan Cooper was shocked to find the bloodied, exhausted girl huddled in his house—but when the teenager and his family heard her story they provided refuge, reuniting her with her loved ones.
Cate's ordeal, though, was far from over. First came the discovery of a shocking betrayal that would send someone she'd trusted to prison. Then there were years spent away in western Ireland, peaceful and protected but with restlessness growing in her soul.
Finally, she would return to Los Angeles, gathering the courage to act again and get past the trauma that had derailed her life. What she didn't yet know was that two seeds had been planted that long-ago night—one of a great love, and one of a terrible vengeance…
Available May 26 at:
Amazon | Barnes & Noble | Google Play | Kobo | Apple Books | Indiebound | Audible | Goodreads
What books are you looking forward to reading this May? Let us know in the comments below!