Read LGBTQIAP+ stories all year! These stories deserve to be read, celebrated, and shared in June and all months of the year. Looking for more LGBTQ+ titles and authors to add to your TBR? We have you covered. Check out the list below for some YA books we recommend!
All Signs Point To Yes
by g. haron davis, Cam Montgomery, Adrianne White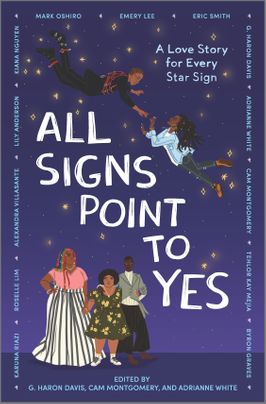 A literal star-studded anthology that delivers a love story for every star sign straight from the hearts of thirteen multicultural YA authors.
A haunted Aquarius finds love behind the veil. An ambitious Aries will do anything to stay in the spotlight. A foodie Taurus discovers the best eats in town (with a side of romance). A witchy Cancer stumbles into a curious meet-cute.
Whether it's romantic, platonic, familial, or something else you can't quite define, love is the thing that connects us. All Signs Point to Yes will take you on a journey from your own backyard to the world beyond the living as it settles us among the stars for thirteen stories of love and life.
Available May 31 2022:
Amazon | Barnes & Noble | Google Play | Kobo | Apple Books | Indiebound | Indigo |Goodreads
Bone Weaver
BY ADEN POLYDOROS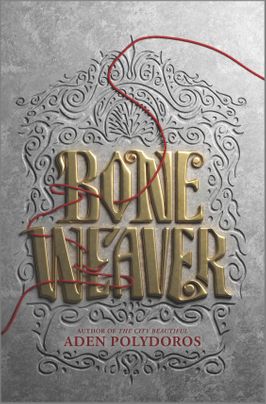 From the author of The City Beautiful comes a haunting fantasy following Toma, adopted daughter of the benevolent undead, making her way across a civil war-torn continent to save her younger sister as she discovers she might possess magical powers herself.
The Kosa empire roils in tension, on the verge of being torn apart by a proletarian revolution between magic-endowed elites and the superstitious lower class, but seventeen-year-old Toma lives blissfully disconnected from the conflict in the empire with her adoptive family of benevolent undead.
When she meets Vanya, a charming commoner branded as a witch by his own neighbors, and the dethroned Tsar Mikhail himself, the unlikely trio bonds over trying to restore Mikhail's magic and protect the empire from the revolutionary leader, Koschei, whose forces have stolen the castle. Vanya has his magic, and Mikhail has his title, but if Toma can't dig deep and find her power in time, all of their lives will be at Koschei's mercy.
Available September 2022:
Amazon | Barnes & Noble | Google Play | Kobo | Apple Books | Indiebound | Indigo | Goodreads
The City Beautiful
BY ADEN POLYDOROS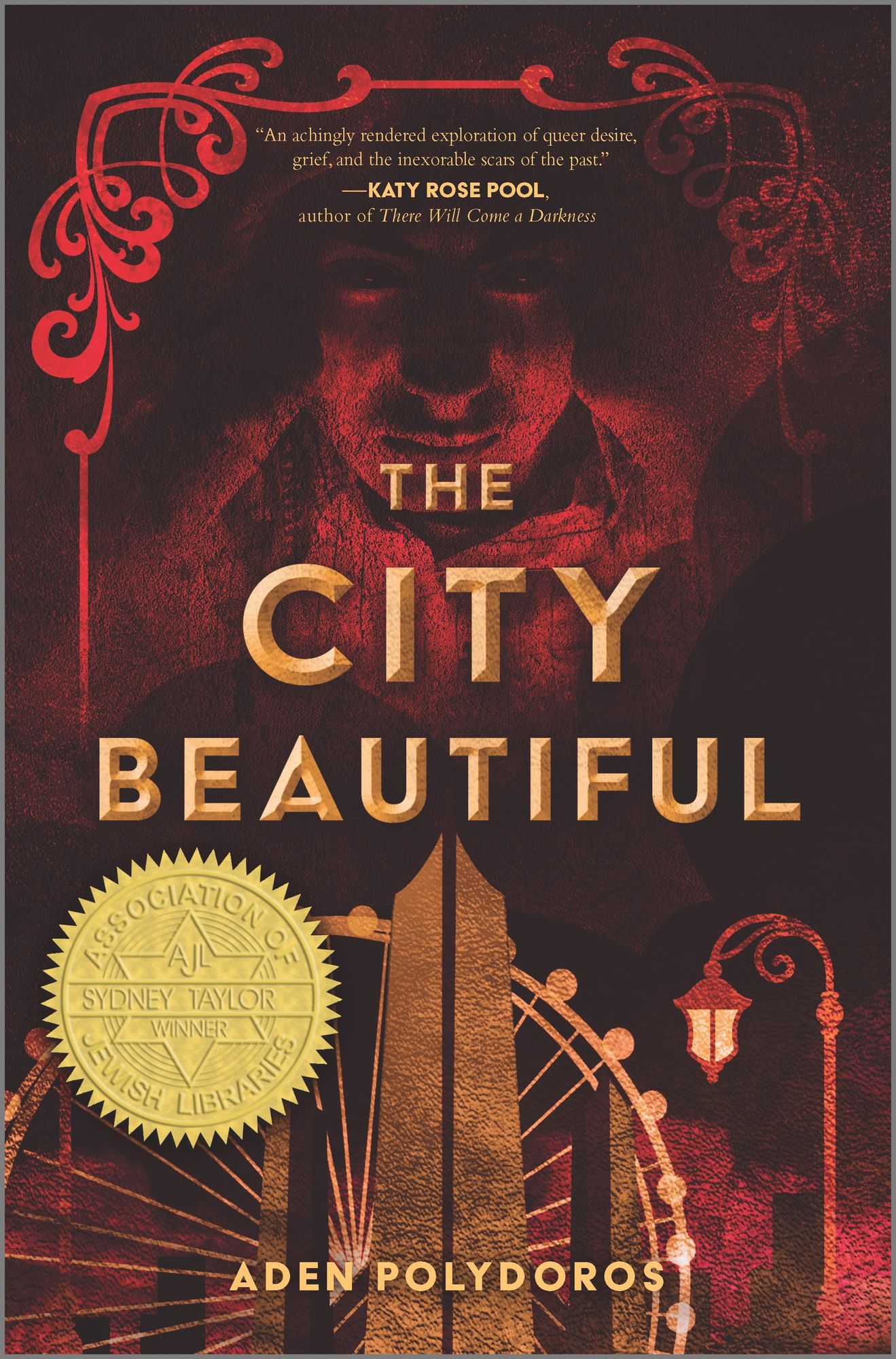 "An achingly rendered exploration of queer desire, grief, and the inexorable scars of the past." —Katy Rose Pool, author of There Will Come A Darkness
Death lurks around every corner in this unforgettable Jewish historical fantasy about a city, a boy, and the shadows of the past that bind them both together.

Chicago, 1893. For Alter Rosen, this is the land of opportunity, and he dreams of the day he'll have enough money to bring his mother and sisters to America, freeing them from the oppression they face in his native Romania.

But when Alter's best friend, Yakov, becomes the latest victim in a long line of murdered Jewish boys, his dream begins to slip away. While the rest of the city is busy celebrating the World's Fair, Alter is now living a nightmare: possessed by Yakov's dybbuk, he is plunged into a world of corruption and deceit, and thrown back into the arms of a dangerous boy from his past. A boy who means more to Alter than anyone knows.

Now, with only days to spare until the dybbuk takes over Alter's body completely, the two boys must race to track down the killer—before the killer claims them next.
"Chillingly sinister, warmly familiar, and breathtakingly transportive, The City Beautiful is the haunting, queer Jewish historical thriller of my darkest dreams."—Dahlia Adler, creator of LGBTQreads and editor of That Way Madness Lies
Available at:
Amazon | Barnes & Noble | Google Play | Kobo | Apple Books | Indiebound | Indigo | Goodreads
These Feathered Flames
BY ALEXANDRA OVERY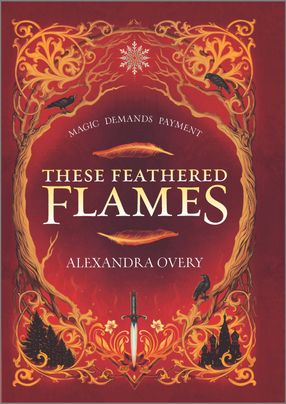 "These Feathered Flames is a stunning debut as dark, lush, and captivating as the best fairy tales."—Nina Varela, author of the Crier's War duology
When twin heirs are born in Tourin, their fates are decided at a young age. While Izaveta remained at court to learn the skills she'd need as the future queen, Asya was taken away to train with her aunt, the mysterious Firebird, who ensured magic remained balanced in the realm.
But before Asya's training is completed, the ancient power blooms inside her, which can mean only one thing: the queen is dead, and a new ruler must be crowned.
As the princesses come to understand everything their roles entail, they'll discover who they can trust, who they can love—and who killed their mother.
Available at:
Amazon | Barnes & Noble | Google Play | Kobo | Apple Books | Indiebound | Indigo |Goodreads
The Cursed Crown
BY ALEXANDRA OVERY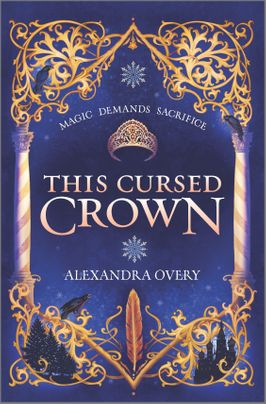 In the explosive sequel to These Feathered Flames, twin sisters Izaveta and Asya find themselves separated once again, but discovering a way back to each other may be their most perilous challenge yet.

Awakening to find herself trapped in a strange tower, Izaveta knows she must find her way back to the Tóurensi palace and claim the throne. But even with an unexpected ally's help, she worries she might not be able to get news of her survival to her sister and escape this frozen land.

Back at home, Asya enlists Nikov's help to prove Izaveta is still alive, even as she finds herself forced to navigate the political world she always sought to avoid to save her queendom, her loved ones, and herself.

But as the sisters work independently to reunite, a dangerous force lies in wait, trying to regain power in order to overthrow the monarchy…
Available December 2022:
Amazon | Barnes & Noble | Google Play | Kobo | Apple Books | Indiebound | Indigo | Goodreads
This Golden Flame
by Emily Victoria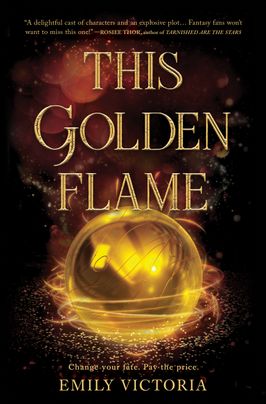 Orphaned and forced to serve her country's ruling group of scribes, Karis wants nothing more than to find her brother, long ago shipped away. But family bonds don't matter to the Scriptorium, whose sole focus is unlocking the magic of an ancient automaton army.
In her search for her brother, Karis does the seemingly impossible—she awakens a hidden automaton. Intelligent, with a conscience of his own, Alix has no idea why he was made. Or why his father—their nation's greatest traitor—once tried to destroy the automatons.
Suddenly, the Scriptorium isn't just trying to control Karis; it's hunting her. Together with Alix, Karis must find her brother…and the secret that's held her country in its power for centuries.
Available at:
Amazon | Barnes & Noble | Kobo | Apple Books | Indiebound | Indigo | Goodreads
Silver In The Mist
by Emily Victoria
Eight years ago, everything changed for Devlin: Her country was attacked. Her father was killed. And her mother became the Whisperer of Aris, the head of the spies, retreating into her position away from everyone… even her daughter.

Joining the spy ranks herself, Dev sees her mother only when receiving assignments. She wants more, but she understands the peril their country, Aris, is in. The malevolent magic force of The Mists is swallowing Aris's edges, their country is vulnerable to another attack from their wealthier neighbor, and the magic casters who protect them from both are burning out.
Dev has known strength and survival her whole life, but with a dangerous new assignment of infiltrating the royal court of their neighbor country Cerena to steal the magic they need, she learns that not all that glitters is weak. And not all stories are true.
Available November 2022:
Amazon | Barnes & Noble | Google Play | Kobo | Apple Books | Indiebound | Indigo |Goodreads
The Witch King
BY H.E. EDGMON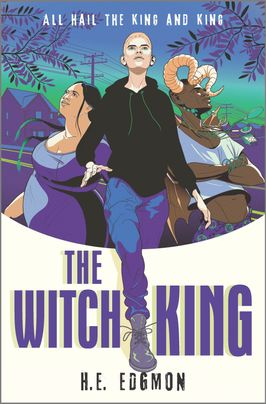 Wyatt would give anything to forget where he came from—but a kingdom demands its king.
In Asalin, fae rule and witches like Wyatt Croft…don't. Wyatt's betrothal to his best friend, fae prince Emyr North, was supposed to change that. But when Wyatt lost control of his magic one devastating night, he fled to the human world.
Now a coldly distant Emyr has hunted him down. Despite transgender Wyatt's newfound identity and troubling past, Emyr has no intention of dissolving their engagement. In fact, he claims they must marry now or risk losing the throne. Jaded, Wyatt strikes a deal with the enemy, hoping to escape Asalin forever. But as he gets to know Emyr, Wyatt realizes the boy he once loved may still exist. And as the witches face worsening conditions, he must decide once and for all what's more important—his people or his freedom.
Available at:
Amazon | Barnes & Noble | Google Play | Kobo | Apple Books | Indiebound | Indigo |Goodreads
The Fae Keeper
BY H.E. EDGMON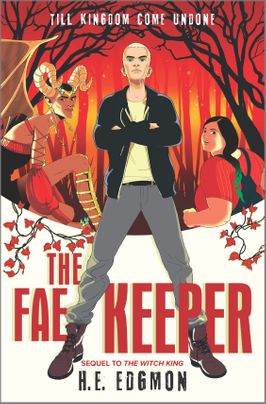 In the heart-stopping sequel to The Witch King, Wyatt and Emyr attempt to rebuild Asalin despite unexpected new enemies within their kingdom.
Two weeks after the door to Faery closed once more, Asalin is still in turmoil. Emyr and Wyatt are hunting Derek and Clarke themselves after having abolished the corrupt Guard, and are trying to convince the other kingdoms to follow their lead. But when they uncover the hidden truth about the witches' real place in fae society, it becomes clear the problems run much deeper than anyone knew. And this may be more than the two of them can fix.
As Wyatt struggles to learn control of his magic and balance his own needs with the needs of a kingdom, he must finally decide on the future he wants—before he loses the future he and Emyr are building…
Available May 31, 2022:
Amazon | Barnes & Noble | Google Play | Kobo | Apple Books | Indiebound | Indigo|Goodreads
If You Change Your Mind
by Robby Weber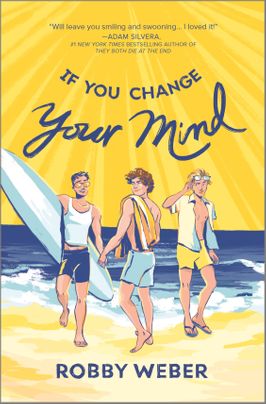 In this hilarious and heartfelt debut novel, an aspiring screenwriter learns sometimes love has its own script.

Harry wants nothing more than to write Hollywood screenplays. He knows the first step toward achieving that goal is winning a screenwriting competition that will seal his admission into the college of his dreams, so he's determined to spend his summer free of distractions—also known as boys—and finish his script. After last year, Harry is certain love only exists in the movies anyway.

But then the cause of his first heartbreak, Grant, returns with a secret that could change everything—not to mention, there's a new boy in town, Logan, who is so charming and sweet, he's making Harry question everything he knows about romance. As he tries to keep his emotions in check and stick to his perfect plan for the future, Harry's about to learn that life doesn't always follow a script.
Available at:
Amazon | Barnes & Noble | Google Play | Kobo | Apple Books | Indiebound | Indigo | Goodreads
All Out
by Saundra Mitchell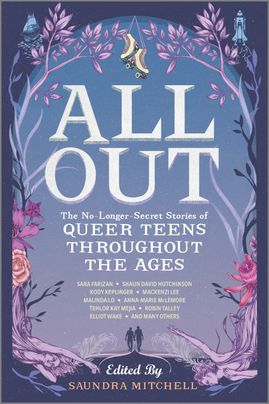 Take a journey through time and genres to discover stories where queer teens live, love, and shape the world around them.
Seventeen young adult authors across the queer spectrum have come together to create a collection of beautifully written diverse historical fiction for teens.
From a retelling of Little Red Riding Hood set in war-torn 1870s Mexico featuring a transgender soldier…to two girls falling in love while mourning the death of Kurt Cobain…to forbidden love in a sixteenth-century Spanish convent…and an asexual girl discovering her identity amid the 1970s roller-disco scene, All Out tells a diverse range of stories across cultures, time periods, and identities, shedding light on an area of history often ignored or forgotten.
Available at:
Amazon | Barnes & Noble | Google Play | Kobo | Apple Books | Indiebound | Indigo | Goodreads
Out Now
by Saundra Mitchell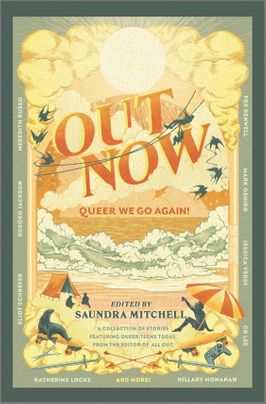 QUEER WE GO AGAIN!

Fans of Becky Albertelli, Adam Silvera and Nina LaCour will eat up this delicious anthology of romantic and adventurous contemporary and speculative stories featuring LGBTQ+ teens.
A follow-up to the critically acclaimed All Out anthology, Out Now features seventeen new short stories from amazing queer YA authors. Vampires crash prom…aliens run from the government…a president's daughter comes into her own…a true romantic tries to soften the heart of a cynical social media influencer…a selkie and the sea call out to a lost soul. Teapots and barbershops…skateboards and VW vans…Street Fighter and Ares's sword: Out Now has a story for every reader and surprises with each turn of the page!
This essential and beautifully written modern-day collection features an intersectional and inclusive slate of authors and stories.
Available at:
Amazon | Barnes & Noble | Google Play | Kobo | Apple Books | Indiebound | Indigo | Goodreads
Out There
by Saundra Mitchell
Into the queer new yonder!
To conclude the trio of anthologies that started with critically acclaimed All Out and Out Now, Out There features seventeen original short stories set in the future from fantastic queer YA authors.
Explore new and familiar worlds where the human consciousness can be uploaded into a body on Mars…an alien helps a girl decide if she should tell her best friend how she feels…two teens get stuck in a time loop at a space station…people are forced to travel to the past or the future to escape the dying planet…only a nonbinary person can translate the binary code of a machine that predicts the future…everyone in the world vanishes except for two teen girls who are in love.
This essential and beautifully written collection immerses and surprises with each turn of the page.
Available June 2022:
Amazon | Barnes & Noble | Google Play | Kobo | Apple Books | Indiebound | Indigo | Goodreads
The Sound of Stars
BY ALECHIA DOW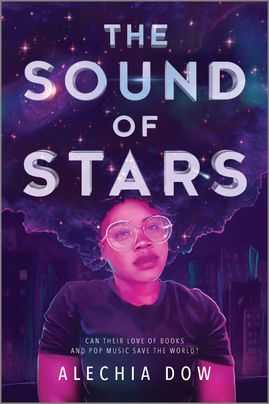 Can a girl who risks her life for books and an alien who loves pop music work together to save humanity? A beautiful and thrilling debut novel for fans of Marie Lu and Veronica Roth.
Two years ago, a misunderstanding between the leaders of Earth and the invading Ilori resulted in the deaths of one-third of the world's population.
Today, seventeen-year-old Ellie Baker survives in an Ilori-controlled center in New York City. With humans deemed dangerously volatile because of their initial reaction to the invasion, emotional expression can be grounds for execution. Music, art and books are illegal, but Ellie still keeps a secret library.
When young Ilori commander M0Rr1S finds Ellie's library, he's duty-bound to deliver her for execution. The trouble is, he finds himself drawn to human music and in desperate need of more.
Humanity's fate rests in the hands of an alien Ellie should fear, but M0Rr1S has a potential solution—thousands of miles away. The two embark on a wild and dangerous journey with a bag of books and their favorite albums, all the while creating a story and a song of their own that just might save them both.
Available at:
Amazon | Barnes & Noble | Google Play | Kobo | Apple Books | Indiebound | Indigo | Goodreads
Ace of Shades
BY AMANDA FOODY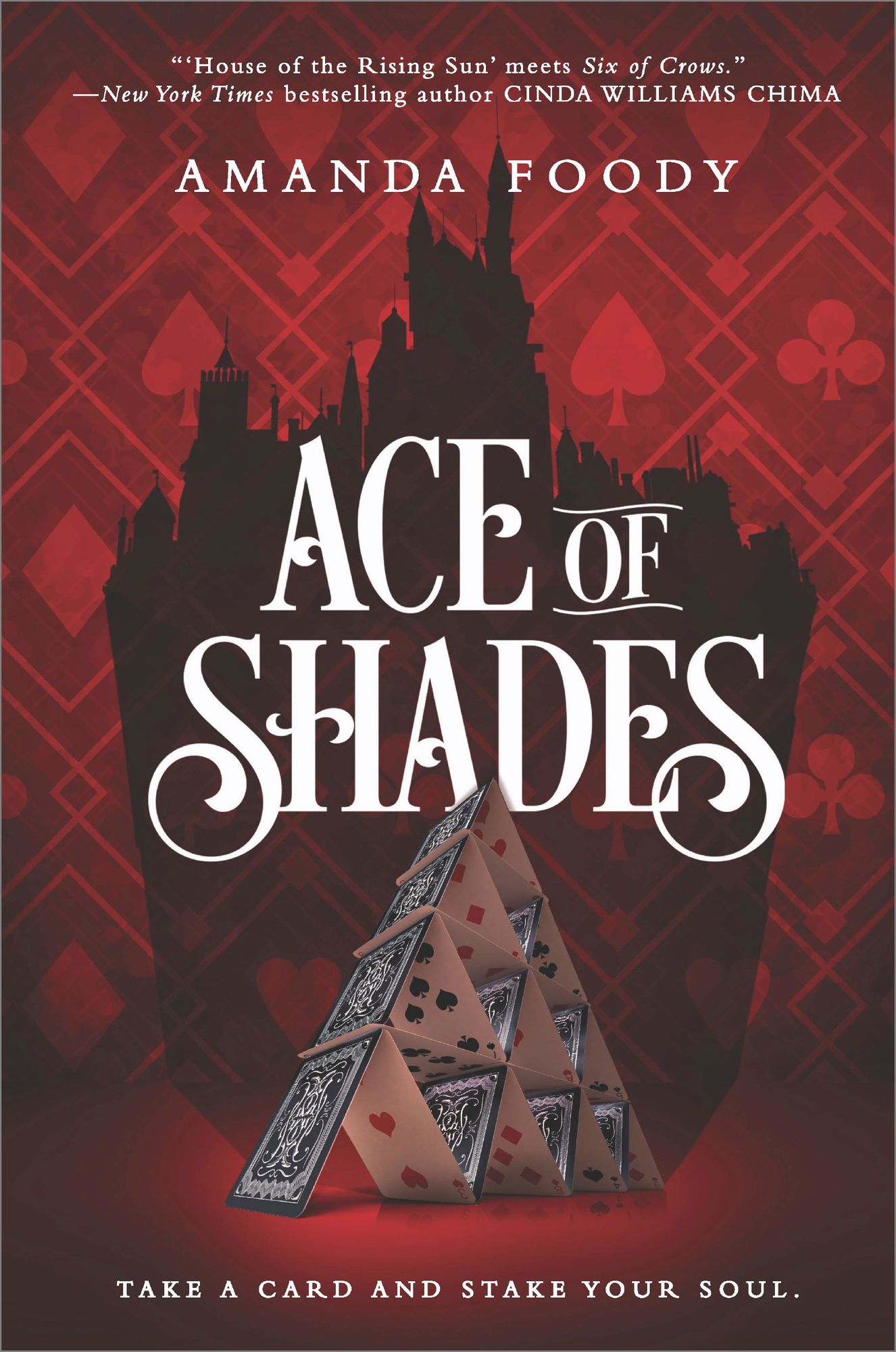 "Ace of Shades has it all …an utter delight."—Claire Legrand, New York Times bestselling author of Furyborn
"A rich, satisfying, complicated story. One of the best fantasy series I've read in years."—Christine Lynn Herman, author of The Devouring Gray
Welcome to the City of Sin, where casino families reign, gangs infest the streets…and secrets hide in every shadow.
New Reynes, the so-called City of Sin, is no place for a properly raised young lady. But when her mother goes missing, Enne Salta must leave her finishing school—and her reputation—behind to follow her mother's trail in the city where no one survives uncorrupted.
Frightened and alone, Enne's only clue leads her to Levi Glaiyser—a street lord and a con man in desperate need of the compensation Enne offers. Their search sends this unlikely duo through glamorous casinos, illicit cabarets, and into the clutches of a ruthless Mafia donna. But as Levi's enemies close in on them, a deadly secret from Enne's past comes to light and she must surrender herself to the City of Sin — to a vicious game of execution…
Where the players never win.
Available at:
Amazon | Barnes & Noble | Google Play | Kobo | Apple Books | Indiebound | Indigo | Goodreads
The King of Fools
BY AMANDA FOODY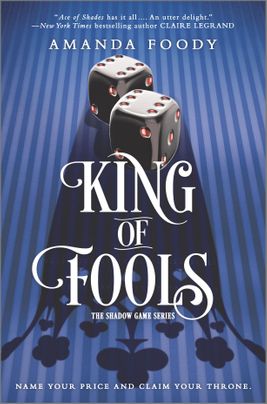 The stunning sequel to ACE OF SHADES, from the New York Times bestselling coauthor of All of Us Villains.
Indulge your vices in the City of Sin, where a sinister street war is brewing and fame is the deadliest killer of them all…
Prim and proper Enne Salta never expected to team up with Levi Glaiyser, the City of Sin's most famous con man. But winning the Shadow Game was not the victory they imagined, as now the duo are wanted for murder and Enne is forced to live in disguise as Séance, a mysterious figure of the underworld.
Thirsting for freedom and the chance to build his empire, Levi makes a deal with the estranged son of Mafia donna Vianca Augustine, while Enna remains trapped by Vianca's binding oath, unsure which of which role to truly embrace: refined lady or cunning street lord?
As Enne and Levi walk a path of unimaginable wealth and opportunity, a dangerous game of crime and politics swirls around them. And when unforeseen players enter, they must each make an impossible choice: sacrifice everything they've earned in order to survive…
Or die as legends.
Available at:
Amazon | Barnes & Noble | Google Play | Kobo | Apple Books | Indiebound | Indigo | Goodreads
Queen of Volts
BY AMANDA FOODY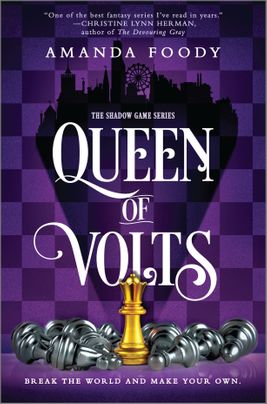 The highly anticipated final book in THE SHADOW GAME series, from the New York Times bestselling coauthor of All of Us Villains.
Return to the City of Sin, where the perilous final game is about to begin…The players? Twenty-two of the most powerful, most notorious people in New Reynes.
With no choice but to play, Enne and Levi are desperate to forge new alliances and bargain for their safety. But any misstep could turn deadly when a far more dangerous opponent appears on the board — one plucked straight from the city's most gruesome legends. While Levi hides behind a mask of false promises, Enne is finally forced out from behind hers and as the game takes its final, vicious turn, these two must decide once and for all whether to be partners or enemies.
Because in a game for survival, there are no winners…
There are only monsters.
Available at:
Amazon | Barnes & Noble | Google Play | Kobo | Apple Books | Indiebound | Indigo | Goodreads
Runebinder
by Alex R. Kahler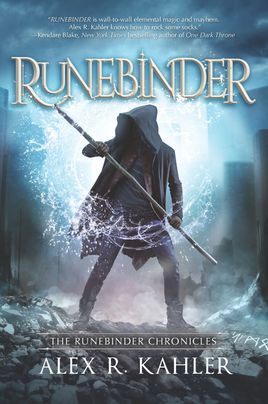 Magic is risen.
When magic returned to the world, it could have saved humanity, but greed and thirst for power caused mankind's downfall instead. Now once-human monsters called Howls prowl abandoned streets, their hunger guided by corrupt necromancers and the all-powerful Kin. Only Hunters have the power to fight back in the unending war, using the same magic that ended civilization in the first place.
But they are losing.
Tenn is a Hunter, resigned to fight even though hope is nearly lost. When he is singled out by a seductive Kin named Tom‡s and the enigmatic Hunter Jarrett, Tenn realizes he's become a pawn in a bigger game. One that could turn the tides of war. But if his mutinous magic and wayward heart get in the way, his power might not be used in favor of mankind.
If Tenn fails to play his part, it could cost him his friends, his life…and the entire world.
Available at:
Amazon | Barnes & Noble | Google Play | Kobo | Apple Books | Indiebound | Indigo | Goodreads
Runemaker
by Alex R. Kahler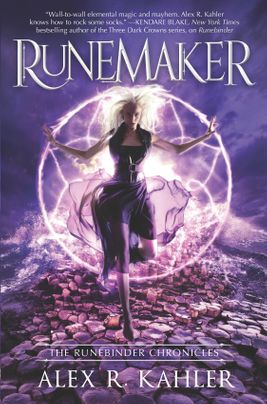 The end is here.
Tenn thought the spirits wanted him to find his fellow Hunter, Aidan, to win the war against the undead. But with Aidan on the brink of self-destruction and Tenn reeling from his lover's spite, their fated convergence seems far from promising.
Especially because Aidan no longer appears to be fighting for the living.
With the Dark Lady whispering commands and Tom‡s guiding his hand, Aidan slips deeper into darkness. And while the world rallies for its final battle against the Dark Lady's minions, Tenn finds himself torn between saving the boy who's slipping away and fulfilling a prophecy he can't understand—one that will require him to harness the most powerful magic the world has ever seen: the Sphere of Maya.
And depending on who unleashes its power, that magic could either save humanity…or erase it.
Available at:
Amazon | Barnes & Noble | Google Play | Kobo | Apple Books | Indiebound | Indigo | Goodreads
Runebreaker
by Alex R. Kahler
Magic is sin.
Aidan desires only one thing: to rule. Arrogant, headstrong and driven by the element of Fire, he will stop at nothing to bring the evil Howls that destroyed Scotland to their knees. But Fire is a treacherous element, and the very magic that brought him to power could burn his world to ash.
Especially with the blood of his fellow Hunters on his hands.
Driven by a bloodlust he can't control and dark whispers that may not be entirely in his head, he and his magic-eschewing friend Kianna will do whatever it takes to liberate their broken world. Even at the risk of confronting the Church. Even at the risk of losing his humanity.
But power isn't the only thing on Aidan's mind. He's falling for the intoxicating Tomas, an Incubus who offers everything Aidan desires. For a price.
And if that price burns the world down, well…Aidan is used to playing with Fire.
Available at:
Amazon | Barnes & Noble | Google Play | Kobo | Apple Books | Indiebound | Indigo | Goodreads
Break In Case Of An Emergency
by Brian Francis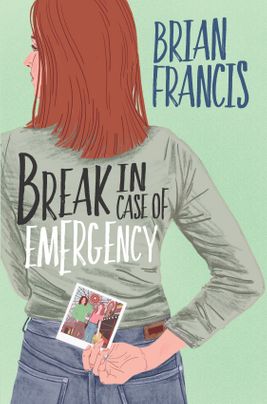 Set in a small town in the 1990s, this is the story of a girl on the edge—of a breakdown, of family secrets, of learning who she really is.
Life has been a struggle for Toby Goodman. Her mother died by suicide five years ago, and her father left before Toby was born. Now a teenager living on her grandparents' dairy farm, Toby has trouble letting people in. Convinced that she is destined to follow her mother's path, she creates a plan to escape her pain.
But with the news that her father is coming home and finally wants to meet her, Toby learns the truth of her parents' story. Her father is gay and a world-famous female impersonator—in a time when these facts are a source of small-town whispers and secrets, and not something anyone had dared talk with her about before.
As her careful plans go awry, Toby must rebuild her life from the ground up. While she might not follow an expected path, with the support of a quirky but lovable circle of friends and family, Toby will finally put together the many different pieces that make up her past, her present and her future.
Available at:
Amazon | Barnes & Noble| Apple Books | Indiebound | Indigo | Audible | Goodreads
Music From Another World
BY ROBIN TALLEY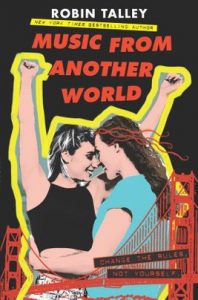 It's summer 1977 and closeted lesbian Tammy Larson can't be herself anywhere. Not at her strict Christian high school, not at her conservative Orange County church and certainly not at home, where her ultrareligious aunt relentlessly organizes antigay political campaigns. Tammy's only outlet is writing secret letters in her diary to gay civil rights activist Harvey Milk…until she's matched with a real-life pen pal who changes everything.
Sharon Hawkins bonds with Tammy over punk music and carefully shared secrets, and soon their letters become the one place she can be honest. The rest of her life in San Francisco is full of lies. The kind she tells for others—like helping her gay brother hide the truth from their mom—and the kind she tells herself. But as antigay fervor in America reaches a frightening new pitch, Sharon and Tammy must rely on their long-distance friendship to discover their deeply personal truths, what they'll stand for…and who they'll rise against.
A master of award-winning queer historical fiction, New York Times bestselling author Robin Talley once again brings to life with heart and vivid detail an emotionally captivating story about the lives of two teen girls living in an age when just being yourself was an incredible act of bravery.
Available at:
Amazon | Barnes & Noble | Google Play | Kobo | Apple Books | Indiebound | Indigo | Goodreads
Pulp
BY ROBIN TALLEY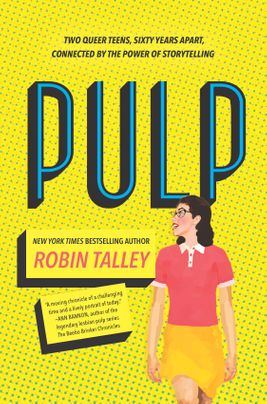 In 1955, eighteen-year-old Janet Jones keeps the love she shares with her best friend Marie a secret. It's not easy being gay in Washington, DC, in the age of McCarthyism, but when she discovers a series of books about women falling in love with other women, it awakens something in Janet. As she juggles a romance she must keep hidden and a newfound ambition to write and publish her own story, she risks exposing herself—and Marie—to a danger all too real.
Sixty-two years later, Abby Zimet can't stop thinking about her senior project and its subject—classic 1950s lesbian pulp fiction. Between the pages of her favorite book, the stresses of Abby's own life are lost to the fictional hopes, desires and tragedies of the characters she's reading about. She feels especially connected to one author, a woman who wrote under the pseudonym "Marian Love," and becomes determined to track her down and discover her true identity.
In this novel told in dual narratives, New York Times bestselling author Robin Talley weaves together the lives of two young women connected across generations through the power of words. A stunning story of bravery, love, how far we've come and how much farther we have to go.
Available at:
Amazon | Barnes & Noble | Google Play | Kobo | Apple Books | Indiebound | Indigo | Goodreads
Our Own Private Universe
BY ROBIN TALLEY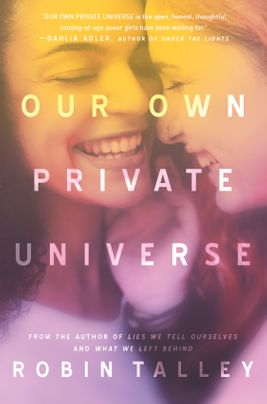 Fifteen-year-old Aki Simon has a theory. And it's mostly about sex.
No, it isn't that kind of theory. Aki already knows she's bisexual—even if, until now, it's mostly been in the hypothetical sense. Aki has dated only guys so far, and her best friend, Lori, is the only person who knows she likes girls, too.
Actually, Aki's theory is that she's got only one shot at living an interesting life—and that means she's got to stop sitting around and thinking so much. It's time for her to actually do something. Or at least try.
So when Aki and Lori set off on a church youth-group trip to a small Mexican town for the summer and Aki meets Christa—slightly older, far more experienced—it seems her theory is prime for the testing.
But it's not going to be easy. For one thing, how exactly do two girls have sex, anyway? And more important, how can you tell if you're in love? It's going to be a summer of testing theories—and the result may just be love.
Available at:
Amazon | Barnes & Noble | Google Play | Kobo | Apple Books | Indiebound | Indigo| Goodreads
What We Left Behind
BY ROBIN TALLEY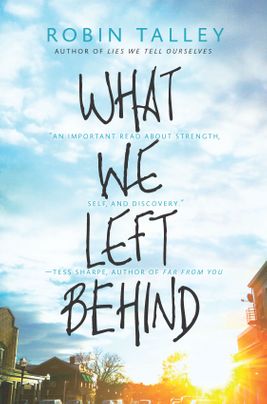 Toni and Gretchen are the couple everyone envied in high school. They've been together forever. They never fight. They're deeply, hopelessly in love. When they separate for their first year at college—Toni to Harvard and Gretchen to NYU—they're sure they'll be fine. Where other long-distance relationships have fallen apart, theirs is bound to stay rock-solid.
The reality of being apart, though, is very different than they expected. Toni, who identifies as genderqueer, meets a group of transgender upperclassmen and immediately finds a sense of belonging that has always been missing, but Gretchen struggles to remember who she is outside their relationship.
While Toni worries that Gretchen won't understand Toni's new world, Gretchen begins to wonder where she fits in this puzzle. As distance and Toni's shifting gender identity begin to wear on their relationship, the couple must decide—have they grown apart for good, or is love enough to keep them together?
Available at:
Amazon | Barnes & Noble | Google Play | Kobo | Apple Books | Indiebound | Indigo | Goodreads
Now that your TBR is fully stocked, what are you reading first? Let us know in the comments below!