The birds are chirping, the sun is shining, and the breeze is breezy! This could only mean one thing, Memorial Day! Unsure of which book from your TBR is going to come with you to the beach? Why not treat yourself and pick up one of the fresh reads below! They all have such sunny covers that they will guarantee* that you will have nice weather.
*we can't guarantee anything weather-related, despite how much we wish we could. May the odds ever be in your favor!
If You Change Your Mind by Robby Weber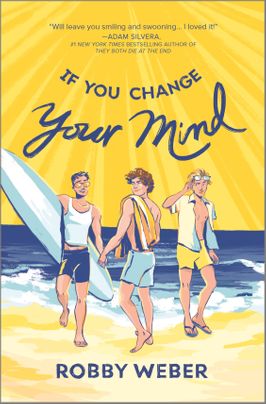 In this hilarious and heartfelt debut novel, an aspiring screenwriter learns sometimes love has its own script.

Harry wants nothing more than to write Hollywood screenplays. He knows the first step toward achieving that goal is winning a screenwriting competition that will seal his admission into the college of his dreams, so he's determined to spend his summer free of distractions—also known as boys—and finish his script. After last year, Harry is certain love only exists in the movies anyway.

But then the cause of his first heartbreak, Grant, returns with a secret that could change everything—not to mention, there's a new boy in town, Logan, who is so charming and sweet, he's making Harry question everything he knows about romance. As he tries to keep his emotions in check and stick to his perfect plan for the future, Harry's about to learn that life doesn't always follow a script.
Available at:
Amazon | Barnes & Noble | Google Play | Kobo | Apple Books | Indiebound | Indigo | Audible | Goodreads
Beach House Summer by Sarah Morgan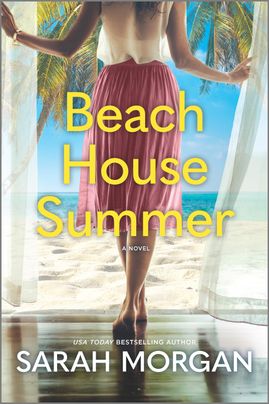 When Joanna Whitman's famous ex-husband dies in a car accident, she doesn't know what to feel. Their dysfunctional marriage held more painful secrets than she cares to remember. But when she discovers that the young woman with him in the crash is pregnant, Joanna feels compelled to act, knowing exactly how brutal the media spotlight will be on celebrity chef Cliff Whitman's ex-wife and his mysterious female friend.
Ashley Blake can't believe it when Joanna shows up in her hospital room and suggests they hide away at her beach house on a sleepy stretch of California coast. Joanna should be hating her, not helping her. But alone and pregnant, Ashley can't turn down Joanna's offer. Yet she knows that if Joanna ever found out the real reason Ashley was in that car, their tentative bond would shatter instantly.
Joanna's only goal for the summer is privacy, but her return causes major waves in the local community, especially for the man she left behind years ago. All Ashley wants is space to plan for her and her baby's future, and to avoid causing any trouble for Joanna. But as secrets spill out under the hot summer sun, this unlikely friendship is about to be put to the test.
Available at:
Amazon | Barnes & Noble | Google Play | Kobo | Apple Books | Indiebound | Indigo | Audible | Goodreads
The Summer of No Attachments by Lori Foster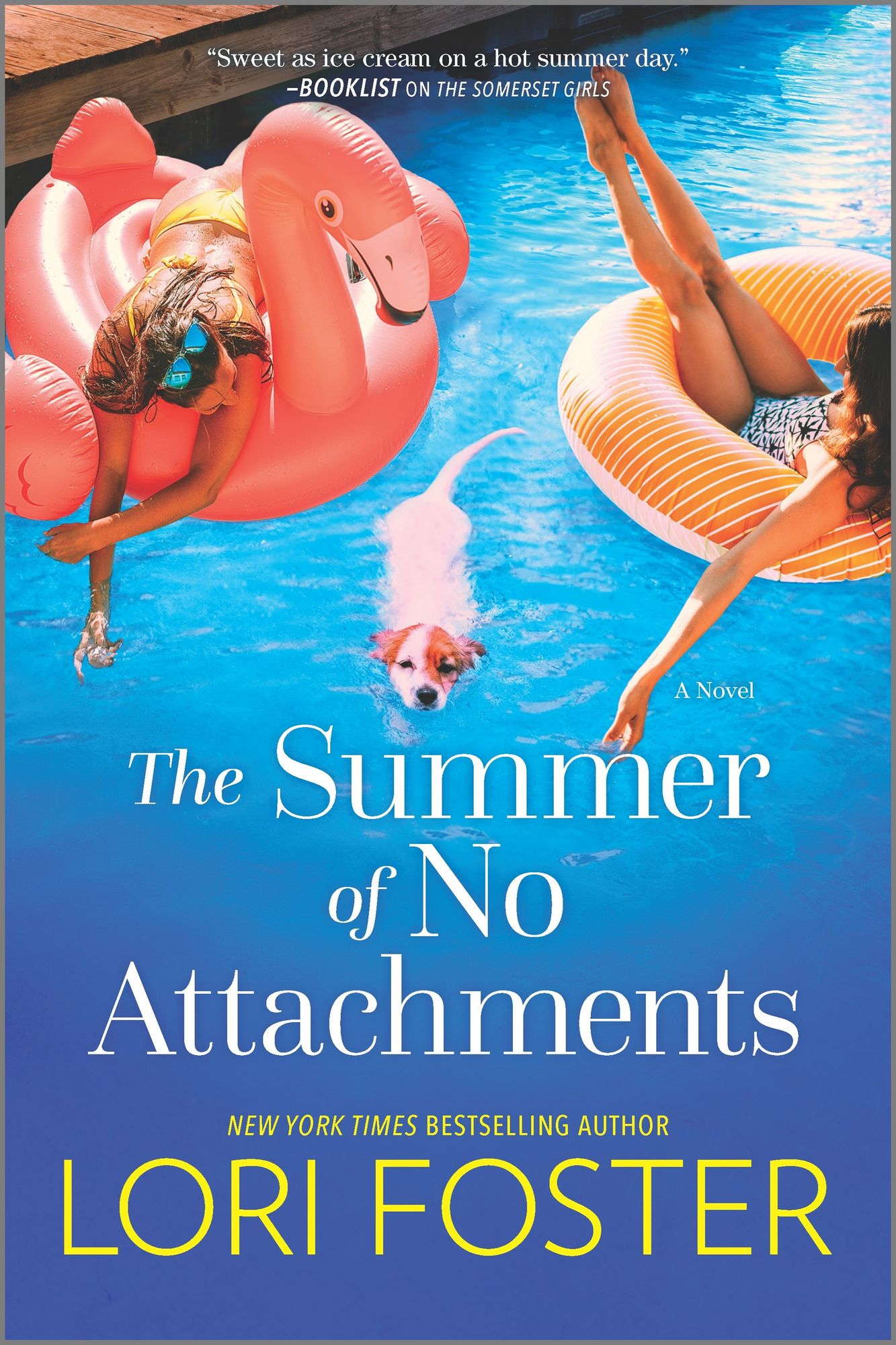 Summer flings with no strings mean nobody gets hurt.
At least, that was the plan…
"Brimming with heart, heat and humor."
—Jill Shalvis, New York Times bestselling author, on Worth the Wait
After putting the brakes on her dead-end relationship, local veterinarian Ivey Anders is ready to soak up this summer on her own terms. The way she sees it, no dating means no disappointment. Why complicate life with anything long-term? But when she meets Corbin Meyer—and his troubled young son, Justin—Ivey's no-strings strategy threatens to unravel before she can put it into practice.
Trust doesn't come easy for Ivey's best friend, Hope Mage, a veterinary-clinic assistant who's affected by an incident that's colored every relationship she's had. Though Hope's happy for Ivey, she can't quite open her own heart to the possibility of love. Not just yet… Maybe not ever. Soon, however, she's faced with a dilemma—Corbin's older brother, Lang. He's charming, he's kind…and he may just be the reason Hope needs to finally tear down her walls.
And as the sweet summer months unspool, the two friends discover love won't give up on them so easily.
Available at:
Amazon | Barnes & Noble | Google Play | Kobo | Apple Books | Indiebound | Indigo |Audible |Goodreads
Long Past Summer by Noué Kirwan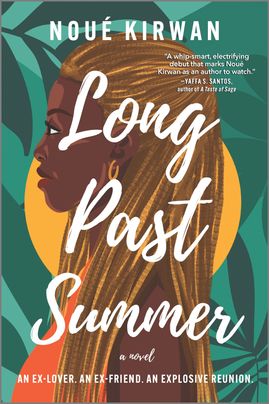 It's hard to move on from a broken heart–and harder to move on from a broken friendship.
Mikaela Marchand is living the polished life she always planned for: a successful New York lawyer, with a promotion in her sights and a devoted boyfriend by her side. She's come a long way from the meek teen she was growing up in small town Georgia, but the memory of her adolescence isn't far—in fact, it's splashed across a massive billboard in Times Square. An old photograph of Mikaela and her former best friend, Julie, has landed on the cover of a high-profile fashion magazine advertised all over the city. And when Julie files a lawsuit, Mikaela is caught in the middle as defense lawyer for the magazine.

Not only will she have to face Julie for the first time in years, Mikaela's forced to work closely with the photographer in question: the former love of her life–and Julie's ex-husband–Cameron Murphy. Mikaela needs to win the case to get her promotion–and as a junior partner, she has no margin for error. But unresolved feelings still exist between Cam and Mikaela, and jealousy always made Julie play dirty…

With flashbacks to summers of first loves and fragile friendships, Long Past Summer looks at the delicate and powerful thread that binds and breaks friends and flames.
Available at:
Amazon | Barnes & Noble | Google Play | Kobo | Apple Books | Indiebound | Indigo |Audible |Goodreads
The Boardwalk Bookshop by Susan Mallery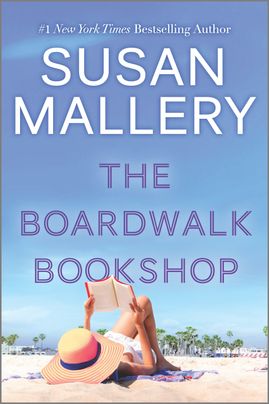 When fate brings three strangers to a charming space for lease on the California coast, the Boardwalk Bookshop is born. Part bookstore, part gift shop, part bakery, it's a dream come true for Bree, Mikki and Ashley. But while their business is thriving, their personal lives are…not.
Bree, wounded by brilliant but cold parents and her late husband's ultimate betrayal, has sworn to protect her heart at all costs. Even from Ashley's brother, a writer and adventurer who has inspired millions. He's the first man to see past Bree's barricades to her true self, which terrifies her. Mikki has this divorce thing all figured out—somehow, she's stayed friends with her ex and her in-laws…until a new man changes how everyone looks at her, and how she sees herself. Meanwhile, Ashley discovers that the love of her life never intends to marry. Can she live without being a wife if it means she can have everything else she's ever wanted?
At sunset every Friday on the beach in front of the Boardwalk Bookshop, the three friends share a champagne toast. As their bond grows closer, they challenge one another to become the best versions of themselves in this heartachingly beautiful story of friendship, sisterhood and the transformative power of love.
Available on May 31, 2022:
Amazon | Barnes & Noble | Google Play | Kobo | Apple Books | Indiebound | Indigo | Audible | Goodreads
The Summer of Sunshine and Margot by Susan Mallery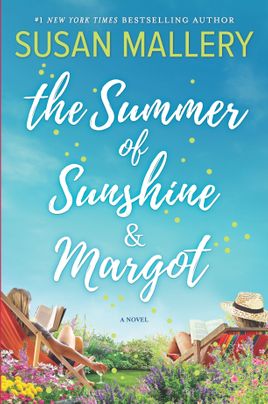 The Baxter sisters come from a long line of women with disastrous luck in love. But this summer, Sunshine and Margot will turn disasters into destiny…
As an etiquette coach, Margot teaches her clients to fit in. But she's never faced a client like Bianca, an aging movie star who gained fame—and notoriety—through a campaign of shock and awe. Schooling Bianca on the fine art of behaving like a proper diplomat's wife requires intensive lessons, forcing Margot to move into the monastery turned mansion owned by the actress's intensely private son. Like his incredible home, Alec's stony exterior hides secret depths Margot would love to explore. But will he trust her enough to let her in?
Sunshine has always been the good-time sister, abandoning jobs to chase after guys who used her, then threw her away. No more. She refuses to be "that girl" again. This time, she'll finish college, dedicate herself to her job as a nanny, and she 100 percent will not screw up her life again by falling for the wrong guy. Especially not the tempting single dad who also happens to be her boss.
Master storyteller Susan Mallery weaves threads of family drama, humor, romance and a wish-you-were-there setting into one of the most satisfying books of the year!
Available at:
Amazon | Barnes & Noble | Google Play | Kobo | Apple Books | Indiebound | Indigo | Audible | Goodreads
"We're going to need a bigger beach bag." Which of these beachy reads are coming with you? Let us know in the comments below!