May is Asian American and Native Hawaiian/Pacific Islander Heritage Month and, of course, we could not wait to highlight our authors and stories! These amazing titles deserve the spotlight. Check out the list below to see what books you should be reading and preordering this May (and all year long!).
THE LAST STORY OF MINA LEE BY NANCY JOOYOUN KIM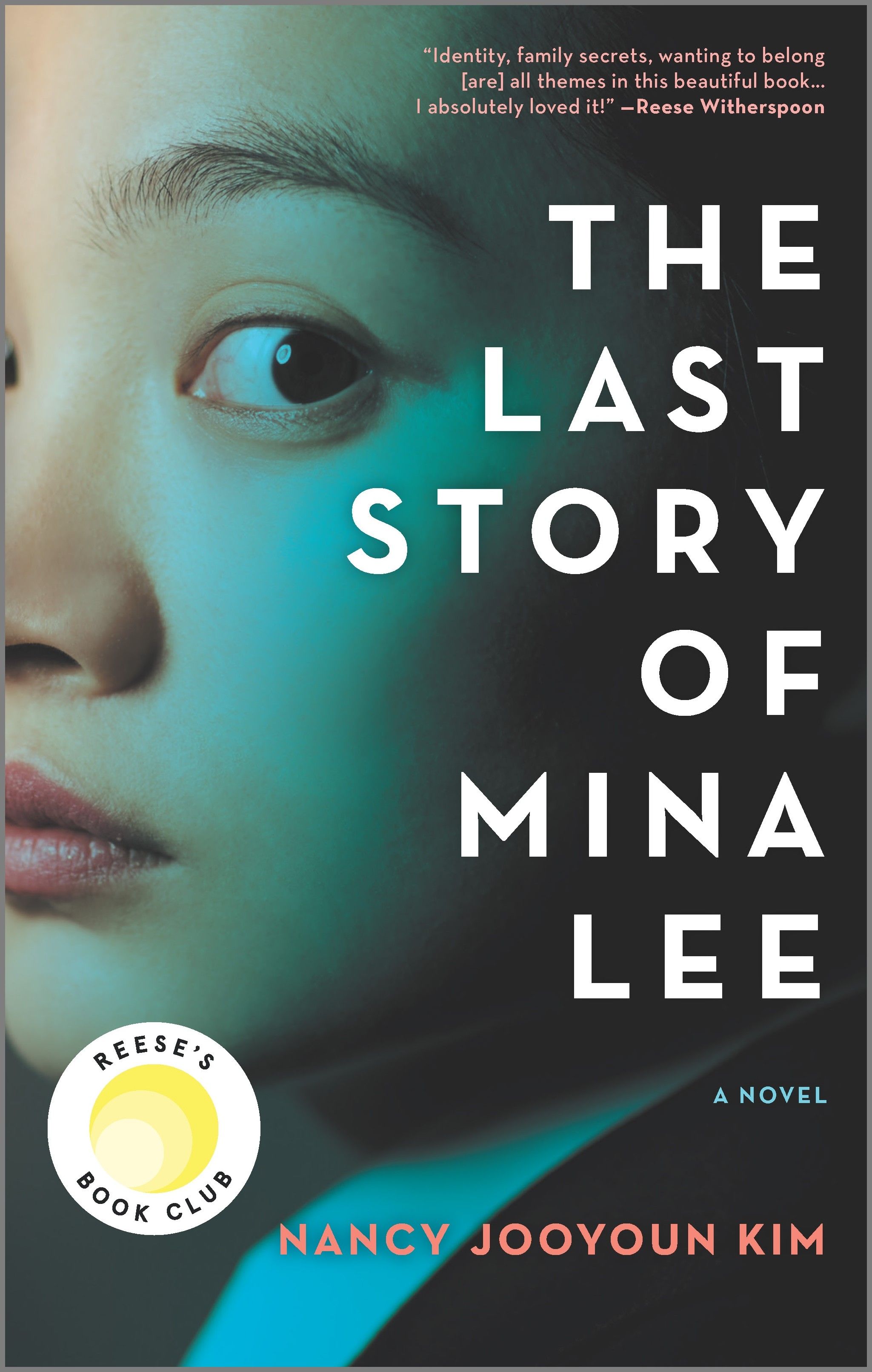 A profoundly moving and unconventional mother-daughter saga illustrating the devastating realities of being an immigrant in America.
Margot Lee's mother, Mina, isn't returning her calls. It's a mystery to twenty-six-year-old Margot, until she visits her childhood apartment in Koreatown, LA, and finds that her mother has suspiciously died. The discovery sends Margot digging through the past, unraveling her single mother's life as a Korean War orphan and an undocumented immigrant, realizing how little she truly knew about her mother.
Interwoven with Margot's present-day search is Mina's story of her first year in Los Angeles as she navigates the promises and perils of the American myth of reinvention. While she's barely earning a living, the last thing Mina ever expects is to fall in love. But that love story sets in motion a series of events that have consequences for years to come, leading up to the truth of what happened the night of her death.
Available at:
Amazon | Barnes & Noble | Google Play | Kobo | Apple Books | Indiebound | Indigo | Audible | Goodreads
BEFORE THE COFFEE GETS COLD BY TOSHIKAZU KAWAGUCHI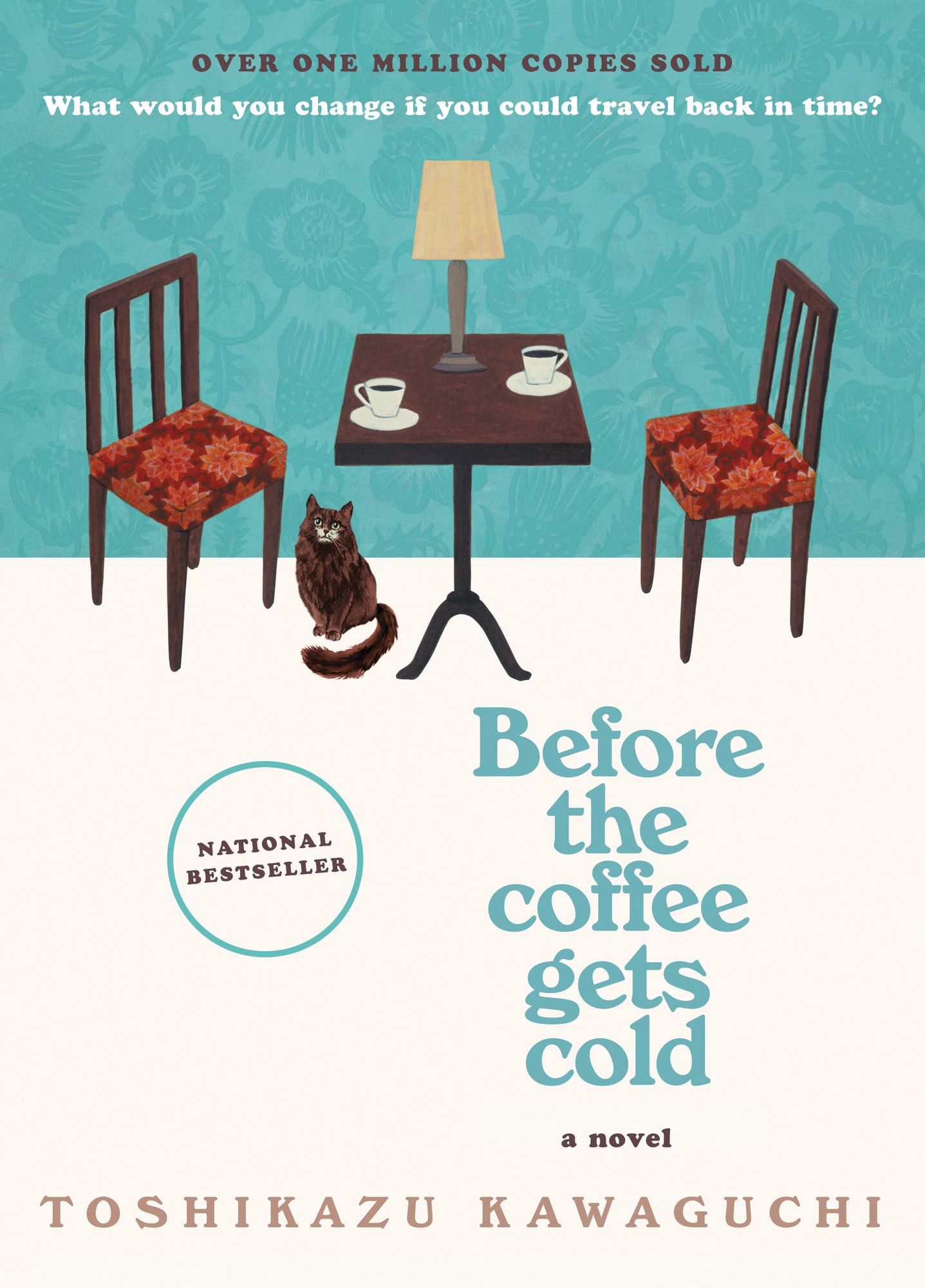 *OVER ONE MILLION COPIES SOLD*

*NOW AN INTERNATIONAL BESTSELLER*

If you could go back, who would you want to meet?

In a small back alley of Tokyo, there is a café that has been serving carefully brewed coffee for more than one hundred years. Local legend says that this shop offers something else besides coffee—the chance to travel back in time.
Over the course of one summer, four customers visit the café in the hopes of making that journey. But time travel isn't so simple, and there are rules that must be followed. Most important, the trip can last only as long as it takes for the coffee to get cold.
Heartwarming, wistful, mysterious and delightfully quirky, Toshikazu Kawaguchi's internationally bestselling novel explores the age-old question: What would you change if you could travel back in time?
Available at:
Amazon | Barnes & Noble | Google Play | Kobo | Apple Books | Indiebound | Indigo| Audible | Goodreads
TALES FROM THE CAFE BY TOSHIKAZU KAWAGUCHI
Friendship, travel, and coffee. I don't know about you, but I am definitely grateful for all these things! This beautiful book shows us that the simple things are truly important.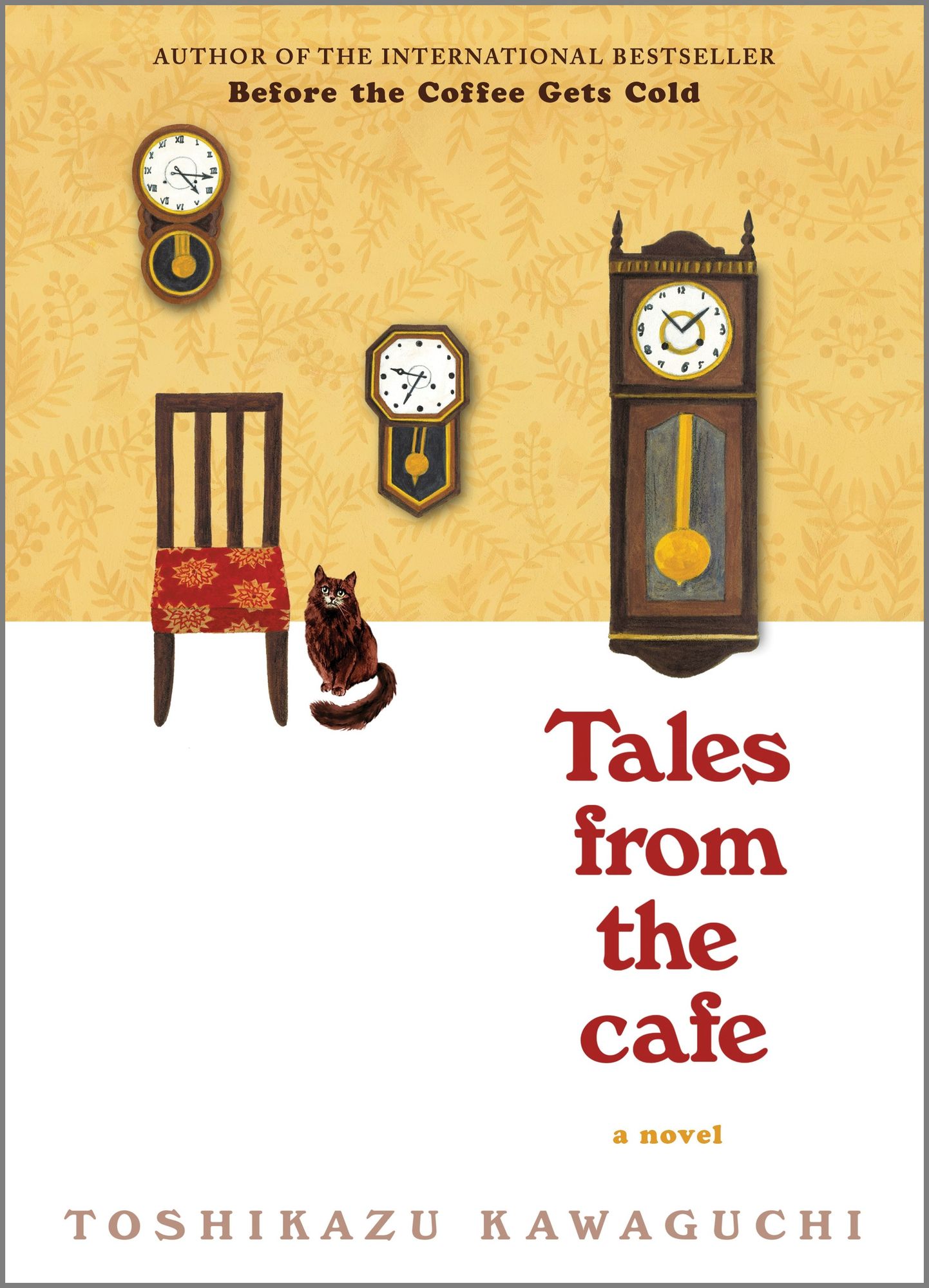 From the author of the international bestseller Before the Coffee Gets Cold, this book follows four new customers who hope to travel back in time in a little Japanese café.
In a back alley in Tokyo, there is a café that has been serving carefully brewed coffee for more than one hundred years. Local legend says that this shop offers something else besides coffee—the chance to travel back in time.
With faces both familiar and new, Tales from the Cafe follows the story of four patrons who visit to take advantage of café Funiculi Funicula's time-traveling offer and revisit moments with family, friends and lovers. Each one must face up to the past to move on with their lives.
Kawaguchi's wistful and heartwarming new novel once again invites the reader to ask themselves, "What would you do if you could travel back in time?"
Available at:
Amazon | Barnes & Noble | Google Play | Kobo | Apple Books | Indiebound | Indigo | Audible | Goodreads
LIGHT YEARS FROM HOME BY MIKE CHEN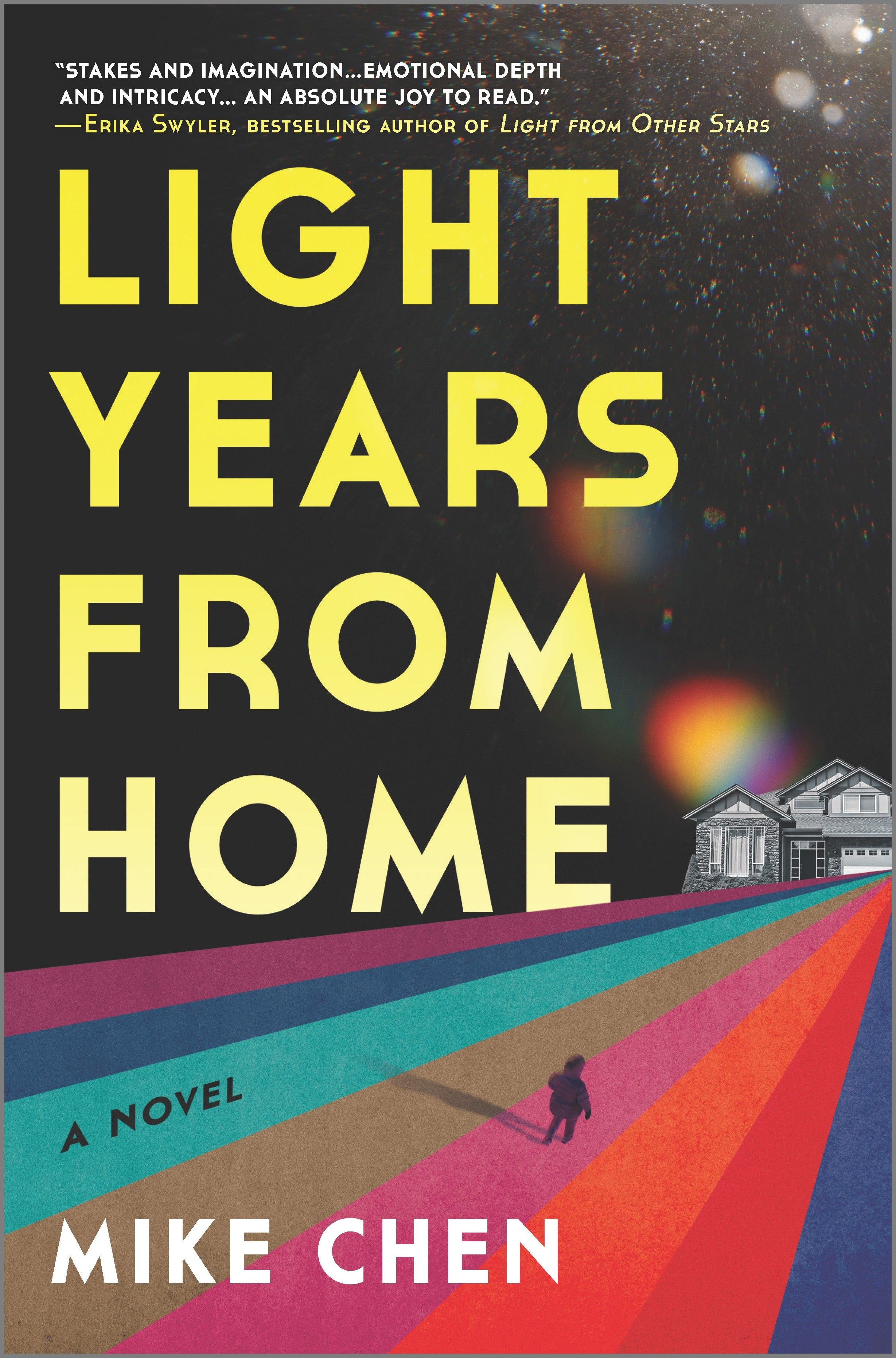 "With heart and insight…Chencrosses the stakes and imagination of a space opera with the emotional depth and intricacy of a family drama." —Erika Swyler, bestselling author of Light from Other Stars
Every family has issues. Most can't blame them on extraterrestrials.
Evie Shao and her sister, Kass, aren't on speaking terms. Fifteen years ago on a family camping trip, their father and brother vanished. Their dad turned up days later, dehydrated and confused—and convinced he'd been abducted by aliens. Their brother, Jakob, remained missing. The women dealt with it very differently. Kass, suspecting her college-dropout twin simply ran off, became the rock of the family. Evie traded academics to pursue alien conspiracy theories, always looking for Jakob.
When Evie's UFO network uncovers a new event, she goes to investigate. And discovers Jakob is back. He's different—older, stranger, and talking of an intergalactic war—but the tensions between the siblings haven't changed at all. If the family is going to come together to help Jakob, then Kass and Evie are going to have to fix their issues, and fast. Because the FBI is after Jakob, and if their brother is telling the truth, possibly an entire space armada, too.
The perfect combination of action, imagination and heart, Light Years from Home is a touching drama about a challenge as difficult as saving the galaxy: making peace with your family…and yourself.
Available at:
Amazon | Barnes & Noble | Google Play | Kobo | Apple Books | Indiebound | Indigo | Audible | Goodreads
THE OLD WOMAN WITH THE KNIFE BY GU BYEONG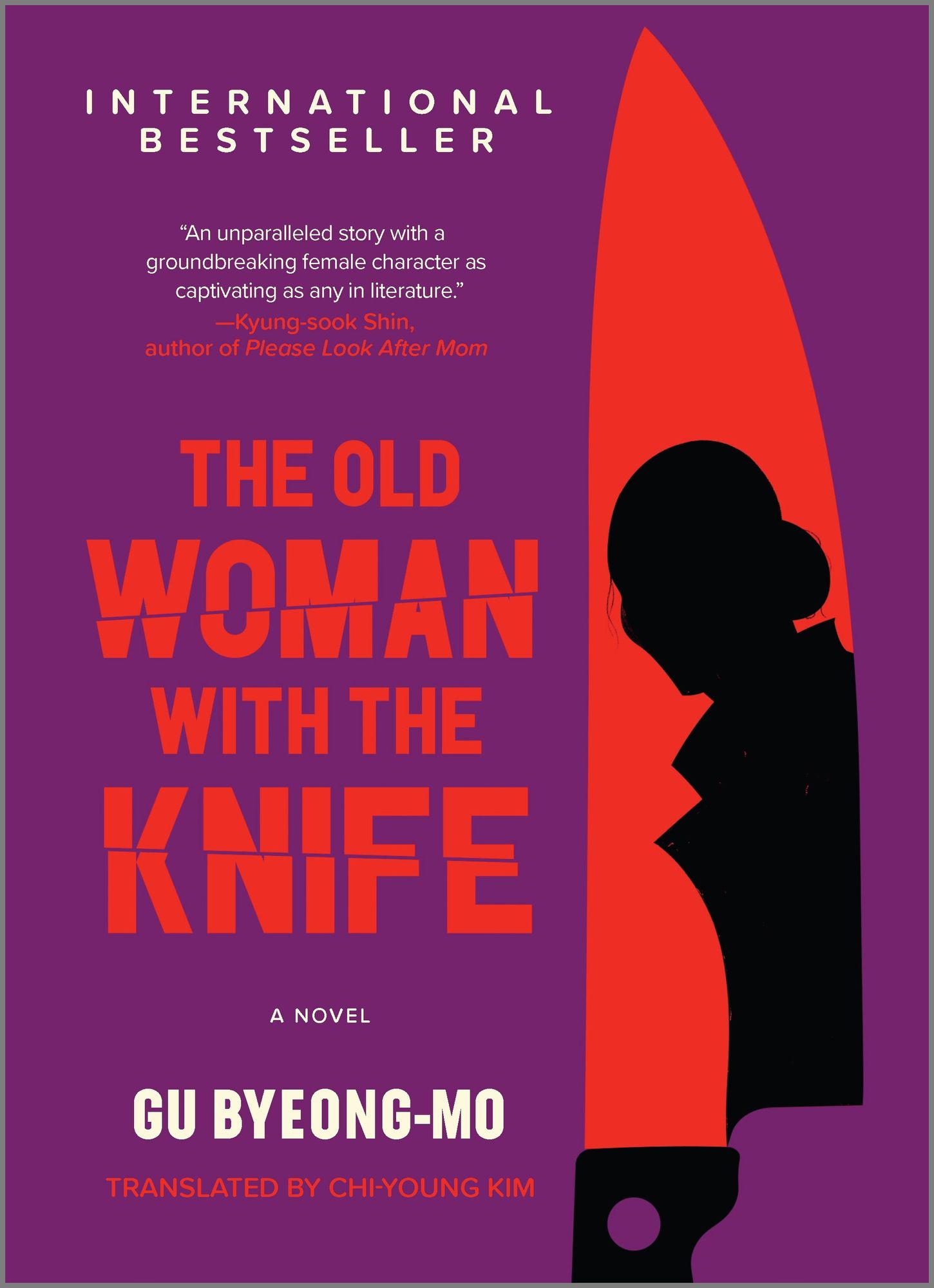 The kinetic story of a sixty-five-year-old female assassin who faces an unexpected threat in the twilight of her career—this is an international bestseller and the English language debut from an award-winning South Korean author
At sixty-five, Hornclaw is beginning to slow down. She lives modestly in a small apartment, with only her aging dog, a rescue named Deadweight, to keep her company. There are expectations for people her age—that she'll retire and live out the rest of her days quietly. But Hornclaw is not like other people. She is an assassin.
Double-crossers, corporate enemies, cheating spouses—for the past four decades, Hornclaw has killed them all with ruthless efficiency, and the less she's known about her targets, the better. But now, nearing the end of her career, she has just slipped up. An injury leads her to an unexpected connection with a doctor and his family. But emotions, for an assassin, are a dangerous proposition. As Hornclaw's world closes in, this final chapter in her career may also mark her own bloody end.
A sensation in South Korea, and now translated into English for the first time by Chi-Young Kim, The Old Woman with the Knife is an electrifying, singular, mordantly funny novel about the expectations imposed on aging bodies and the dramatic ways in which one woman chooses to reclaim her agency.
Available at:
Amazon | Barnes & Noble | Google Play | Kobo | Apple Books | Indiebound | Indigo | Audible | Goodreads
THE SECRET KEEPER OF JAIPUR BY ALKA JOSHI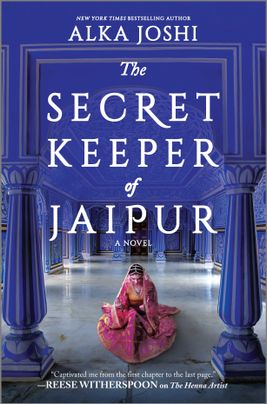 A NEW NOVEL BY THE AUTHOR OF THE HENNA ARTIST, A REESE'S BOOK CLUB PICK
"Captivated me from the first chapter to the last page." —Reese Witherspoon on The Henna Artist
In New York Times bestselling author Alka Joshi's intriguing new novel, henna artist Lakshmi arranges for her protégé, Malik, to intern at the Jaipur Palace in this tale rich in character, atmosphere, and lavish storytelling.
It's the spring of 1969, and Lakshmi, now married to Dr. Jay Kumar, directs the Healing Garden in Shimla. Malik has finished his private school education. At twenty, he has just met a young woman named Nimmi when he leaves to apprentice at the Facilities Office of the Jaipur Royal Palace. Their latest project: a state-of-the-art cinema.
Malik soon finds that not much has changed as he navigates the Pink City of his childhood. Power and money still move seamlessly among the wealthy class, and favors flow from Jaipur's Royal Palace, but only if certain secrets remain buried. When the cinema's balcony tragically collapses on opening night, blame is placed where it is convenient. But Malik suspects something far darker and sets out to uncover the truth. As a former street child, he always knew to keep his own counsel; it's a lesson that will serve him as he untangles a web of lies.
Available at:
Amazon | Barnes & Noble | Google Play | Kobo | Apple Books | Indiebound | Indigo | Audible | Goodreads
THE HENNA ARTIST BY ALKA JOSHI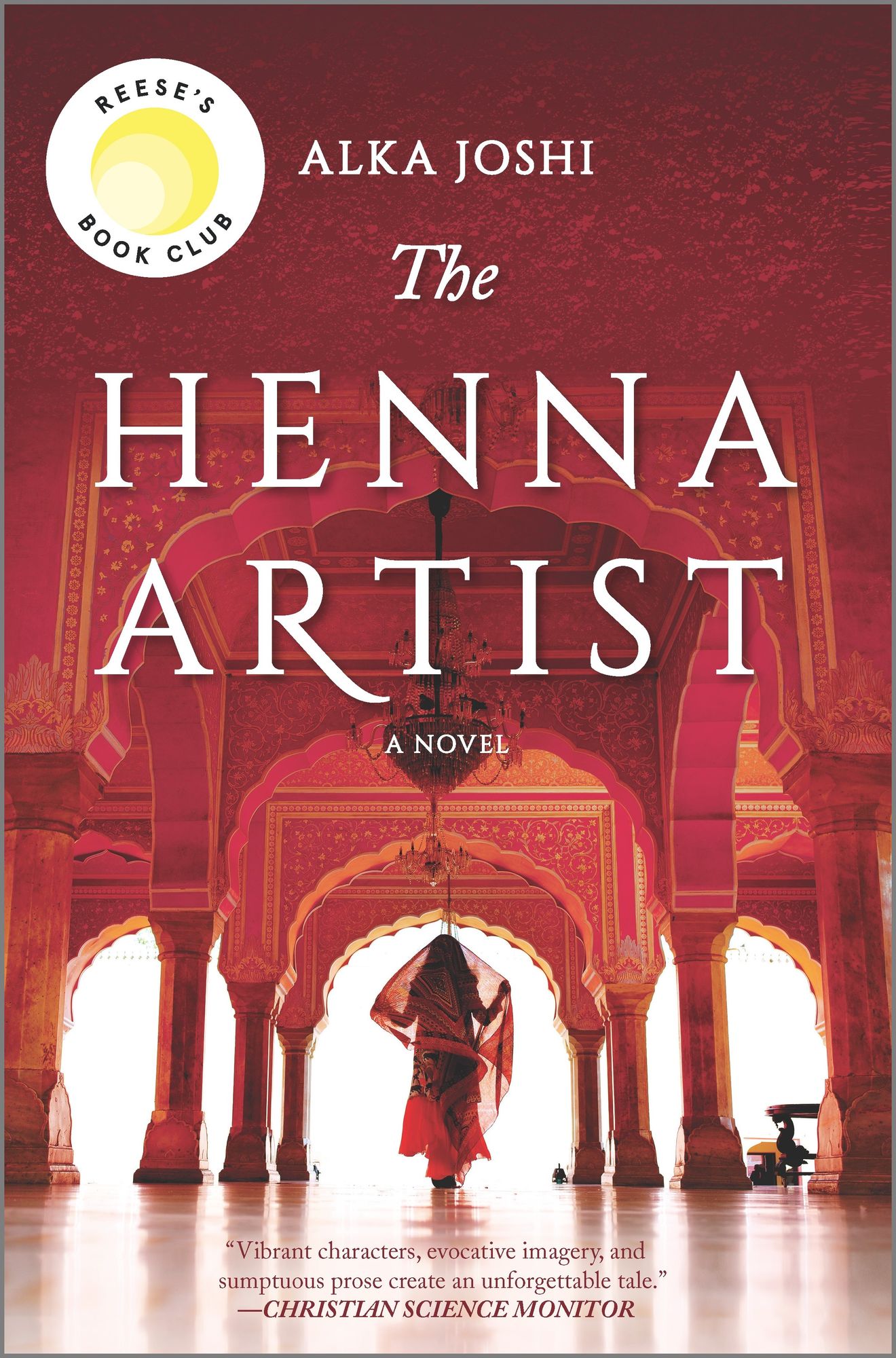 Vivid and compelling in its portrait of one woman's struggle for fulfillment in a society pivoting between the traditional and the modern.
Escaping from an abusive marriage, seventeen-year-old Lakshmi makes her way alone to the vibrant 1950s pink city of Jaipur. There she becomes the most highly requested henna artist—and confidante—to the wealthy women of the upper class. But trusted with the secrets of the wealthy, she can never reveal her own…
Known for her original designs and sage advice, Lakshmi must tread carefully to avoid the jealous gossips who could ruin her reputation and her livelihood. As she pursues her dream of an independent life, she is startled one day when she is confronted by her husband, who has tracked her down these many years later with a high-spirited young girl in tow—a sister Lakshmi never knew she had.
Available at:
Amazon | Barnes & Noble | Google Play | Kobo | Apple Books | Indiebound | Indigo | Audible | Goodreads
GOOD FAMILY BY A.H. KIM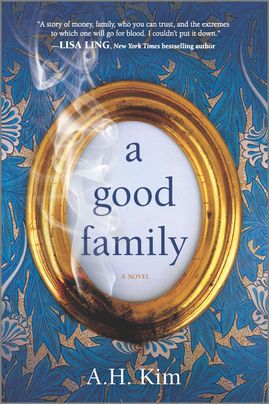 "A story of money, family, who you can trust, and the extremes to which one will go for blood. I couldn't put it down." —Lisa Ling, host of CNN's This Is Life
Keep your family close and your enemies closer.
Beth is the darling of God Halsa, a pharmaceutical giant, and she's got the outrageous salary and lifestyle to prove it. Until she lands in white-collar women's prison, thanks to a high-profile whistleblower suit.
Sam, Beth's husband, used to be the town's most eligible bachelor, and he's never had to do anything for himself. Until his wife goes to jail, and he's left to raise two daughters on his own.
Lise, the au pair, is the whistleblower. But is she? Everyone knows she's not clever enough to have done it alone.
Hannah, Sam's sister, is devoted to her family. There's nothing she wouldn't do for them.
Eva, Beth's sister, is the smart one. (Read: not the pretty one.) Her life seems perfect on the surface, but sibling rivalry runs deep.
Martin, Beth's brother, is the firstborn, the former golden boy turned inside-the Beltway businessman. But what is he hiding?
Someone knows something. Someone betrayed Beth.
This is the story of the Min-Lindstroms. This is the story of the all-American family as it implodes under the weight of secrets, lies and the unchecked desire for wealth and power.
Available at:
Amazon | Barnes & Noble | Google Play | Kobo | Apple Books | Indiebound | Audible | Goodreads
THE LAST EXILES BY ANN SHIN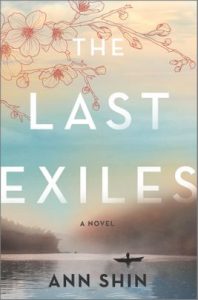 An unforgettable saga inspired by true events, The Last Exiles is a searing portrait of a young couple in Pyongyang and their fight for love and freedom
Jin and Suja met and fell in love while studying at university in Pyongyang. She was a young journalist from a prominent family, while he was from a small village of little means. Outside the school, North Korea has fallen under great political upheaval, plunged into chaos and famine. When Jin returns home to find his family starving, their food rations all but gone, he makes a rash decision that will haunt him for the rest of his life.
Meanwhile, miles away, Suja has begun to feel the tenuousness of her privilege when she learns that Jin has disappeared. Risking everything, and defying her family, Suja sets out to find him, embarking on a dangerous journey that leads her into a dark criminal underbelly and tests their love and will to survive.
In this vivid and moving story, award-winning filmmaker Ann Shin offers a rare glimpse at life inside the guarded walls of North Korea and the harrowing experiences of those who are daring enough to attempt escape. Inspired by real stories of incredible bravery, The Last Exiles is a stunning debut about love, sacrifice and the price of liberty.
Available at:
Amazon | Barnes & Noble | Google Play | Kobo | Apple Books | Indiebound | Indigo | Audible | Goodreads
NEVER SAW ME COMING BY VERA KURIAN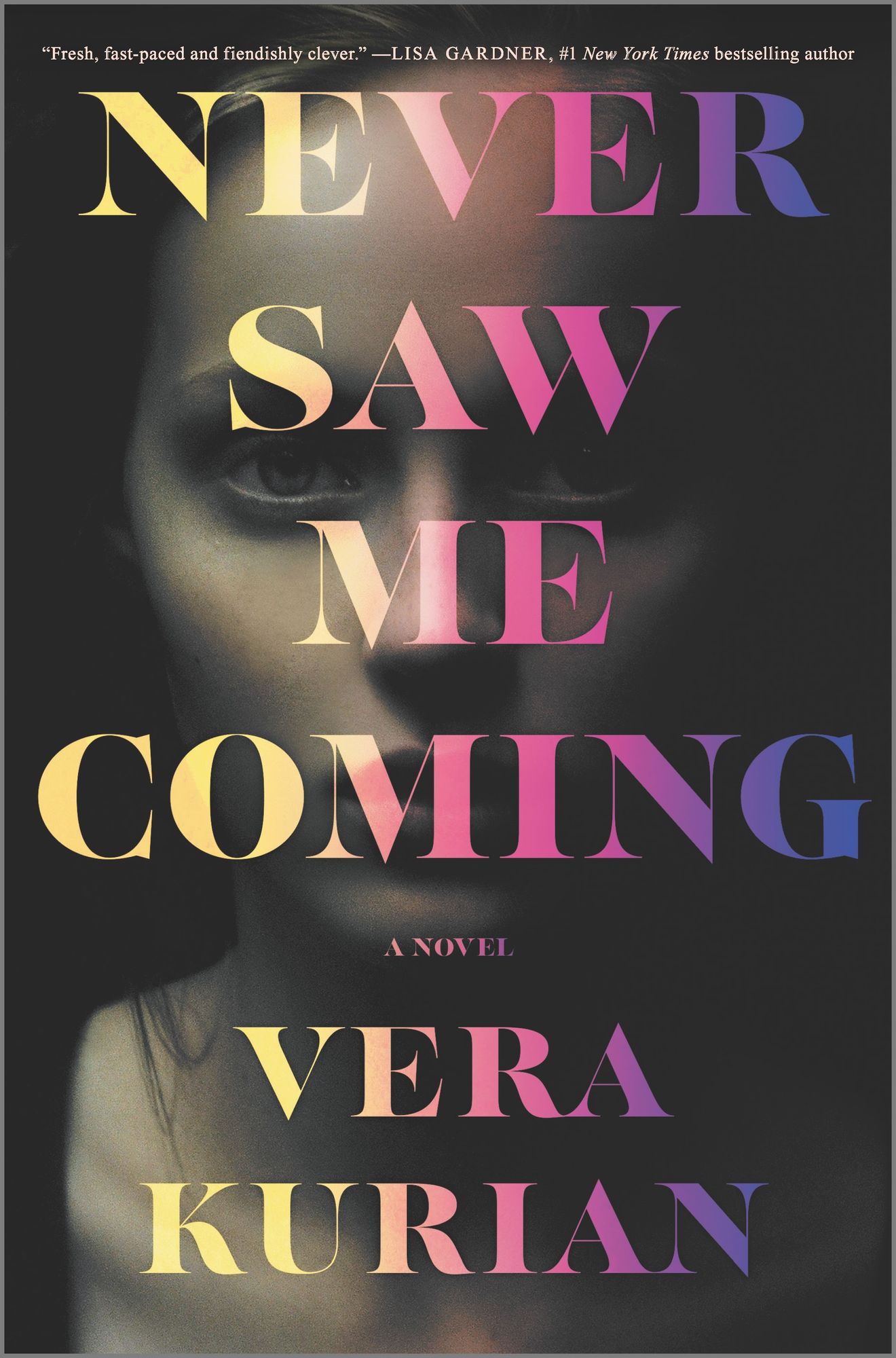 "Fresh, fast-paced and fiendishly clever! If you love watching true crime and wonder about the psychopaths among us, this is the book for you!" — Lisa Gardner, #1 New York Times bestselling author

Never Saw Me Coming is a compulsive, voice-driven thriller by an exciting new talent in fiction that will keep you pinned to the page and rooting for a would-be killer.

You should never trust a psychopath. But what if you had no choice?
It would be easy to underestimate Chloe Sevre… She's a freshman honor student, a legging-wearing hot girl next door, who also happens to be a psychopath. She spends her time on yogalates, frat parties and plotting to kill Will Bachman, a childhood friend who grievously wronged her.
Chloe is one of seven students at her DC-based college who are part of an unusual clinical study of psychopaths—students like herself who lack empathy and can't comprehend emotions like fear or guilt. The study, led by a renowned psychologist, requires them to wear smart watches that track their moods and movements.
When one of the students in the study is found murdered in the psychology building, a dangerous game of cat and mouse begins, and Chloe goes from hunter to prey. As she races to identify the killer and put her own plan for revenge into action, she'll be forced to decide if she can trust any of her fellow psychopaths—and everybody knows you should never trust a psychopath.
Available now:
Amazon | Barnes & Noble | Google Play | Kobo | Apple Books | Indiebound | Indigo | Audible | Goodreads