Pride Month is here! How are you celebrating? If you're like us, you definitely appreciate when LGTBQ+ characters are represented well in literature. These 5 amazing books are perfect selections for not just Pride Month but beyond!
Broken People by Sam Lanksy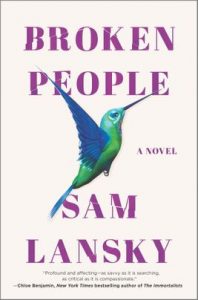 A groundbreaking, incandescent debut novel about coming to grips with the past and ourselves, for fans of Sally Rooney, Hanya Yanagihara and Garth Greenwell
"He fixes everything that's wrong with you in three days."
This is what hooks Sam when he first overhears it at a fancy dinner party in the Hollywood hills: the story of a globe-trotting shaman who claims to perform "open-soul surgery" on emotionally damaged people. For neurotic, depressed Sam, new to Los Angeles after his life in New York imploded, the possibility of total transformation is utterly tantalizing. He's desperate for something to believe in, and the shaman—who promises ancient rituals, plant medicine and encounters with the divine—seems convincing, enough for Sam to sign up for a weekend under his care.
But are the great spirits the shaman says he's summoning real at all? Or are the ghosts in Sam's memory more powerful than any magic?
At turns tender and acid, funny and wise, Broken People is a journey into the nature of truth and fiction—a story of discovering hope amid cynicism, intimacy within chaos and peace in our own skin.
Available at:
Amazon | Barnes & Noble | Google Play | Kobo | Apple Books | Indiebound | Audible | Goodreads
Music from Another World by Robin Talley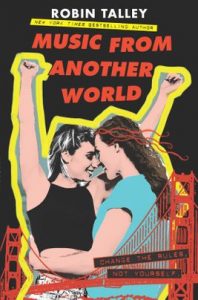 It's summer 1977 and closeted lesbian Tammy Larson can't be herself anywhere. Not at her strict Christian high school, not at her conservative Orange County church and certainly not at home, where her ultrareligious aunt relentlessly organizes antigay political campaigns. Tammy's only outlet is writing secret letters in her diary to gay civil rights activist Harvey Milk…until she's matched with a real-life pen pal who changes everything.
Sharon Hawkins bonds with Tammy over punk music and carefully shared secrets, and soon their letters become the one place she can be honest. The rest of her life in San Francisco is full of lies. The kind she tells for others—like helping her gay brother hide the truth from their mom—and the kind she tells herself. But as antigay fervor in America reaches a frightening new pitch, Sharon and Tammy must rely on their long-distance friendship to discover their deeply personal truths, what they'll stand for…and who they'll rise against.
A master of award-winning queer historical fiction, New York Times bestselling author Robin Talley once again brings to life with heart and vivid detail an emotionally captivating story about the lives of two teen girls living in an age when just being yourself was an incredible act of bravery.
Available at:
Amazon | Barnes & Noble | Google Play | Kobo | Apple Books | Indiebound | Audible | Goodreads
The Bright Lands by John Fram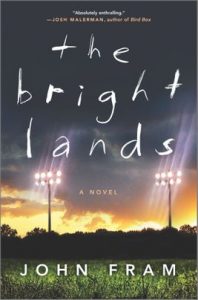 The town of Bentley holds two things dear: its football, and its secrets. But when star quarterback Dylan Whitley goes missing, an unremitting fear grips this remote corner of Texas.
Joel Whitley was shamed out of conservative Bentley ten years ago, and while he's finally made a life for himself as a gay man in New York, his younger brother's disappearance soon brings him back to a place he thought he'd escaped for good. Meanwhile, Sheriff's Deputy Starsha Clark stayed in Bentley; Joel's return brings back painful memories—not to mention questions—about her own missing brother. And in the high school hallways, Dylan's friends begin to suspect that their classmates know far more than they're telling the police. Together, these unlikely allies will stir up secrets their town has long tried to ignore, drawing the attention of dangerous men who will stop at nothing to see that their crimes stay buried.
But no one is quite prepared to face the darkness that's begun to haunt their nightmares, whispering about a place long thought to be nothing but an urban legend: an empty night, a flicker of light on the horizon—The Bright Lands.
Shocking, twisty and relentlessly suspenseful, John Fram's debut is a heart-pounding story about old secrets, modern anxieties and the price young men pay for glory.
Available at:
Amazon | Barnes & Noble | Google Play | Kobo | Apple Books | Indiebound | Audible | Goodreads
Break in Case of Emergency by Brian Francis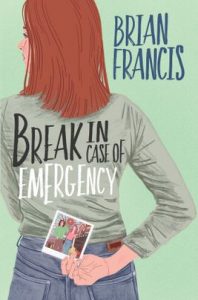 Set in a small town in the 1990s, this is the story of a girl on the edge—of a breakdown, of family secrets, of learning who she really is.
Life has been a struggle for Toby Goodman. Her mother died by suicide five years ago, and her father left before Toby was born. Now a teenager living on her grandparents' dairy farm, Toby has trouble letting people in. Convinced that she is destined to follow her mother's path, she creates a plan to escape her pain.
But with the news that her father is coming home and finally wants to meet her, Toby learns the truth of her parents' story. Her father is gay and a world-famous female impersonator—in a time when these facts are a source of small-town whispers and secrets, and not something anyone had dared talk with her about before.
As her careful plans go awry, Toby must rebuild her life from the ground up. While she might not follow an expected path, with the support of a quirky but lovable circle of friends and family, Toby will finally put together the many different pieces that make up her past, her present and her future.
Available at:
Amazon | Barnes & Noble | Google Play | Kobo | Apple Books | Indiebound | Goodreads
The Secret of You and Me by Melissa Lenhardt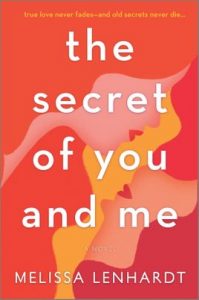 True love never fades—and old secrets never die…
Nora hasn't looked back. Not since she fled Texas to start a new life. Away from her father's volatile temper and the ever-watchful gaze of her claustrophobically conservative small town, Nora has freed herself. She can live—and love—however she wants. The only problem is that she also left behind the one woman she can't forget. Now tragedy calls her back home to confront her past—and reconcile her future.
Sophie seems to have everything—a wonderful daughter, a successful husband and a rewarding career. Yet underneath that perfection lies an explosive secret. She still yearns for Nora—her best friend and first love—despite all the years between them. Keeping her true self hidden hasn't been easy, but it's been necessary. So when Sophie finds out that Nora has returned, she hopes Nora's stay is short. The life she has built depends on it.
But they both find that first love doesn't fade easily. Memories come to light, passion ignites and old feelings resurface. As the forces of family and intolerance that once tore them apart begin to reemerge, they realize some things may never change—unless they demand it.
Available at:
Amazon | Barnes & Noble | Google Play | Kobo | Apple Books | Indiebound | Audible | Goodreads
What's your favorite story featuring LGTBQ+ characters? Let us know in the comments below!