You know that feeling when you discover a new favorite author? It's amazing! TheBookClubbish team felt that joy when we picked up each of these books by outstanding debut authors like Catherine Adel West and Alka Joshi. Give them a try and let us know what you think!
The Woman Before Wallis by Bryn Turnbull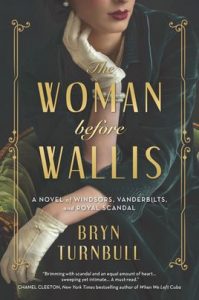 For fans of The Paris Wife and The Crown, this stunning novel tells the true story of the American divorcée who captured Prince Edward's heart before he abdicated his throne for Wallis Simpson.
In the summer of 1926, when Thelma Morgan marries Viscount Duke Furness after a whirlwind romance, she's immersed in a gilded world of extraordinary wealth and privilege. For Thelma, the daughter of an American diplomat, her new life as a member of the British aristocracy is like a fairy tale—even more so when her husband introduces her to Edward, Prince of Wales.
In a twist of fate, her marriage to Duke leads her to fall headlong into a love affair with Edward. But happiness is fleeting, and their love is threatened when Thelma's sister, Gloria Morgan Vanderbilt, becomes embroiled in a scandal with far-reaching implications. As Thelma sails to New York to support Gloria, she leaves Edward in the hands of her trusted friend Wallis, never imagining the consequences that will follow.
Bryn Turnbull takes readers from the raucous glamour of the Paris Ritz and the French Riviera to the quiet, private corners of St. James's Palace in this sweeping story of love, loyalty and betrayal.
Available at:
Amazon | Barnes & Noble | Google Play | Kobo | Apple Books | Indiebound | Audible | Goodreads
Saving Ruby King by Catherine Adel West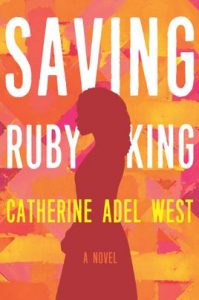 Named a Most Anticipated Book of 2020 by The Every Girl, PureWow, Book Riot, Library Journal and more.
"Forever and to the end. That's what they say instead of I love you."
When Ruby King's mother is found murdered in their home in Chicago's South Side, the police dismiss it as another act of violence in a black neighborhood. But for Ruby, it's a devastating loss that leaves her on her own with her violent father. While she receives many condolences, her best friend, Layla, is the only one who understands how this puts Ruby in jeopardy.
Their closeness is tested when Layla's father, the pastor of their church, demands that Layla stay away. But what is the price for turning a blind eye? In a relentless quest to save Ruby, Layla uncovers the murky loyalties and dangerous secrets that have bound their families together for generations. Only by facing this legacy of trauma head-on will Ruby be able to break free.
An unforgettable debut novel, Saving Ruby King is a powerful testament that history doesn't determine the present and the bonds of friendship can forever shape the future.
Available at:
Amazon | Barnes & Noble | Google Play | Kobo | Apple Books | Indiebound | Audible | Goodreads
The Henna Artist by Alka Joshi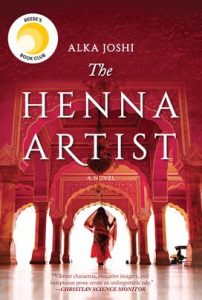 A NEW YORK TIMES BEST SELLER
A REESE WITHERSPOON x HELLO SUNSHINE BOOK CLUB PICK

Vivid and compelling in its portrait of one woman's struggle for fulfillment in a society pivoting between the traditional and the modern, The Henna Artist opens a door into a world that is at once lush and fascinating, stark and cruel.
Escaping from an abusive marriage, seventeen-year-old Lakshmi makes her way alone to the vibrant 1950s pink city of Jaipur. There she becomes the most highly requested henna artist—and confidante—to the wealthy women of the upper class. But trusted with the secrets of the wealthy, she can never reveal her own…
Known for her original designs and sage advice, Lakshmi must tread carefully to avoid the jealous gossips who could ruin her reputation and her livelihood. As she pursues her dream of an independent life, she is startled one day when she is confronted by her husband, who has tracked her down these many years later with a high-spirited young girl in tow—a sister Lakshmi never knew she had. Suddenly the caution that she has carefully cultivated as protection is threatened. Still she perseveres, applying her talents and lifting up those that surround her as she does.
Available at:
Amazon | Barnes & Noble | Google Play | Kobo | Apple Books | Indiebound | Audible | Goodreads
The Bright Lands by John Fram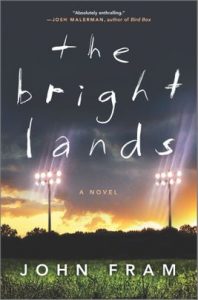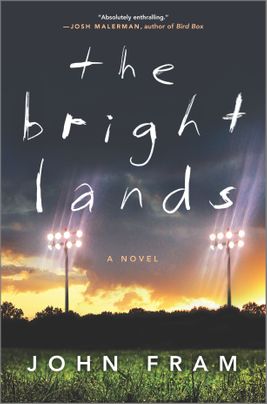 The town of Bentley holds two things dear: its football, and its secrets. But when star quarterback Dylan Whitley goes missing, an unremitting fear grips this remote corner of Texas.
Joel Whitley was shamed out of conservative Bentley ten years ago, and while he's finally made a life for himself as a gay man in New York, his younger brother's disappearance soon brings him back to a place he thought he'd escaped for good. Meanwhile, Sheriff's Deputy Starsha Clark stayed in Bentley; Joel's return brings back painful memories—not to mention questions—about her own missing brother. And in the high school hallways, Dylan's friends begin to suspect that their classmates know far more than they're telling the police. Together, these unlikely allies will stir up secrets their town has long tried to ignore, drawing the attention of dangerous men who will stop at nothing to see that their crimes stay buried.
But no one is quite prepared to face the darkness that's begun to haunt their nightmares, whispering about a place long thought to be nothing but an urban legend: an empty night, a flicker of light on the horizon—The Bright Lands.
Shocking, twisty and relentlessly suspenseful, John Fram's debut is a heart-pounding story about old secrets, modern anxieties and the price young men pay for glory.
Available at:
Amazon | Barnes & Noble | Google Play | Kobo | Apple Books | Indiebound | Audible | Goodreads
A Good Family by A.H. Kim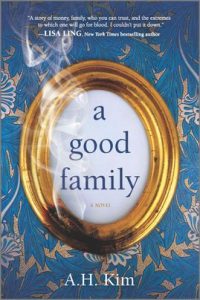 "A story of money, family, who you can trust, and the extremes to which one will go for blood. I couldn't put it down." —Lisa Ling, host of CNN's This Is Life
Keep your family close and your enemies closer.
Beth is the darling of God Halsa, a pharmaceutical giant, and she's got the outrageous salary and lifestyle to prove it. Until she lands in white-collar women's prison, thanks to a high-profile whistleblower suit.
Sam, Beth's husband, used to be the town's most eligible bachelor, and he's never had to do anything for himself. Until his wife goes to jail, and he's left to raise two daughters on his own.
Lise, the au pair, is the whistleblower. But is she? Everyone knows she's not clever enough to have done it alone.
Hannah, Sam's sister, is devoted to her family. There's nothing she wouldn't do for them.
Eva, Beth's sister, is the smart one. (Read: not the pretty one.) Her life seems perfect on the surface, but sibling rivalry runs deep.
Martin, Beth's brother, is the firstborn, the former golden boy turned inside-the Beltway businessman. But what is he hiding?
Someone knows something. Someone betrayed Beth.
This is the story of the Min-Lindstroms. This is the story of the all-American family as it implodes under the weight of secrets, lies and the unchecked desire for wealth and power.
Available at:
Amazon | Barnes & Noble | Google Play | Kobo | Apple Books | Indiebound | Audible | Goodreads
Have you read any of these books? Which one's your favorite? Comment below!