Looking for a new book that you won't be able to put down? These six reads will have you glued to your seat until the very last page. Go ahead and choose your own adventure! From exploring India in the 1950s with The Henna Artist by Alka Joshi to getting inspired to create your very own friendship list with The Friendship List by Susan Mallery, there's a read out there for you (and your book club!).
The Henna Artist by Alka Joshi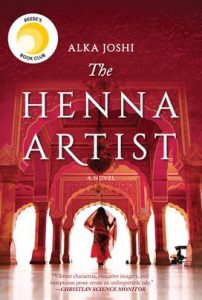 A NEW YORK TIMES BEST SELLER
A REESE WITHERSPOON x HELLO SUNSHINE BOOK CLUB PICK

Vivid and compelling in its portrait of one woman's struggle for fulfillment in a society pivoting between the traditional and the modern, The Henna Artist opens a door into a world that is at once lush and fascinating, stark and cruel.
Escaping from an abusive marriage, seventeen-year-old Lakshmi makes her way alone to the vibrant 1950s pink city of Jaipur. There she becomes the most highly requested henna artist—and confidante—to the wealthy women of the upper class. But trusted with the secrets of the wealthy, she can never reveal her own…
Known for her original designs and sage advice, Lakshmi must tread carefully to avoid the jealous gossips who could ruin her reputation and her livelihood. As she pursues her dream of an independent life, she is startled one day when she is confronted by her husband, who has tracked her down these many years later with a high-spirited young girl in tow—a sister Lakshmi never knew she had. Suddenly the caution that she has carefully cultivated as protection is threatened. Still she perseveres, applying her talents and lifting up those that surround her as she does.
Available at:
Amazon | Barnes & Noble | Google Play | Kobo | Apple Books | Indiebound | Audible | Goodreads
Broken People by Sam Lansky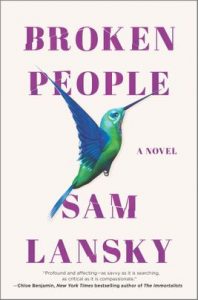 A groundbreaking, incandescent debut novel about coming to grips with the past and ourselves, for fans of Sally Rooney, Hanya Yanagihara and Garth Greenwell
"He fixes everything that's wrong with you in three days."
This is what hooks Sam when he first overhears it at a fancy dinner party in the Hollywood hills: the story of a globe-trotting shaman who claims to perform "open-soul surgery" on emotionally damaged people. For neurotic, depressed Sam, new to Los Angeles after his life in New York imploded, the possibility of total transformation is utterly tantalizing. He's desperate for something to believe in, and the shaman—who promises ancient rituals, plant medicine and encounters with the divine—seems convincing, enough for Sam to sign up for a weekend under his care.
But are the great spirits the shaman says he's summoning real at all? Or are the ghosts in Sam's memory more powerful than any magic?
At turns tender and acid, funny and wise, Broken People is a journey into the nature of truth and fiction—a story of discovering hope amid cynicism, intimacy within chaos and peace in our own skin.
Available at:
Amazon | Barnes & Noble | Google Play | Kobo | Apple Books | Indiebound | Audible | Goodreads
The Friendship List by Susan Mallery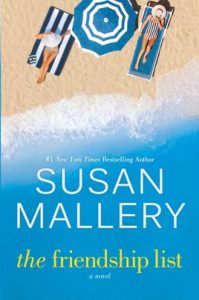 Ellen and Unity are such close friends they are practically sisters!
[ ] Dance till dawn

[ ] Go skydiving

[ ] Wear a bikini in public

[ ] Start living

Two best friends jump-start their lives in a summer that will change them forever…Single mom Ellen Fox couldn't be more content—until she overhears her son saying he can't go to his dream college because she needs him too much. If she wants him to live his best life, she has to convince him she's living hers.
So Unity Leandre, her best friend since forever, creates a list of challenges to push Ellen out of her comfort zone. Unity will complete the list, too, but not because she needs to change. What's wrong with a thirtysomething widow still sleeping in her late husband's childhood bed?
The Friendship List begins as a way to make others believe they're just fine. But somewhere between "wear three-inch heels" and "have sex with a gorgeous guy," Ellen and Unity discover that life is meant to be lived with joy and abandon, in a story filled with humor, heartache and regrettable tattoos.
Available at:
Amazon | Barnes & Noble | Google Play | Kobo | Apple Books | Indiebound | Audible | Goodreads
East Coast Girls by Kerry Kletter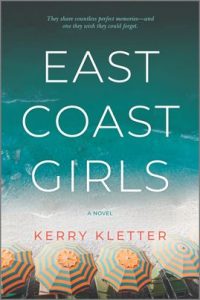 Childhood friends Hannah, Maya, Blue and Renee share a bond that feels more like family. Growing up, they had difficult home lives, and the summers they spent together in Montauk were the happiest memories they ever made. Then, the summer after graduation, one terrible night changed everything.
Twelve years have passed since that fateful incident, and their sisterhood has drifted apart, each woman haunted by her own lost innocence. But just as they reunite in Montauk for one last summer, hoping to find happiness once more, tragedy strikes again. This time it'll test them like never before, forcing them to confront decisions they've each had to live with and old secrets that refuse to stay buried.
Available at:
Amazon | Barnes & Noble | Google Play | Kobo | Apple Books | Indiebound | Audible | Goodreads
Saving Ruby King by Catherine Adel West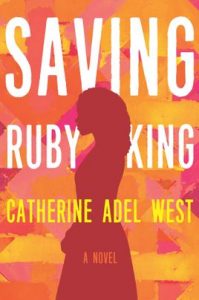 Named a Most Anticipated Book of 2020 by The Every Girl, PureWow, Book Riot, Library Journal and more.
"Forever and to the end. That's what they say instead of I love you."
When Ruby King's mother is found murdered in their home in Chicago's South Side, the police dismiss it as another act of violence in a black neighborhood. But for Ruby, it's a devastating loss that leaves her on her own with her violent father. While she receives many condolences, her best friend, Layla, is the only one who understands how this puts Ruby in jeopardy.
Their closeness is tested when Layla's father, the pastor of their church, demands that Layla stay away. But what is the price for turning a blind eye? In a relentless quest to save Ruby, Layla uncovers the murky loyalties and dangerous secrets that have bound their families together for generations. Only by facing this legacy of trauma head-on will Ruby be able to break free.
An unforgettable debut novel, Saving Ruby King is a powerful testament that history doesn't determine the present and the bonds of friendship can forever shape the future.
Available at:
Amazon | Barnes & Noble | Google Play | Kobo | Apple Books | Indiebound | Audible | Goodreads
The Imperfects by Amy Meyerson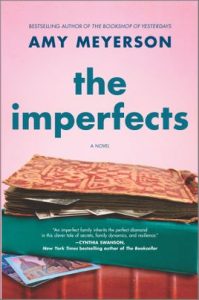 From the bestselling author of The Bookshop of Yesterdays comes a captivating new novel about a priceless inheritance that leads one family on a life-altering pursuit of the truth.
The Millers are far from perfect. Estranged siblings Beck, Ashley and Jake find themselves under one roof for the first time in years, forced to confront old resentments and betrayals, when their mysterious, eccentric matriarch, Helen, passes away. But their lives are about to change when they find a secret inheritance hidden among her possessions—the Florentine Diamond, a 137-carat yellow gemstone that went missing from the Austrian Empire a century ago.
Desperate to learn how one of the world's most elusive diamonds ended up in Helen's bedroom, they begin investigating her past only to realize how little they know about their brave, resilient grandmother. As the Millers race to determine whether they are the rightful heirs to the diamond and the fortune it promises, they uncover a past more tragic and powerful than they ever could have imagined, forever changing their connection to their heritage and each other.
Inspired by the true story of the real, still-missing Florentine Diamond, The Imperfects illuminates the sacrifices we make for family and how sometimes discovering the truth of the past is the only way to better the future.
Available at:
Amazon | Barnes & Noble | Google Play | Kobo | Apple Books | Indiebound | Audible | Goodreads
What was the last book you read that you couldn't put down? Let us know in the comments below!