Halloween and quickly approaching, which means the two most important days are almost here: October 31st (obviously) and November 1st (because all of the Halloween candy will be on sale), of course! To tide you over until those sweet sweet sales, we've compiled this list to make your TBR even sweeter. You officially have our permission to treat yourself to these wonderful reads!
Before the Coffee Gets Cold by Toshikazu Kawaguchi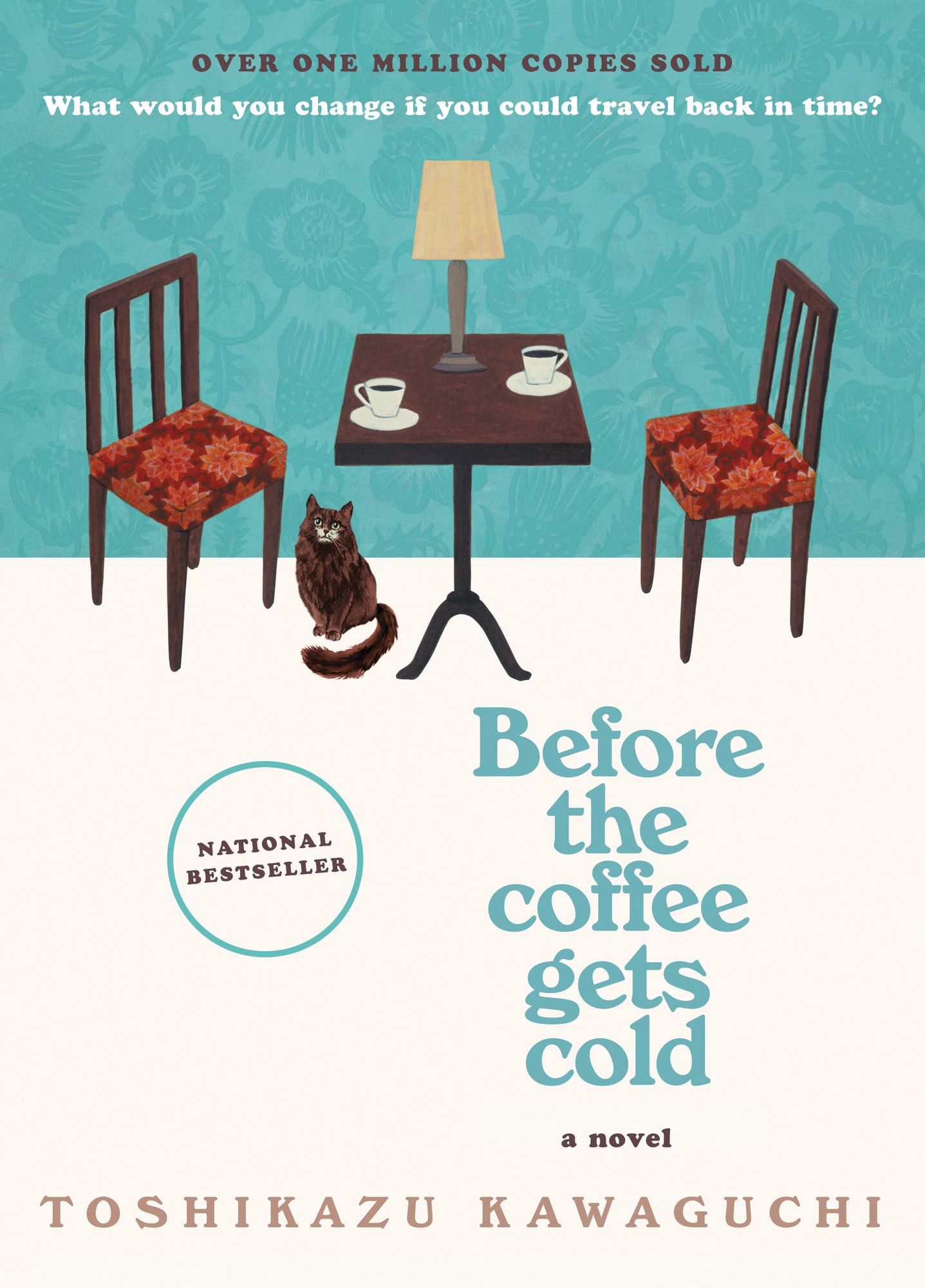 *OVER ONE MILLION COPIES SOLD*

*NOW AN INTERNATIONAL BESTSELLER*
*A BOOKTOK SENSATION*

If you could go back, who would you want to meet?

In a small back alley of Tokyo, there is a café that has been serving carefully brewed coffee for more than one hundred years. Local legend says that this shop offers something else besides coffee—the chance to travel back in time.
Over the course of one summer, four customers visit the café in the hopes of making that journey. But time travel isn't so simple, and there are rules that must be followed. Most important, the trip can last only as long as it takes for the coffee to get cold.
Heartwarming, wistful, mysterious and delightfully quirky, Toshikazu Kawaguchi's internationally bestselling novel explores the age-old question: What would you change if you could travel back in time?
Available at:
Amazon | Barnes & Noble | Google Play | Kobo | Apple Books | Indiebound | Indigo| Audible | Goodreads
The Sweet Magnolias Cookbook with Chef Teddi Wohlford
More Than 150 Favorite Southern Recipes
Raise a glass and treat yourself to the official cookbook of the Sweet Magnolias, with original recipes celebrating the flavor and fragrance of the South. Now a Netflix original series!
Welcome to Serenity, South Carolina, where good food and good friends await! Join Maddie, Helen and Dana Sue as they share their favorite down-home recipes as well as secrets, stories and small-town gossip from the world of the Sweet Magnolias. This gorgeous cookbook is full of Southern classics and heartwarming stories of friendship and fun.
From legendary margarita nights to indulgent Sunday brunches at Sullivan's restaurant to heartening holiday meals, this charming collection brings to life more than 150 recipes inspired by the Sweet Magnolias. Fill your home with the luscious scent of freshly baked apple pie, the sizzle of peachy grilled chicken or the beckoning aroma of juicy roast lamb. Every recipe in this book is sure to bring family and friends together for a heartwarming occasion.
Infuse your life and your kitchen with the warmth of the South and the comfort of good food!
Available at:
Amazon | Barnes & Noble | Google Play | Kobo | Apple Books | Indiebound | Indigo | Goodreads
On the Sweet Side by Audrey Carlan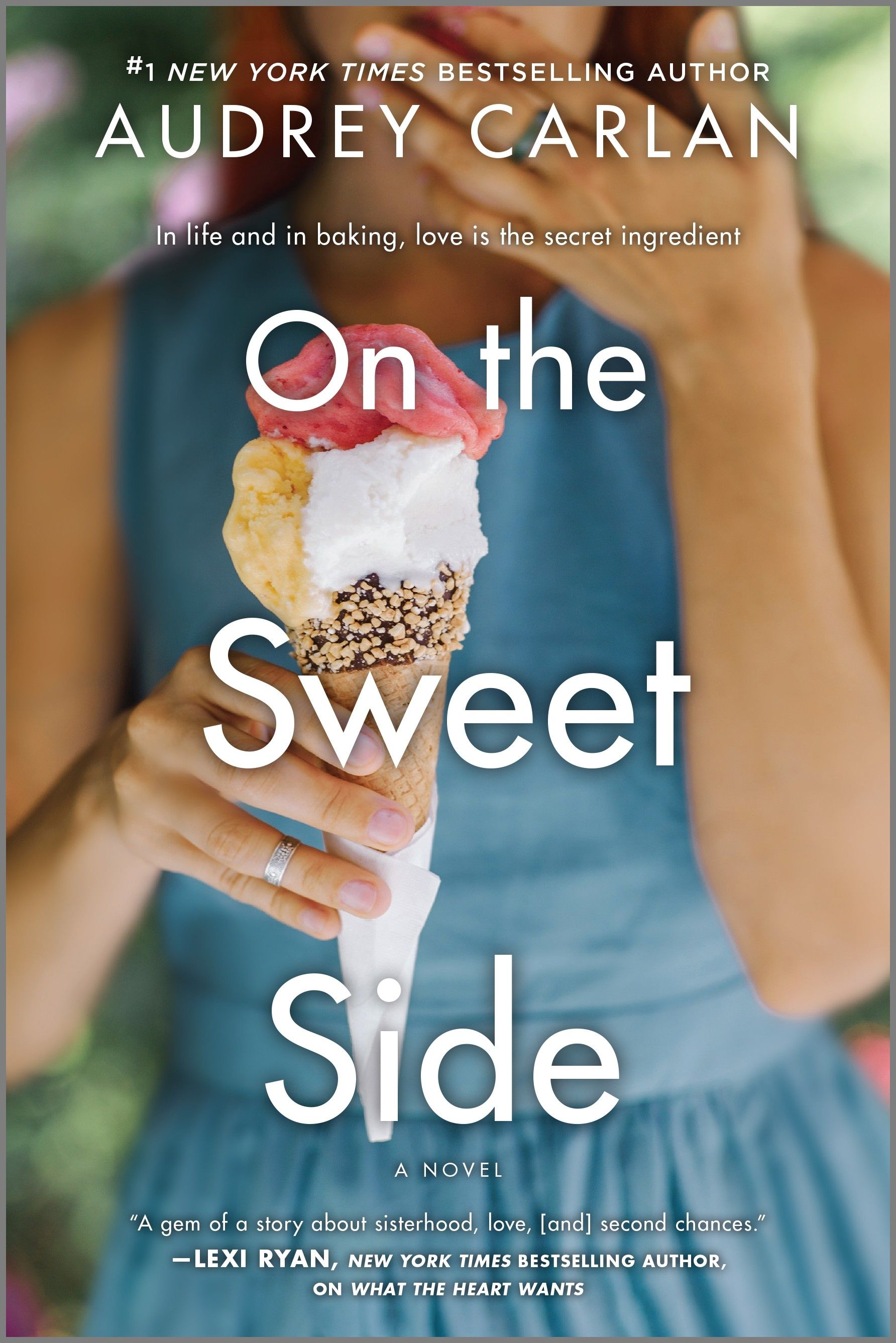 From #1 New York Times bestselling author Audrey Carlan comes a story of sisters, self-discovery and a little something sweet.
Baking is Isabeau Collins's life. Back from studying under the finest chefs in France and Italy, and with a newly minted culinary degree in hand, Izzy is ready to pursue her dream: whipping up creative confections in her own custom cake shop. But her perfect plans are waylaid when two women claiming to be her half sisters show up with a stack of letters addressed to Izzy from their late mother. Torn between launching her career and the need to learn more about her family history, Izzy makes the decision to go to Colorado to connect with the sisters she's never known.
Then Izzy stumbles across a run-down storefront in Pueblo's funky downtown and instantly knows that with a bit of work it's the perfect location for her dream bakery…which means her detour to Colorado will be a permanent reroute. And with an unexpected relationship growing between Izzy and her contractor, Kyson, she has yet another reason to stick around—even if there are secrets in Kyson's past Izzy can't quite figure out. Fighting homesickness and self-doubt, Izzy worries that she's making a mistake. But with her sisters close and her dreams within reach, she can't help but wonder if her riskiest move could be the most rewarding decision she's ever made.
Available at:
Amazon | Barnes & Noble | Google Play | Kobo | Apple Books | Indiebound | Indigo | Audible | Goodreads
Salt and Sugar by Rebecca Carvalho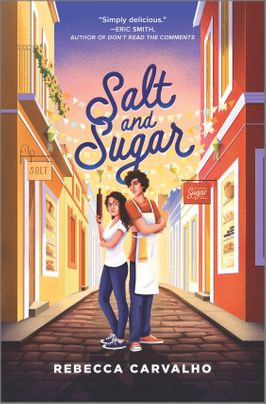 The grandchildren of two rival Brazilian bakeries fall in love despite their families' feud in this delicious debut rom-com perfect for fans of Nicola Yoon and Gloria Chao.

Trust neither thin-bottomed frying pans nor Molinas.

Lari Ramires has always known this to be true. In Olinda, Brazil, her family's bakery, Salt, has been at war with the Molinas' bakery across the street, Sugar, for generations. But Lari's world turns upside down when her beloved grandmother passes away. On top of that, a big supermarket chain has moved to town, forcing many of the small businesses to close.

Determined to protect her home, Lari does the unthinkable—she works together with Pedro Molina to save both of their bakeries. Lari realizes she might not know Pedro as well as she thought—and she maybe even likes what she learns—but the question remains: Can a Ramires and a Molina truly trust one another?
Available November 1, 2022:
Amazon | Barnes & Noble | Google Play | Kobo | Apple Books | Indiebound | Indigo | Audible | Goodreads
For Butter Or Worse by Erin La Rosa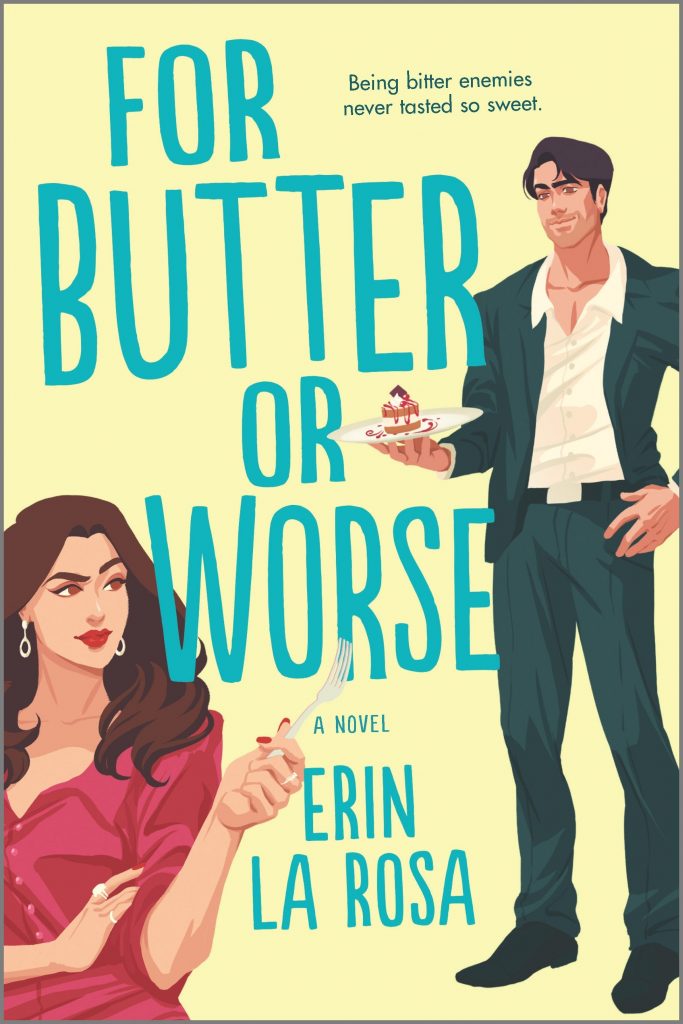 They go together like water and oil…
All chef Nina Lyon wants is to make a name for herself in the culinary world and inspire young women everywhere to do the same. For too long, she's been held back and underestimated by the male-dominated sphere of professional kitchens, and she's had enough. Now, as co-host of the competitive reality TV series The Next Cooking Champ!, she finally has a real shot at being top tier in the foodie scene.
Too bad her co-host happens to be Hollywood's smarmiest jerk.
Restaurateur Leo O'Donnell never means to get under Nina's skin. It just seems to happen, especially when the cameras are rolling. It's part of the anxiety and stress he has come to know all too well in this line of work. So nothing prepares him for the fallout after he takes one joke a smidge too far and Nina up and quits—on live TV.
To make matters worse, the two are caught in what looks like a compromising situation by the paparazzi…and fans of the show go absolutely nuts. Turns out, a "secret romance" between Nina and Leo may just be what their careers need most.
Now all they have to do is play along, without killing each other…and without catching feelings. Easy as artisanal shepherd's pie. Right?
Available at:
Amazon | Barnes & Noble | Google Play | Kobo | Apple Books | Indiebound | Indigo | Audible | Goodreads