Moms, this one's for you! With all the curve balls you've been thrown this year, you deserve a little (read: a lot) of R&R. Throw in another R (reading!) with these amazing books by inspiring female authors like Kelly Rimmer, Sarah Morgan and Sheila Roberts.
Truths I Never Told You by Kelly Rimmer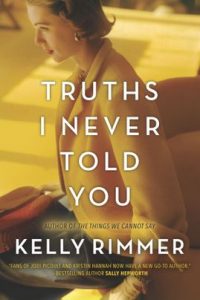 From the bestselling author of The Things We Cannot Say comes a poignant post-WWII novel that explores the expectations society places on women set within an engrossing family mystery that may unravel everything once believed to be true.
With her father recently moved to a care facility, Beth Walsh volunteers to clear out the family home and is surprised to discover the door to her childhood playroom padlocked. She's even more shocked at what's behind it—a hoarder's mess of her father's paintings, mounds of discarded papers and miscellaneous junk in the otherwise fastidiously tidy house.
As she picks through the clutter, she finds a loose journal entry in what appears to be her late mother's handwriting. Beth and her siblings grew up believing their mother died in a car accident when they were little more than toddlers, but this note suggests something much darker.
Beth soon pieces together a disturbing portrait of a woman suffering from postpartum depression and a husband who bears little resemblance to the loving father Beth and her siblings know. With a newborn of her own and struggling with motherhood, Beth finds there may be more tying her and her mother together than she ever suspected.
Available at:
Amazon | Barnes & Noble | Google Play | Kobo | Apple Books | Indiebound | Audible | Goodreads
Family for Beginners by Sarah Morgan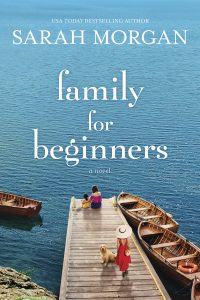 USA TODAY bestselling author Sarah Morgan returns with a life-affirming exploration of love, loss, and how families come in all shapes and sizes…
New York florist Flora Donovan is living the dream, but her bubbly optimism hides a secret. She's lonely. Orphaned as a child, she's never felt like she's belonged anywhere…until she meets Jack Parker. He's the first man to ever really see her, and it's life changing.
Teenager Izzy Parker is holding it together by her fingertips. Since her mother passed away a year ago, looking after her dad and little sister is the only thing that makes Izzy feel safe. Discovering her father has a new girlfriend is her worst nightmare—she is not in the market for a replacement mom. Then her father invites Flora on their summer vacation…
Flora's heart aches for Izzy, but she badly wants her relationship with Jack to work. As the summer unfolds, Flora must push her own boundaries to discover parts of herself she never knew existed—and to find the family she's always wanted.
Available at:
Amazon | Barnes & Noble | Google Play | Kobo | Apple Books | Indiebound | Audible | Goodreads
The Sea Glass Cottage by RaeAnne Thayne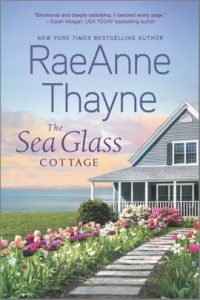 The life Olivia Harper always dreamed of isn't so dreamy these days. The 16-hour work days are unfulfilling and so are things with her on-again, off-again boyfriend. But when she hears that her estranged mother, Juliet, has been seriously injured in a car accident, Liv has no choice but to pack up her life and head home to beautiful Cape Sanctuary on the Northern California coast.
It's just for a few months—that's what Liv keeps telling herself. But the closer she gets to Cape Sanctuary, the painful memories start flooding back: Natalie, her vibrant, passionate older sister who downward-spiraled into addiction. The fights with her mother who enabled her sister at every turn. The overdose that took Natalie, leaving her now-teenaged daughter, Caitlin, an orphan.
As Liv tries to balance her own needs with those of her injured mother and an obstinate, resentful fifteen-year-old, it becomes clear that all three Harper women have been keeping heartbreaking secrets from one another. And as those secrets are revealed, Liv, Juliet, and Caitlin will see that it's never too late—or too early—to heal family wounds and find forgiveness.
Available at:
Amazon | Barnes & Noble | Google Play | Kobo | Apple Books | Indiebound | Audible | Goodreads
The Grace Kelly Dress by Brenda Janowitz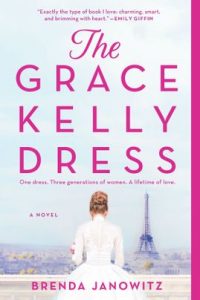 Two years after Grace Kelly's royal wedding, her iconic dress is still all the rage in Paris—and one replica, and the secrets it carries, will inspire three generations of women to forge their own paths in life and in love.
Paris, 1958: Rose, a seamstress at a fashionable atelier, has been entrusted with sewing a Grace Kelly—look-alike gown for a wealthy bride-to-be. But when, against better judgment, she finds herself falling in love with the bride's handsome brother, Rose must make an impossible choice, one that could put all she's worked for at risk: love, security and of course, the dress.
Sixty years later, tech CEO Rachel, who goes by the childhood nickname "Rocky," has inherited the dress for her upcoming wedding in New York City. But there's just one problem: Rocky doesn't want to wear it. A family heirloom dating back to the 1950s, the dress just isn't her. Rocky knows this admission will break her mother Joan's heart. But what she doesn't know is why Joan insists on the dress—or the heartbreaking secret that changed her mother's life decades before, as she herself prepared to wear it.
As the lives of these three women come together in surprising ways, the revelation of the dress's history collides with long-buried family heartaches. And in the lead-up to Rocky's wedding, they'll have to confront the past before they can embrace the beautiful possibilities of the future.
Available at:
Amazon | Barnes & Noble | Google Play | Kobo | Apple Books | Indiebound | Audible | Goodreads
Call Your Daughter Home by Deb Spera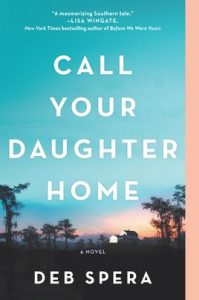 For readers of Delia Owens' Where the Crawdads Sing and Sue Monk Kidd's The Secret Life of Bees, this extraordinary historical debut novel follows three fierce Southern women in an unforgettable story of motherhood and womanhood.
It's 1924 in Branchville, South Carolina and three women have come to a crossroads. Gertrude, a mother of four, must make an unconscionable decision to save her daughters. Retta, a first-generation freed slave, comes to Gertrude's aid by watching her children, despite the gossip it causes in her community. Annie, the matriarch of the influential Coles family, offers Gertrude employment at her sewing circle, while facing problems of her own at home.
These three women seemingly have nothing in common, yet as they unite to stand up to injustices that have long plagued the small town, they find strength in the bond that ties women together. Told in the pitch-perfect voices of Gertrude, Retta, and Annie, Call Your Daughter Home is an emotional, timeless story about the power of family, community, and ferocity of motherhood.
Available at:
Amazon | Barnes & Noble | Google Play | Kobo | Apple Books | Indiebound | Audible | Goodreads
Beachside Beginnings by Sheila Roberts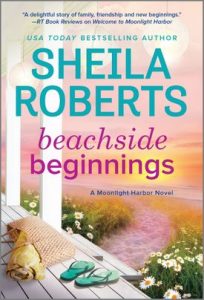 Join USA TODAY bestselling author Sheila Roberts for a seaside escape to the beaches of Moonlight Harbor
Moira Wellman has always loved makeovers—helping women find their most beautiful selves. Funny how it's taken her five years with her abusive boyfriend, Lang, to realize she needs a life makeover. When Moira finally gets the courage to leave Lang, the beachside town of Moonlight Harbor is the perfect place to start over.
Soon Moira is right at home, working at Waves Salon, making new friends and helping her clients find new confidence. When she meets a handsome police officer, she's more than willing to give him a free haircut. Maybe even her heart. But is she really ready for romance after Lang? And what if her new friend is in hot pursuit of that same cop? This is worse than a bad perm.
With all the heart and humor readers have come to expect from a Sheila Roberts novel, Beachside Beginnings is the story of one woman finding the courage to live her best life. And where better to live it than at the beach?
Available at:
Amazon | Barnes & Noble | Google Play | Kobo | Apple Books | Indiebound | Audible | Goodreads
What's your perfect Mother's Day read? Let us know in the comments below!