After reading The Other Mrs. last month, we're looking forward to a charming and heartfelt read. The Grace Kelly Dress by Brenda Janowitz is it! Join us during the month of May to read all about how one replica of Grace Kelly's iconic wedding dress inspires three generations of women.
Feel free to share all month long with us on social media by tagging @bookclubbish and #ReadWithBookClubbish. And don't forget — we'll be taking the discussion live on Facebook Live on May 26! Follow us on social media so you don't miss a beat.

May's Book Club Pick: The Grace Kelly Dress by Brenda Janowitz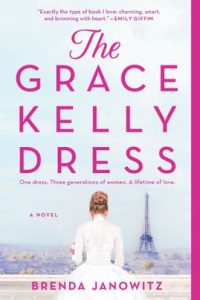 Two years after Grace Kelly's royal wedding, her iconic dress is still all the rage in Paris—and one replica, and the secrets it carries, will inspire three generations of women to forge their own paths in life and in love.
Paris, 1958: Rose, a seamstress at a fashionable atelier, has been entrusted with sewing a Grace Kelly—look-alike gown for a wealthy bride-to-be. But when, against better judgment, she finds herself falling in love with the bride's handsome brother, Rose must make an impossible choice, one that could put all she's worked for at risk: love, security and of course, the dress.
Sixty years later, tech CEO Rachel, who goes by the childhood nickname "Rocky," has inherited the dress for her upcoming wedding in New York City. But there's just one problem: Rocky doesn't want to wear it. A family heirloom dating back to the 1950s, the dress just isn't her. Rocky knows this admission will break her mother Joan's heart. But what she doesn't know is why Joan insists on the dress—or the heartbreaking secret that changed her mother's life decades before, as she herself prepared to wear it.
As the lives of these three women come together in surprising ways, the revelation of the dress's history collides with long-buried family heartaches. And in the lead-up to Rocky's wedding, they'll have to confront the past before they can embrace the beautiful possibilities of the future.
Get your copy at:
Amazon | Barnes & Noble | Google Play | Kobo | Apple Books | Indiebound | Audible | Goodreads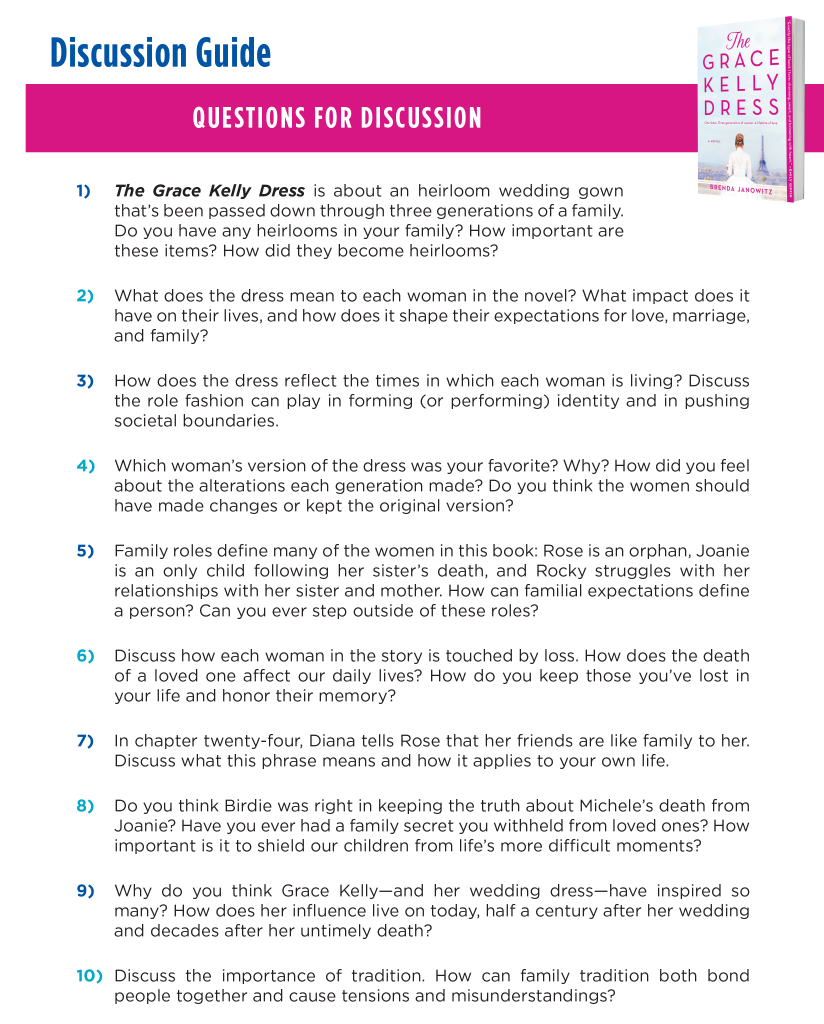 For Your Book Club Meeting: Mini Vanilla Cake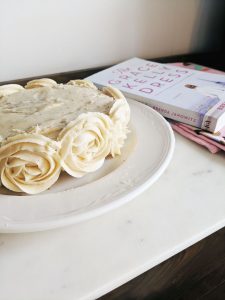 One of the best parts of planning a wedding is the cake tasting. Are you like Rocky with a love for plain vanilla cake? Give yourself your own tasting at home with this perfectly petite vanilla cake!
Ingredients
For the cake:
6 tbsp unsalted butter, softened
1/2 cup granulated sugar
1 large egg
1 tbsp vanilla extract
3/4 cup all-purpose flour
1/8 tsp fine salt
1/4 tsp baking soda
6 tbsp whole milk
1/2 tsp apple cider vinegar
For the vanilla buttercream:
8 tbsp (1 stick) unsalted butter, at room temperature
2 cups powdered sugar
2 tsp vanilla extract
1 tbsp heavy cream
Directions
Preheat the oven to 350°F, and spray a 6″ round cake pan with 2″ sides with cooking spray. Line the bottom of the pan with a round of parchment paper.
In a medium-size bowl, beat together the butter and sugar with an electric mixer. Beat very well, about 1-2 minutes.
Add the egg and vanilla, and beat until well-combined, about 15 seconds.
In a small bowl, whisk together the flour, salt and baking soda. Add half of the mixture to the batter and beat for just a few seconds before stirring in half of the milk and vinegar. Continue beating. Add the remaining dry ingredients and beat, and then stir in the remaining milk.
Scrape the batter into the prepared pan, smooth out the top, and bake on a small sheet pan for 37-39 minutes, until a cake tester or toothpick comes out clean.
Let the cake cool on a wire rack in the pan. Carefully remove it from the pan, pulling away the parchment paper once it has cooled.
To make the buttercream, beat the butter in a medium-size bowl with an electric mixer until light and fluffy. Add the powdered sugar, vanilla and heavy cream, and beat until light and fluffy. If the mixture seems too stiff, add a splash more heavy cream.
Use a little more than half of the buttercream to frost the cake. If you made the cake ahead of time and frozen it, it's best to apply a crumb coat of buttercream before applying a second layer.
Place the remaining 1/4 of the buttercream in a piping bag fitted with a 1M tip, and pipe roses along the outside edge of the cake. To make a rose, pipe a spiral shape, starting inside of moving around the center.
Recipe courtesy of Dessert for Two.
Join the Conversation!
Let us know what you think of The Grace Kelly Dress by posting with these templates on Instagram. Remember to tag @bookclubbish and #ReadWithBookClubbish for your chance to be featured on our feed.