While wedding season may be looking a lot different this year, we can still experience all the trials and tribulations that come with wedding planning in these novels and novellas. There's no better way to indulge in all the love (and drama!) that come with wedded bliss.

The Grace Kelly Dress by Brenda Janowitz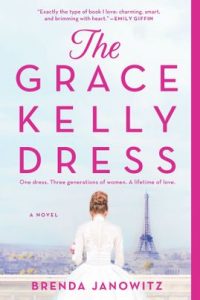 Two years after Grace Kelly's royal wedding, her iconic dress is still all the rage in Paris—and one replica, and the secrets it carries, will inspire three generations of women to forge their own paths in life and in love.
Paris, 1958: Rose, a seamstress at a fashionable atelier, has been entrusted with sewing a Grace Kelly—look-alike gown for a wealthy bride-to-be. But when, against better judgment, she finds herself falling in love with the bride's handsome brother, Rose must make an impossible choice, one that could put all she's worked for at risk: love, security and of course, the dress.
Sixty years later, tech CEO Rachel, who goes by the childhood nickname "Rocky," has inherited the dress for her upcoming wedding in New York City. But there's just one problem: Rocky doesn't want to wear it. A family heirloom dating back to the 1950s, the dress just isn't her. Rocky knows this admission will break her mother Joan's heart. But what she doesn't know is why Joan insists on the dress—or the heartbreaking secret that changed her mother's life decades before, as she herself prepared to wear it.
As the lives of these three women come together in surprising ways, the revelation of the dress's history collides with long-buried family heartaches. And in the lead-up to Rocky's wedding, they'll have to confront the past before they can embrace the beautiful possibilities of the future.
Available at:
Amazon | Barnes & Noble | Google Play | Kobo | Apple Books | Indiebound | Audible | Goodreads
Summer at Lake Haven by RaeAnne Thayne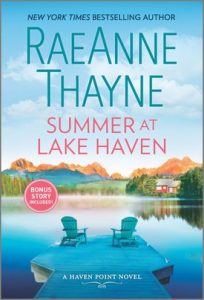 A lakeside summer, a new beginning…

Samantha Fremont has been struggling with the weight of her mother's expectations for years. But now that her mother has passed away, it's time for Sam to be bold and finally establish the fashion design business she's always dreamed of. And the perfect opportunity has fallen into her lap. Her friend's getting married and has asked Sam to create her wedding dress…if only she can avoid the bride's infuriating brother, who's temporarily the boy next door.
Ian Summerhill knows a sabbatical in Haven Point is exactly what he and his children need to recover from their mother's death. His romantic relationship with his ex-wife may have ended years ago, but caring for her throughout her illness broke his heart. All he wants is to watch his little sister walk down the aisle and to see his kids smile again. And somehow his lovely new neighbor is instrumental in both. But as their uneasy truce blossoms into a genuine friendship and more, Ian has obligations in England he can't ignore—and a secret that threatens the fragile trust he and Sam have built.
Available at:
Amazon | Barnes & Noble | Google Play | Kobo | Apple Books | Indiebound | Audible | Goodreads
Meant to Be Yours by Susan Mallery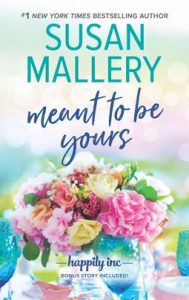 In Happily Inc, love means never having to say "I do"…
Wedding coordinator Renee Grothen isn't meant for marriage. Those who can, do. Those who can't, plan. But she never could have planned on gorgeous, talented thriller writer Jasper Dembenski proposing—a fling, that is. Fun without a future. And the attraction between them is too strong for Renee to resist. Now she can have her no-wedding cake…and eat it, too.
After years in the military, Jasper is convinced he's too damaged for relationships. So a flirtation—and more—with fiery, determined Renee is way too good to pass up…until his flame becomes his muse.
Renee is an expert at averting every crisis. But is she finally ready to leap into the one thing that can never be controlled: love?
Available at:
Amazon | Barnes & Noble | Google Play | Kobo | Apple Books | Indiebound | Audible | Goodreads
A Wedding in December by Sarah Morgan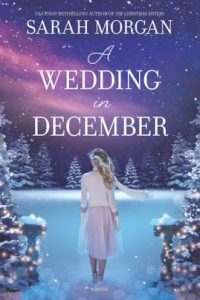 From the USA Today bestselling author of The Christmas Sisters comes this funny, charming and heartwarming all new original Christmas novel. This is Sarah Morgan at her festive best!
In the snowy perfection of Aspen, the White family gathers for youngest daughter Rosie's whirlwind Christmas wedding. First to arrive are the bride's parents, Maggie and Nick. Their daughter's marriage is a milestone they are determined to celebrate wholeheartedly, but they are hiding a huge secret of their own: they are on the brink of divorce. After living apart for the last six months, the last thing they need is to be trapped together in an irresistibly romantic winter wonderland.
Rosie's older sister, Katie, is also dreading the wedding. Worried that impulsive, sweet-hearted Rosie is making a mistake, Katie is determined to save her sister from herself! If only the irritatingly good-looking best man, Jordan, would stop interfering with her plans…
Bride-to-be Rosie loves her fiancé but is having serious second thoughts.
Except everyone has arrived—how can she tell them she's not sure? As the big day gets closer, and emotions run even higher, this is one White family Christmas none of them will ever forget!
Available at:
Amazon | Barnes & Noble | Google Play | Kobo | Apple Books | Indiebound | Audible | Goodreads
An Alaskan Wedding by Jennifer Snow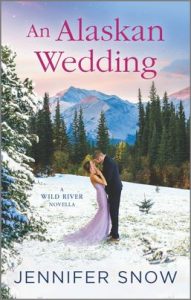 They said goodbye years ago, but wedding bells just might remind these ex-lovers that their relationship was never really over…
When they were high school sweethearts, Aurora Klein and Tyler Forrester imagined they would spend their entire lives together. Though Aurora's dreams of going to college went beyond Wild River, Alaska, she would've chosen to compromise if it meant staying close to Tyler. Instead, he ended their relationship after graduation. With a broken heart, Aurora moved to California and never planned on looking back.
And yet, six years later, Aurora finds herself back in Wild River to serve as maid of honor at her best friend's wedding. There's only one problem: Tyler is the best man. Aurora expects an awkward reunion, but she doesn't count on rekindling the flame that still burns between them…or having to team up with him to search for the runaway bride!
Available at:
Amazon | Barnes & Noble | Google Play | Kobo | Apple Books | Goodreads
Once Upon a Wedding by JoAnn Ross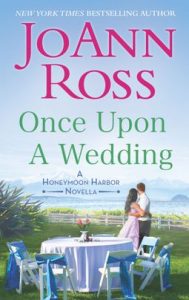 Return to Honeymoon Harbor with New York Times bestselling author JoAnn Ross's charming novella!
Weddings are an occasion for joy, but Desiree Marchand is a bundle of nerves. She doesn't have time for complications ahead of her friend's wedding—especially not her ex-boyfriend. She doesn't know what Bastien Broussard is doing in Honeymoon Harbor, but she wants nothing to do with him. Unfortunately, the wedding is down a singer—and whether Desiree likes it or not, rock star Bastien is the perfect man for the job.
After years traveling the world, the only place Bastien wants to be is by Desiree's side. He's ready to fight for her, even if he has to serenade himself past her defenses—but can he finally prove to her that their love is worth the risk?
Available at:
Amazon | Barnes & Noble | Google Play | Kobo | Apple Books | Goodreads
The Wedding Party by Robyn Carr
After her divorce, Charlene Dugan vowed never to get married again—a promise she has kept for twenty-five years. Until the fateful day she finds herself uttering the well-known phrase—"Let's get married!"
Almost immediately, Charlene's seemingly perfect life begins unraveling at the seams. Daughter Stephanie's own relationship is about to disintegrate, and she might be just a teensy-weensy bit jealous of her mom. And Charlene seems to be spending more time with her ex-husband than with her fiancé, Dennis. What's more confusing is that Dennis doesn't seem to mind too much. In fact, he sees the wedding consultant more often than Charlene does.
The wedding party is now officially out of control. They're calling for rain and the bride has cold feet. This isn't exactly what Charlene had in mind. But maybe it's not too late to finally decide on who and what she really wants.
Available at:
Amazon | Barnes & Noble | Google Play | Kobo | Apple Books | Indiebound | Goodreads
What is your favorite book about weddings? Let us know in the comments below!