In desperate need of some girl time? Grab your friends (Zoom counts!), some wine, and a couple of books for a cozy night in together. Carve out some much-needed time for these 3 R's: rest, relaxation and reconnection. Speaking of R's… if you need a few recommendations, these 9 books are the ones we can't stop talking about with each other!
The Vineyard at Painted Moon by Susan Mallery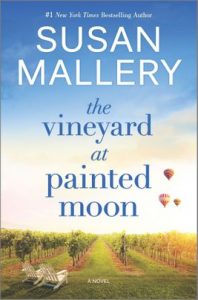 Step into the vineyard with Susan Mallery's most irresistible novel yet, as one woman searches for the perfect blend of love, family and wine.

Mackenzie Dienes seems to have it all—a beautiful home, close friends and a successful career as an elite winemaker with the family winery. There's just one problem—it's not her family, it's her husband's. In fact, everything in her life is tied to him—his mother is the closest thing to a mom that she's ever had, their home is on the family compound, his sister is her best friend. So when she and her husband admit their marriage is over, her pain goes beyond heartbreak. She's on the brink of losing everything. Her job, her home, her friends and, worst of all, her family.
Staying is an option. She can continue to work at the winery, be friends with her mother-in-law, hug her nieces and nephews—but as an employee, nothing more. Or she can surrender every piece of her heart in order to build a legacy of her own. If she can dare to let go of the life she thought she wanted, she might discover something even more beautiful waiting for her beneath a painted moon.
Available at:
Amazon | Barnes & Noble | Google Play | Kobo | Apple Books | Indiebound | Indigo | Audible | Goodreads
Honey Girl by Morgan Rogers
HONEY GIRL is an emotional, heartfelt, charming debut, and I loved every moment of it."— Jasmine Guillory, New York Times bestselling author of The Proposal
With her newly completed PhD in astronomy in hand, twenty-eight-year-old Grace Porter goes on a girls' trip to Vegas to celebrate. She's a straight A, work-through-the-summer certified high achiever. She is not the kind of person who goes to Vegas and gets drunkenly married to a woman whose name she doesn't know…until she does exactly that.
This one moment of departure from her stern ex-military father's plans for her life has Grace wondering why she doesn't feel more fulfilled from completing her degree. Staggering under the weight of her parent's expectations, a struggling job market and feelings of burnout, Grace flees her home in Portland for a summer in New York with the wife she barely knows.
In New York, she's able to ignore all the constant questions about her future plans and falls hard for her creative and beautiful wife, Yuki Yamamoto. But when reality comes crashing in, Grace must face what she's been running from all along—the fears that make us human, the family scars that need to heal and the longing for connection, especially when navigating the messiness of adulthood.
Available at:
Amazon | Barnes & Noble | Google Play | Kobo | Apple Books | Indiebound | Indigo | Audible | Goodreads
It's Been a Pleasure, Noni Blake by Claire Christian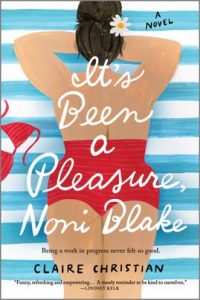 What if you made yourself your number one priority?

Of all the women and men Noni Blake has pleased in her life, there's one she's often overlooked—herself. After the end of a decade-long relationship, Noni decides it's time for that to change. She's finally going to prioritize her wants and desires and only do things (and people) that feel good in the moment.
As she embarks on a pleasure-seeking quest that takes her halfway around the world, she discovers that maybe she can have everything, and everyone, she's ever wanted.
Effortlessly hilarious and relatable, Claire Christian spins a fresh, feel-good tale about starting over as a thirtysomething woman who's been living life for everyone else. A story of self-discovery for the ages, Noni's journey serves as a sparkling reminder that life is what we make of it—so why not enjoy it?
Available at:
Amazon | Barnes & Noble | Google Play | Kobo | Apple Books | Indiebound | Indigo | Audible | Goodreads
The Chanel Sisters by Judithe Little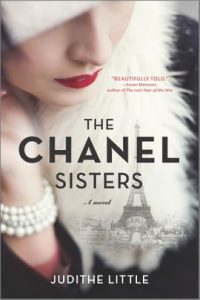 A novel of survival, love, loss, triumph—and the sisters who changed fashion forever
Antoinette and Gabrielle "Coco" Chanel know they're destined for something better. Abandoned by their family at a young age, they've grown up under the guidance of nuns preparing them for simple lives as the wives of tradesmen or shopkeepers. At night, their secret stash of romantic novels and magazine cutouts beneath the floorboards are all they have to keep their dreams of the future alive.
The walls of the convent can't shield them forever, and when they're finally of age, the Chanel sisters set out together with a fierce determination to prove themselves worthy to a society that has never accepted them. Their journey propels them out of poverty and to the stylish cafés of Moulins, the dazzling performance halls of Vichy—and to a small hat shop on the rue Cambon in Paris, where a boutique business takes hold and expands to the glamorous French resort towns.
But the sisters' lives are again thrown into turmoil when World War I breaks out, forcing them to make irrevocable choices, and they'll have to gather the courage to fashion their own places in the world, even if apart from each other.
"The Chanel Sisters explores with care the timeless need for belonging, purpose, and love, and the heart's relentless pursuit of these despite daunting odds. Beautifully told to the last page." —Susan Meissner, bestselling author of The Last Year of the War
Available at:
Amazon | Barnes & Noble | Google Play | Kobo | Apple Books | Indiebound | Indigo | Audible | Goodreads
Ladies of the House by Lauren Edmondson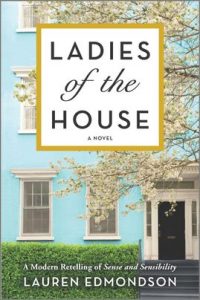 AN IRRESISTIBLE NOVEL THAT PUTS A MODERN SPIN ON JANE AUSTEN'S CLASSIC SENSE AND SENSIBILITY
"I was absolutely charmed by Ladies of the House. A wonderful debut." —Allison Winn Scotch, bestselling author of Cleo McDougal Regrets Nothing
No surprise is a good surprise. At least according to thirty-four-year-old Daisy Richardson. So when it's revealed in dramatic fashion that her esteemed father had been involved in a public scandal before his untimely death, Daisy's life becomes complicated—and fast.
For one, the Richardsons must now sell the family home in Georgetown they can no longer afford, and Daisy's mother is holding on with an iron grip. Her younger sister, Wallis, is ready to move on to bigger and better things but falls fast and hard for the most inconvenient person possible. And then there's Atlas, Daisy's best friend. She's always wished they could be more, but now he's writing an exposé on the one subject she's been desperate to avoid: her father.
Daisy's plan is to maintain a low profile as she works to keep her family intact amid social exile, public shaming, and quickly dwindling savings. But the spotlight always seems to find the Richardsons, and when another twist in the scandal comes to light, Daisy must confront the consequences of her continued silence and summon the courage to stand up and accept the power of her own voice.
Available at:
Amazon | Barnes & Noble | Google Play | Kobo | Apple Books | Indiebound | Indigo | Audible | Goodreads
Find Me in Havana by Serena Burdick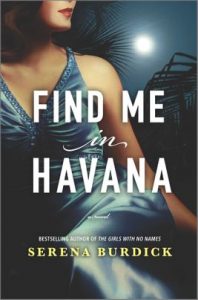 A novel based on the dazzling story of one of Hollywood's most celebrated Hispanic actresses and her daughter's search for closure.

Cuba, 1936: When Estelita Rodriguez sings in a hazy Havana nightclub for the very first time, she is nine years old. From then on, that spotlight of adoration—from Havana to New York's Copacabana and then Hollywood—becomes the one true accomplishment no one can take from her. Not the 1933 Cuban Revolution that drove her family into poverty. Not the revolving door of husbands or the fickle world of film.
Thirty years later, her young adult daughter, Nina, is blindsided by her mother's mysterious death. Seeking answers, the grieving Nina navigates the troubling, opulent memories of their life together and discovers how much Estelita sacrificed to live the American dream on her own terms.
Based on true events and exclusive interviews with Nina Lopez, Estelita's daughter, Find Me in Havana weaves two unforgettable voices into one extraordinary story that explores the unbreakable bond between mother and child, and the ever-changing landscape of self-discovery.
Available at:
Amazon | Barnes & Noble | Google Play | Kobo | Apple Books | Indiebound | Indigo | Audible | Goodreads
The Wrong Family by Tarryn Fisher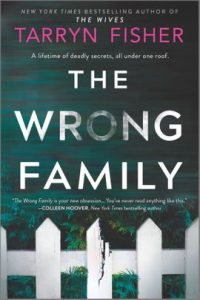 Have you ever been wrong about someone?
Juno was wrong about Winnie Crouch.
Before moving in with the Crouch family, Juno thought Winnie and her husband, Nigel, had the perfect marriage, the perfect son—the perfect life. Only now that she's living in their beautiful house, she sees the cracks in the crumbling facade are too deep to ignore.
Still, she isn't one to judge. After her grim diagnosis, the retired therapist simply wants a place to live out the rest of her days in peace. But that peace is shattered the day Juno overhears a chilling conversation between Winnie and Nigel…
She shouldn't get involved.
She really shouldn't.
But this could be her chance to make a few things right.
Because if you thought Juno didn't have a secret of her own, then you were wrong about her, too.

From the wickedly dark mind of bestselling author Tarryn Fisher, The Wrong Family is a taut new thriller that's riddled with twists in all the right places.
Available at:
Amazon | Barnes & Noble | Google Play | Kobo | Apple Books | Indiebound | Indigo | Audible | Goodreads
The Girl from the Channel Islands by Jenny Lecoat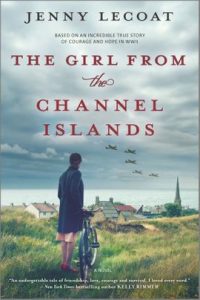 Inspired by true events, the riveting story of a young Jewish woman trapped on the occupied island of Jersey during World War II.
Summer 1940: Hedy Bercu fled Vienna two years ago. Now she watches the skies over Jersey for German planes, convinced that an invasion is imminent. When it finally comes, there is no counterattack from Allied forces—the Channel Islands are simply not worth defending. Most islanders and occupying forces settle into an uneasy coexistence, but for Hedy, the situation is perilously different. For Hedy is Jewish—a fact that could mean deportation, or worse.
With no means of escape, Hedy hides in plain sight, working as a translator for the Germans while silently working against them. She forges a tentative friendship with a sympathetic German officer who is likewise trapped by circumstance. But as the war intensifies, Hedy knows she is in greater danger each day. Soon, her survival will depend not just on her own courage but on the community she has come to cherish and a man who should be her enemy.
Vividly recreating little-known events, this is an unforgettable tale of resilience and bravery, and of the extraordinary power found in quiet acts of heroism and love.
Available at:
Amazon | Barnes & Noble | Google Play | Kobo | Apple Books | Indiebound | Indigo | Audible | Goodreads
The Secrets of Love Story Bridge by Phaedra Patrick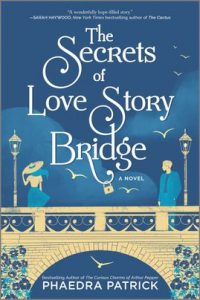 From the bestselling author of The Curious Charms of Arthur Pepper comes a heartwarming novel of a cynical single father who discovers new beginnings in the unlikeliest places.

Mitchell Fisher has said a firm goodbye to romance. He relishes his job cutting off the padlocks that couples fasten to his hometown's famous "love story" bridge. Only his young daughter, Poppy, knows that behind his prickly veneer, Mitchell is deeply lonely—and he still grieves the loss of Poppy's mother.
Then one hot summer's day, everything changes when Mitchell bravely rescues a woman who falls from the bridge into the river. He's surprised to feel an unexpected connection to her, but then she disappears. Desperate to find the mysterious woman, Mitchell teams up with her spirited sister Liza to see if she's left any clues behind. There's just one—a secret message on the padlock she left on love story bridge…
Available at:
Amazon | Barnes & Noble | Google Play | Kobo | Apple Books | Indiebound | Indigo | Audible | Goodreads
What books do you like reading with your girlfriends? Let us know in the comments below!