In honor of Black History Month, we wanted to share with you some of our favorite reads by Black authors that we've read recently. Tackling prejudice, dealing with insecurities, solving crimes, and falling in love are just some of the themes in these 11 powerful books. No matter the genre, we're sure you'll find a book that'll become one of your five-star reads this year!
One of The Good Ones by Maika Moulite & Maritza Moulite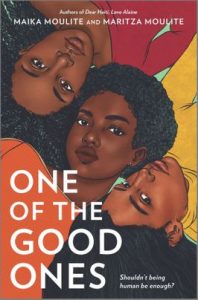 A shockingly powerful exploration of the lasting impact of prejudice and the indomitable spirit of sisterhood that will have readers questioning what it truly means to be an ally, from sister-writer duo Maika Moulite and Maritza Moulite, authors of Dear Haiti, Love Alaine.
ISN'T BEING HUMAN ENOUGH?
When teen social activist and history buff Kezi Smith is killed under mysterious circumstances after attending a social justice rally, her devastated sister Happi and their family are left reeling in the aftermath. As Kezi becomes another immortalized victim in the fight against police brutality, Happi begins to question the idealized way her sister is remembered. Perfect. Angelic.
One of the good ones.
Even as the phrase rings wrong in her mind—why are only certain people deemed worthy to be missed?—Happi and her sister Genny embark on a journey to honor Kezi in their own way, using an heirloom copy of The Negro Motorist Green Book as their guide. But there's a twist to Kezi's story that no one could've ever expected—one that will change everything all over again.
Available at:
Amazon | Barnes & Noble | Google Play | Kobo | Apple Books | Indiebound | Indigo | Audible | Goodreads
Honey Girl by Morgan Rogers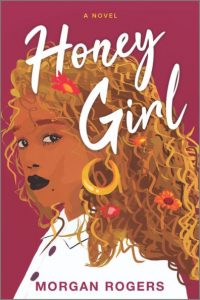 HONEY GIRL is an emotional, heartfelt, charming debut, and I loved every moment of it."— Jasmine Guillory, New York Times bestselling author of The Proposal
With her newly completed PhD in astronomy in hand, twenty-eight-year-old Grace Porter goes on a girls' trip to Vegas to celebrate. She's a straight A, work-through-the-summer certified high achiever. She is not the kind of person who goes to Vegas and gets drunkenly married to a woman whose name she doesn't know…until she does exactly that.
This one moment of departure from her stern ex-military father's plans for her life has Grace wondering why she doesn't feel more fulfilled from completing her degree. Staggering under the weight of her parent's expectations, a struggling job market and feelings of burnout, Grace flees her home in Portland for a summer in New York with the wife she barely knows.
In New York, she's able to ignore all the constant questions about her future plans and falls hard for her creative and beautiful wife, Yuki Yamamoto. But when reality comes crashing in, Grace must face what she's been running from all along—the fears that make us human, the family scars that need to heal and the longing for connection, especially when navigating the messiness of adulthood.
Available at:
Amazon | Barnes & Noble | Google Play | Kobo | Apple Books | Indiebound | Indigo | Audible | Goodreads
The Jigsaw Man by Nadine Matheson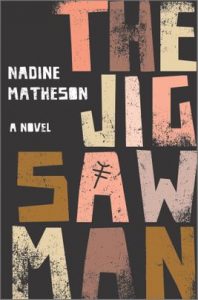 A serial killer and his copycat are locked in a violent game of cat and mouse. Can DI Anjelica Henley stop them before it's too late?

On the day she returns to active duty with the Serial Crimes Unit, Detective Inspector Anjelica Henley is called to a crime scene. Dismembered body parts from two victims have been found by the river.
The modus operandi bears a striking resemblance to Peter Olivier, the notorious Jigsaw Killer, who has spent the past two years behind bars. When he learns that someone is co-opting his grisly signature—the arrangement of victims' limbs in puzzle-piece shapes—he decides to take matters into his own hands.
As the body count rises, DI Anjelica Henley is faced with an unspeakable new threat. Can she apprehend the copycat killer before Olivier finds a way to get to him first? Or will she herself become the next victim?
Drawing on her experience as a criminal attorney, debut novelist Nadine Matheson delivers the page-turning crime novel of the year. Taut, vivid and addictively sinister, The Jigsaw Man will leave you breathless until the very last page.
Available at:
Amazon | Barnes & Noble | Google Play | Kobo | Apple Books | Indiebound | Indigo | Audible | Goodreads
Rise Up by Reverend Al Sharpton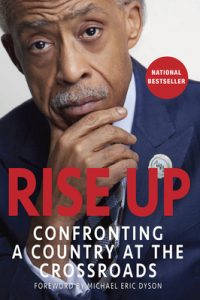 NOW A NATIONAL BESTSELLER

"This man is a gift from God to the world. This book is a gift from Al Sharpton to us. Let's appreciate them both."—Michael Eric Dyson

Beginning with a foreword by Michael Eric Dyson and closing with Rev. Al Sharpton's moving eulogy for George Floyd, Rise Up is a rousing call to action for our nation, drawing on lessons learned from Reverend Al Sharpton's unique experience as a politician, television and radio host, and civil rights leader.

Rise Up offers timeless lessons for anyone who's stood at the crossroads of their personal or political life, weighing their choices of how to proceed.
When the young Alfred Charles Sharpton told his mother he wanted to be a preacher, little did he know that his journey would also lead him to prominence as a politician, founder of the National Action Network, civil rights activist, and television and radio talk show host. His enduring ability and willingness to take on the political power structure makes him the preeminent voice for the modern era, a time unprecedented in its challenges.
In Rise Up, Reverend Sharpton revisits the highlights of the Obama administration, the 2016 election and Trump's subsequent hold on the GOP, and draws on his decades-long experience with other key players in politics and activism, including Shirley Chisholm, Hillary Clinton, Dr. Martin Luther King Jr. and more.
The time has come to take a hard look at our collective failures and shortcomings and reclaim our core values in order to build a clear and just path forward for America. Our nation today stands at a crossroads—and change can't wait.
Available at:
Amazon | Barnes & Noble | Google Play | Kobo | Apple Books | Indiebound | Indigo | Audible | Goodreads
Saving Ruby King by Catherine Adel West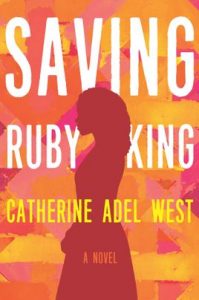 Named a Most Anticipated Book of 2020 by The Every Girl, PureWow, Book Riot, Library Journal and more.
"Forever and to the end. That's what they say instead of I love you."
When Ruby King's mother is found murdered in their home in Chicago's South Side, the police dismiss it as another act of violence in a black neighborhood. But for Ruby, it's a devastating loss that leaves her on her own with her violent father. While she receives many condolences, her best friend, Layla, is the only one who understands how this puts Ruby in jeopardy.
Their closeness is tested when Layla's father, the pastor of their church, demands that Layla stay away. But what is the price for turning a blind eye? In a relentless quest to save Ruby, Layla uncovers the murky loyalties and dangerous secrets that have bound their families together for generations. Only by facing this legacy of trauma head-on will Ruby be able to break free.
An unforgettable debut novel, Saving Ruby King is a powerful testament that history doesn't determine the present and the bonds of friendship can forever shape the future.
Available at:
Amazon | Barnes & Noble | Google Play | Kobo | Apple Books | Indiebound | Indigo | Audible | Goodreads
Roman and Jewel by Dana L. Davis
If Romeo and Juliet got the Hamilton treatment…who would play the leads? This vividly funny, honest, and charming romantic novel by Dana L. Davis is the story of a girl who thinks she has what it takes…and the world thinks so, too.
Jerzie Jhames will do anything to land the lead role in Broadway's hottest new show, Roman and Jewel, a Romeo and Juliet inspired hip-hopera featuring a diverse cast and modern twists on the play. But her hopes are crushed when she learns mega-star Cinny won the lead…and Jerzie is her understudy.
Falling for male lead Zeppelin Reid is a terrible idea—especially once Jerzie learns Cinny wants him for herself. Star-crossed love always ends badly. But when a video of Jerzie and Zepp practicing goes viral and the entire world weighs in on who should play Jewel, Jerzie learns that while the price of fame is high, friendship, family, and love are priceless.
Available at:
Amazon | Barnes & Noble | Google Play | Kobo | Apple Books | Indiebound | Indigo | Goodreads
Moving Forward by Karine Jean-Pierre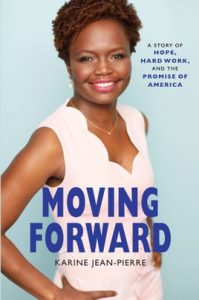 An inspiring political memoir from Karine Jean-Pierre, Chief Public Affairs Officer for MoveOn, chronicling her path from New York's Haitian community to working in the Obama White House, and offering a blueprint for anyone who wants to change the face of politics.
Most political origin stories have the same backbone. A bright young person starts reading the Washington Post in elementary school. She skips school to see a presidential candidate. In middle school she canvasses door-to-door. The story can be intimidating. It reinforces the feeling that politics is a closed system: if you weren't participating in debate club, the Young Democrats and Model UN you have no chance.
Karine Jean-Pierre's story breaks the mold. In Moving Forward, she tells how she got involved, showing how politics can be accessible to anyone, no matter their background. In today's political climate, the need for all of us to participate has never been more crucial. This book is her call to arms for those who know that now is the time for us to act.
Available at:
Amazon | Barnes & Noble | Google Play | Kobo | Apple Books | Indiebound | Indigo | Audible | Goodreads
Smash It! by Francina Simone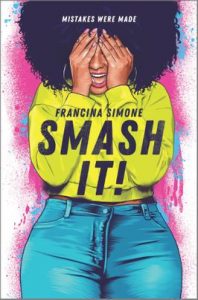 Refreshingly authentic and bold… Don't miss this smashing #ownvoices novel from Francina Simone, filled with heart, humor and a heroine to root for!
Olivia "Liv" James is done with letting her insecurities get the best of her. So she does what any self-respecting hot mess of a girl who wants to SMASH junior year does…
After Liv shows up to a Halloween party in khaki shorts—why, God, why?—she decides to set aside her wack AF ways. She makes a list—a F*ck-It list.
1. Be bold—do the thing that scares me.
2. Learn to take a compliment.
3. Stand out instead of back.
She kicks it off by trying out for the school musical, saying yes to a date and making new friends. Life is great when you stop punking yourself! However, with change comes a lot of missteps, and being bold means following her heart. So what happens when Liv's heart is interested in three different guys—and two of them are her best friends? What is she supposed to do when she gets dumped by a guy she's not even dating? How does one Smash It! after the humiliation of being friend-zoned?
In Liv's own words, "F*ck it. What's the worst that can happen?"
A lot, apparently.
#SMASHIT
Available at:
Amazon | Barnes & Noble | Google Play | Kobo | Apple Books | Indiebound | Indigo | Audible | Goodreads
A Love Hate Thing by Whitney D. Grandison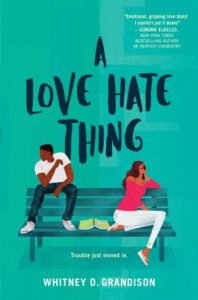 "A Love Hate Thing is an irresistible romance that you'll gobble up whole."—Popsugar
When they're stuck under one roof, the house may not be big enough for their hate…or their love.
Despite having been shot, Tyson Trice has survived the mean streets of Lindenwood, so nothing can faze him—not even being tossed into the affluent coastal community of Pacific Hills.
Nandy Smith, the golden girl of Pacific Hills, is not pleased when she hears her parents are taking in a troubled teen boy. Nandy suddenly fears her summer plans, as well as her reputation, will go up in flames.
The wall between Trice and Nandy's bedrooms feels as thin as the line between love and hate. Through time, Trice brings Nandy out of her shell, and Nandy attempts to melt the ice that's taken over Trice's heart. Only, with the ever-present pull back to the Lindenwood streets, it'll be a wonder if Trice makes it through this summer at all.
Available at:
Amazon | Barnes & Noble | Google Play | Kobo | Apple Books | Indiebound | Indigo | Audible | Goodreads
The Sound of Stars by Alechia Dow
Can a girl who risks her life for books and an alien who loves pop music work together to save humanity? A beautiful and thrilling debut novel for fans of Marie Lu and Veronica Roth.
Two years ago, a misunderstanding between the leaders of Earth and the invading Ilori resulted in the deaths of one-third of the world's population.
Today, seventeen-year-old Ellie Baker survives in an Ilori-controlled center in New York City. With humans deemed dangerously volatile because of their initial reaction to the invasion, emotional expression can be grounds for execution. Music, art and books are illegal, but Ellie still keeps a secret library.
When young Ilori commander M0Rr1S finds Ellie's library, he's duty-bound to deliver her for execution. The trouble is, he finds himself drawn to human music and in desperate need of more.
Humanity's fate rests in the hands of an alien Ellie should fear, but M0Rr1S has a potential solution—thousands of miles away. The two embark on a wild and dangerous journey with a bag of books and their favorite albums, all the while creating a story and a song of their own that just might save them both.
Available at:
Amazon | Barnes & Noble | Google Play | Kobo | Apple Books | Indiebound | Indigo | Audible | Goodreads
Take a Hint, Dani Brown by Talia Hibbert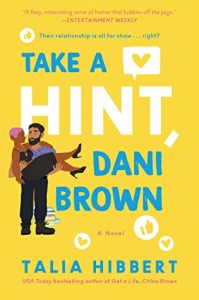 USA Today bestselling author Talia Hibbert returns with another charming romantic comedy about a young woman who agrees to fake date her friend after a video of him "rescuing" her from their office building goes viral…
Danika Brown knows what she wants: professional success, academic renown, and an occasional roll in the hay to relieve all that career-driven tension. But romance? Been there, done that, burned the T-shirt. Romantic partners, whatever their gender, are a distraction at best and a drain at worst. So Dani asks the universe for the perfect friend-with-benefits—someone who knows the score and knows their way around the bedroom.
When big, brooding security guard Zafir Ansari rescues Dani from a workplace fire drill gone wrong, it's an obvious sign: PhD student Dani and former rugby player Zaf are destined to sleep together. But before she can explain that fact to him, a video of the heroic rescue goes viral. Suddenly, half the internet is shipping #DrRugbae—and Zaf is begging Dani to play along. Turns out his sports charity for kids could really use the publicity. Lying to help children? Who on earth would refuse?
Dani's plan is simple: fake a relationship in public, seduce Zaf behind the scenes. The trouble is, grumpy Zaf is secretly a hopeless romantic—and he's determined to corrupt Dani's stone-cold realism. Before long, he's tackling her fears into the dirt. But the former sports star has issues of his own, and the walls around his heart are as thick as his… um, thighs.
The easy lay Dani dreamed of is now more complex than her thesis. Has her wish backfired? Is her focus being tested? Or is the universe just waiting for her to take a hint?
Available at:
Amazon | Barnes & Noble | Google Play | Kobo | Apple Books | Indiebound | Indigo | Audible | Goodreads
Now it's your turn, share your favorites in the comments below!