Reading goals have been set, we're back into the swing of things after the holidays, and now we're ready to get reading! There are so many books coming out this month that we think it's the perfect time to start off strong. On this list, you'll find some of the books you've seen on all those highly anticipated lists like Honey Girl by debut author, Morgan Rogers, and The Girl From the Channel Islands by Jenny Lecoat. But there's also some authors that always deliver, like Susan Mallery. We just know it's going to be a good reading month!
The Girl from the Channel Islands by Jenny Lecoat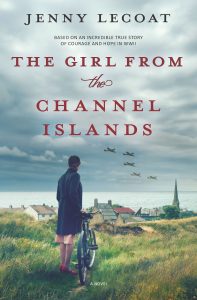 Inspired by true events, the riveting story of a young Jewish woman trapped on the occupied island of Jersey during World War II.
Summer 1940: Hedy Bercu fled Vienna two years ago. Now she watches the skies over Jersey for German planes, convinced that an invasion is imminent. When it finally comes, there is no counterattack from Allied forces—the Channel Islands are simply not worth defending. Most islanders and occupying forces settle into an uneasy coexistence, but for Hedy, the situation is perilously different. For Hedy is Jewish—a fact that could mean deportation, or worse.
With no means of escape, Hedy hides in plain sight, working as a translator for the Germans while silently working against them. She forges a tentative friendship with a sympathetic German officer who is likewise trapped by circumstance. But as the war intensifies, Hedy knows she is in greater danger each day. Soon, her survival will depend not just on her own courage but on the community she has come to cherish and a man who should be her enemy.
Vividly recreating little-known events, this is an unforgettable tale of resilience and bravery, and of the extraordinary power found in quiet acts of heroism and love.
Available February 2:
Amazon | Barnes & Noble | Google Play | Kobo | Apple Books | Indiebound | Indigo | Audible | Goodreads
Run For Cover by Micheal Ledwidge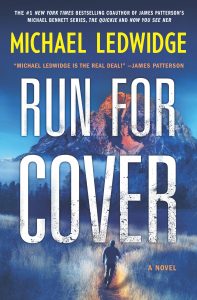 The next installment in the pulse-pounding Gannon series, featuring murder, intrigue and a deadly new mystery that may just be his last…

Fresh from a lethal entanglement with some of the deepest and darkest players in the global intelligence services, Michael Gannon heads to the safest place he can think of: deep in the wilds of Utah on the ranch of one of his oldest and closest war buddies.
But when his friend's brother is found dead in the rocky foothills of Grand Teton, Gannon realizes there are some things more important than keeping your head down. Is his death just one in a string of grisly murders mysteriously occurring around national parks—or a part of something even more sinister?
Flushed from cover, Gannon soon finds himself teamed up with tenacious FBI agent Kit Hagen on the trail of a dangerous mystery and a head-on collision course with a ruthless killer whose skills at war are as deadly as they come.
Available February 2:
Amazon | Barnes & Noble | Google Play | Kobo | Apple Books | Indiebound | Indigo | Audible | Goodreads
The Sanatorium by Sarah Pearse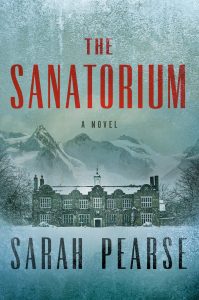 You won't want to leave. . . until you can't.

Half-hidden by forest and overshadowed by threatening peaks, Le Sommet has always been a sinister place. Long plagued by troubling rumors, the former abandoned sanatorium has since been renovated into a five-star minimalist hotel.

An imposing, isolated getaway spot high up in the Swiss Alps is the last place Elin Warner wants to be. But Elin's taken time off from her job as a detective, so when her estranged brother, Isaac, and his fiancée, Laure, invite her to celebrate their engagement at the hotel, Elin really has no reason not to accept.

Arriving in the midst of a threatening storm, Elin immediately feels on edge–there's something about the hotel that makes her nervous. And when they wake the following morning to discover Laure is missing, Elin must trust her instincts if they hope to find her. With the storm closing off all access to the hotel, the longer Laure stays missing, the more the remaining guests start to panic.

Elin is under pressure to find Laure, but no one has realized yet that another woman has gone missing. And she's the only one who could have warned them just how much danger they are all in. . .
Available February 2:
Amazon | Barnes & Noble | Google Play | Kobo | Apple Books | Indiebound | Indigo | Audible | Goodreads
The Four Winds by Kristen Hannah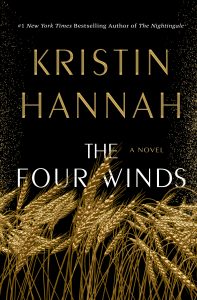 From Kristin Hannah, the #1 New York Times bestselling author of The Nightingale and The Great Alone, comes an epic novel of love and heroism and hope, set against the backdrop of one of America's most defining eras—the Great Depression.
Texas, 1934. Millions are out of work and a drought has broken the Great Plains. Farmers are fighting to keep their land and their livelihoods as the crops are failing, the water is drying up, and dust threatens to bury them all. One of the darkest periods of the Great Depression, the Dust Bowl era, has arrived with a vengeance.
In this uncertain and dangerous time, Elsa Martinelli—like so many of her neighbors—must make an agonizing choice: fight for the land she loves or go west, to California, in search of a better life. The Four Winds is an indelible portrait of America and the American Dream, as seen through the eyes of one indomitable woman whose courage and sacrifice will come to define a generation.
Available February 2:
Amazon | Barnes & Noble | Google Play | Kobo | Apple Books | Indiebound | Indigo | Audible | Goodreads
Make Up Break Up by Lily Menon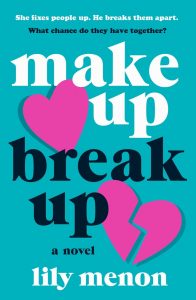 Make Up Break Up, the sparkling and heartfelt romantic comedy debut from Lily Menon

Love, romance, second chances, fairy-tale endings…these are the things Annika Dev believes in. Her app, Make Up, has been called the "Google Translate for failing relationships."
High efficiency break-ups, flashy start-ups, penthouses, fast cars…these are the things Hudson Craft believes in. His app, Break Up, is known as the "Uber for break-ups." It's wildly successful—and anathema to Annika's life philosophy.
Which wouldn't be a problem if they'd gone their separate ways after that summer fling in Las Vegas, never to see each other again. Unfortunately for Annika, Hudson's moving not just into her office building, but into the office right next to hers. And he'll be competing at the prestigious EPIC investment pitch contest: A contest Annika needs to win if she wants to keep Make Up afloat. As if it's not bad enough seeing his irritatingly perfect face on magazine covers when her own business is failing. As if knowing he stole her idea and twisted it into something vile—and monumentally more successful—didn't already make her stomach churn.
As the two rival app developers clash again and again—and again—Annika finds herself drawn into Hudson Craft's fast-paced, high velocity, utterly shallow world. Only, from up close, he doesn't seem all that shallow. Could it be that everything she thought about Hudson is completely wrong? Could the creator of Break Up teach her what true love's really about?
Available February 2:
Amazon | Barnes & Noble | Google Play | Kobo | Apple Books | Indiebound | Indigo | Audible | Goodreads
Good Neighbors by Sarah Langan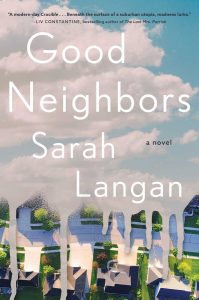 Celeste Ng's enthralling dissection of suburbia meets Shirley Jackson's creeping dread in this propulsive literary noir, when a sudden tragedy exposes the depths of deception and damage in a Long Island suburb—pitting neighbor against neighbor and putting one family in terrible danger.
Welcome to Maple Street, a picture-perfect slice of suburban Long Island, its residents bound by their children, their work, and their illusion of safety in a rapidly changing world.
But menace skulks beneath the surface of this exclusive enclave, making its residents prone to outrage. When the Wilde family moves in, they trigger their neighbors' worst fears. Dad Arlo's a gruff has-been rock star with track marks. Mom Gertie's got a thick Brooklyn accent, with high heels and tube tops to match. Their weird kids cuss like sailors. They don't fit with the way Maple Street sees itself.
Though Maple Street's Queen Bee, Rhea Schroeder—a lonely college professor repressing a dark past—welcomed Gertie and her family at first, relations went south during one spritzer-fueled summer evening, when the new best friends shared too much, too soon. By the time the story opens, the Wildes are outcasts.
As tensions mount, a sinkhole opens in a nearby park, and Rhea's daughter Shelly falls inside. The search for Shelly brings a shocking accusation against the Wildes. Suddenly, it is one mom's word against the other's in a court of public opinion that can end only in blood.
A riveting and ruthless portrayal of American suburbia, Good Neighbors excavates the perils and betrayals of motherhood and friendships and the dangerous clash between social hierarchy, childhood trauma, and fear
Available February 2:
Amazon | Barnes & Noble | Google Play | Kobo | Apple Books | Indiebound | Indigo | Audible | Goodreads
Girl A by Abigail Dean
"Fantastic, I loved it." —Paula Hawkins, New York Times bestselling author of The Girl on the Train

She thought she had escaped her past. But there are some things you can't outrun.

Lex Gracie doesn't want to think about her family. She doesn't want to think about growing up in her parents' House of Horrors. And she doesn't want to think about her identity as Girl A: the girl who escaped, the eldest sister who freed her older brother and four younger siblings. It's been easy enough to avoid her parents–her father never made it out of the House of Horrors he created, and her mother spent the rest of her life behind bars. But when her mother dies in prison and leaves Lex and her siblings the family home, she can't run from her past any longer. Together with her sister, Evie, Lex intends to turn the home into a force for good. But first she must come to terms with her siblings–and with the childhood they shared.

What begins as a propulsive tale of escape and survival becomes a gripping psychological family story about the shifting alliances and betrayals of sibling relationships–about the secrets our siblings keep, from themselves and each other. Who have each of these siblings become? How do their memories defy or galvanize Lex's own? As Lex pins each sibling down to agree to her family's final act, she discovers how potent the spell of their shared family mythology is, and who among them remains in its thrall and who has truly broken free.

For readers of Room and Sharp Objects, an absorbing and psychologically immersive novel about a young girl who escapes captivity–but not the secrets that shadow the rest of her life.
Available February 2:
Amazon | Barnes & Noble | Google Play | Kobo | Apple Books | Indiebound | Indigo | Audible | Goodreads
My Year Abroad by Chang-Rae Lee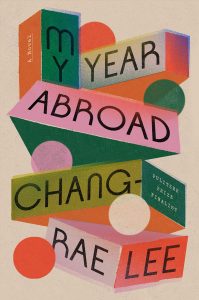 From the award-winning author of Native Speaker and On Such a Full Sea, an exuberant, provocative story about a young American life transformed by an unusual Asian adventure – and about the human capacities for pleasure, pain, and connection.

Tiller is an average American college student with a good heart but minimal aspirations. Pong Lou is a larger-than-life, wildly creative Chinese American entrepreneur who sees something intriguing in Tiller beyond his bored exterior and takes him under his wing. When Pong brings him along on a boisterous trip across Asia, Tiller is catapulted from ordinary young man to talented protégé, and pulled into a series of ever more extreme and eye-opening experiences that transform his view of the world, of Pong, and of himself.

In the breathtaking, "precise, elliptical prose" that Chang-rae Lee is known for (The New York Times), the narrative alternates between Tiller's outlandish, mind-boggling year with Pong and the strange, riveting, emotionally complex domestic life that follows it, as Tiller processes what happened to him abroad and what it means for his future. Rich with commentary on Western attitudes, Eastern stereotypes, capitalism, global trade, mental health, parenthood, mentorship, and more, My Year Abroad is also an exploration of the surprising effects of cultural immersion—on a young American in Asia, on a Chinese man in America, and on an unlikely couple hiding out in the suburbs. Tinged at once with humor and darkness, electric with its accumulating surprises and suspense, My Year Abroad is a novel that only Chang-rae Lee could have written, and one that will be read and discussed for years to come.
Available February 2:
Amazon | Barnes & Noble | Google Play | Kobo | Apple Books | Indiebound | Indigo | Audible | Goodreads
Ladies of the House by Lauren Edmondson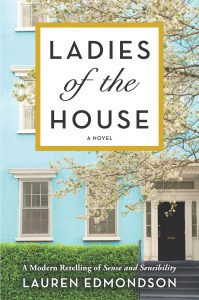 AN IRRESISTIBLE NOVEL THAT PUTS A MODERN SPIN ON JANE AUSTEN'S CLASSIC SENSE AND SENSIBILITY
"I was absolutely charmed by Ladies of the House. A wonderful debut." —Allison Winn Scotch, bestselling author of Cleo McDougal Regrets Nothing
No surprise is a good surprise. At least according to thirty-four-year-old Daisy Richardson. So when it's revealed in dramatic fashion that her esteemed father had been involved in a public scandal before his untimely death, Daisy's life becomes complicated—and fast.
For one, the Richardsons must now sell the family home in Georgetown they can no longer afford, and Daisy's mother is holding on with an iron grip. Her younger sister, Wallis, is ready to move on to bigger and better things but falls fast and hard for the most inconvenient person possible. And then there's Atlas, Daisy's best friend. She's always wished they could be more, but now he's writing an exposé on the one subject she's been desperate to avoid: her father.
Daisy's plan is to maintain a low profile as she works to keep her family intact amid social exile, public shaming, and quickly dwindling savings. But the spotlight always seems to find the Richardsons, and when another twist in the scandal comes to light, Daisy must confront the consequences of her continued silence and summon the courage to stand up and accept the power of her own voice.
Available February 9:
Amazon | Barnes & Noble | Google Play | Kobo | Apple Books | Indiebound | Indigo | Audible | Goodreads
The Vineyard at Painted Moon by Susan Mallery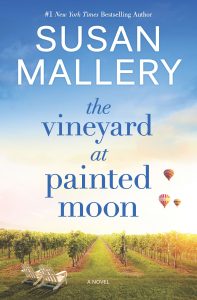 Step into the vineyard with Susan Mallery's most irresistible novel yet, as one woman searches for the perfect blend of love, family and wine.

Mackenzie Dienes seems to have it all—a beautiful home, close friends and a successful career as an elite winemaker with the family winery. There's just one problem—it's not her family, it's her husband's. In fact, everything in her life is tied to him—his mother is the closest thing to a mom that she's ever had, their home is on the family compound, his sister is her best friend. So when she and her husband admit their marriage is over, her pain goes beyond heartbreak. She's on the brink of losing everything. Her job, her home, her friends and, worst of all, her family.
Staying is an option. She can continue to work at the winery, be friends with her mother-in-law, hug her nieces and nephews—but as an employee, nothing more. Or she can surrender every piece of her heart in order to build a legacy of her own. If she can dare to let go of the life she thought she wanted, she might discover something even more beautiful waiting for her beneath a painted moon.
Available February 9:
Amazon | Barnes & Noble | Google Play | Kobo | Apple Books | Indiebound | Indigo | Audible | Goodreads
Sorrow and Bliss by Meg Mason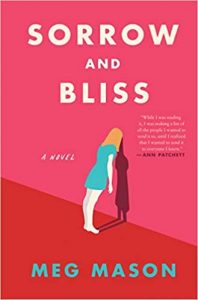 A compulsively readable debut novel—spiky, sharp, intriguingly dark, and tender—about a woman on the edge that combines the psychological insight of Sally Rooney with the sharp humor of Nina Stibbe and the emotional resonance of Eleanor Oliphant Is Completely Fine.

Martha Friel just turned forty. Once, she worked at Vogue and planned to write a novel. Now, she creates internet content. She used to live in a pied-à-terre in Paris. Now she lives in a gated community in Oxford, the only person she knows without a PhD, a baby or both, in a house she hates but cannot bear to leave. But she must leave, now that her husband Patrick—the kind who cooks, throws her birthday parties, who loves her and has only ever wanted her to be happy—has just moved out.
Because there's something wrong with Martha, and has been for a long time. When she was seventeen, a little bomb went off in her brain and she was never the same. But countless doctors, endless therapy, every kind of drug later, she still doesn't know what's wrong, why she spends days unable to get out of bed or alienates both strangers and her loved ones with casually cruel remarks.
And she has nowhere to go except her childhood home: a bohemian (dilapidated) townhouse in a romantic (rundown) part of London—to live with her mother, a minorly important sculptor (and major drinker) and her father, a famous poet (though unpublished) and try to survive without the devoted, potty-mouthed sister who made all the chaos bearable back then, and is now too busy or too fed up to deal with her.
But maybe, by starting over, Martha will get to write a better ending for herself—and she'll find out that she's not quite finished after all.
Available February 9:
Amazon | Barnes & Noble | Google Play | Kobo | Apple Books | Indiebound | Indigo | Audible | Goodreads
The (Other) You by Joyce Carol Oates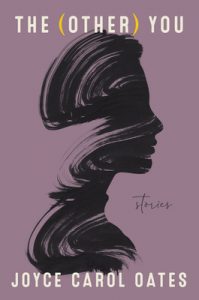 A powerful reckoning over the people we might have been if we'd chosen a different path, from a master of the short story

In this stirring, reflective collection of short stories, Joyce Carol Oates ponders alternate destinies: the other lives we might have led if we'd made different choices. An accomplished writer returns to her childhood home of Yewville, but the homecoming stirs troubled thoughts about the person she might have been if she'd never left. A man in prison contemplates the gravity of his irreversible act. A student's affair with a professor results in a pregnancy that alters the course of her life forever. Even the experience of reading is investigated as one that can create a profound transformation: "You could enter another time, the time of the book."
The (Other) You is an arresting and incisive vision into these alternative realities, a collection that ponders the constraints we all face given the circumstances of our birth and our temperaments, and that examines the competing pressures and expectations on women in particular. Finely attuned to the nuances of our social and psychic selves, Joyce Carol Oates demonstrates here why she remains one of our most celebrated and relevant literary figures.
Available February 9:
Amazon | Barnes & Noble | Google Play | Kobo | Apple Books | Indiebound | Indigo | Audible | Goodreads
The Paris Library by Janet Skeslien Charles
Based on the true World War II story of the heroic librarians at the American Library in Paris, this is an unforgettable story of romance, friendship, family, and the power of literature to bring us together, perfect for fans of The Lilac Girls and The Paris Wife.
Paris, 1939: Young and ambitious Odile Souchet has it all: her handsome police officer beau and a dream job at the American Library in Paris. When the Nazis march into Paris, Odile stands to lose everything she holds dear, including her beloved library. Together with her fellow librarians, Odile joins the Resistance with the best weapons she has: books. But when the war finally ends, instead of freedom, Odile tastes the bitter sting of unspeakable betrayal.
Montana, 1983: Lily is a lonely teenager looking for adventure in small-town Montana. Her interest is piqued by her solitary, elderly neighbor. As Lily uncovers more about her neighbor's mysterious past, she finds that they share a love of language, the same longings, and the same intense jealousy, never suspecting that a dark secret from the past connects them.
A powerful novel that explores the consequences of our choices and the relationships that make us who we are—family, friends, and favorite authors—The Paris Library shows that extraordinary heroism can sometimes be found in the quietest of places.
Available February 9:
Amazon | Barnes & Noble | Google Play | Kobo | Apple Books | Indiebound | Indigo | Audible | Goodreads
Honey Girl by Morgan Rogers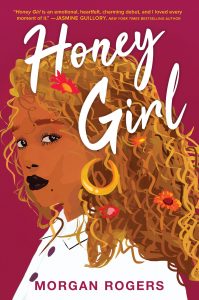 "HONEY GIRL is an emotional, heartfelt, charming debut, and I loved every moment of it."
— Jasmine Guillory, New York Times bestselling author of The Proposal
With her newly completed PhD in astronomy in hand, twenty-eight-year-old Grace Porter goes on a girls' trip to Vegas to celebrate. She's a straight A, work-through-the-summer certified high achiever. She is not the kind of person who goes to Vegas and gets drunkenly married to a woman whose name she doesn't know…until she does exactly that.
This one moment of departure from her stern ex-military father's plans for her life has Grace wondering why she doesn't feel more fulfilled from completing her degree. Staggering under the weight of her parent's expectations, a struggling job market and feelings of burnout, Grace flees her home in Portland for a summer in New York with the wife she barely knows.
In New York, she's able to ignore all the constant questions about her future plans and falls hard for her creative and beautiful wife, Yuki Yamamoto. But when reality comes crashing in, Grace must face what she's been running from all along—the fears that make us human, the family scars that need to heal and the longing for connection, especially when navigating the messiness of adulthood.
Available February 23:
Amazon | Barnes & Noble | Google Play | Kobo| Indiebound | Indigo | Audible | Goodreads
It's Been A Pleasure, Noni Blake by Claire Christian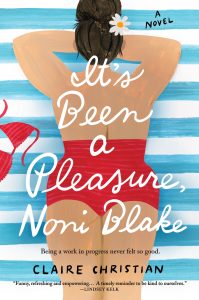 What if you made yourself your number one priority?

Of all the women and men Noni Blake has pleased in her life, there's one she's often overlooked—herself. After the end of a decade-long relationship, Noni decides it's time for that to change. She's finally going to prioritize her wants and desires and only do things (and people) that feel good in the moment.
As she embarks on a pleasure-seeking quest that takes her halfway around the world, she discovers that maybe she can have everything, and everyone, she's ever wanted.
Effortlessly hilarious and relatable, Claire Christian spins a fresh, feel-good tale about starting over as a thirtysomething woman who's been living life for everyone else. A story of self-discovery for the ages, Noni's journey serves as a sparkling reminder that life is what we make of it—so why not enjoy it?
Available February 23:
Amazon | Barnes & Noble | Google Play | Kobo | Apple Books | Indiebound | Indigo | Audible | Goodreads
The Last Straw by Sharon Sala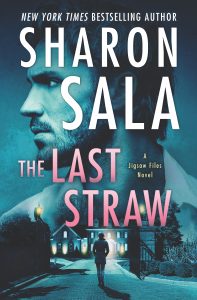 In the crosshairs of a killer…

PI Charlie Dodge may be down, but he's most definitely not out. He's still reeling after a series of earth-shattering events, so when a desperate woman hires Dodge Investigations to find her missing sister, the head-scratcher of a case is exactly the distraction Charlie and his steadfast partner, Wyrick, need. Two days prior, Rachel Dean disappeared without a trace from her locked-from-the-inside Dallas apartment, and every possible trail has gone cold.
Grappling with the fallout of her efforts to dismantle the shadowy organization Universal Theorem, Wyrick throws herself into her investigative work. Charlie knows his partner can handle herself, but when she uncovers a past connection that paints a target on her back, the threat of losing her hits Charlie hard. There's nothing he wouldn't do to keep Wyrick safe, but with the clock ticking on a victim they've yet to find, it's only a matter of time before the cold-blooded killer leads them to a deadly end.
Available February 23:
Amazon | Barnes & Noble | Google Play | Kobo | Apple Books | Indiebound | Indigo | Audible | Goodreads
The Smash-Up by Ali Benjamin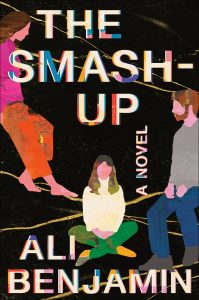 A marriage spirals out of control when the issues of our day—cultural, political, and social—becoming intensely personal in this fresh, whip-smart novel for readers of Meg Wolitzer and Fleishman Is in Trouble.

"Sharply funny, perceptive, and surprising at every turn . . . Ali Benjamin is Edith Wharton with fresh eyes."—Amy Bloom, author of White Houses

It's September 2018. In Washington, D.C.,—and in cities and towns across America—women have taken to the streets to protest a Supreme Court nominee. And in Starkfield, Massachusetts—a sleepy rural town where nothing much ever happens—Ethan Frome's otherwise quiet life has turned upside down.

His wife, Zo, is so enraged by the national political scene that she's transformed their home into a local headquarters for the Resistance. His college roommate and former business partner faces #metoo allegations, sending Ethan into increasingly desperate financial straits. His unruly, headstrong daughter, Alex, grows more challenging by the day.

Enter Maddy Silver—a breezy, blue-haired millennial making her way through the gig economy. Suddenly Ethan and Zo must question everything: their past, their future, their marriage, and what they value most. And all the while, a world-rocking cultural smash-up inches ever closer to home.

Inspired by a classic Edith Wharton novella about a strained marriage in a small town, The Smash-Up is at once an intimate, moving portrait of a family in distress, a vivid examination of our roiling national rancor, and a powerful exploration of how the things we fail to notice can shatter a family, a community, and a nation.
Available February 23:
Amazon | Barnes & Noble | Google Play | Kobo | Apple Books | Indiebound | Indigo | Audible | Goodreads
What are you looking forward to this month? Let us know in the comments!