We love a good Jane Austen adaptation around here. The main storylines from Sense and Sensibility, Pride and Prejudice and Persuasion are so great, it's no wonder they've been reimagined time and time again! With so many adaptations, it can be difficult to pick one. However, we've done the research and are happy to present our favorite twists on Jane Austen classics.
Ladies of the House by Lauren Edmondson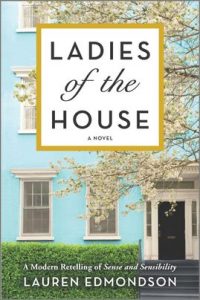 AN IRRESISTIBLE NOVEL THAT PUTS A MODERN SPIN ON JANE AUSTEN'S CLASSIC SENSE AND SENSIBILITY
"I was absolutely charmed by Ladies of the House. A wonderful debut." —Allison Winn Scotch, bestselling author of Cleo McDougal Regrets Nothing
No surprise is a good surprise. At least according to thirty-four-year-old Daisy Richardson. So when it's revealed in dramatic fashion that her esteemed father had been involved in a public scandal before his untimely death, Daisy's life becomes complicated—and fast.
For one, the Richardsons must now sell the family home in Georgetown they can no longer afford, and Daisy's mother is holding on with an iron grip. Her younger sister, Wallis, is ready to move on to bigger and better things but falls fast and hard for the most inconvenient person possible. And then there's Atlas, Daisy's best friend. She's always wished they could be more, but now he's writing an exposé on the one subject she's been desperate to avoid: her father.
Daisy's plan is to maintain a low profile as she works to keep her family intact amid social exile, public shaming, and quickly dwindling savings. But the spotlight always seems to find the Richardsons, and when another twist in the scandal comes to light, Daisy must confront the consequences of her continued silence and summon the courage to stand up and accept the power of her own voice.
Available at:
Amazon | Barnes & Noble | Google Play | Kobo | Apple Books | Indiebound | Indigo | Audible | Goodreads
The Austen Playbook by Lucy Parker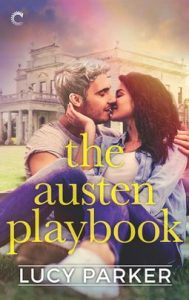 Inspired by various Jane Austen novels.
In which experienced West End actress Freddy Carlton takes on an Austen-inspired play, a scandal at a country estate, an enthusiastic search for a passion outside of acting…and the (some people might say icy*) heart of London's most feared theater critic.

*if those people were being nice
Freddy Carlton knows she should be focusing on her lines for The Austen Playbook, a live-action TV event where viewers choose the outcome of each scene, but her concentration's been blown. The palatial estate housing the endeavor is now run by the rude (brilliant) critic who's consistently slammed her performances of late. James "Griff" Ford-Griffin has a penchant for sarcasm, a majestic nose and all the sensitivity of a sledgehammer.
She can't take her eyes off him.
Griff can hardly focus with a contagious joy fairy flitting about near him, especially when Freddy looks at him like that. His only concern right now should be on shutting down his younger brother's well-intentioned (disastrous) schemes—or at the very least on the production (not this one) that might save his family home from the banks.
Instead all he can think of is soft skin and vibrant curls.
As he's reluctantly dragged into her quest to rediscover her passion for the stage and Freddy is drawn into his research on a legendary theater star, the adage about appearances being deceiving proves abundantly true. It's the unlikely start of something enormous…but a single revelation about the past could derail it all.
Available at:
Amazon | Barnes & Noble | Google Play | Kobo | Apple Books | Indiebound | Indigo | Audible | Goodreads
Pride by Ibi Zoboi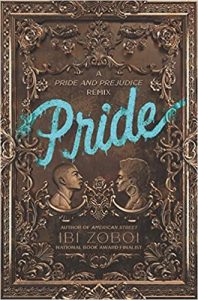 In a timely update of Jane Austen's Pride and Prejudice, National Book Award finalist Ibi Zoboi skillfully balances cultural identity, class, and gentrification against the heady magic of first love in her vibrant reimagining of this beloved classic. A smart, funny, gorgeous retelling starring all characters of color.
Zuri Benitez has pride. Brooklyn pride, family pride, and pride in her Afro-Latino roots. But pride might not be enough to save her rapidly gentrifying neighborhood from becoming unrecognizable.
When the wealthy Darcy family moves in across the street, Zuri wants nothing to do with their two teenage sons, even as her older sister, Janae, starts to fall for the charming Ainsley. She especially can't stand the judgmental and arrogant Darius. Yet as Zuri and Darius are forced to find common ground, their initial dislike shifts into an unexpected understanding.
But with four wild sisters pulling her in different directions, cute boy Warren vying for her attention, and college applications hovering on the horizon, Zuri fights to find her place in Bushwick's changing landscape, or lose it all.
"Zoboi skillfully depicts the vicissitudes of teenage relationships, and Zuri's outsize pride and poetic sensibility make her a sympathetic teenager in a contemporary story about race, gentrification, and young love." (Publishers Weekly, "An Anti-Racist Children's and YA Reading List")
Available at:
Amazon | Barnes & Noble | Google Play | Kobo | Apple Books | Indiebound | Indigo | Audible | Goodreads
Jane in Love by Rachel Givney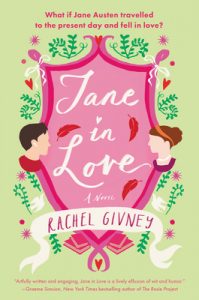 Inspired by various Jane Austen's novels.
"Artfully written and engaging, Jane in Love is a lively effusion of wit and humor."—Graeme Simsion, New York Times bestselling author of The Rosie Project
A charming, romantic debut novel in which Jane Austen, heralded author, ends up time-traveling almost 200 years in the future. There she finds the love she's written about and the destiny she's dreamed of…but is it worth her legacy?
Bath, England, 1803. At 28, Jane Austen prefers walking and reading to balls and assemblies; she dreams of someday publishing her carefully crafted stories. Already on the shelf and in grave danger of becoming a spinster, Jane goes searching for a radical solution—and as a result, seemingly by accident, time-travels. She lands in…
Bath, England, present day. The film set of Northanger Abbey. Sofia Wentworth is a Hollywood actress starring in a new period film, an attempt to reinvent her flagging career and, secretly, an attempt to reinvent her failing marriage. When Sofia meets Jane, she marvels at the young actress who can't seem to "break character," even off set. And Jane—acquainting herself with the horseless steel carriages and seriously shocking fashion of the twenty-first century— meets Sofia, a woman unlike anyone she's ever met before. Then she meets Fred, Sofia's brother, who has the audacity to be handsome, clever, and kind-hearted.
What happens when Jane, against her better judgement, falls in love with Fred? And when Sofia learns the truth about her new friend Jane? And worst of all, if Jane stays with Fred, will she ever achieve her dream, the one she's now seen come true?
Available at:
Amazon | Barnes & Noble | Google Play | Kobo | Apple Books | Indiebound | Indigo | Audible | Goodreads
Ayesha at Last by Uzma Jalaluddin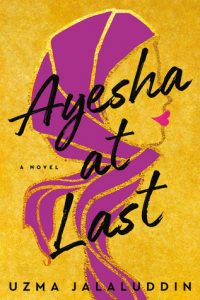 A modern-day Muslim Pride and Prejudice for a new generation of love.

Ayesha Shamsi has a lot going on. Her dreams of being a poet have been set aside for a teaching job so she can pay off her debts to her wealthy uncle. She lives with her boisterous Muslim family and is always being reminded that her flighty younger cousin, Hafsa, is close to rejecting her one hundredth marriage proposal. Though Ayesha is lonely, she doesn't want an arranged marriage. Then she meets Khalid, who is just as smart and handsome as he is conservative and judgmental. She is irritatingly attracted to someone who looks down on her choices and who dresses like he belongs in the seventh century.

When a surprise engagement is announced between Khalid and Hafsa, Ayesha is torn between how she feels about the straightforward Khalid and the unsettling new gossip she hears about his family. Looking into the rumors, she finds she has to deal with not only what she discovers about Khalid, but also the truth she realizes about herself.
Available at:
Amazon | Barnes & Noble | Google Play | Kobo | Apple Books | Indiebound | Indigo | Audible | Goodreads
Eligible by Curtis Sittenfeld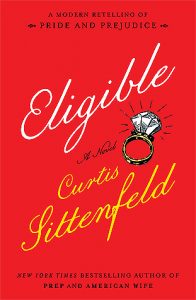 A modern retelling of Pride and Prejudice
NEW YORK TIMES BESTSELLER
Wonderfully tender and hilariously funny, Eligible tackles gender, class, courtship, and family as Curtis Sittenfeld reaffirms herself as one of the most dazzling authors writing today.
This version of the Bennet family—and Mr. Darcy—is one that you have and haven't met before: Liz is a magazine writer in her late thirties who, like her yoga instructor older sister, Jane, lives in New York City. When their father has a health scare, they return to their childhood home in Cincinnati to help—and discover that the sprawling Tudor they grew up in is crumbling and the family is in disarray.
Youngest sisters Kitty and Lydia are too busy with their CrossFit workouts and Paleo diets to get jobs. Mary, the middle sister, is earning her third online master's degree and barely leaves her room, except for those mysterious Tuesday-night outings she won't discuss. And Mrs. Bennet has one thing on her mind: how to marry off her daughters, especially as Jane's fortieth birthday fast approaches.
Enter Chip Bingley, a handsome new-in-town doctor who recently appeared on the juggernaut reality TV dating show Eligible. At a Fourth of July barbecue, Chip takes an immediate interest in Jane, but Chip's friend neurosurgeon Fitzwilliam Darcy reveals himself to Liz to be much less charming. . . .
And yet, first impressions can be deceiving.
Available at:
Amazon | Barnes & Noble | Google Play | Kobo | Apple Books | Indiebound | Indigo | Audible | Goodreads
All Stirred Up by Brianne Moore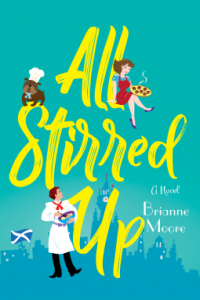 Inspired by Jane Austen's Persuasion. She returned to save her family's dying legacy–but found the ghosts of her past alive and well.

Susan Napier's family once lived on the success of the high-end restaurants founded by her late grandfather. But bad luck and worse management has brought the business to the edge of financial ruin. Now it's up to Susan to save the last remaining restaurant: Elliot's, the flagship in Edinburgh.

But what awaits Susan in the charming city of Auld Reekie is more than she bargained for. Chris Baker, her grandfather's former protégé–and her ex-boyfriend–is also heading to the Scottish capital. After finding fame in New York as a chef and judge of a popular TV cooking competition, Chris is returning to his native Scotland to open his own restaurant. Although the storms have cleared after their intense and rocky breakup, Susan and Chris are re-drawn into each other's orbit–and their simmering attraction inevitably boils over.

As Chris's restaurant opens to great acclaim and Susan tries to haul Elliot's back from the brink, the future brims with new promise. But darkness looms as they find themselves in the crosshairs of a gossip blogger eager for a juicy story–and willing to do anything to get it. Can Susan and Chris reclaim their lost love, or will the tangled past ruin their last hope for happiness?
Available at:
Amazon | Barnes & Noble | Google Play | Kobo | Apple Books | Indiebound | Indigo | Audible | Goodreads
What's your favorite Jane Austen adaptation? Share it with us in the comments below!