We've shown you how to make Salty Super Dark Chocolate Brownies earlier this month for the perfect book club meeting treat. Now we're cracking open our copies of Ovenly by Agatha Kulaga & Erin Patinkin to show you another amazing reading snack! This Lemon Raspberry Loaf a citrusy quick bread that just so happens to be vegan. It goes excellent with a feel-good book and some lemon water. Read on below for the recipe.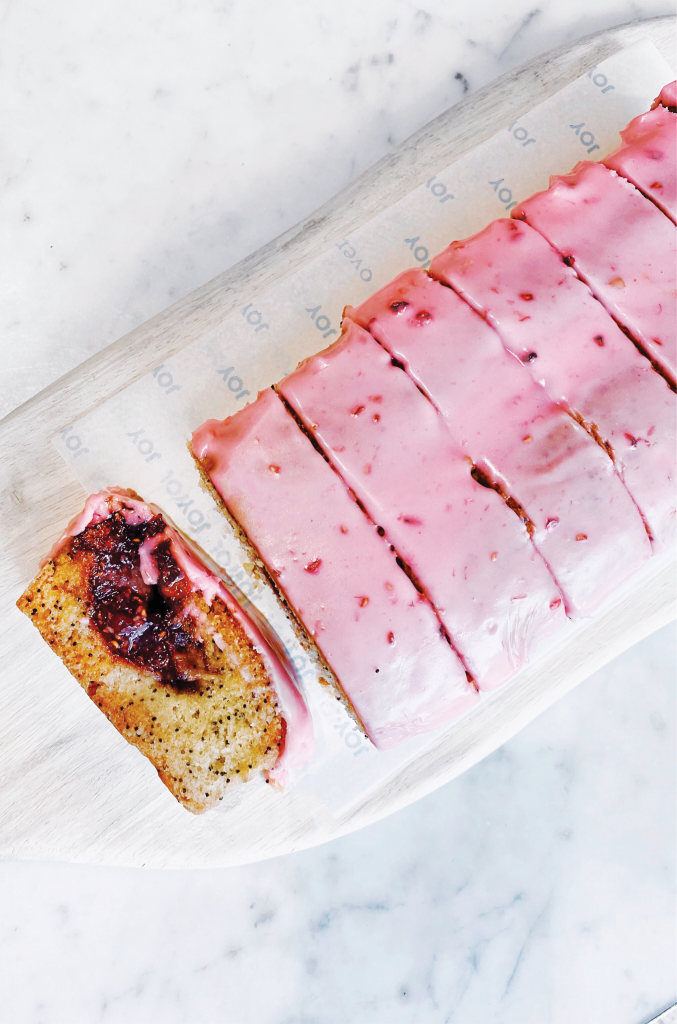 Ingredients:
Lemon Raspberry Loaf
Canola oil, for greasing the loaf pan
½ cup + 2 tablespoons canola oil
1 cup sugar
Zest of 2 lemons
2 tablespoons lemon juice
1¼ teaspoons vanilla extract
2¼ cups + 2 tablespoons
all-purpose flour
1½ teaspoons baking powder
½ teaspoon salt
3 tablespoons poppy seeds
⅔ cup plain almond milk
1 cup fresh or frozen raspberries (if using fresh raspberries, freeze for at least 30 minutes before using)
Raspberry Glaze
4 raspberries (fresh or thawed)
1 tablespoon lemon juice
¾ cup + 1 tablespoon
confectioners' sugar
Directions:
Preheat the oven to 350°F. Grease a 9 x 5-inch loaf pan with canola oil. Using a piece of parchment paper that is the length of the loaf pan and about three times its width, press in the parchment so that there is overhang on the two long sides. Lightly grease the parchment with canola oil.
In a large bowl, whisk together the canola oil and sugar until well blended. Add the lemon zest, lemon juice and vanilla extract and whisk to emulsify until light and fluffy.
In a separate large bowl, whisk together 2¼ cups of the flour, baking powder, salt and poppy seeds.
Add half of the flour mixture to the sugar mixture. Mix with a wooden spoon or a rubber spatula until just combined. Then add all of the almond milk and mix until fully incorporated. The mixture will be wet.
Add the other half of the flour mixture into the wet ingredients and mix until just combined.
In a small bowl, gently mix the remaining 2 tablespoons of flour with the raspberries to coat.
Gently fold 1 cup of raspberries into the wet ingredients until just coated. Move slowly in this step to keep the raspberries intact.
Pour the batter into the prepared loaf pan and bake for 75 to 80 minutes, or until a toothpick inserted in the center of the loaf comes out clean. The top of the loaf will be a light golden-brown color when done. Place on a wire rack to cool completely before glazing.
While the loaf is baking, prepare the glaze. In a small bowl, use a small rubber spatula or the back of a spoon to smash the 4 raspberries down to create a puree.
Add the lemon juice and confectioners' sugar to the raspberries. Whisk until the mixture becomes smooth and is bright pink in color. The consistency should be thick (similar to cake batter) and spreadable, but not hard.
If needed, add more confectioners' sugar, one tablespoon at a time, to reach desired consistency.
Using a small offset spatula (or butter knife), place a few large dollops of the Raspberry Lemon Glaze over the top of the loaf and smooth over in a back-and-forth motion from the center to the outer edges to cover entirely.
Excerpted from Ovenly by Agatha Kulaga & Erin Patinin. Copyright © 2021 Agatha Kulaga & Erin Patinin. Published by Park Row Books®, a division of Harelquin Trade Publishing. Reproduced by arrangement with the Publisher. All rights reserved.
Let us know in the comments what you like to snack on while reading!