If you're pressed for time or need to catch up on your reading goals stat, this list of 9 books is for you! These reads jam a lot of heart and story in 350 pages or less. These thrillers, historical fiction, and literary fiction titles certainly pack a punch and will leave you with one less book on your TBR in no time!
Snow by John Banville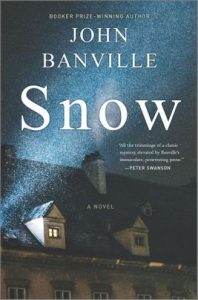 Detective Inspector St. John Strafford has been summoned to County Wexford to investigate a murder. A parish priest has been found dead in Ballyglass House, the family seat of the aristocratic, secretive Osborne family.
The year is 1957 and the Catholic Church rules Ireland with an iron fist. Strafford—flinty, visibly Protestant and determined to identify the murderer—faces obstruction at every turn, from the heavily accumulating snow to the culture of silence in the tight-knit community he begins to investigate.
As he delves further, he learns the Osbornes are not at all what they seem. And when his own deputy goes missing, Strafford must work to unravel the ever-expanding mystery before the community's secrets, like the snowfall itself, threaten to obliterate everything.
Beautifully crafted, darkly evocative and pulsing with suspense, Snow is "the Irish master" (New Yorker) John Banville at his page-turning best.
Available at:
Amazon | Barnes & Noble | Google Play | Kobo | Apple Books | Indiebound | Indigo | Audible | Goodreads
Set My Heart to Five by Simon Stephenson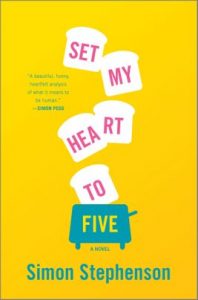 For fans of Fredrik Backman and Gail Honeyman, a delightfully entertaining, deceptively poignant debut novel about a humanlike bot named Jared, whose emotional awakening leads him on an unforgettable quest for connection, belonging and possibly even true love
Jared works as a dentist in small-town Michigan. His life is totally normal, except for one thing. He is a bot engineered with human DNA to look and act like a real person.
One day at a screening of a classic movie, Jared feels a strange sensation around his eyes. Everyone knows that bots can't feel emotions, but as the theater lights come on, Jared is almost certain he's crying. Confused, he decides to watch more old movies to figure out what's happening. The process leads to an emotional awakening that upends his existence. Jared, it turns out, can feel.
Overcome with a full range of emotions, and facing an imminent reset, Jared heads west, determined to forge real connections. He yearns to find his mother, the programmer who created him. He dreams of writing a screenplay that will change the world. Along the way, he might even fall in love. But a bot with feelings is a dangerous proposition, and Jared's new life could come to an end before it truly begins.
Delectably entertaining and deceptively moving, Set My Heart to Five is a profound exploration of what makes us human and a love letter to outsiders everywhere.
Available at:
Amazon | Barnes & Noble | Google Play | Kobo | Apple Books | Indiebound | Indigo | Audible | Goodreads
Road Out of Winter by Alison Stine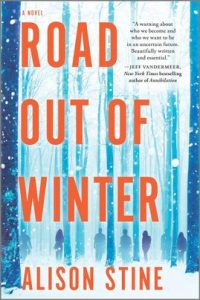 In an endless winter, she carries seeds of hope
Wylodine comes from a world of paranoia and poverty—her family grows marijuana illegally, and life has always been a battle. Now she's been left behind to tend the crop alone. Then spring doesn't return for the second year in a row, bringing unprecedented extreme winter.
With grow lights stashed in her truck and a pouch of precious seeds, she begins a journey, determined to start over away from Appalachian Ohio. But the icy roads and strangers hidden in the hills are treacherous. After a harrowing encounter with a violent cult, Wylodine and her small group of exiles become a target for its volatile leader. Because she has the most valuable skill in the climate chaos: she can make things grow.
With the gripping suspense of The Road and the lyricism of Station Eleven, Stine's vision is of a changing world where an unexpected hero searches for a place hope might take root.
Available at:
Amazon | Barnes & Noble | Google Play | Kobo | Apple Books | Indiebound | Indigo | Audible | Goodreads
The Last Story of Mina Lee by Nancy Jooyoun Kim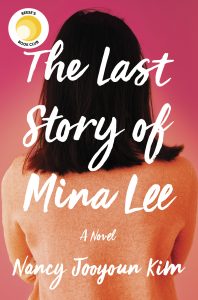 A REESE'S BOOK CLUB PICK
INSTANT NEW YORK TIMES BESTSELLER
A profoundly moving and unconventional mother-daughter saga, The Last Story of Mina Lee illustrates the devastating realities of being an immigrant in America.
Margot Lee's mother, Mina, isn't returning her calls. It's a mystery to twenty-six-year-old Margot, until she visits her childhood apartment in Koreatown, LA, and finds that her mother has suspiciously died. The discovery sends Margot digging through the past, unraveling the tenuous invisible strings that held together her single mother's life as a Korean War orphan and an undocumented immigrant, only to realize how little she truly knew about her mother.
Interwoven with Margot's present-day search is Mina's story of her first year in Los Angeles as she navigates the promises and perils of the American myth of reinvention. While she's barely earning a living by stocking shelves at a Korean grocery store, the last thing Mina ever expects is to fall in love. But that love story sets in motion a series of events that have consequences for years to come, leading up to the truth of what happened the night of her death.
Told through the intimate lens of a mother and daughter who have struggled all their lives to understand each other, The Last Story of Mina Lee is a powerful and exquisitely woven debut novel that explores identity, family, secrets, and what it truly means to belong.
Available at:
Amazon | Barnes & Noble | Google Play | Kobo | Apple Books | Indiebound | Indigo | Audible | Goodreads
The Little Book of Puppy Love by Jo Coudert and Jennifer Basye Sander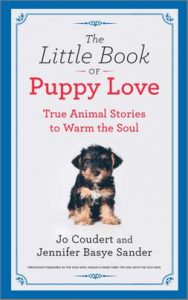 A heartwarming collection of stories about the dogs, cats and pets who have touched the lives of those around them

Sometimes, animals come into our lives just when we need them most. In these true stories about the powerful connections between people and pets, Jo Coudert and Jennifer Basye Sander uncover the simple joys of loving and being loved by our four-legged companions.
In this book you'll meet the German shepherd with a special sense for comforting the sick; the loyal dog who risks his own life to rescue a drowning boy; the troublesome rabbit who warms her way into a new family; the chatty parrot who brings joy to the home of a lonely widow; the abandoned horse and foster child who rescue each other; and many, many more.
These animals don't just bring us comfort—they save our lives. Coudert and Sander celebrate the everyday miracles that happen when we form bonds with animals.
This new edition combines two charming collections—The Dog Who Healed a Family and The Dog with the Old Soul —into one beautiful gift-worthy hardcover package.
Available at:
Amazon | Barnes & Noble | Google Play | Kobo | Apple Books | Indiebound | Indigo | Goodreads
Daughters of the Wild by Natalka Burian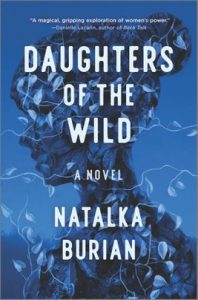 "A gorgeous, different, and completely engrossing book. Burian's writing is transporting — and exactly what I needed right now."— Jessica Valenti, author of Sex Object: A Memoir
In rural West Virginia, Joanie and her foster siblings live on a farm tending a mysterious plant called the vine. The older girls are responsible for cultivating the vine, performing sacred rituals to make it grow. After Joanie's arranged marriage goes horribly wrong, leaving her widowed and with a baby, she plots her escape with the help of her foster brother, Cello.
But before they can get away, her baby goes missing and Joanie, desperate to find him, turns to the vine, understanding it to be far more powerful than her siblings realize. She begins performing generations-old rituals to summon the vine's power and goes on a perilous journey into the wild, pushing the boundaries of her strength and sanity to bring her son home.
Daughters of the Wild is an utterly absorbing debut that explores the female mind in captivity and the ways in which both nature and women fight domination. Like The Bell Jar set in rural Appalachia, Daughters of the Wild introduces a fierce new heroine and a striking new voice in fiction.
Available at:
Amazon | Barnes & Noble | Google Play | Kobo | Apple Books | Indiebound | Indigo | Audible | Goodreads
The Wrong Kind of Woman by Sarah McCraw Crow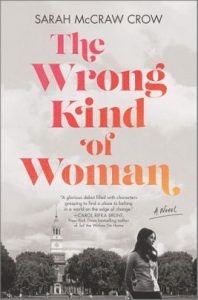 A powerful exploration of what a woman can be when what she should be is no longer an option
In late 1970, Oliver Desmarais drops dead in his front yard while hanging Christmas lights. In the year that follows, his widow, Virginia, struggles to find her place on the campus of the elite New Hampshire men's college where Oliver was a professor. While Virginia had always shared her husband's prejudices against the four outspoken, never-married women on the faculty—dubbed the Gang of Four by their male counterparts—she now finds herself depending on them, even joining their work to bring the women's movement to Clarendon College.
Soon, though, reports of violent protests across the country reach this sleepy New England town, stirring tensions between the fraternal establishment of Clarendon and those calling for change. As authorities attempt to tamp down "radical elements," Virginia must decide whether she's willing to put herself and her family at risk for a cause that had never felt like her own.
Told through alternating perspectives, The Wrong Kind of Woman is an engrossing story about finding the strength to forge new paths, beautifully woven against the rapid changes of the early '70s.
Available at:
Amazon | Barnes & Noble | Google Play | Kobo | Apple Books | Indiebound | Indigo | Audible | Goodreads
Last Call on Decatur Street by Iris Martin Cohen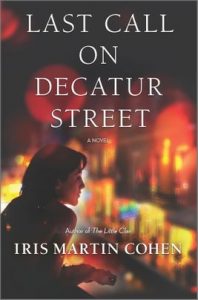 Set in Pre-Katrina New Orleans, LAST CALL ON DECATUR STREET is an electrifying tale of friendship and betrayal, an exploration of racism and white privilege, and one woman's journey to find herself in the seedy, glamorous world of burlesque.
Despite vowing to never return to New Orleans when she left for college, Rosemary quickly finds herself back in her hometown—kicked out of school, at odds with her best friend, and desperate to lose herself in a bright, kaleidoscopic nightlife of dive bars and burlesque dancing.
This night, though, is different. An unlikely companion, a secret sorrow, and an unexpected visitor force Rosemary to break free. From the burlesque stage in the French Quarter, strip clubs to strangers' beds, a secret garden in Jackson Square, and ending at a raucous masquerade party, this night becomes a journey for Rosemary to come to grips with her past, grieve for those she has lost, and maybe, finally, acknowledge that she too deserves redemption.
With superlative emotional and intellectual sensitivity, mordant wit, and pitch-perfect style, Cohen captures the uncertainty and messy edges of early adulthood. A love letter to New Orleans, Last Call on Decatur Street is a story of family and home and the complicated things we inherit from the people and places we love.
Available at:
Amazon | Barnes & Noble | Google Play | Kobo | Apple Books | Indiebound | Indigo | Audible | Goodreads
The Dazzling Truth by Helen Cullen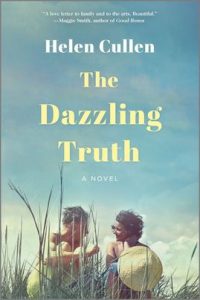 One Irish family. Three decades. One dazzling story.
"A love letter to family and to the arts. Beautiful."—Maggie Smith, author of Good Bones
In the courtyards of Trinity College, Dublin, in 1978, aspiring actress Maeve meets pottery student Murtagh Moone. As their relationship progresses, marriage and motherhood come in quick succession, but for Maeve, with the joy of children also comes the struggle to hold on to the truest parts of herself.
Decades later, on a small Irish island, the Moone family are poised for celebration but instead are struck by tragedy. Each family member must find solace in their own separate way, until one dazzling truth brings them back together. But as the Moone family confront the past, they also journey toward a future that none of them could have predicted. Except perhaps Maeve herself.
Available at:
Amazon | Barnes & Noble | Google Play | Kobo | Apple Books | Indiebound| Indigo | Goodreads
What was the last book you read in one sitting? Let us know in the comments below!