Are the blahs and boredom of winter getting you down? Us, too. Thankfully, reading's to the rescue! Grab a warm drink, the best blanket, and cozy into these feel good fiction picks. Leave reality behind with nostalgia, friends, family, and wine—whatever way you choose to escape!
It's Been a Pleasure, Noni Blake by Claire Christian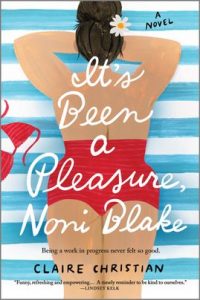 What if you made yourself your number one priority?

Of all the women and men Noni Blake has pleased in her life, there's one she's often overlooked—herself. After the end of a decade-long relationship, Noni decides it's time for that to change. She's finally going to prioritize her wants and desires and only do things (and people) that feel good in the moment.
As she embarks on a pleasure-seeking quest that takes her halfway around the world, she discovers that maybe she can have everything, and everyone, she's ever wanted.
Effortlessly hilarious and relatable, Claire Christian spins a fresh, feel-good tale about starting over as a thirtysomething woman who's been living life for everyone else. A story of self-discovery for the ages, Noni's journey serves as a sparkling reminder that life is what we make of it—so why not enjoy it?
Available at:
Amazon | Barnes & Noble | Google Play | Kobo | Apple Books | Indiebound | Indigo | Audible | Goodreads
Return to Virgin River by Robyn Carr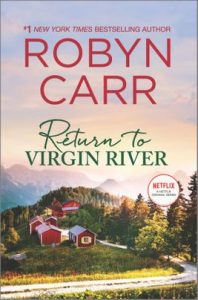 Kaylee Sloan's home in Southern California is full of wonderful memories of the woman who raised her. But the memories are prolonging her grief over her mother's recent death. A successful author, Kaylee hoped she could pour herself into her work. Instead she has terrible writer's block and a looming deadline.
Determined to escape distractions and avoid the holiday season, Kaylee borrows a cabin in Virgin River. She knows the isolation will help her writing, and as she drives north through the mountains and the majestic redwoods, she immediately feels inspired. Until she arrives at a building that has just gone up in flames. Devastated, she heads to Jack's Bar to plan her next steps. The local watering hole is the heart of the town, and once she crosses the threshold, she's surprised to be embraced by people who are more than willing to help a friend—or a stranger—in need.
Kaylee's world is expanding in ways she never dreamed possible. And when she rescues a kitten followed by a dog with a litter of puppies, she finds her heart opening up to the animals who need her. And then there's the dog trainer who knows exactly how to help her. As the holidays approach, Kaylee's dread turns to wonder. Because there's no better place to spend Christmas than Virgin River.
Available at:
Amazon | Barnes & Noble | Google Play | Kobo | Apple Books | Indiebound | Audible | Goodreads
The Vineyard at Painted Moon by Susan Mallery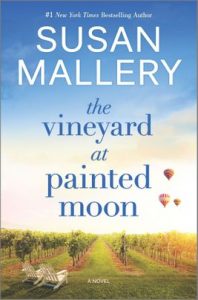 Step into the vineyard with Susan Mallery's most irresistible novel yet, as one woman searches for the perfect blend of love, family and wine.

Mackenzie Dienes seems to have it all—a beautiful home, close friends and a successful career as an elite winemaker with the family winery. There's just one problem—it's not her family, it's her husband's. In fact, everything in her life is tied to him—his mother is the closest thing to a mom that she's ever had, their home is on the family compound, his sister is her best friend. So when she and her husband admit their marriage is over, her pain goes beyond heartbreak. She's on the brink of losing everything. Her job, her home, her friends and, worst of all, her family.
Staying is an option. She can continue to work at the winery, be friends with her mother-in-law, hug her nieces and nephews—but as an employee, nothing more. Or she can surrender every piece of her heart in order to build a legacy of her own. If she can dare to let go of the life she thought she wanted, she might discover something even more beautiful waiting for her beneath a painted moon.
Available at:
Amazon | Barnes & Noble | Google Play | Kobo | Apple Books | Indiebound | Indigo | Audible | Goodreads
Pretending by Holly Bourne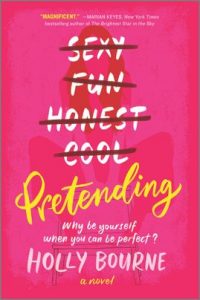 He said he was looking for a "partner in crime," which everyone knows is shorthand for "a woman who isn't real."
April is kind, pretty and relatively normal—yet she can't seem to get past date five. Every time she thinks she's found someone to trust, they reveal themselves to be awful, leaving her heartbroken. And angry. Until she realizes that men aren't looking for real women—they're looking for Gretel.
Gretel is perfect—beautiful but low-maintenance, sweet but never clingy, sexy but not too easy. She's your regular, everyday Manic-Pixie-Dream-Girl-Next-Door with no problems.
When April starts pretending to be Gretel, dating becomes much more fun—especially once she reels in the unsuspecting Joshua. Finally, April is the one in control. It's refreshing. Exhilarating, even. But as she and Joshua grow closer, and the pressure of keeping her painful past a secret begins to build, how long will she be able to keep on pretending?
Available at:
Amazon | Barnes & Noble | Google Play | Kobo | Apple Books | Indiebound | Indigo | Audible | Goodreads
Honey Girl by Morgan Rogers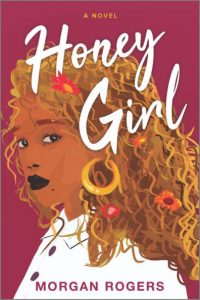 HONEY GIRL is an emotional, heartfelt, charming debut, and I loved every moment of it."— Jasmine Guillory, New York Times bestselling author of The Proposal
With her newly completed PhD in astronomy in hand, twenty-eight-year-old Grace Porter goes on a girls' trip to Vegas to celebrate. She's a straight A, work-through-the-summer certified high achiever. She is not the kind of person who goes to Vegas and gets drunkenly married to a woman whose name she doesn't know…until she does exactly that.
This one moment of departure from her stern ex-military father's plans for her life has Grace wondering why she doesn't feel more fulfilled from completing her degree. Staggering under the weight of her parent's expectations, a struggling job market and feelings of burnout, Grace flees her home in Portland for a summer in New York with the wife she barely knows.
In New York, she's able to ignore all the constant questions about her future plans and falls hard for her creative and beautiful wife, Yuki Yamamoto. But when reality comes crashing in, Grace must face what she's been running from all along—the fears that make us human, the family scars that need to heal and the longing for connection, especially when navigating the messiness of adulthood.
Available at:
Amazon | Barnes & Noble | Google Play | Kobo | Apple Books | Indiebound | Indigo | Audible | Goodreads
To Catch a Dream by Audrey Carlan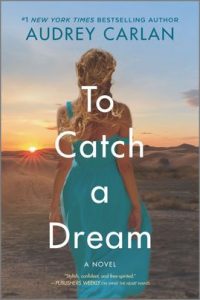 The #1 New York Times bestselling author of the worldwide phenomenon Calendar Girl series brings readers a poignant and honest look at life's most complicated relationships.
When their mother passed away, Evie Ross and her sister were each given a stack of letters, one to be opened every year on their birthday; letters their free-spirited mother hoped would inspire and guide them through adulthood. But although Evie has made a successful career, her desire for the stability and security she never had from her parents has meant she's never experienced the best life has to offer. But the discovery of more letters hidden in a safe-deposit box points to secrets her mother held close, and possibly a new way for Evie to think about her family, her heart and her dreams.
"Audrey Carlan has created a gem of a story about sisterhood, love, second chances, and the kind of wanderlust that won't be silenced, reminding us that sometimes the most important journey is the one we take home." —Lexi Ryan, New York Times bestselling author
Available at:
Amazon | Barnes & Noble | Google Play | Kobo | Apple Books | Indiebound | Indigo | Audible | Goodreads
Careless Whispers by Synithia Williams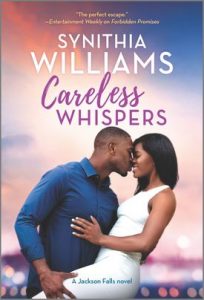 She's falling in love with the one man she can't trust…
Elaina Robidoux knows how people view her: coldhearted, ambitious, ruthless. But it doesn't matter. Running the family business is all she's ever wanted and she's so close she can almost taste it…until her father fires her and hires her nemesis—arrogant, unflappable Alex Tyson. Elaina may be hurt but she refuses to be defeated, so she throws herself into creating a business of her own. But she never dreamed that to close her first deal, she'd need Alex's help…
Alex understands the power of a family legacy better than most and the last thing he wanted was to take that from Elaina. Her beauty and fierce strength are undeniable, but there's a softer side that no one but him seems to see. She's been taught that emotions are a liability, yet one impulsive kiss starts a chain reaction that neither of them wants to stop. But can love ignite—and survive—when secrets and loyalties collide?
"[An] exceptional tale of forbidden love." —Publishers Weekly, starred review, on Forbidden Promises
Available at:
Amazon | Barnes & Noble | Google Play | Kobo | Apple Books | Indiebound | Indigo | Audible | Goodreads
The Path to Sunshine Cove by RaeAnne Thayne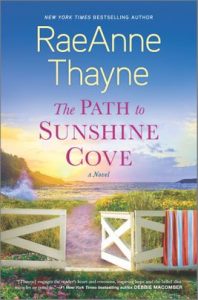 She knows what's best for everyone but herself…
With a past like hers, Jessica Clayton feels safer in a life spent on the road. She's made a career out of helping others downsize—because she's learned the hard way that the less "stuff," the better, a policy she applies equally to her relationships. But a new client is taking Jess back to Cape Sanctuary, a town she once called home…and that her little sister, Rachel, still does. The years apart haven't made a dent in the guilt Jess still carries after a handgun took the lives of both their parents and changed everything between them.
While Jess couldn't wait to put the miles between her and Cape Sanctuary, Rachel put down roots, content for the world—and her sister—to think she has a picture-perfect life. But with the demands of her youngest child's disability, Rachel's marriage has begun to fray at the seams. She needs her sister now more than ever, yet she's learned from painful experience that Jessica doesn't do family, and she shouldn't count on her now.
Against her judgment, Jess finds herself becoming attached—to her sister and her family, even to her client's interfering son, Nate—and it's time to put everything on the line. Does she continue running from her painful past, or stay put and make room for the love and joy that come along with it?
Available at:
Amazon | Barnes & Noble | Google Play | Kobo | Apple Books | Indiebound | Indigo | Audible | Goodreads
How to Keep a Secret by Sarah Morgan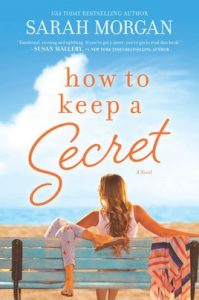 Three generations of Stewart women with secrets to keep. One unforgettable summer that will change their lives forever.
Lauren has the perfect life…if she ignores the fact that it's a fragile house of cards, and that her daughter, Mack, has just had a teenage personality transplant.
Jenna is desperate to start a family with her husband, but it's just. Not. Happening. Her heart is breaking, but she's determined to keep her trademark smile on her face so no one ever knows.
Nancy knows she hasn't been the best mother, but how can she ever tell Lauren and Jenna the devastating reason why? She'll do anything to protect her daughters…even keep them at arm's length.
Then life changes in an instant, and Lauren, Mack, Jenna and Nancy are thrown together for a summer at Martha's Vineyard. Somehow, these very different women must relearn how to be a family. And while unraveling their secrets might be their biggest challenge, the rewards could be infinite…
Available at:
Amazon | Barnes & Noble | Google Play | Kobo | Apple Books | Indiebound | Indigo | Audible | Goodreads
Are you putting any of these books on your TBR list? Let us know which ones!