We could all use a little escape right about now. Ditch the passport and escape with these swoon-worthy heroes. Have a hankering for a bad boy? How about the boy next door? Either way, these books are your ticket! They're uplifting, they're feel good, they're romance…they're just what you need!
Out of the Storm by B.J. Daniels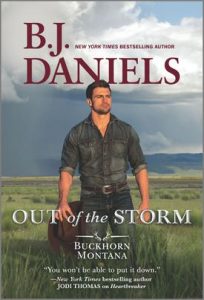 She can't lose him again…
One look at his warm brown eyes and Kate Jackson knows she's found her husband. It's been twenty years since Daniel went missing in a refinery explosion and was finally declared dead, but Kate never gave up hope, convinced he was somewhere out there, suffering from amnesia. Then, on a trip to Buckhorn, Montana, she sees him—working as a carpenter, scarred, but still her Danny. Yet Jon Harper, as he calls himself, insists he's a stranger.

Jon is certain he's not the man Kate's looking for. Though some of his memories are lost in shadow, how could he ever forget a woman like that? One thing Jon's instinct does tell him is that she's in danger from the very person she should trust most. Helping loyal, lovely Kate will mean exposing his own perilous past…but it's the only way to protect her and this new chance at forever.

Lose yourself in the brand-new Buckhorn, Montana series, from one of the most beloved and bestselling authors of Western romance!
Available at:
Amazon | Barnes & Noble | Google Play | Kobo | Apple Books | Indiebound | Indigo | Audible | Goodreads
The Last Carolina Sister by Michelle Major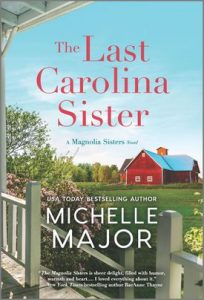 In Magnolia, North Carolina, love might be waiting right next door…

Meredith Ventner knows a wounded creature when she sees one. Though her temporary new neighbor may be—on the surface at least—a successful, drop-dead gorgeous doctor, she recognizes the deep hurt Ryan Sorensen is carrying, and it's catnip to her soul. But even though Meredith is the youngest, scrappiest and single-est of Magnolia's most famous sisters, she's committed to expanding the animal shelter on her newly inherited farm. She can't waste her energy on a man who's only passing through town.
Ryan is hoping that after a month of small-town living he'll be healed enough to return to his busy ER. His injured leg isn't half as painful as his guilt from the tragedy he's trying to forget. Yet somehow, helping feisty, tenderhearted Meredith care for her menagerie is making him question his career-first priorities. Here in this quirky small town another future is coming into view, but can he change his life, and open his heart, to claim it?
Available at:
Amazon | Barnes & Noble | Google Play | Kobo | Apple Books | Indiebound | Indigo | Audible
Tempting in Texas by Delores Fossen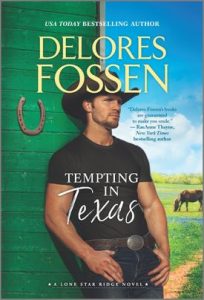 He told himself he could never be what she needs. But maybe he's found the only role that really matters…

As a kid, Hayes Dalton took a back seat to his sisters' reality show, Little Cowgirls, but to deputy Cait Jameson, her childhood crush was always the main attraction. Now a Hollywood star in his own right, Hayes is back in Lone Star Ridge to attend his sisters' weddings and, while their connection is immediate, Cait finds herself struggling to reconcile the boy from her past with this new celebrity bad boy.
Hayes knows he'll return to LA once the "I dos" are over, but until then, getting to know Cait again is the best part about coming home. Being with her is a salve, especially after a personal tragedy turned his world upside down. Can he convince the small-town cop he's falling for that he's still the same guy beneath the image—and willing to do whatever it takes to see where this no-longer-just-a-fling takes them?
Available at:
Amazon | Barnes & Noble | Google Play | Kobo | Apple Books | Indiebound | Indigo | Goodreads
Careless Whispers by Synithia Williams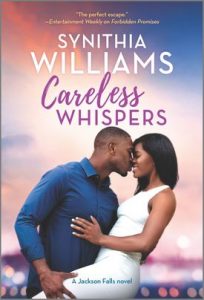 She's falling in love with the one man she can't trust…
Elaina Robidoux knows how people view her: coldhearted, ambitious, ruthless. But it doesn't matter. Running the family business is all she's ever wanted and she's so close she can almost taste it…until her father fires her and hires her nemesis—arrogant, unflappable Alex Tyson. Elaina may be hurt but she refuses to be defeated, so she throws herself into creating a business of her own. But she never dreamed that to close her first deal, she'd need Alex's help…
Alex understands the power of a family legacy better than most and the last thing he wanted was to take that from Elaina. Her beauty and fierce strength are undeniable, but there's a softer side that no one but him seems to see. She's been taught that emotions are a liability, yet one impulsive kiss starts a chain reaction that neither of them wants to stop. But can love ignite—and survive—when secrets and loyalties collide?
Available at:
Amazon | Barnes & Noble | Google Play | Kobo | Apple Books | Indiebound | Indigo | Goodreads
Then There Was You by Mona Shroff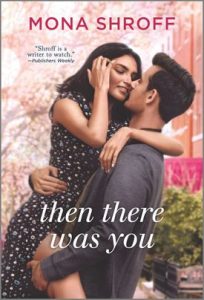 The wrong man never felt so right.

When helicopter medic Daniel Bliant answers an emergency call at Phil's Bar, he can't believe who the bartender is: the beautiful woman he saw in his ER months before and hasn't been able to stop thinking about. He should forget her. After all, he knows he's damaged goods. But Annika is intelligent, fun and totally stunning—the breath of life he desperately needs after the incident that left him shattered.
Annika Mehta is doing just fine. She loves her job as a kindergarten teacher, even if the pay is low and she has a side gig working at Phil's. At least the bar owners are more like family. Sure, she's reeling from a bad breakup and the terrible event that caused it, but she's fine. Really. What she doesn't need is Daniel. He's wrong for her in every single way—so why is their chemistry off the charts?
Available at:
Amazon | Barnes & Noble | Google Play | Kobo | Apple Books | Indiebound | Indigo | Goodreads
Stars Over Alaska by Jennifer Snow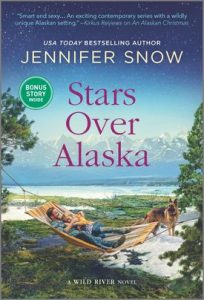 The Alaskan wilderness may be the best place to protect her client, but also where it's impossible to protect her heart.

Needing a safe place to hide her latest client, agent Leslie Sanders returns to her hometown of Wild River to wait out the search for the young Hollywood star's stalker. Just being back in Alaska is stirring up emotions she'd buried, and as much as Leslie believed she was moving on with her life in LA, she's still not over the death of her fiancé. The sun, sand and surf made it easy to forget cold Alaskan nights snuggled by the fire, planning a future with Dawson…but seeing Levi Grayson just makes everything that much harder.
Levi Grayson has been one of Alaska's elite group of wildland firefighters for almost ten years, but nothing about his job rattles him as much as seeing Leslie again. When Leslie left Wild River after Dawson's death, it had hurt to lose his two best friends in a matter of weeks. Resisting his feelings for her when Dawson was alive was tough, but he's not sure he's strong enough anymore to fight the attraction between them, or to let this last chance at love slip away like smoke through his fingers.
Available at:
Amazon | Barnes & Noble | Google Play | Kobo | Apple Books | Indiebound | Indigo | Audible | Goodreads
No Holding Back by Lori Foster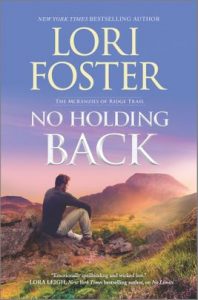 Not needing him won't stop her from wanting him…

Trucker Sterling (Star) Parson is no stranger to the challenges a woman faces, both in her industry and in life. But she can take care of herself. She's never needed—or wanted—a man around…until she meets Cade McKenzie. The take-charge bar owner sets off all kinds of alarm bells for Sterling, but he also sets her heart racing.
Cade's lived in Ridge Trail long enough to know trouble when he sees it, and the moment Sterling—Star—walks into his bar, he knows trouble's come to call. Secrets run deep in the small town and Cade can tell Star's got as many as he does, leaving him itching to uncover every last one. But finding common ground will mean trusting one another, further feeding an intense attraction that's growing impossible to resist.
Available at:
Amazon | Barnes & Noble | Google Play | Kobo | Apple Books | Indiebound | Indigo | Audible | Goodreads
What We Find by Robyn Carr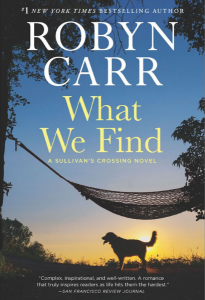 The #1 New York Times bestselling author of the Virgin River and Thunder Point series explores the healing powers of rural Colorado in a story of one woman's journey to finding the happiness she's long been missing.
Under extreme pressure, neurosurgeon Maggie Sullivan knows she needs to slow down before she burns out completely, and the best place she can do that is Sullivan's Crossing.
Named for Maggie's great-grandfather, the land and charming general store at the crossroads of the Colorado and the Continental Divide trails now belong to Maggie's eccentric father, Sully. She relishes the opportunity to indulge in his simple way of life.
But Maggie's world is rocked and she must take responsibility for the Crossing. When a quiet and serious-looking hiker, Cal Jones, offers to lend a hand, Maggie is suspicious of his motives—until she finds out the true reason for his deliberate isolation.
Though Cal and Maggie each struggle with loss and loneliness, the time they spend together gives Maggie hope for something brighter just on the horizon…if only they can learn to find peace and healing—and perhaps love—with each other.
Available at:
Amazon | Barnes & Noble | Google Play | Kobo | Apple Books | Indiebound | Indigo | Goodreads
Need even more romance? Click here for our top romance picks this season!