What do you get when you cross a coming-of-age story with an LGTBQ romance? Honey Girl by Morgan Rogers! This charming and heartfelt debut is the perfect remedy to the winter blues. Get out of your everyday routine and shake things up with this fun read!
ARE YOU READING ALONG WITH US THIS MONTH?
RSVP TO OUR FACEBOOK EVENT PAGE TO PARTICIPATE IN A LIVE CHAT WITH THE AUTHOR ON TUESDAY, MARCH 23 AT 1:00 P.M. EST TO GET ALL YOUR QUESTIONS ANSWERED! CAN'T MAKE IT TO THE LIVE? NO PROBLEM! LEAVE A COMMENT BELOW WITH YOUR QUESTIONS FOR MORGAN ROGERS.
And, as always, don't forget to join in on the conversation all month long on social by using the hashtag #ReadWithBookClubbish.
March 2021 Read With BookClubbish Pick: Honey Girl by Morgan Rogers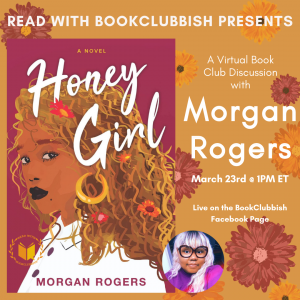 HONEY GIRL is an emotional, heartfelt, charming debut, and I loved every moment of it."— Jasmine Guillory, New York Times bestselling author of The Proposal
With her newly completed PhD in astronomy in hand, twenty-eight-year-old Grace Porter goes on a girls' trip to Vegas to celebrate. She's a straight A, work-through-the-summer certified high achiever. She is not the kind of person who goes to Vegas and gets drunkenly married to a woman whose name she doesn't know…until she does exactly that.
This one moment of departure from her stern ex-military father's plans for her life has Grace wondering why she doesn't feel more fulfilled from completing her degree. Staggering under the weight of her parent's expectations, a struggling job market and feelings of burnout, Grace flees her home in Portland for a summer in New York with the wife she barely knows.
In New York, she's able to ignore all the constant questions about her future plans and falls hard for her creative and beautiful wife, Yuki Yamamoto. But when reality comes crashing in, Grace must face what she's been running from all along—the fears that make us human, the family scars that need to heal and the longing for connection, especially when navigating the messiness of adulthood.
Pick up your copy at:
Amazon | Barnes & Noble | Google Play | Kobo | Apple Books | Indiebound | Indigo | Audible | Goodreads
Discussion Questions
Grace and Yuki get married without knowing hardly anything about each other—Grace doesn't even know Yuki's name! Would you consider their marriage a mistake or something else?
How do the concepts of community and found family play a part in the novel? How might Grace's journey have differed without a support system of friends and family in place?
One of Grace's biggest obstacles is navigating a career in her field of study: astronomy. What do you think are some barriers she faces trying to get a job in the sciences?
Yuki hosts a radio show for all the "lonely creatures" listening, where she talks about misunderstood monsters from myths, folklore, and urban legends. How does her radio show enhance the story?
Grace's ex-military father, Colonel, has high expectations for his daughter and doesn't always give her the encouragement or affection she needs. What do you think is the biggest turning point for Grace's relationship with Colonel?
There is a large cast of LGTBQ support characters in Honey Girl. Who is your favorite supporting character and why?
Honey Girl starts with a wedding and ends with a wedding. How has Grace changed as a character in the time between these weddings? What do you think she'd learned about her own relationship?
Honey Girl is part rom-com, part coming-of-age story. Did you feel like the book fit more firmly in one genre over the other? How did Grace's marriage to Yuki influence her coming-of-age journey?
You May Also Like…
Do you have a question you'd like to ask Morgan Rogers? Let us know in the comments below!