Book! Club! Pick!
By Brenda Janowitz
There's one thing every author dreams of: for their book to be chosen as a book club pick. It's such a big deal that it should be in capital letters. Book! Club! Pick! It almost seems like too enormous of a thing to possibly hope for—there are thousands of books published each week, and there are so many wonderful books, so many talented writers out there.
But it happened to me.
Four days before THE AUDREY HEPBURN ESTATE was set to be published, I was chosen to be one of the CBS New York Book Club with Mary Calvi's "Fic Picks," a list of three books that readers would vote on to be the club's Reader's Choice. I never, in my wildest dreams, thought that something like this would happen to me. And I certainly didn't think that I'd win.
But then I did.
Readers voted for THE AUDREY HEPBURN ESTATE to be the second-ever Reader's Choice for the CBS New York Book Club with Mary Calvi. I could hardly believe it when my agent called to tell me the news.
It was incredible and overwhelming and very bittersweet. Bittersweet, because the day I learned that I was one of three finalists, my mother had died earlier that morning. Having my mother die just four days before my eighth novel was published felt impossible—I wrote about it for Maria Shriver's The Sunday Paper. (https://www.mariashriversundaypaper.com/brenda-janowitz/) When I found out a week later that my book was voted to be the Reader's Choice, I couldn't help but think that my mother had helped make this happen for me, as her first order of business in heaven.
The whirlwind began when Mary Calvi asked if I would film a segment for CBS New York at the Blue Box Cafe at Tiffany and Co. (now called the Tiffany Landmark) on 57th Street in New York City. No, I did not have to be asked twice. Yes, it was the iconic location where Audrey Hepburn filmed Breakfast at Tiffany's (swoon!). And yes, you can now visit the Blue Box Cafe at the Tiffany Landmark and LITERALLY have Breakfast at Tiffany's (which we did!!). These are the two one-minute clips that came from that magical morning:
https://www.cbsnews.com/newyork/video/book-club-meetup-today-with-author-brenda-janowitz/

https://www.cbsnews.com/newyork/video/almost-time-for-2nd-author-meet-up/
And while I was too nervous to eat on camera, you better believe that I ate all of the leftovers when I got back home. (Apologies to my two sons—I really did try to save some for you, but it was all just too delicious!)
Three weeks later, we filmed my official Book Club meeting at the iconic CBS building in New York City. Just walking into the lobby was hugely exciting, not to mention a stroll past Drew Barrymore's set (!!) and a pass through the CBS News Room (I know!!). I was so incredibly nervous when Mary Calvi interviewed me and her producer, Danielle Parker, monitored the group page for questions from readers. But once I ignored the cameras (so many cameras!) and the bright lights (so, so bright!), I was able to simply chat with Mary and Danielle, and it felt like I was talking with two trusted friends. Seeing the hard work that the entire CBS New York team put into my Book Club meet was humbling—by the end of the live show, I had tears in my eyes.
Being chosen for the CBS New York Book Club with Mary Calvi was filled with some of the highest highs of my life, along with the lowest low. Even though my mother was not here to witness it, I know that she is proud of me.
You can check out my appearance on the CBS New York Book Club here:
And here's a little information about the book:
Inspired by the Audrey Hepburn film Sabrina, THE AUDREY HEPBURN ESTATE is the story a woman who returns to the Long Island home where she grew up once she learns that it's set to be demolished. Going home again brings two men from her past back into her life, forcing her to re-consider everything she thinks she knows about her past. A little romantic, a little mysterious, it's ultimately a story about the true meaning of home.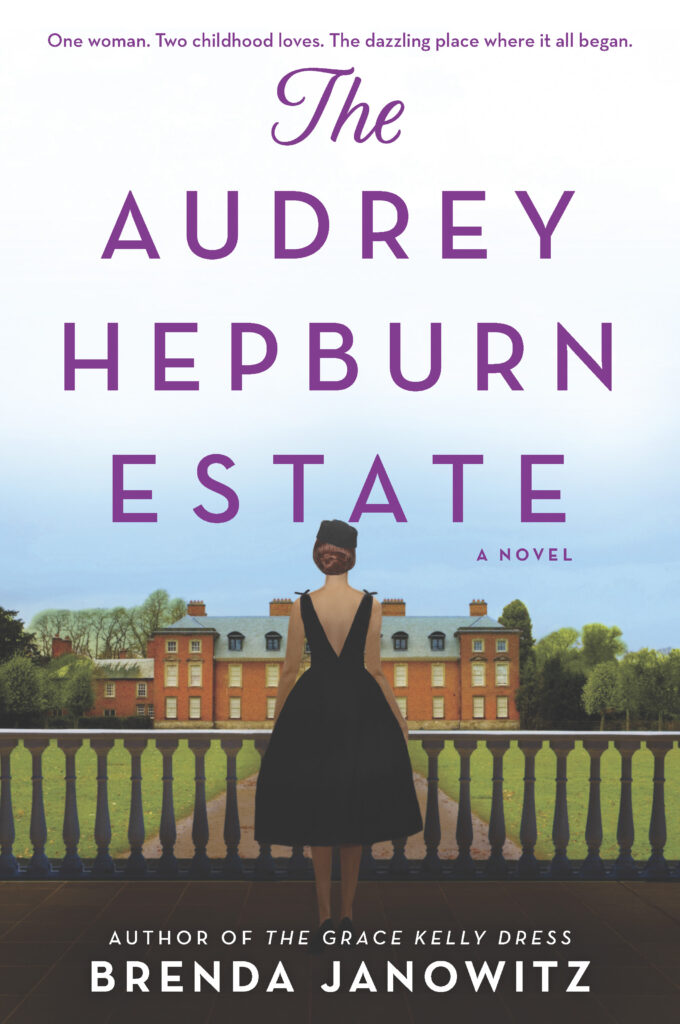 A CBS New York Book Club Pick!
When Emma Jansen discovers that the grand Long Island estate where she grew up is set to be demolished, she can't help but return for one last visit. After all, it was a place filled with firsts: learning to ride a bike, sneaking a glass of champagne, falling in love.
But once Emma arrives at the storied mansion, she can't ignore the more complicated memories. Because that's not exactly where Emma grew up. Her mother and father worked for the family that owned the estate, and they lived over the garage like Audrey Hepburn's character in the film Sabrina. Emma never felt fully accepted, except by the family's grandson, Henry—a former love—and by the driver's son, Leo—her best friend.
As plans for the property are put into motion and the three are together for the first time in over a decade, Emma finds herself caught between two worlds and two loves. And when the house reveals a shattering secret about her own family, she'll have to decide what kind of life she really wants for herself now and who she wants to be in it.
"Readers will find themselves engrossed by this absolute treat of a book." —PAM JENOFF, New York Times bestselling author
Available at:
Amazon | Barnes & Noble | Google Play | Apple Books | Indiebound | Indigo | Audible |Goodreads | Kobo