Dear Reader,
It's a strange and wonderful thing to be sending a story out into the world for the very first time: a long-held dream, of course, and a tad daunting too. So, allow me first to say the most enormous thank you for joining me in the world of The Housekeepers. I hope you enjoy it, and I'd love to tell you more about how it came to be.
I think all writers have core stories they come back to time and again: settings, conflicts, and dreams luring them to the keyboard, even when writing (and finishing!) a novel seems almost insurmountable. I love books full of big houses, broken families, loyal friendships, and wild ambitions—textured with all the glorious sights, scents, and sounds of the past.
When I started The Housekeepers, I was itching to write a novel set in the early 1900s, to revel in the era's opulence, scrappy characters, remarkable flashes of modernity, and layers of corruption that exist just underneath all that glamour. I'd also always adored the slick engineering of a juicy heist plot, and was longing to write one of my own. I was washing the dishes—apt, in hindsight!—when it occurred to me that the marbled drawing rooms and glittering saloons of Edwardian London had all the gumption and gloss of a Las Vegas casino, and could make the perfect backdrop for a high-stakes heist. My mind's eye turned slowly to a green baize door, and a cast of servants began sidling out of the shadows, each with their own desire for revenge…
The Housekeepers is a work of fiction, but the Park Lane mansion at the heart of this story is inspired by a string of extraordinary houses that once stood all around the wealthiest parts of West London. These were homes built for powerful men, containing the most decadent and costly treasures, attended by a seemingly endless supply of obedient servants. The thrill of writing this novel was to imagine what might have happened if the women working below stairs had decided to claim some of that privilege for themselves.
And now I am sending Mrs. King and her gang off into the sunset, or their next enterprise. Their fierce desire to imprint themselves upon the world, to right the wrongs they see around them, and to make the most of the ride—ideally on the trapeze!—has made this book the greatest joy to write. For that, I love them—and I thank you for taking the time to read their story, and mine.
With my very best wishes, and my huge thanks for your support,
Alex Hay
The Housekeepers by Alex Hay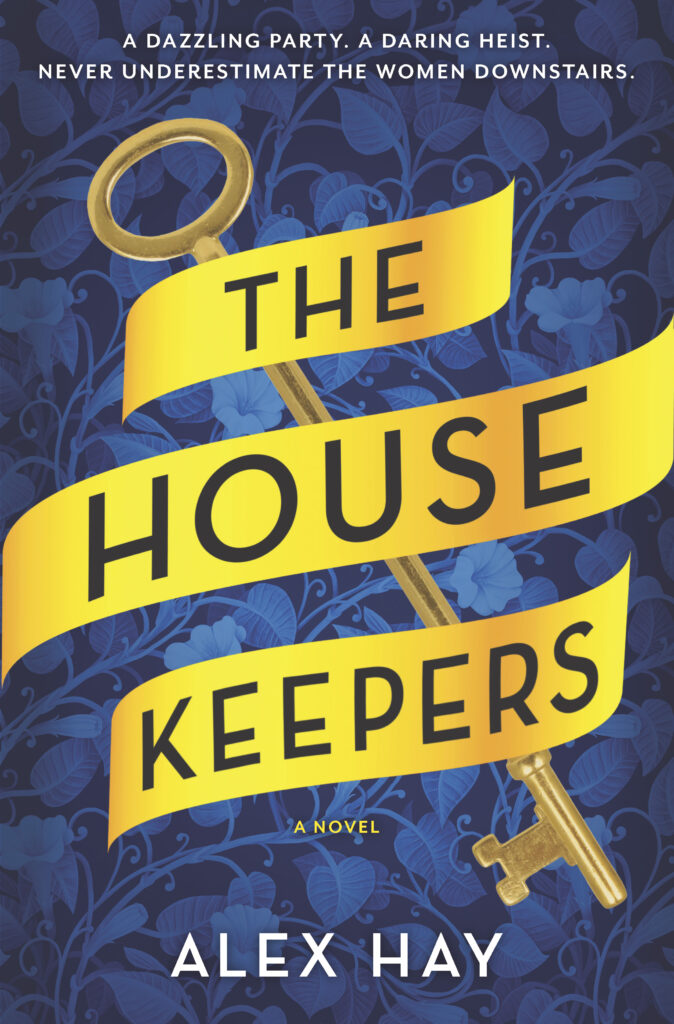 Mrs. King is no ordinary housekeeper. Born into a world of con artists and thieves, she's made herself respectable, running the grandest home in Mayfair. The place is packed with treasures, a glittering symbol of wealth and power, but dark secrets lurk in the shadows.
When Mrs. King is suddenly dismissed from her position, she recruits an eclectic group of women to join her in revenge: A black market queen out to settle her scores. An actress desperate for a magnificent part. A seamstress dreaming of a better life. And Mrs. King's predecessor, with her own desire for vengeance.
Their plan? On the night of the house's highly anticipated costume ball—set to be the most illustrious of the year—they will rob it of its every possession, right under the noses of the distinguished guests and their elusive heiress host. But there's one thing Mrs. King wants even more than money: the truth. And she'll run any risk to get it…
Available at:
Amazon | Barnes & Noble | Google Play | Kobo | Apple Books | Indiebound | Indigo | Audible |Goodreads