While we're anxiously awaiting news from Netflix if Bridgerton will get a second season, we've been digging into all the historical romance we can get our hands on! If you love Bridgerton for the plot, characters (who doesn't love Eloise?), or sexiness, these books will be right up your alley and tide you over until your next binge watch.
The Trouble with Honor by Julia London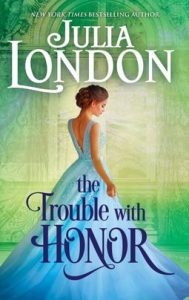 Fall in love with the eldest Cabot sister and her dashing rogue in New York Times bestselling author Julia London's classic, The Trouble with Honor.
Desperate times call for daring measures as Honor Cabot, the eldest stepdaughter of the wealthy Earl of Beckington, awaits her family's ruin. Upon the earl's death she and her sisters stand to lose the luxury of their grand home—and their place on the pedestal of society—to their stepbrother and his social-climbing fiancée. Forced to act quickly, Honor makes a devil's bargain with the only rogue in London who can seduce her stepbrother's fiancée out of the Cabots' lives for good.
An illegitimate son of a duke, George Easton was born of scandal and grows his fortune through dangerous risks. But now he and Honor are dabbling in a perilous dance of seduction that puts her reputation and his jaded heart on the line. And as unexpected desire threatens to change the rules of their secret game, the stakes may become too high even for a notorious gambler and a determined, free-spirited debutante to handle.
Available at:
Amazon | Barnes & Noble | Google Play | Kobo | Apple Books | Indiebound | Indigo | Goodreads
Mesmerized by Candace Camp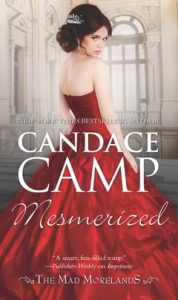 The only way to fight a powerful darkness is with a powerful love
Olivia Moreland prides herself on discrediting charlatans, particularly the false mediums that flock to London. But when Lord Stephen St. Leger requests her help in investigating an alleged psychic's claims, she can't deny the ominous feeling she has within the walls of his ancient estate—or the intimately familiar connection she has with Stephen himself.
The last time he'd called Blackhope Hall home, Stephen had watched as his elder brother claimed both the family title and the woman he loved. Now, in the wake of his brother's murder, Stephen has reluctantly returned to find his family ensconced in scandal. Who is responsible for his brother's untimely death? And what is it about investigator Olivia Moreland that so thoroughly draws him in, reigniting a passion he hasn't felt in years?
Available at:
Amazon | Barnes & Noble | Google Play | Kobo | Apple Books | Indiebound | Indigo | Goodreads
The Lady Travelers Guide to Scoundrels and Other Gentlemen by Victoria Alexander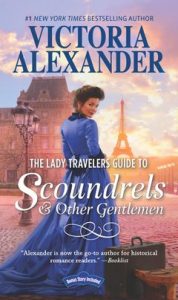 Embark on the breathtaking romantic adventures of The Lady Travelers Society in this series by #1 New York Times bestselling author Victoria Alexander
Really, it's too much to expect any normal man to behave like a staid accountant in order to inherit the fortune he deserves to support the lifestyle of an earl. So when Derek Saunders's favorite elderly aunt and her ill-conceived—and possibly fraudulent—Lady Travelers Society loses one of their members, what's a man to do but step up to the challenge? Now he's escorting the world's most maddening woman to the world's most romantic city to find her missing relative.
While India Prendergast only suspects his organization defrauds gullible travelers, she's certain a man with as scandalous a reputation as Derek Saunders cannot be trusted any farther than the distance around his very broad shoulders. As she struggles not to be distracted by his wicked smile and the allure of Paris, instead of finding a lost lady traveler, India just may lose her head, her luggage and her heart.
Available at:
Amazon | Barnes & Noble | Google Play | Kobo | Apple Books | Indiebound | Indigo | Audible | Goodreads
The Charm School by Susan Wiggs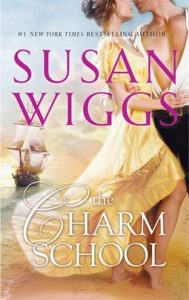 Book 1 of the Calhoun Chronicles by #1 New York Times bestselling author Susan Wiggs.
Boston and Rio de Janeiro, 1851
An awkward misfit in an accomplished Boston family, Isadora Peabody yearns to escape her social isolation and sneaks aboard the Silver Swan, bound for Rio, leaving it all behind.
Ryan Calhoun, too, had a good family name. But he'd purposely walked away from everything it afforded him. Driven by his quest to right an old wrong, the fiery, temperamental sea captain barely registers the meek young woman who comes aboard his ship.
To the Swan's motley crew, the tides of attraction clearly flow between the two. Teaching her the charms of a lady, they hope to build the confidence she needs to attract not only their lonely captain's attention, but his heart, as well. For everyone knows the greatest charms are not those of the formal lady, but rather the possibilities of a new world built on love.
A historical romance.
Available at:
Amazon | Barnes & Noble | Google Play | Kobo | Apple Books | Indiebound | Indigo | Audible | Goodreads
Heart of Fire by Kat Martin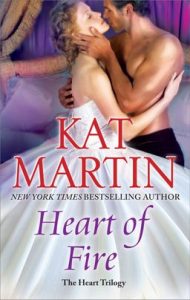 As a viscount's daughter, vivacious Coralee Whitmore is perfectly placed to write about London's elite in the outspoken ladies' gazette, Heart to Heart. But beneath her fashionable exterior beats the heart of a serious journalist.
So when her sister's death is dismissed as suicide, Corrie vows to uncover the truth, suspecting the notorious Earl of Tremaine was Laurel's lover and the father of her illegitimate child. Corrie infiltrates Castle Tremaine posing as a wide-eyed country relation whose charming figure—and reduced circumstances—make her irresistible to the confirmed scoundrel. But Corrie finds the earl is not all he seems…nor is she immune to his charms, however much she despises his caddish ways.
Far from a society column, Corrie's life soon reads more like one of Mr. Dickens's serials. But the danger of her ruse is hardly fictional: someone is bent on ensuring Corrie's questions go unanswered—and unasked.
Available at:
Amazon | Barnes & Noble | Google Play | Kobo | Apple Books | Indiebound | Indigo | Goodreads
Silent in the Grave by Deanna Raybourn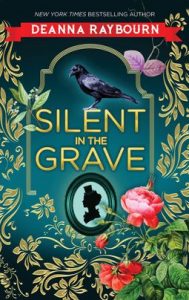 Only from New York Times bestselling author Deanna Raybourn, go back to where it all began with the original Lady Julia Grey historical mystery series.
"Let the wicked be ashamed, and let them be silent in the grave."
These ominous words are the last threat that Sir Edward Grey receives from his killer. Before he can show them to Nicholas Brisbane, the private inquiry agent he has retained for his protection, he collapses and dies at his London home, in the presence of his wife, Julia, and a roomful of dinner guests.
Prepared to accept that Edward's death was due to a long-standing physical infirmity, Julia is outraged when Brisbane visits and suggests that her husband was murdered. It is a reaction she comes to regret when she discovers damning evidence for herself, and realizes the truth.
Determined to bring the murderer to justice, Julia engages the enigmatic Brisbane to help her investigate Edward's demise. Dismissing his warnings that the investigation will be difficult, if not impossible, Julia presses forward, following a trail of clues that lead her to even more unpleasant truths, and ever closer to a killer who waits expectantly for her arrival.
Available at:
Amazon | Barnes & Noble | Google Play | Kobo | Apple Books | Indiebound | Indigo | Goodreads
An Improper Arrangement by Kasey Michaels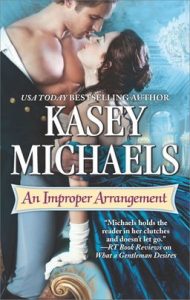 Experience the drama of the Little Season in the first of a new series by USA TODAY bestselling author Kasey Michaels, in which three dashing war heroes have finally met their matches…
Gabriel Sinclair has returned from battle as reluctant heir to a dukedom. As if his new responsibilities weren't enough, Gabriel's aunt enlists him to sponsor a young heiress through London's Little Season. Yet Miss Thea Neville is hardly the tedious obligation he expected. She's exotic and enchanting—and utterly unaware of the secret poised to destroy her family's reputation.
After ten years in America, Thea is ready to do her duty and marry well. Deportment lessons, modistes, balls—the ton is a minefield she could scarcely navigate without Gabriel's help. By rights, she should accept the first bachelor who offers for her. Instead, she's succumbing to a dangerous attraction to her wickedly handsome chaperone—one that could unhinge her plans in the most delicious way.
Available at:
Amazon | Barnes & Noble | Google Play | Kobo | Apple Books | Indiebound | Indigo | Goodreads
What books have you been binging after Bridgerton?