The holidays may be over but that doesn't mean you should stop treating yourself! Have you gotten a couple of gift cards or money to burn? Spend them wisely with this selection of 9 books featuring some of our favorite new releases and old favorites. Whether you're a fan of historical fiction, suspense, contemporary fiction, or even nonfiction (like mindfulness or baking!), you'll love these stellar recommendations.
The Wrong Family by Tarryn Fisher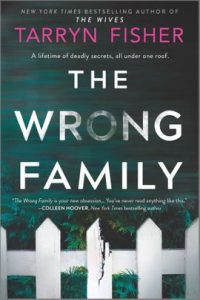 Have you ever been wrong about someone?
Juno was wrong about Winnie Crouch.
Before moving in with the Crouch family, Juno thought Winnie and her husband, Nigel, had the perfect marriage, the perfect son—the perfect life. Only now that she's living in their beautiful house, she sees the cracks in the crumbling facade are too deep to ignore.
Still, she isn't one to judge. After her grim diagnosis, the retired therapist simply wants a place to live out the rest of her days in peace. But that peace is shattered the day Juno overhears a chilling conversation between Winnie and Nigel…
She shouldn't get involved.
She really shouldn't.
But this could be her chance to make a few things right.
Because if you thought Juno didn't have a secret of her own, then you were wrong about her, too.

From the wickedly dark mind of bestselling author Tarryn Fisher, The Wrong Family is a taut new thriller that's riddled with twists in all the right places.
Available at:
Amazon | Barnes & Noble | Google Play | Kobo | Apple Books | Indiebound | Indigo | Audible | Goodreads
The Chanel Sisters by Judithe Little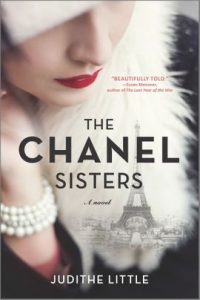 A novel of survival, love, loss, triumph—and the sisters who changed fashion forever
Antoinette and Gabrielle "Coco" Chanel know they're destined for something better. Abandoned by their family at a young age, they've grown up under the guidance of nuns preparing them for simple lives as the wives of tradesmen or shopkeepers. At night, their secret stash of romantic novels and magazine cutouts beneath the floorboards are all they have to keep their dreams of the future alive.
The walls of the convent can't shield them forever, and when they're finally of age, the Chanel sisters set out together with a fierce determination to prove themselves worthy to a society that has never accepted them. Their journey propels them out of poverty and to the stylish cafés of Moulins, the dazzling performance halls of Vichy—and to a small hat shop on the rue Cambon in Paris, where a boutique business takes hold and expands to the glamorous French resort towns.
But the sisters' lives are again thrown into turmoil when World War I breaks out, forcing them to make irrevocable choices, and they'll have to gather the courage to fashion their own places in the world, even if apart from each other.
"The Chanel Sisters explores with care the timeless need for belonging, purpose, and love, and the heart's relentless pursuit of these despite daunting odds. Beautifully told to the last page." —Susan Meissner, bestselling author of The Last Year of the War
Available at:
Amazon | Barnes & Noble | Google Play | Kobo | Apple Books | Indiebound | Indigo | Audible | Goodreads
Mindfulness on the Go by Padraig O'Morain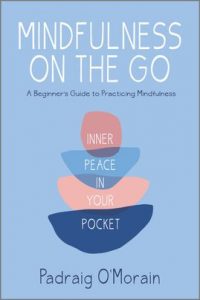 A simple guide for practicing mindfulness in a hectic, fast-moving world, perfect for the spare moments stuck in morning commutes or checkout lines.
You lead a busy life. You're constantly running between tasks, notebook in one hand, iPhone in the other. You've probably heard about the benefits of mindfulness and added "Start doing mindfulness" to your ever-growing to-do list. But frankly, who has time to meditate every day, chant in the lotus position or read long books on finding inner calm?
This brilliant handbook is packed with suggestions for ways to help you slow down, refocus and practice a form of mindfulness that actually fits in with your hectic life. Wherever you're going, whatever you're doing, you can make these mindfulness techniques a seamless part of your daily routine, without having to put any special time aside for them—and so feel calmer and less stressed—at work, at home, as a parent, in your relationships or when traveling.
Available at:
Amazon | Barnes & Noble | Google Play | Kobo | Apple Books | Indiebound | Indigo | Goodreads
Wrong Alibi by Christina Dodd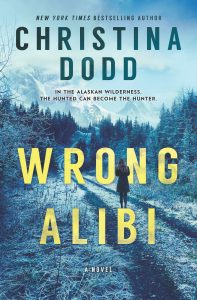 Perfect for fans of Lisa Jewell, New York Times bestselling author Christina Dodd delivers an all-new thriller, featuring a bold and brash female protagonist.
WRONG JOB
Eighteen-year-old Evelyn Jones lands a job in small-town Alaska, working for a man in his isolated mountain home. But her bright hopes for the future are shattered when Donald White disappears, leaving her to face charges of theft, embezzlement—and a brutal double murder. Her protestations of innocence count for nothing. Convicted, she faces life in prison…until fate sends her on the run.
WRONG NAME
Evie's escape leaves her scarred and in hiding, isolated from her family, working under an alias at a wilderness camp. Bent on justice, intent on recovering her life, she searches for the killer who slaughters without remorse.
WRONG ALIBI
At last, the day comes. Donald White has returned. Evie emerges from hiding; the fugitive becomes the hunter. But in her mind, she hears the whisper of other forces at work. Now Evelyn must untangle the threads of evidence before she's once again found with blood on her hands: the blood of her own family…
Available at:
Amazon | Barnes & Noble | Google Play | Kobo | Apple Books | Indiebound | Indigo | Audible | Goodreads
A Good Family by A.H. Kim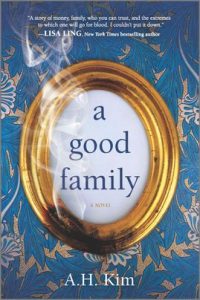 "A story of money, family, who you can trust, and the extremes to which one will go for blood. I couldn't put it down." —Lisa Ling, host of CNN's This Is Life
Keep your family close and your enemies closer.
Beth is the darling of God Halsa, a pharmaceutical giant, and she's got the outrageous salary and lifestyle to prove it. Until she lands in white-collar women's prison, thanks to a high-profile whistleblower suit.
Sam, Beth's husband, used to be the town's most eligible bachelor, and he's never had to do anything for himself. Until his wife goes to jail, and he's left to raise two daughters on his own.
Lise, the au pair, is the whistleblower. But is she? Everyone knows she's not clever enough to have done it alone.
Hannah, Sam's sister, is devoted to her family. There's nothing she wouldn't do for them.
Eva, Beth's sister, is the smart one. (Read: not the pretty one.) Her life seems perfect on the surface, but sibling rivalry runs deep.
Martin, Beth's brother, is the firstborn, the former golden boy turned inside-the Beltway businessman. But what is he hiding?
Someone knows something. Someone betrayed Beth.
This is the story of the Min-Lindstroms. This is the story of the all-American family as it implodes under the weight of secrets, lies and the unchecked desire for wealth and power.
Available at:
Amazon | Barnes & Noble | Google Play | Kobo | Apple Books | Indiebound | Indigo | Audible | Goodreads
The Girls with No Names by Serena Burdick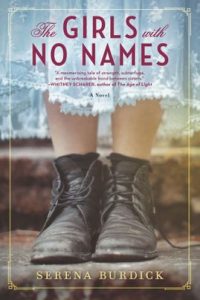 The Girls with No Names pulls readers into the gilded age of New York City in the 1910s, when suffragettes marched in the street, unions fought for better work conditions—and girls were confined to the House of Mercy for daring to break the rules.
Not far from Luella and Effie Tildon's large family mansion in Inwood looms the House of Mercy, a work house for wayward girls. The sisters grow up under its shadow with the understanding that even as wealthy young women, their freedoms come with limits. But when the sisters accidentally discover a shocking secret about their father, Luella, the brazen older sister, becomes emboldened to do as she pleases.
But her rebellion comes with consequences, and one morning Luella is mysteriously gone. Effie suspects her father has made good on his threat to send Luella to the House of Mercy and hatches a plan to get herself committed to save her sister. But she made a miscalculation, and with no one to believe her story, Effie's escape from the House of Mercy seems impossible—unless she can trust an enigmatic girl named Mable. As their fates entwine, Mable and Effie must rely on each other and their tenuous friendship to survive.
Home for Unwanted Girls meets The Dollhouse in this atmospheric, heartwarming story that explores not only the historical House of Mercy, but the lives—and secrets—of the girls who stayed there.
Available at:
Amazon | Barnes & Noble | Google Play | Kobo | Apple Books | Indiebound | Indigo | Audible | Goodreads
The Diplomat's Wife by Pam Jenoff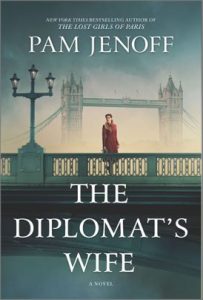 One woman faces danger, intrigue, and love in the aftermath of World War II in this unforgettable novel from the New York Times bestselling author of The Lost Girls of Paris.
1945. Marta Nederman has barely survived the brutality of a Nazi concentration camp, where she was imprisoned for her work with the Polish resistance. Lucky to have escaped with her life, she meets Paul, an American soldier, who gives her hope of a happier future. The two make a promise to meet in London, but Paul is in a deadly plane crash and never arrives.
Finding herself pregnant and alone in a strange city, Marta finds comfort with a kind British diplomat, and the two soon marry. But Marta's happiness is threatened when the British government seeks her help to find a Communist spy—an undercover mission that resurrects the past with far-reaching consequences.
Set during a time of great upheaval and change, The Diplomat's Wife, a gripping early work from Pam Jenoff, is a story of survival, love and heroism, and a great testament to the strength of women.
Available at:
Amazon | Barnes & Noble | Google Play | Kobo | Apple Books | Indiebound | Indigo | Audible | Goodreads
Pretending by Holly Bourne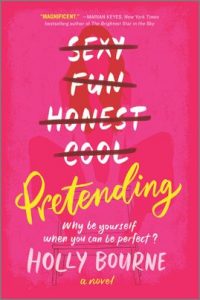 He said he was looking for a "partner in crime," which everyone knows is shorthand for "a woman who isn't real."
April is kind, pretty and relatively normal—yet she can't seem to get past date five. Every time she thinks she's found someone to trust, they reveal themselves to be awful, leaving her heartbroken. And angry. Until she realizes that men aren't looking for real women—they're looking for Gretel.
Gretel is perfect—beautiful but low-maintenance, sweet but never clingy, sexy but not too easy. She's your regular, everyday Manic-Pixie-Dream-Girl-Next-Door with no problems.
When April starts pretending to be Gretel, dating becomes much more fun—especially once she reels in the unsuspecting Joshua. Finally, April is the one in control. It's refreshing. Exhilarating, even. But as she and Joshua grow closer, and the pressure of keeping her painful past a secret begins to build, how long will she be able to keep on pretending?
Available at:
Amazon | Barnes & Noble | Google Play | Kobo | Apple Books | Indiebound | Indigo | Audible | Goodreads
Ovenly by Agatha Kulaga & Erin Patinkin
New York's award-winning bakery Ovenly is world-renowned for their innovative and decadent treats. The Ovenly cookbook is packed with all of their greatest hits—the best ever chocolate-chip cookies, dense, crumbly shortbreads, buttery scones, and more! As self-taught, curious bakers, Agatha Kulaga and Erin Patinkin believe above all that baking (and eating!) should be an adventure. With their use of unexpected flavor combinations by playing with tradition, it's no wonder Ovenly has a dedicated fanbase.
This updated second edition celebrates Ovenly's tenth anniversary and includes new recipes of bakeshop favorites such as the ooey-gooey Hot Chocolate Cookie, the tart, moist Vegan Lemon Raspberry Quickbread, the Chewy Molasses Spice Cookie, and fresh twists on some of the bakery's newer recipes, which are also sure to be classics.
With tips and anecdotes, exquisite photos, and pantry and kitchen tool essentials, Ovenly contains experimental yet perfected recipes for the most inventive and out-of-this-world pastries, desserts, and snacks.
Available at:
Amazon | Barnes & Noble | Google Play | Kobo | Apple Books | Indiebound | Indigo | Goodreads
What books are you going to treat yourself to? Let us know in the comments below!