There are so many things to look forward to this year, including these fabulous books by new-to-us authors! From a modern spin on Sense and Sensibility to a page-turning crime novel and everything in between, you'll be sure to fall for these reads. Make them your picks before they hit the bestsellers lists. Your friends and family will thank you.
Marion Lane and the Midnight Murder by T.A. Willberg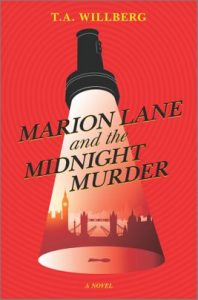 "This is the most fun I've had with a book this year. Every page is a delight and the mystery got its hooks into me from the first chapter." – Stuart Turton, bestselling author of The 7½ Deaths of Evelyn Hardcastle
The letter was short. A name, a time, a place.
Marion Lane and the Midnight Murder plunges readers into the heart of London, to the secret tunnels that exist far beneath the city streets. There, a mysterious group of detectives recruited for Miss Brickett's Investigations & Inquiries use their cunning and gadgets to solve crimes that have stumped Scotland Yard.
Late one night in April 1958, a filing assistant at Miss Brickett's receives a letter of warning, detailing a name, a time, and a place. She goes to investigate but finds the room empty. At the stroke of midnight, she is murdered by a killer she can't see—her death the only sign she wasn't alone. It becomes chillingly clear that the person responsible must also work for Miss Brickett's, making everyone a suspect.
Marion Lane, a first-year Inquirer-in-training, finds herself drawn ever deeper into the investigation. When her friend and colleague is framed for the crime, to clear his name she must sort through the hidden alliances at Miss Brickett's and secrets dating back to WWII. Masterful, clever and deliciously suspenseful, Marion Lane and the Midnight Murder is a fresh take on the Agatha Christie-style locked-room murder mystery, with an exciting new heroine detective.
Available December 29, 2020:
Amazon | Barnes & Noble | Google Play | Kobo | Apple Books | Indiebound | Indigo | Audible | Goodreads
The Girl from the Channel Islands by Jenny Lecoat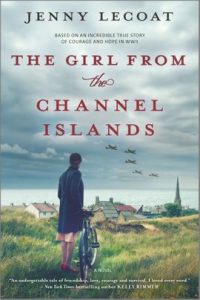 Inspired by true events, the riveting story of a young Jewish woman trapped on the occupied island of Jersey during World War II.
Summer 1940: Hedy Bercu fled Vienna two years ago. Now she watches the skies over Jersey for German planes, convinced that an invasion is imminent. When it finally comes, there is no counterattack from Allied forces—the Channel Islands are simply not worth defending. Most islanders and occupying forces settle into an uneasy coexistence, but for Hedy, the situation is perilously different. For Hedy is Jewish—a fact that could mean deportation, or worse.
With no means of escape, Hedy hides in plain sight, working as a translator for the Germans while silently working against them. She forges a tentative friendship with a sympathetic German officer who is likewise trapped by circumstance. But as the war intensifies, Hedy knows she is in greater danger each day. Soon, her survival will depend not just on her own courage but on the community she has come to cherish and a man who should be her enemy.
Vividly recreating little-known events, this is an unforgettable tale of resilience and bravery, and of the extraordinary power found in quiet acts of heroism and love.
Available February 2, 2021:
Amazon | Barnes & Noble | Google Play | Kobo | Apple Books | Indiebound | Indigo | Audible | Goodreads
Ladies of the House by Lauren Edmonson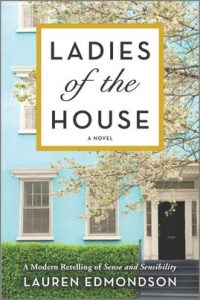 AN IRRESISTIBLE NOVEL THAT PUTS A MODERN SPIN ON JANE AUSTEN'S CLASSIC SENSE AND SENSIBILITY
"I was absolutely charmed by Ladies of the House. A wonderful debut." —Allison Winn Scotch, bestselling author of Cleo McDougal Regrets Nothing
No surprise is a good surprise. At least according to thirty-four-year-old Daisy Richardson. So when it's revealed in dramatic fashion that her esteemed father had been involved in a public scandal before his untimely death, Daisy's life becomes complicated—and fast.
For one, the Richardsons must now sell the family home in Georgetown they can no longer afford, and Daisy's mother is holding on with an iron grip. Her younger sister, Wallis, is ready to move on to bigger and better things but falls fast and hard for the most inconvenient person possible. And then there's Atlas, Daisy's best friend. She's always wished they could be more, but now he's writing an exposé on the one subject she's been desperate to avoid: her father.
Daisy's plan is to maintain a low profile as she works to keep her family intact amid social exile, public shaming, and quickly dwindling savings. But the spotlight always seems to find the Richardsons, and when another twist in the scandal comes to light, Daisy must confront the consequences of her continued silence and summon the courage to stand up and accept the power of her own voice.
Available February 9, 2021:
Amazon | Barnes & Noble | Google Play | Kobo | Apple Books | Indiebound | Indigo | Audible | Goodreads
It's Been a Pleasure, Noni Blake by Claire Christian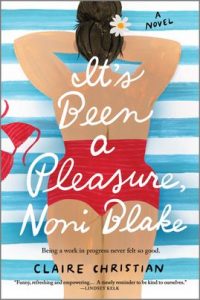 What if you made yourself your number one priority?

Of all the women and men Noni Blake has pleased in her life, there's one she's often overlooked—herself. After the end of a decade-long relationship, Noni decides it's time for that to change. She's finally going to prioritize her wants and desires and only do things (and people) that feel good in the moment.
As she embarks on a pleasure-seeking quest that takes her halfway around the world, she discovers that maybe she can have everything, and everyone, she's ever wanted.
Effortlessly hilarious and relatable, Claire Christian spins a fresh, feel-good tale about starting over as a thirtysomething woman who's been living life for everyone else. A story of self-discovery for the ages, Noni's journey serves as a sparkling reminder that life is what we make of it—so why not enjoy it?
Available February 23, 2021:
Amazon | Barnes & Noble | Google Play | Kobo | Apple Books | Indiebound | Indigo | Audible | Goodreads
Honey Girl by Morgan Rogers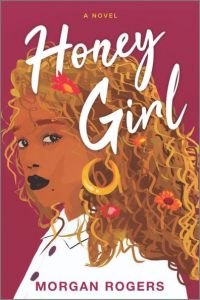 HONEY GIRL is an emotional, heartfelt, charming debut, and I loved every moment of it."— Jasmine Guillory, New York Times bestselling author of The Proposal
With her newly completed PhD in astronomy in hand, twenty-eight-year-old Grace Porter goes on a girls' trip to Vegas to celebrate. She's a straight A, work-through-the-summer certified high achiever. She is not the kind of person who goes to Vegas and gets drunkenly married to a woman whose name she doesn't know…until she does exactly that.
This one moment of departure from her stern ex-military father's plans for her life has Grace wondering why she doesn't feel more fulfilled from completing her degree. Staggering under the weight of her parent's expectations, a struggling job market and feelings of burnout, Grace flees her home in Portland for a summer in New York with the wife she barely knows.
In New York, she's able to ignore all the constant questions about her future plans and falls hard for her creative and beautiful wife, Yuki Yamamoto. But when reality comes crashing in, Grace must face what she's been running from all along—the fears that make us human, the family scars that need to heal and the longing for connection, especially when navigating the messiness of adulthood.
Available February 23, 2021:
Amazon | Barnes & Noble | Google Play | Kobo | Apple Books | Indiebound | Indigo | Audible | Goodreads
The Lost Apothecary by Sarah Penner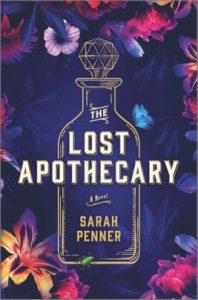 "A bold, edgy, accomplished debut!" —Kate Quinn, New York Times bestselling author of The Alice Network and The Huntress
A forgotten history. A secret network of women. A legacy of poison and revenge. Welcome to The Lost Apothecary…
Hidden in the depths of eighteenth-century London, a secret apothecary shop caters to an unusual kind of clientele. Women across the city whisper of a mysterious figure named Nella who sells well-disguised poisons to use against the oppressive men in their lives. But the apothecary's fate is jeopardized when her newest patron, a precocious twelve-year-old, makes a fatal mistake, sparking a string of consequences that echo through the centuries.
Meanwhile in present-day London, aspiring historian Caroline Parcewell spends her tenth wedding anniversary alone, running from her own demons. When she stumbles upon a clue to the unsolved apothecary murders that haunted London two hundred years ago, her life collides with the apothecary's in a stunning twist of fate—and not everyone will survive.
With crackling suspense, unforgettable characters and searing insight, The Lost Apothecary is a subversive and intoxicating debut novel of secrets, vengeance and the remarkable ways women can save each other despite the barrier of time.
Available March 2, 2021:
Amazon | Barnes & Noble | Google Play | Kobo | Apple Books | Indiebound | Indigo | Audible | Goodreads
The Jigsaw Man by Nadine Matheson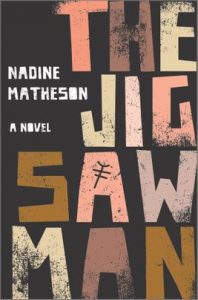 A serial killer and his copycat are locked in a violent game of cat and mouse. Can DI Anjelica Henley stop them before it's too late?

On the day she returns to active duty with the Serial Crimes Unit, Detective Inspector Anjelica Henley is called to a crime scene. Dismembered body parts from two victims have been found by the river.
The modus operandi bears a striking resemblance to Peter Olivier, the notorious Jigsaw Killer, who has spent the past two years behind bars. When he learns that someone is co-opting his grisly signature—the arrangement of victims' limbs in puzzle-piece shapes—he decides to take matters into his own hands.
As the body count rises, DI Anjelica Henley is faced with an unspeakable new threat. Can she apprehend the copycat killer before Olivier finds a way to get to him first? Or will she herself become the next victim?
Drawing on her experience as a criminal attorney, debut novelist Nadine Matheson delivers the page-turning crime novel of the year. Taut, vivid and addictively sinister, The Jigsaw Man will leave you breathless until the very last page.
Available March 16, 2021:
Amazon | Barnes & Noble | Google Play | Kobo | Apple Books | Indiebound | Indigo | Audible | Goodreads
The Last Exiles by Ann Shin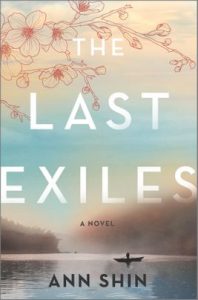 An unforgettable saga inspired by true events, The Last Exiles is a searing portrait of a young couple in Pyongyang and their fight for love and freedom
Jin and Suja met and fell in love while studying at university in Pyongyang. She was a young journalist from a prominent family, while he was from a small village of little means. Outside the school, North Korea has fallen under great political upheaval, plunged into chaos and famine. When Jin returns home to find his family starving, their food rations all but gone, he makes a rash decision that will haunt him for the rest of his life.
Meanwhile, miles away, Suja has begun to feel the tenuousness of her privilege when she learns that Jin has disappeared. Risking everything, and defying her family, Suja sets out to find him, embarking on a dangerous journey that leads her into a dark criminal underbelly and tests their love and will to survive.
In this vivid and moving story, award-winning filmmaker Ann Shin offers a rare glimpse at life inside the guarded walls of North Korea and the harrowing experiences of those who are daring enough to attempt escape. Inspired by real stories of incredible bravery, The Last Exiles is a stunning debut about love, sacrifice and the price of liberty.
Available April 6, 2021:
Amazon | Barnes & Noble | Google Play | Kobo | Apple Books | Indiebound | Indigo | Audible | Goodreads
The Road to Rose Bend by Naima Simone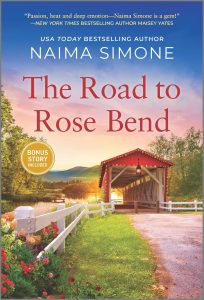 If it was only about her, she might never have come back to Rose Bend.

But it's not only about her anymore.
Sydney Collins left the small Berkshires town of Rose Bend eight years ago, grieving her sister's death—and heartbroken over her parents' rejection. But now the rebel is back—newly divorced and pregnant—ready to face her fears and make a home for her child in the caring community she once knew. The last thing she needs is trouble. But trouble just set her body on fire with one hot, hot smile.
Widower and Rose Bend mayor Coltrane Dennison hasn't smiled in ages. Until a chance run-in with Sydney Collins, who's all grown-up and making him want what he knows he can't have. Grief is his only connection to the wife and son he lost, and he won't give it up. Not for Sydney, not for her child, not for his heart. But when Sydney's ex threatens to upend everything she's rebuilt in Rose Bend, Cole and Sydney may find that a little trouble will take them where they never expected to go.
Rose Bend

Book 1: The Road to Rose Bend
Available April 27, 2021:
Amazon | Barnes & Noble | Google Play | Kobo | Apple Books | Indiebound | Indigo | Audible | Goodreads
A Good Mother by Lara Bazelon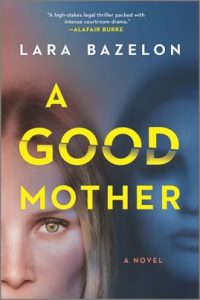 A gripping debut thriller about two young mothers, one shocking murder and a court case that puts them both on trial.
When a soldier is found stabbed through the heart at a US Army base, there is no doubt that his wife, Luz, is to blame. But was it an act of self-defense? An attempt to save her infant daughter? Or the cold-blooded murder of an innocent man?
Ambitious public defender Abby is determined to win at all costs. As a new mother herself, she wants to keep Luz out of prison and with her daughter. But when the surprises stack up and shocking new evidence emerges, Abby realizes the task proves far more difficult than she suspected and will require a terrible sacrifice.
As the trial hurtles toward an outcome no one expects, Abby, Luz and a captivated jury are forced to answer the question that will decide everything—what does it mean to be a good mother?
Available May 11, 2021:
Amazon | Barnes & Noble | Google Play | Kobo | Apple Books | Indiebound | Indigo | Audible | Goodreads
Talk Bookish to Me by Kate Bromley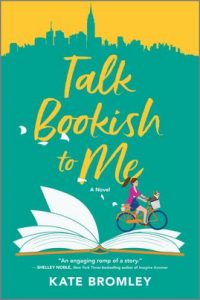 Inspiration can come from the most unlikely—and inconvenient—sources.
Kara Sullivan's life is full of love—albeit fictional. As a bestselling romance novelist and influential Bookstagrammer, she's fine with getting her happily-ever-after fix between the covers of a book.
But right now? Not only is Kara's best friend getting married next week—which means big wedding stress—but the deadline for her next novel is looming, and she hasn't written a single word. The last thing she needs is for her infuriating first love, Ryan Thompson, to suddenly appear in the wedding party. But Ryan's unexpected arrival sparks a creative awakening in Kara that inspires the steamy historical romance she desperately needs to deliver.
With her wedding duties intensifying, her deadline getting closer by the second and her bills not paying themselves, Kara knows there's only one way for her to finish her book and to give her characters the ever-after they deserve. But can she embrace the unlikely, ruggedly handsome muse—who pushes every one of her buttons—to save the wedding, her career and, just maybe, write her own happy ending?
Available May 25, 2021:
Amazon | Barnes & Noble | Google Play | Kobo | Apple Books | Indiebound | Indigo | Audible | Goodreads
The Witch King by H.E. Edgmon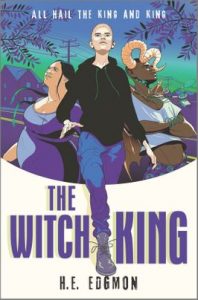 To save a fae kingdom, a trans witch must face his traumatic past and the royal fiancé he left behind. This debut YA fantasy will leave you spellbound.

Wyatt would give anything to forget where he came from—but a kingdom demands its king.

In Asalin, fae rule and witches like Wyatt Croft…don't. Wyatt's betrothal to his best friend, fae prince Emyr North, was supposed to change that. But when Wyatt lost control of his magic one devastating night, he fled to the human world.
Now a coldly distant Emyr has hunted him down. Despite transgender Wyatt's newfound identity and troubling past, Emyr has no intention of dissolving their engagement. In fact, he claims they must marry now or risk losing the throne. Jaded, Wyatt strikes a deal with the enemy, hoping to escape Asalin forever. But as he gets to know Emyr, Wyatt realizes the boy he once loved may still exist. And as the witches face worsening conditions, he must decide once and for all what's more important—his people or his freedom.
Available June 1, 2021:
Amazon | Barnes & Noble | Google Play | Kobo | Apple Books | Indiebound | Indigo | Audible | Goodreads
The Wildest Ride by Marcella Bell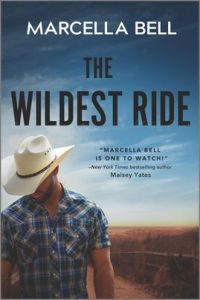 Prepare for the ride of your life this summer in Marcella Bell's bold, uplifting romantic debut.
At thirty-six, undefeated rodeo champion AJ Garza is supposed to be retiring, not chasing after an all-new closed-circuit rodeo tour with a million-dollar prize. But with the Houston rodeo program that saved him as a wayward teen on the brink of bankruptcy, he'll compete. And he'll win.
Enter Lilian Sorrow Island. Raised by her grandparents on the family ranch in Muskogee, OK, Lil is more a cowboy than city boy AJ will ever be. It shows. She's not about to let him steal the prize that'll save her ranch, even if he is breathtakingly magnificent, in pretty much every way going.
The world watches on as reality TV meets rodeo in a competition like no other. In front of the cameras, Lil and AJ are each other's biggest rivals. Off-screen, it's about to get a whole lot more complicated…
Available August 10, 2021:
Amazon | Barnes & Noble | Google Play | Kobo | Apple Books | Indiebound | Indigo | Audible | Goodreads
The City Beautiful by Aden Polydoros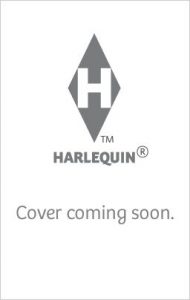 Would you sacrifice your soul to stop a killer?

Chicago, 1893. For Alter Rosen, this is the land of opportunity. Despite the unbearable summer heat, his threadbare clothes, and his constantly empty stomach, Alter still dreams of the day he'll have enough money to bring his mother and sisters to America, freeing them from the oppression they face in his native Romania.
But when Alter's best friend, Yakov, becomes the latest victim in a long line of murdered Jewish boys, his dream begins to slip away. While the rest of the city is busy celebrating the World's Fair, Alter is now living a nightmare: possessed by Yakov's dybbuk, he is plunged into a world of corruption and deceit, and thrown back into the arms of a dangerous boy from his past. A boy who means more to Alter than anyone knows.
Now, with only days to spare until the dybbuk takes over Alter's body completely, the two boys must race to track down the killer—before the killer claims them next.
Available September 7, 2021:
Amazon | Google Play | Kobo | Apple Books | Indiebound | Indigo | Goodreads
Kneel by Candace Buford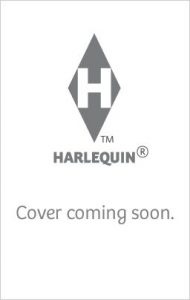 This fearless debut novel explores racism, injustice, and self-expression through the story of a promising Black football star in Louisiana.

The system is rigged.
For guys like Russell Boudreaux, football is the only way out of their small town. As the team's varsity tight end, Rus has a singular goal: to get a scholarship and play on the national stage. But when his best friend is unfairly arrested and kicked off the team, Rus faces an impossible choice: speak up or live in fear.
"Please rise for the national anthem."

Desperate for change, Rus kneels during the national anthem. In one instant, he falls from local stardom and becomes a target for hatred. But he's not alone. With the help of his best friend and an unlikely ally, Rus will fight for his dreams, and for justice.
Available September 14, 2021:
Amazon | Google Play | Kobo | Apple Books | Indiebound | Indigo | Audible | Goodreads
What books have made it onto your TBR list? Let us know in the comments below!