These past couple of weeks, we've been spending a lot of time reflecting, learning (and more importantly, unlearning), and educating ourselves on how black lives matter. We lean on words more than ever to get guidance and wanted to share a few of books that really shaped and changed our perspectives.
If you'd like to pick up any of these books, please visit a Black-owned independent bookstore to show your support.
BlackLife: Post-BLM and the Struggle for Freedom by Rinaldo Walcott and Idil Abdillahi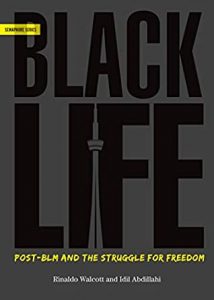 BlackLife: Post-BLM and the Struggle for Freedom by Rinaldo Walcott and Idil Abdillahi is a Black studies book on the history of violence that Canada has foundations in. Specifically, Walcott and Abdillahi discuss the ongoing erasure of Black people structurally, but also through the acceptance of Black death as normal. This book suggests ways to rethink how Canada was built and exposes the flaws in its systems and ideas.
I first picked up BlackLife after I had the chance to see Rinaldo Walcott speak at the "Reconciliation and Resistance" panel for the Festival of Literary Diversity. He said something that really struck an internal truth I was struggling with: reconciliation is not possible. I think it was easier for me to wrap my head around because as someone who is South Asian and seen both ignorance of the Black and Indigenous struggle as well as what colonialism has done to how my own people approach social and political systems, I was already looking for a way to "decolonize" my mind and not be stuck in this narrow Eurocentric worldview. This meant accepting that the economic, political, and social systems we have built up as "modern" and "working" only really work for specific people—white people and occasionally successful Asian people. I think Walcott and Abdillahi really expose exactly what's wrong with the world we currently live in and what it means to live a BlackLife. —Natasha S., Assistant Digital Marketing Manager
I've Been Meaning to Tell You by David Chariandy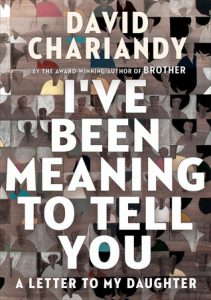 David Chariandy's I've Been Meaning to Tell You is a small, but mighty read. When an ignorant comment is made in public, it causes Chariandy's young daughter to ask "what happened", forcing him to have to have an honest conversation with his daughter about systemic racism and why, even in 2020, there's still struggle and division.
His words bring light to conversations that need to be happening about identity, responsibility and hope. I've Been Meaning to Tell You is a call to action, and its pages will make you think differently and want to lead with action, rather than complacency.
Highly, highly recommended. —Lindsey R., Digital Marketing Manager
Quicksand by Nella Lawson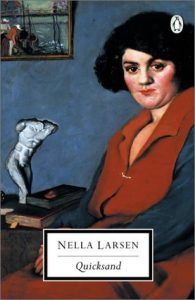 Published in 1928, Nella Larsen's Quicksand is the story of Helga Crane, who was born to a Danish mother and a father from the West Indies. Throughout her life, Helga finds it hard to fit in wherever she goes — too dark to fit in with her mother's side of the family in the American South, and too light to fit in with her peers in Harlem, New York City. She attempts to carve out a place for herself in society all over the world to avoid returning home to a comfortable life.
I read this novel for an American Literature class and I learned a lot more about myself than I was expecting. For one, I think this was the first time I had ever seen myself in a book; a main character who had a mixed race background. There's a lot to be said about being white or black, but I think we sometimes gloss over those who are both and the emotional struggles that go along with it. It helped to open up the conversation with myself and I think it can do the same for many others, either a personal reflection or with friends and family. I got rid of my copy but am currently repurchasing (at this very moment), along with Nella Larsen's more popular novel, Passing. —Shae L., Social Media Coordinator
Dear Haiti, Love Alaine by Maika Moulite and Maritza Moulite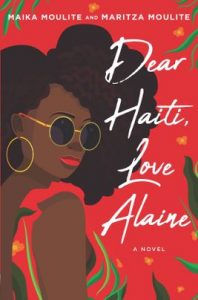 Dear Haiti, Love Alaine by Maika and Maritza Moulite is one of those books that simply sparks Black joy. It's the type of book you keep around and pick-up whenever you have a rough day and just need a feel-good story to hold on to. The story is centered around a spunky and loveable Haitian American teen girl who, after a prank goes horribly wrong, gets sent to Haiti to learn about her heritage and more about her family. Told through diary entries, letters, journals, and more, the Moulite sisters give us this beautiful look into the country of Haiti. The scenery is painted in such vivid detail and the description of the food will make your tummy rumble. (Good luck trying not to book a flight to Haiti after you read this novel.)
What I liked most about the book was the family history and heritage. My grandmother was an immigrant to America; she immigrated from Japan. I've never had the pleasure of meeting her and do not know much of her story, but stepping into Alaine's shoes in Dear Haiti, Love Alaine it made me long to know more about my family history and the culture and stories that have shaped my family for generations.
I hope you pick-up and love Dear Haiti, Love Alaine as much as I did. And that its stories, lessons, and laughter keep you picking it up again and again. —Brittany M., Marketing Manager
The Hate U Give by Angie Thomas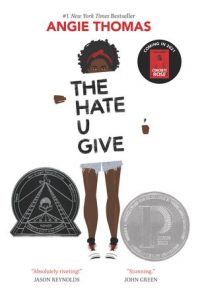 I read The Hate U Give by Angie Thomas last year and it left such an impact on me. From the very first page, I was hooked by Starr Carter and her struggle to come to terms with losing one of her best friends to police brutality. We saw just how unjust Khalil's death was and to see Starr fight for justice despite her grief was inspiring.
All throughout the novel, Starr is also fighting against micro-aggressions she faces daily as one of the only black students in the fancy suburban prep school she attends. The balance of trying to fit into her school and being her authentic self is extremely difficult — especially after Khalil's death. Angie Thomas wrote Starr's story in such a strong way. It got me questioning my own biases and how I think about similar cases of police brutality that we are all too familiar with now.
I would wholeheartedly recommend this book for anyone looking for a great fiction title that'll enlighten them.—Katie D., Email and Content Marketing Coordinator
Do you have a book that made you think differently? Share it with us in the comments below and help us amplify black voices.