By Elyssa Goodman
What was your inspiration for this book? Was it a lightbulb moment or a slow build?
I think it was probably both. I had decided for myself a long time ago that if I was going to do a book I'd want it to be a lot bigger than me, about something that mattered. Drag has been a part of my life for almost 30 years, and it's been a big part of the way I see the world. I started thinking about the concept for Glitter and Concrete after the legendary New York drag queen Flawless Sabrina passed away in November 2017. I didn't want anyone else's stories to get lost. I actually wondered first if maybe someone else did collect them somewhere, but it turned out there were larger histories about drag, but none specifically about New York City. I think I said something about it for the first time to my friend Andrew in December 2017 when we went to see the Christmas lights in Dyker Heights, Brooklyn. I played with the idea for a few more months, then told a colleague, Fran Tirado about it, and when they were so encouraging I began working on it that night. It was March 2018. And here we are now!
What was the biggest challenge you faced while writing this book?
Initially it was the pandemic–I got my book deal at the beginning of March 2020, and I was hoping to have access to archives at the start of the writing process, which of course didn't pan out at the time. But what was interesting about the pandemic is that it meant a lot of people who normally may have been too busy to talk to me were able to sit down and chat, which was really generous of them. The other challenge was knowing that I couldn't include everything, even if I wanted to. There came a time when I had to be really selective, which my history mentor Scott Sandage had prepared me for, but by that point you're so invested in people's stories it becomes even more difficult.
How do you approach research for your books?
I try to learn as much as I possibly can about a subject before committing anything to paper. When I first got my book deal, I held myself to what I called a "reading period," similar to what PhD students do, where I read, read, read and highlighted, highlighted, highlighted. I did the same thing with works on film. Then for each subject I write about, I do a deep dive and learn as much as I can that's new before it gets repetitive. After that, I start to write.
Can you tell us about your writing process? Do you follow a specific routine or schedule?
My goal when I was writing the book was 1000 words a day once I started writing, mostly because I know that's what I can easily do when I'm on freelancing deadlines. Some days I wrote 2000 words and I was on a roll, and some days it was 300 words and it was like pulling teeth. Some days I barely did that. But, like Scarlett O'Hara says, tomorrow is another day. I had to learn to trust myself to know I would make it work. It also became pretty essential to my mental health and writing productivity to go for a long walk before I started working, just so I wasn't getting out of bed, getting ready, and promptly sitting down again. Walking became a regular part of working for me with the book and I still do it.
What themes do you tend to explore in your writing?
I have for the longest time been interested in people who are unapologetically themselves, people who live fiercely in the face of a world that tells them they shouldn't or shouldn't exist. In my writing, this has presented itself as everything from queer history to drag to skateboarding to burlesque to gay motorcycle clubs to women in photography, and much more. People who rewrite the ideas of what identity "should" be and create their own. These are the kinds of stories that, more often than not, also don't get told. My hope is that by sharing the knowledge we can increase understanding. I'm also very interested in glamour and the different ways that presents itself in the world, be it in history, literature, film, travel, food, or what have you. I think the way we interact with ideas of what glamour is and how we develop them is very interesting. I also think drag is the natural intersection of those themes.
Do you have any writing habits or quirks that are unique to you?
I learned a while ago that I can't write if my feet are cold. I also prefer to have open-ended time to be able to write, or as much as humanly possible, so I tend not to make interviews, appointments, or other meetings on days when I have deadlines. I also prefer silence, so there's no music when I write, either. I want to be in my cave, left alone, and become this gif of the cat typing.
Can you describe your favorite writing spot or environment?
It's at home, where I do all of my writing–I'm a full-time freelancer, so my home is my office. On days when I just have to send emails I might go to a coffee shop or the Performing Arts library at Lincoln Center. But when I'm on a deadline or when working on my book, I sit at my dining room table in my office chair in silence so I can become the aforementioned cat gif.
What do you hope readers will take away from your book?
My hope is that the book will find people who need it and let them know they have roots, that their stories matter. In this climate where drag faces such discrimination, my hope is also that it shows people these stories can't be suppressed, that they're a part of a longstanding history that can't be unwritten or painted over with hatred and ignorance. Drag has existed longer than any of us have been alive, and needs to be respected for the artform it is, of self-expression, glamour, rebellion, and resilience.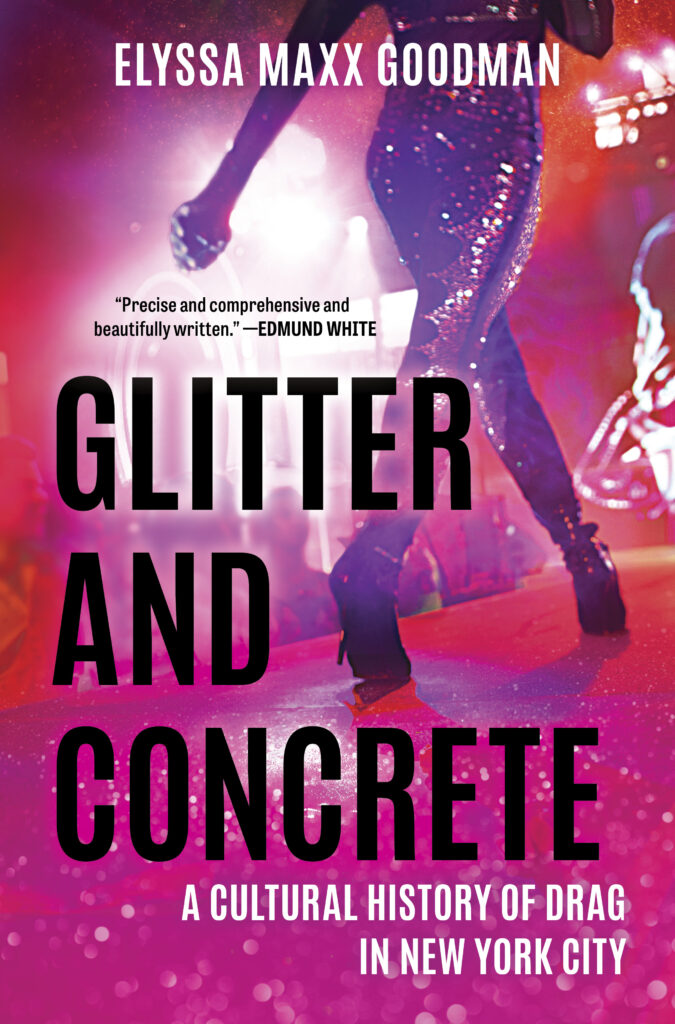 An intimate, evocative history of drag in New York City exploring its dynamic role, from the Jazz Age to Drag Race,in queer liberation and urban life
From the lush feather boas that adorned early female impersonators to the sequined lip syncs of barroom queens to the drag kings that have us laughing in stitches, drag has played a vital role in the creative life of New York City. But the evolution of drag in the city—as an art form, a community and a mode of liberation—has never before been fully chronicled.
Now, for the first time, journalist and drag historian Elyssa Maxx Goodman unearths the dramatic, provocative untold story of drag in New York City in all its glistening glory. Goodman ducks beneath the velvet ropes of Harlem Renaissance balls, examines drag's crucial role in the Stonewall Uprising, traces drag's influence on disco and punk rock as well as its unifying power during the AIDS crisis and 9/11, and culminates in the era of RuPaul'sDrag Race.
Informed by meticulous research and archival work, as well as original interviews with high-profile performers, Glitter and Concrete is a significant contribution to queer history and an essential read for anyone curious about the story that echoes beneath the heels.
Available at:
Amazon | Barnes & Noble | Google Play | Apple Books | Indiebound | Indigo | Audible |Goodreads | Kobo