So, you've decked the halls…now what? If you've been looking for some extra holiday magic, decorating your bookshelf this season is a wonderful idea! Inspiration awaits with these four ideas on how to add a touch of holiday flair to your shelves.
Hide Spines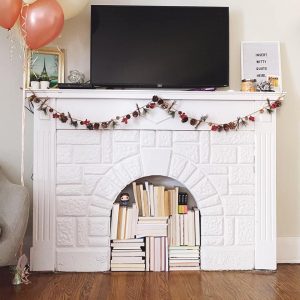 If you're planning on going all out with your decorations and you seriously hate when décor clashes, then this tip may be for you! Simply turn all your books on your shelves so that their spine is facing the shelf, not you. We totally recommend picking out your TBR list for the next few weeks and putting them in another area like your nightstand though so you don't have any trouble finding them in the sea of beige pages facing you. Bonus: this tip also lends itself well to getting you to organize your bookshelf in the new year once you want to switch your books back.
Use Washi Tape or Vinyl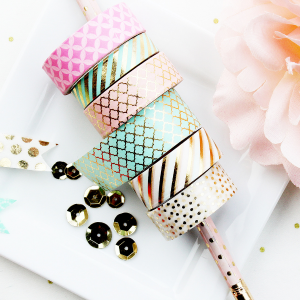 If you're looking for a more drastic change to your bookshelf, jazz it up with some washi tape along the shelves or vinyl behind the shelves. This is an affordable way to really change how your shelves look and you can find an assortment of different festive patterns and colors online. Best of all, when you get sick of it, you can easily peel off the designs! However, do make sure to measure where you're applying it so that it fits properly. And if you're having trouble applying it, use a gift card or credit card to help smooth out the tape or vinyl as you go along.
Wrap Select Books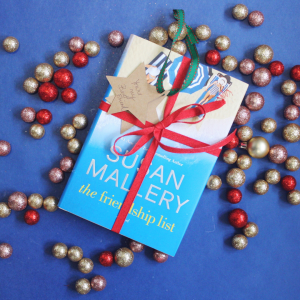 Whether you need to practice your gift wrapping skills or you love the holidays because of your gift wrapping skills, put them to use for decorating! Wrap select books on your bookshelf in the prettiest wrapping paper with the fanciest ribbons and bows and put them on display for everyone to see. This tip is especially helpful if you happened to gift some family members books this year. Just put them on your bookshelf instead of under your tree!
Embellish with Holiday Décor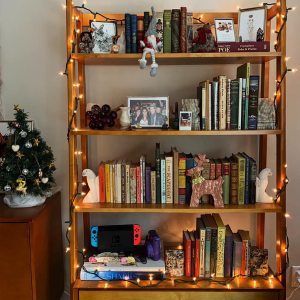 Last but not least, there's an abundance of décor you can use to spruce up your bookshelf decorating game. Try some fairy lights to add some much-needed warmth and brightness to the space. You can also use bunting along the top of your shelves to match the rest of the holiday décor in your home. Small trees, including bottle brush trees, can be strewn across multiple shelves. Don't forget stockings, either! Hanging them on your shelves is an excellent alternative if you don't have a mantle.
Do you deck your shelves or will this year be your first time? Let us know how in the comments below!