We're starting off 2021 with one of our most anticipated books of the year, The Wrong Family by bestselling author Tarryn Fisher! If you love secrets, suspense and surprising twists, then this book is right up your alley. Get ready to sink into this nail-biting story with us. RSVP to the Facebook event to join our chat!
ARE YOU READING ALONG WITH US THIS MONTH?
MAKE SURE TO TUNE INTO OUR FACEBOOK PAGE TO PARTICIPATE IN A LIVE CHAT WITH THE AUTHOR ON TUESDAY, JANUARY 19 AT 1:00 P.M. EST TO GET ALL YOUR QUESTIONS ANSWERED! CAN'T MAKE IT TO THE LIVE? NO PROBLEM! LEAVE A COMMENT BELOW WITH YOUR QUESTIONS FOR TARRYN FISHER.
And, as always, don't forget to join in on the conversation all month long on social by using the hashtag #ReadWithBookClubbish.
January Read With BookClubbish Pick: The Wrong of Family by Tarryn Fisher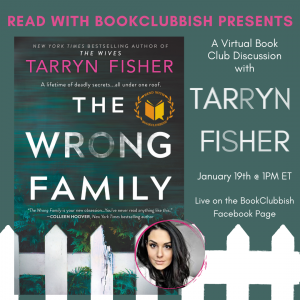 Have you ever been wrong about someone?
Juno was wrong about Winnie Crouch.
Before moving in with the Crouch family, Juno thought Winnie and her husband, Nigel, had the perfect marriage, the perfect son—the perfect life. Only now that she's living in their beautiful house, she sees the cracks in the crumbling facade are too deep to ignore.
Still, she isn't one to judge. After her grim diagnosis, the retired therapist simply wants a place to live out the rest of her days in peace. But that peace is shattered the day Juno overhears a chilling conversation between Winnie and Nigel…
She shouldn't get involved.
She really shouldn't.
But this could be her chance to make a few things right.
Because if you thought Juno didn't have a secret of her own, then you were wrong about her, too.

From the wickedly dark mind of bestselling author Tarryn Fisher, The Wrong Family is a taut new thriller that's riddled with twists in all the right places.
Pick up your copy at:
Amazon | Barnes & Noble | Google Play | Kobo | Apple Books | Indiebound | Indigo | Audible | Goodreads
Discussion Questions
Motherhood is a theme that runs through this whole book: Winnie's relationship to Sam, Juno's relationship with her own estranged sons, Juno's relationship to Sam, and, of course, Josalyn's role as a mother and Winnie's interference in that. As a society, how do we judge mothers who we perceive to have made mistakes, and how does the role of motherhood in this book reflect that?
Winnie is a complicated character who doesn't always behave well or do the right thing. Did you feel sympathy for Winnie, even after you discovered the full truth about her? Why or why not?
How does Winnie's need to control things around her, especially her family life, backfire on her?
Nigel is clearly unhappy in his marriage. Why do you think he stays?
While Juno isn't perfect, her situation is created by a lot of systemic inequality regarding mental health, physical health, housing needs, and the prison system. How do you think real people are disenfranchised by these systems? Do you think everyone who might be disempowered by these systems is disempowered in the same ways? How difficult would it be for someone like Juno to get back on her feet?
Why do you think the Straub family denied to themselves that Dakota needed some serious mental health assistance? Why do you think that this kind of issue goes undiagnosed? What advantages does Dakota have that others who struggle with mental health might not have? Discuss the mental health struggles that Dakota, Juno, and Josalyn have, respectively. How differently did their situations turn out, and why do you think that is?
Juno has some definitive thoughts about Winnie and the Crouches' marriage. Do you agree with the opinions she has formed? Why or why not?
Why do you think Juno chooses to stay in the crawl space? What options do you think she has, if any?
Discuss the ways in which privilege functions for the characters in this novel.
In many ways, Winnie is performing the perfect family life she wants to have, even though her performance is designed to hide a terrible secret. In what ways do we perform in our own lives, and in what ways does society pressure and prompt us to do that?
You May Also Like…
Do you have a question you'd like to ask Tarryn Fisher? Let us know in the comments below!