Are you feeling some summertime sadness? With the season being nearly over (cue sighs), we're resorting to indulging in feel good books. From finding love, friendship, family and everything in between, these six titles are sure to lift your spirits!
Sunrise on Half Moon Bay by Robyn Carr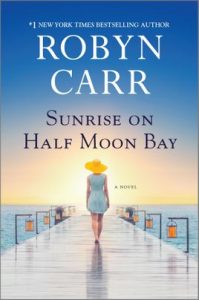 Sometimes the happiness we're looking for has been there all along…
Adele and Justine have never been close. Born twenty years apart, Justine was already an adult when Addie was born. The sisters love each other but they don't really know each other.
When Addie dropped out of university to care for their ailing parents, Justine, a successful lawyer, covered the expenses. It was the best arrangement at the time but now that their parents are gone, the future has changed dramatically for both women.
Addie had great plans for her life but has been worn down by the pressures of being a caregiver and doesn't know how to live for herself. And Justine's success has come at a price. Her marriage is falling apart despite her best efforts.
Neither woman knows how to start life over but both realize they can and must support each other the way only sisters can. Together they find the strength to accept their failures and overcome their challenges. Happiness is within reach, if only they have the courage to fight for it.
Available at:
Amazon | Barnes & Noble | Google Play | Kobo | Apple Books | Indiebound | Audible | Goodreads
One Perfect Summer by Brenda Novak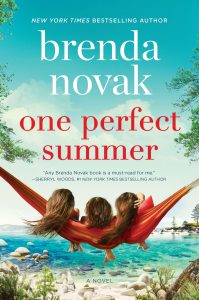 Some families we're born into
Some we find for ourselves
When Serenity Alston swabbed her cheek for 23andMe, she joked about uncovering some dark ancestral scandal. The last thing she expected was to discover two half sisters she didn't know existed. Suddenly, everything about her loving family is drawn into question. And meeting these newfound sisters might be the only way to get answers.
The women decide to dig into the mystery together at Serenity's family cabin in Lake Tahoe. With Reagan navigating romantic politics at work and Lorelei staring down the collapse of her marriage, all three women are converging at a crossroads in their lives. Before the summer is over, they'll have to confront the past and determine how to move forward when everything they previously thought to be true was a lie. But any future is easier to face with family by your side.
Available at:
Amazon | Barnes & Noble | Google Play | Kobo | Apple Books | Indiebound | Audible | Goodreads
Best Behavior by Wendy Francis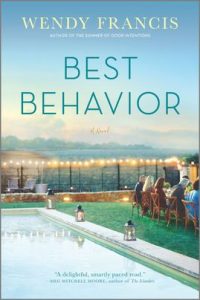 A modern-day family gathers for a weekend to remember in a novel rich in both humor and heart…
Meredith Parker has made the journey to Bolton, her twins' college, dozens of times. This weekend, though, is different. Dawn and Cody are about to graduate and move away to separate corners of the country. Meredith is proud of her kids, and she's proud of herself for helping them get this far. She just never expected the tidal wave of emotions sweeping over her—or the tangled family dynamics complicating everything.
Meredith doesn't miss her cheating ex, Roger, one bit, but sitting across from his very young, very gorgeous second wife threatens to unravel the graceful facade she's trying so hard to maintain. Joel, Meredith's husband, can see she's feeling the first pangs of empty-nest syndrome and wants to soften the blow—but he's distracted by a familiar face. Meanwhile, Cody and Dawn are sitting on their own secrets, and Roger's new wife, Lily, wonders if she really wants to be a part of this wild, mixed-up family.
As tensions simmer with each passing appetizer tray, Meredith's vision of the perfect weekend goes up in flames. But before the party's over, as best behavior gives way to brutal honesty, there'll be a chance for this new blended family to truly come together—in all its messy and glorious imperfection.
Available at:
Amazon | Barnes & Noble | Google Play | Kobo | Apple Books | Indiebound | Audible | Goodreads
The Dazzling Truth by Helen Cullen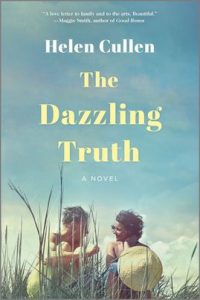 One Irish family. Three decades. One dazzling story.
"A love letter to family and to the arts. Beautiful."
—Maggie Smith, author of Good Bones
In the courtyards of Trinity College, Dublin, in 1978, aspiring actress Maeve meets pottery student Murtagh Moone. As their relationship progresses, marriage and motherhood come in quick succession, but for Maeve, with the joy of children also comes the struggle to hold on to the truest parts of herself.
Decades later, on a small Irish island, the Moone family are poised for celebration but instead are struck by tragedy. Each family member must find solace in their own separate way, until one dazzling truth brings them back together. But as the Moone family confront the past, they also journey toward a future that none of them could have predicted. Except perhaps Maeve herself.
Available at:
Amazon | Barnes & Noble | Google Play | Kobo | Apple Books | Indiebound| Goodreads
Summer at Lake Haven by RaeAnne Thayne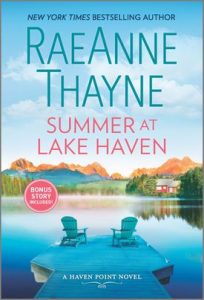 A lakeside summer, a new beginning…
Samantha Fremont has been struggling with the weight of her mother's expectations for years. But now that her mother has passed away, it's time for Sam to be bold and finally establish the fashion design business she's always dreamed of. And the perfect opportunity has fallen into her lap. Her friend's getting married and has asked Sam to create her wedding dress…if only she can avoid the bride's infuriating brother, who's temporarily the boy next door.
Ian Summerhill knows a sabbatical in Haven Point is exactly what he and his children need to recover from their mother's death. His romantic relationship with his ex-wife may have ended years ago, but caring for her throughout her illness broke his heart. All he wants is to watch his little sister walk down the aisle and to see his kids smile again. And somehow his lovely new neighbor is instrumental in both. But as their uneasy truce blossoms into a genuine friendship and more, Ian has obligations in England he can't ignore—and a secret that threatens the fragile trust he and Sam have built.
Available at:
Amazon | Barnes & Noble | Google Play | Kobo | Apple Books | Indiebound | Audible | Goodreads
What the Heart Wants by Audrey Carlan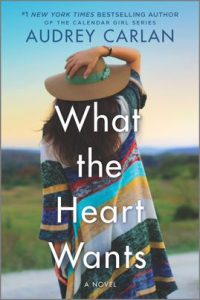 From the #1 bestselling author of the beloved Calendar Girl books comes the first in a witty, wise and emotionally compelling new series, where coming home is just the beginning…
"Fly free."
For ten years those words, written on pink parchment paper in her mother's beautiful handwriting, have been Suda Kaye Ross's guiding star. Every year on her birthday, Suda Kaye opens another of the letters her mother penned before she passed, heeding the advice inside as she fills her life with experiences. From Italy to Australia, from Rio to Russia, she's slaked her wanderlust. And then, on her twenty-eighth birthday, she opens the letter that sends her home.
Returning to Colorado means confronting everything—and everyone—she left behind, including her cherished sister, Evie, and her first love, Camden Bryant. Suda Kaye and Cam spent four years and one unforgettable night together. Given the way she ran out on him, it's no surprise that he's wary, resentful…and engaged to someone else. Evie, hardworking and überresponsible, just wants her sister to put down roots at last.
For Evie's sake, and her own, Suda Kaye is trying to build a new life, all the while wondering whether it's too late to come back home—or if the most important part of her never really left.
Available at:
Amazon | Barnes & Noble | Google Play | Kobo | Apple Books | Indiebound | Audible | Goodreads
What's the last feel good book you read? Let us know in the comments below!