Believe it or not, there are only a few weeks of summer left. Make them count with a good book! From historical fiction to romance to suspense and more, these summer reads will have you wishing the season (and story!) last forever.
The Summer Set by Aimee Agresti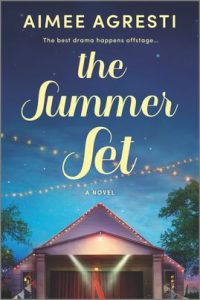 The best drama happens offstage in this undeniably charming novel about an idyllic summer theater where hot stars, has-beens and hopefuls chase roles—and each other.
Charlie Savoy was once Hollywood's hottest A-lister. Now, ten years later, she's pushing forty, exiled from the film world and back at the summer Shakespeare theater in the Berkshires that launched her career—and where her old flame, Nick, is the artistic director.
It's not exactly her first choice. But as parts are cast and rehearsals begin, Charlie is surprised to find herself getting her groove back, bonding with celebrity actors, forging unexpected new friendships and even reigniting her spark with Nick, who still seems to bring out the best in her despite their complicated history.
Until Charlie's old rival, Hollywood's current It Girl, is brought on set, threatening to undo everything she's built. As the drama amps up both on the stage and behind the curtains, Charlie must put on the show of a lifetime to fight for the second chance she deserves in career and in love.
Available at:
Amazon | Barnes & Noble | Google Play | Kobo | Apple Books | Indiebound | Audible | Goodreads
One Perfect Summer by Brenda Novak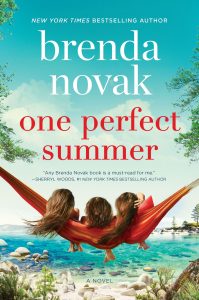 Some families we're born into

Some we find for ourselves
When Serenity Alston swabbed her cheek for 23andMe, she joked about uncovering some dark ancestral scandal. The last thing she expected was to discover two half sisters she didn't know existed. Suddenly, everything about her loving family is drawn into question. And meeting these newfound sisters might be the only way to get answers.
The women decide to dig into the mystery together at Serenity's family cabin in Lake Tahoe. With Reagan navigating romantic politics at work and Lorelei staring down the collapse of her marriage, all three women are converging at a crossroads in their lives. Before the summer is over, they'll have to confront the past and determine how to move forward when everything they previously thought to be true was a lie. But any future is easier to face with family by your side.
Available at:
Amazon | Barnes & Noble | Google Play | Kobo | Apple Books | Indiebound | Audible | Goodreads
Stealing Home by Sherryl Woods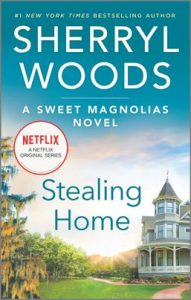 The Sweet Magnolias is now a Netflix Original Series!

From #1 New York Times Bestselling Author Sherryl Woods

For the Sweet Magnolias, friendship lasts a lifetime…

Maddie Townsend might live in a town called Serenity and have the best friends a woman could ask for, but her life is overturned when her husband leaves her for a younger woman. With her three children heartbroken from the change, Maddie has a lot to contend with. On top of it all, after years outside the workforce, she must dust off her business skills to take charge of her best friends' newest project—planning the town's only fitness spa for women.
When her son's developing anger issues begin to affect his passion for baseball, Maddie knows she must step in to help. She didn't expect to develop feelings for her son's coach, the handsome Cal Maddox, and to learn he has feelings for her, too. But gossip travels quickly in a small town, and Maddie and Cal's relationship may threaten both their reputations and careers.
Then again, he could be the one man in all of South Carolina who can help her find serenity after all.
Available at:
Amazon | Barnes & Noble | Google Play | Kobo | Apple Books | Indiebound | Goodreads
The Last Wife by Karen Hamilton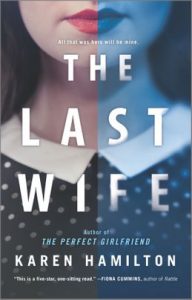 From the internationally bestselling author of The Perfect Girlfriend.

Two women. A dying wish. And a web of lies that will bring their world crashing down.
Two women. A dying wish. And a web of lies that will bring their world crashing down.
Nina and Marie were best friends—until Nina was diagnosed with a terminal illness. Before she died, Nina asked Marie to fulfill her final wishes.
But her mistake was in thinking Marie was someone she could trust.
What Nina didn't know was that Marie always wanted her beautiful life, and that Marie has an agenda of her own. She'll do anything to get what she wants.
Marie thinks she can keep her promise to her friend's family on her own terms. But what she doesn't know is that Nina was hiding explosive secrets of her own…
Available at:
Amazon | Barnes & Noble | Google Play | Kobo | Apple Books | Indiebound | Audible | Goodreads
She's Faking It by Kristin Rockaway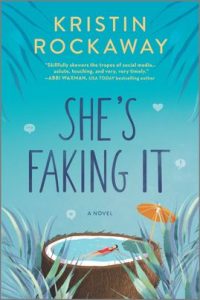 You can't put a filter on reality.
Bree Bozeman isn't exactly pursuing the life of her dreams. Then again, she isn't too sure what those dreams are. After dropping out of college, she's living a pretty chill life in the surf community of Pacific Beach, San Diego…if "chill" means delivering food as a GrubGetter, and if it means "uneventful".
But when Bree starts a new Instagram account — @breebythesea — one of her posts gets a signal boost from none other than wildly popular self-help guru Demi DiPalma, owner of a lifestyle brand empire. Suddenly, Bree just might be a rising star in the world of Instagram influencing. Is this the direction her life has been lacking? It's not a career choice she'd ever seriously considered, but maybe it's a sign from the universe. After all, Demi's the real deal… right?
Everything is lining up for Bree: life goals, career, and even a blossoming romance with the chiseled guy next door, surf star Trey Cantu. But things are about to go sideways fast, and even the perfect filter's not gonna fix it. Instagram might be free, but when your life looks flawless on camera, what's the cost?
Available at:
Amazon | Barnes & Noble | Google Play | Kobo | Apple Books | Indiebound | Audible | Goodreads
The Ventriloquists by E.R. Ramzipoor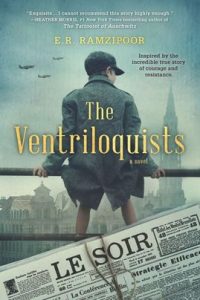 In this triumphant debut inspired by true events, a ragtag gang of journalists and resistance fighters risk everything for an elaborate scheme to undermine the Reich.
The Nazis stole their voices. But they would not be silenced.
Brussels, 1943. Twelve-year-old street orphan Helene survives by living as a boy and selling copies of the country's most popular newspaper, Le Soir, now turned into Nazi propaganda. Helene's world changes when she befriends a rogue journalist, Marc Aubrion, who draws her into a secret network that publishes dissident underground newspapers.
The Nazis track down Aubrion's team and give them an impossible choice: turn the resistance newspapers into a Nazi propaganda bomb that will sway public opinion against the Allies, or be killed. Faced with no decision at all, Aubrion has a brilliant idea. While pretending to do the Nazis' bidding, they will instead publish a fake edition of Le Soir that pokes fun at Hitler and Stalin—daring to laugh in the face of their oppressors.
The ventriloquists have agreed to die for a joke, and they have only eighteen days to tell it.
Featuring an unforgettable cast of characters and stunning historical detail, E.R. Ramzipoor's dazzling debut novel illuminates the extraordinary acts of courage by ordinary people forgotten by time. It is a moving and powerful ode to the importance of the written word and to the unlikely heroes who went to extreme lengths to orchestrate the most stunning feat of journalism in modern history.
Available at:
Amazon | Barnes & Noble | Google Play | Kobo | Apple Books | Indiebound | Audible | Goodreads
Stranger in the Lake by Kimberly Belle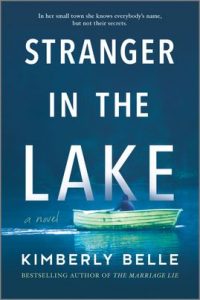 When Charlotte married the wealthy widower Paul, it caused a ripple of gossip in their small lakeside town. They have a charmed life together, despite the cruel whispers about her humble past and his first marriage. But everything starts to unravel when she discovers a young woman's body floating in the exact same spot where Paul's first wife tragically drowned.
At first, it seems like a horrific coincidence, but the stranger in the lake is no stranger. Charlotte saw Paul talking to her the day before, even though Paul tells the police he's never met the woman. His lie exposes cracks in their fragile new marriage, cracks Charlotte is determined to keep from breaking them in two.
As Charlotte uncovers dark mysteries about the man she married, she doesn't know what to trust—her heart, which knows Paul to be a good man, or her growing suspicion that there's something he's hiding in the water.
Available at:
Amazon | Barnes & Noble | Google Play | Kobo | Apple Books | Indiebound | Audible | Goodreads
The Friendship List by Susan Mallery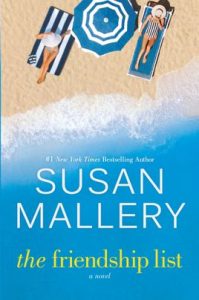 Ellen and Unity are such close friends they are practically sisters!
[ ] Dance till dawn
[ ] Go skydiving
[ ] Wear a bikini in public
[ ] Start living
Two best friends jump-start their lives in a summer that will change them forever…Single mom Ellen Fox couldn't be more content—until she overhears her son saying he can't go to his dream college because she needs him too much. If she wants him to live his best life, she has to convince him she's living hers.
So Unity Leandre, her best friend since forever, creates a list of challenges to push Ellen out of her comfort zone. Unity will complete the list, too, but not because she needs to change. What's wrong with a thirtysomething widow still sleeping in her late husband's childhood bed?
The Friendship List begins as a way to make others believe they're just fine. But somewhere between "wear three-inch heels" and "have sex with a gorgeous guy," Ellen and Unity discover that life is meant to be lived with joy and abandon, in a story filled with humor, heartache and regrettable tattoos.
Available at:
Amazon | Barnes & Noble | Google Play | Kobo | Apple Books | Indiebound | Audible | Goodreads
The Somerset Girls by Lori Foster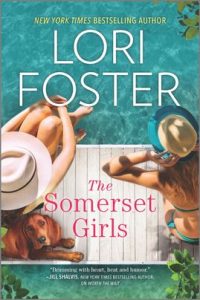 No one knows you quite like a sister…
Summer in Sunset, Kentucky, means long, hot days—and sometimes surprising new beginnings. Through it all, the ties of sisterhood will be there, guiding Autumn and Ember to the lives, and loves, they need…
When they're running the animal-rescue farm they inherited from their grandparents, Autumn and Ember Somerset are perfectly in sync. At all other times, not so much. Dependable Autumn would rather curl up with a good book than paint the town red with Ember. After the disaster that was Autumn's last relationship, it's pure self-protection. But when her high school crush comes back to town with his adorable young daughter, igniting memories best left forgotten, there's only one person Autumn can turn to…
Beneath Ember's free-spirited facade is a layer of deep hurt. She'll gladly nudge Autumn toward a second chance. But risk her own heart? Not likely. The closer Autumn gets to her own happily-ever-after, the more Ember wonders what she might be missing—and if it isn't her time to be bold, too.
Available at:
Amazon | Barnes & Noble | Google Play | Kobo | Apple Books | Indiebound | Audible | Goodreads
Sunrise on Half Moon Bay by Robyn Carr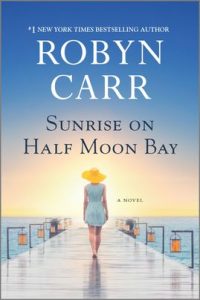 Sometimes the happiness we're looking for has been there all along…
Adele and Justine have never been close. Born twenty years apart, Justine was already an adult when Addie was born. The sisters love each other but they don't really know each other.
When Addie dropped out of university to care for their ailing parents, Justine, a successful lawyer, covered the expenses. It was the best arrangement at the time but now that their parents are gone, the future has changed dramatically for both women.
Addie had great plans for her life but has been worn down by the pressures of being a caregiver and doesn't know how to live for herself. And Justine's success has come at a price. Her marriage is falling apart despite her best efforts.
Neither woman knows how to start life over but both realize they can and must support each other the way only sisters can. Together they find the strength to accept their failures and overcome their challenges. Happiness is within reach, if only they have the courage to fight for it.
Available at:
Amazon | Barnes & Noble | Google Play | Kobo | Apple Books | Indiebound | Audible | Goodreads
The Secret of Love Story Bridge by Phaedra Patrick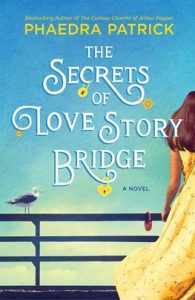 A single father gets an unexpected second chance at love in the heartwarming new novel from the author of The Curious Charms of Arthur Pepper
It's summer in the city and passions are soaring along with the temperature—for everyone but Mitchell Fisher, who hates all things romance. He relishes his job cutting off the padlocks that couples fasten to the famous "love story" bridge. Only his young daughter, Poppy, knows that behind his prickly veneer, Mitchell still grieves the loss of her mother.
Then one hot day, everything changes when Mitchell courageously rescues a woman who falls from the bridge into the river. He's surprised to feel an unexpected connection to her, but she disappears before he can ask her name. Desperate to find out her identity, Mitchell is shocked to learn she's been missing for almost a year. He teams up with her spirited sister, Liza, on a quest to find her again. However, she's left only one clue behind—a message on the padlock she hung on the bridge.
Brimming with Phaedra Patrick's signature charm and a sparkling cast of characters, The Secrets of Love Story Bridge follows one man's journey to unlock his heart and discover new beginnings in the unlikeliest places.
Available at:
Amazon | Barnes & Noble | Google Play | Kobo | Apple Books | Indiebound | Audible | Goodreads
What the Heart Wants by Audrey Carlan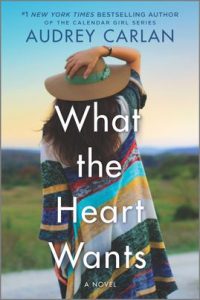 From the #1 bestselling author of the beloved Calendar Girl books comes the first in a witty, wise and emotionally compelling new series, where coming home is just the beginning…
"Fly free."
For ten years those words, written on pink parchment paper in her mother's beautiful handwriting, have been Suda Kaye Ross's guiding star. Every year on her birthday, Suda Kaye opens another of the letters her mother penned before she passed, heeding the advice inside as she fills her life with experiences. From Italy to Australia, from Rio to Russia, she's slaked her wanderlust. And then, on her twenty-eighth birthday, she opens the letter that sends her home.
Returning to Colorado means confronting everything—and everyone—she left behind, including her cherished sister, Evie, and her first love, Camden Bryant. Suda Kaye and Cam spent four years and one unforgettable night together. Given the way she ran out on him, it's no surprise that he's wary, resentful…and engaged to someone else. Evie, hardworking and überresponsible, just wants her sister to put down roots at last.
For Evie's sake, and her own, Suda Kaye is trying to build a new life, all the while wondering whether it's too late to come back home—or if the most important part of her never really left.
Available at:
Amazon | Barnes & Noble | Google Play | Kobo | Apple Books | Indiebound | Audible | Goodreads
Dear Haiti, Love Alaine by Maika Moulite and Maritza Moulite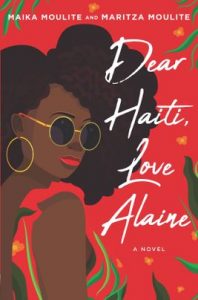 Alaine Beauparlant has heard about Haiti all her life…
But the stories were always passed down from her dad—and her mom, when she wasn't too busy with her high-profile newscaster gig. But when Alaine's life goes a bit sideways, it's time to finally visit Haiti herself.
What she learns about Haiti's proud history as the world's first black republic (with its even prouder people) is one thing, but what she learns about her own family is another. Suddenly, the secrets Alaine's mom has been keeping, including a family curse that has spanned generations, can no longer be avoided.
It's a lot to handle, without even mentioning that Alaine is also working for her aunt's nonprofit, which sends underprivileged kids to school and boasts one annoyingly charming intern.
But if anyone can do it all…it's Alaine.
Available at:
Amazon | Barnes & Noble | Google Play | Kobo | Apple Books | Indiebound | Audible | Goodreads
The Cactus by Sarah Haywood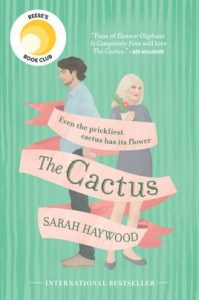 A REESE WITHERSPOON x HELLO SUNSHINE BOOK CLUB PICK
New York Times Bestseller
"Fans of Eleanor Oliphant Is Completely Fine will love The Cactus." —Red magazine
In this charming and poignant debut, one woman's unconventional journey to finding love means learning to embrace the unexpected.
For Susan Green, messy emotions don't fit into the equation of her perfectly ordered life. She has a flat that is ideal for one, a job that suits her passion for logic, and an "interpersonal arrangement" that provides cultural and other, more intimate, benefits. But suddenly confronted with the loss of her mother and the news that she is about to become a mother herself, Susan's greatest fear is realized. She is losing control.
Enter Rob, the dubious but well-meaning friend of her indolent brother. As Susan's due date draws near and her dismantled world falls further into a tailspin, Susan finds an unlikely ally in Rob. She might have a chance at finding real love and learning to love herself, if only she can figure out how to let go.
Available at:
Amazon | Barnes & Noble | Google Play | Kobo | Apple Books | Indiebound | Audible | Goodreads
What books are you reading before the summer ends? Let us know in the commented below.