Have you heard the news?! Sweet Magnolias Feels Like Family by Sherryl Woods has been chosen as February's Netflix Book Club Pick! That's right, we're giving you complete permission to lay on the couch, binge some Netflix, and buy some new books – there's a whole series, ya know ;)!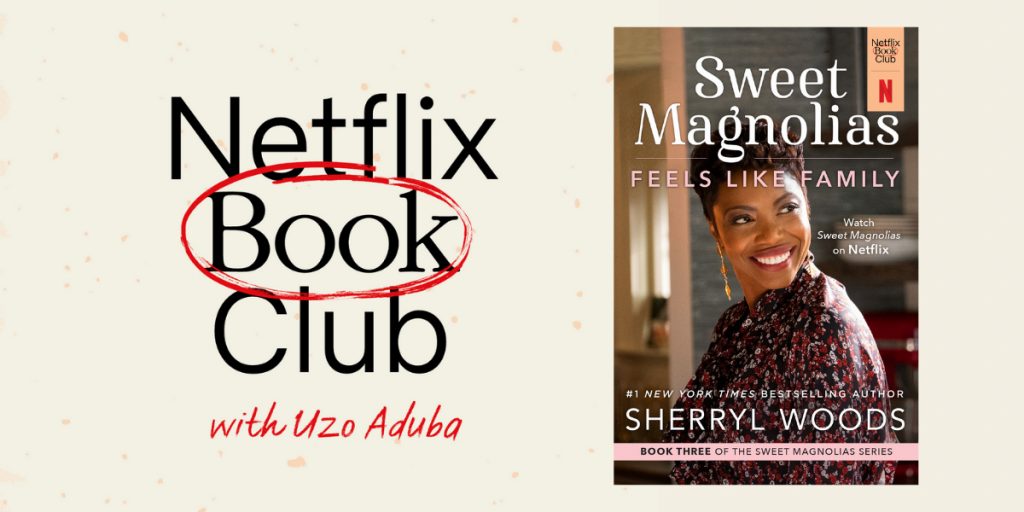 Feels Like Family is the warm and inviting read that we are all craving right now!
"On the road to success, good friends are never far apart in the world of the Sweet Magnolias.

Helen Decatur spent a lifetime setting goals—getting through college and law school, opening her own practice, becoming financially secure, and establishing herself as one of the most highly respected divorce attorneys in the state of South Carolina. Achieving those goals was a breeze compared to the one she's faced with now.
The most driven—and cynical—of the Sweet Magnolias, Helen is forty-two, single and suddenly ready for the family she's put on the back burner for all these years. Unfortunately, having a child at her age comes with lots of complications, not the least of which is the absence of a serious relationship in her life.
Handling so many divorces has left her skeptical about love, but Helen's not the type of woman to wait around for fate to step in. Taking charge of her own destiny puts her at odds with her two best friends and sets sparks flying with a man who claims he doesn't want a family, and nothing turns out like she planned."
Grab the Series
Watch Netflix's Book Club Episode 2 featuring Feels Like Family and Uzo Aduba!

Have you binged the series yet?! Tell us your favourite character below!
Have you joined our new Facebook group yet? It has everything a romance-lover wants!