2021 has brought us many exceptional historical fiction books and we're not even halfway through the year! Journey back to the 1800s in London with The Lost Apothecary by Sarah Penner or delve into Poland during WWII with Pam Jenoff's The Woman with the Blue Star.
These stories do a fantastic job at capturing some pivotal time periods in history with heartfelt characters you'll root for. Read on below for recommendations for some of our favorite historical fiction reads!
The Woman with the Blue Star by Pam Jenoff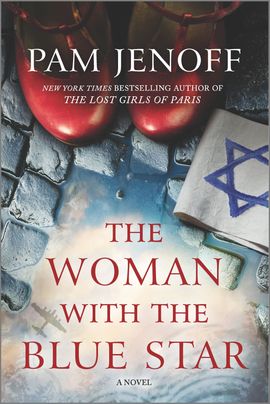 From the New York Times bestselling author of The Lost Girls of Paris comes a riveting tale of unfathomable sacrifice and unlikely friendship during World War II.

1942. Sadie Gault is eighteen and living with her parents amid the horrors of the Kraków Ghetto during World War II. When the Nazis liquidate the ghetto, Sadie and her pregnant mother are forced to seek refuge in the perilous sewers beneath the city. One day Sadie looks up through a grate and sees a girl about her own age buying flowers.
Ella Stepanek is an affluent Polish girl living a life of relative ease with her stepmother, who has developed close alliances with the occupying Germans. Scorned by her friends and longing for her fiancé, who has gone off to war, Ella wanders Kraków restlessly. While on an errand in the market, she catches a glimpse of something moving beneath a grate in the street. Upon closer inspection, she realizes it's a girl hiding.
Ella begins to aid Sadie and the two become close, but as the dangers of the war worsen, their lives are set on a collision course that will test them in the face of overwhelming odds. Inspired by harrowing true stories, The Woman with the Blue Star is an emotional testament to the power of friendship and the extraordinary strength of the human will to survive.
Available at:
Amazon | Barnes & Noble | Google Play | Kobo | Apple Books | Indiebound | Indigo | Audible | Goodreads
The Last Bookshop in London by Madeline Martin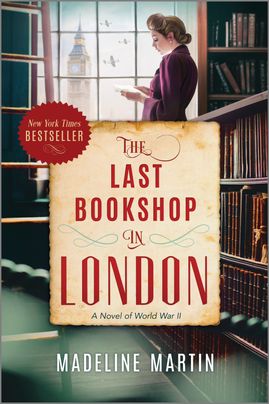 Inspired by the true World War II history of the few bookshops to survive the Blitz, The Last Bookshop in London is a timeless story of wartime loss, love and the enduring power of literature.
August 1939: London prepares for war as Hitler's forces sweep across Europe. Grace Bennett has always dreamed of moving to the city, but the bunkers and blackout curtains that she finds on her arrival were not what she expected. And she certainly never imagined she'd wind up working at Primrose Hill, a dusty old bookshop nestled in the heart of London.
Through blackouts and air raids as the Blitz intensifies, Grace discovers the power of storytelling to unite her community in ways she never dreamed—a force that triumphs over even the darkest nights of the war.
Available at:
Amazon | Barnes & Noble | Google Play | Kobo | Apple Books | Indiebound | Indigo | Audible | Goodreads
The Lost Apothecary by Sarah Penner
An Instant New York Times Bestseller!
A forgotten history. A secret network of women. A legacy of poison and revenge. Welcome to The Lost Apothecary…
Hidden in the depths of eighteenth-century London, a secret apothecary shop caters to an unusual kind of clientele. Women across the city whisper of a mysterious figure named Nella who sells well-disguised poisons to use against the oppressive men in their lives. But the apothecary's fate is jeopardized when her newest patron, a precocious twelve-year-old, makes a fatal mistake, sparking a string of consequences that echo through the centuries.
Meanwhile in present-day London, aspiring historian Caroline Parcewell spends her tenth wedding anniversary alone, running from her own demons. When she stumbles upon a clue to the unsolved apothecary murders that haunted London two hundred years ago, her life collides with the apothecary's in a stunning twist of fate—and not everyone will survive.
Available at:
Amazon | Barnes & Noble | Google Play | Kobo | Apple Books | Indiebound | Indigo | Audible | Goodreads
The Secret Keeper of Jaipur by Alka Joshi
A NEW NOVEL BY THE AUTHOR OF THE HENNA ARTIST, A REESE'S BOOK CLUB PICK
In New York Times bestselling author Alka Joshi's intriguing new novel, henna artist Lakshmi arranges for her protégé, Malik, to intern at the Jaipur Palace in this tale rich in character, atmosphere, and lavish storytelling.
It's the spring of 1969, and Lakshmi, now married to Dr. Jay Kumar, directs the Healing Garden in Shimla. Malik has finished his private school education. At twenty, he has just met a young woman named Nimmi when he leaves to apprentice at the Facilities Office of the Jaipur Royal Palace. Their latest project: a state-of-the-art cinema.
Malik soon finds that not much has changed as he navigates the Pink City of his childhood. Power and money still move seamlessly among the wealthy class, and favors flow from Jaipur's Royal Palace, but only if certain secrets remain buried. When the cinema's balcony tragically collapses on opening night, blame is placed where it is convenient. But Malik suspects something far darker and sets out to uncover the truth. As a former street child, he always knew to keep his own counsel; it's a lesson that will serve him as he untangles a web of lies.
Available at:
Amazon | Barnes & Noble | Google Play | Kobo | Apple Books | Indiebound | Indigo | Audible | Goodreads
The Girl from the Channel Islands by Jenny Lecoat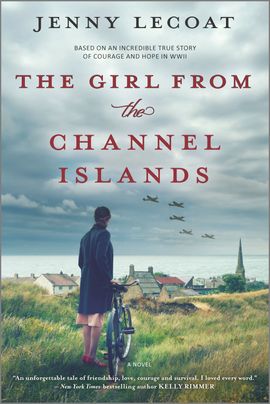 Inspired by true events, the riveting story of a young Jewish woman trapped on the occupied island of Jersey during World War II.
Summer 1940: Hedy Bercu fled Vienna two years ago. Now she watches the skies over Jersey for German planes, convinced that an invasion is imminent. When it finally comes, there is no counterattack from Allied forces—the Channel Islands are simply not worth defending. Most islanders and occupying forces settle into an uneasy coexistence, but for Hedy, the situation is perilously different. For Hedy is Jewish—a fact that could mean deportation, or worse.
With no means of escape, Hedy hides in plain sight, working as a translator for the Germans while silently working against them. She forges a tentative friendship with a sympathetic German officer who is likewise trapped by circumstance. But as the war intensifies, Hedy knows she is in greater danger each day. Soon, her survival will depend not just on her own courage but on the community she has come to cherish and a man who should be her enemy.
Vividly recreating little-known events, this is an unforgettable tale of resilience and bravery, and of the extraordinary power found in quiet acts of heroism and love.
Available at:
Amazon | Barnes & Noble | Google Play | Kobo | Apple Books | Indiebound | Indigo | Audible | Goodreads
The Warsaw Orphan by Kelly Rimmer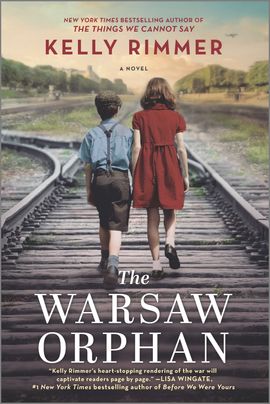 Inspired by the real-life heroine who saved thousands of Jewish children during WWII, The Warsaw Orphan is Kelly Rimmer's most anticipated novel since her bestselling sensation, The Things We Cannot Say.
In the spring of 1942, young Elzbieta Rabinek is aware of the swiftly growing discord just beyond the courtyard of her comfortable Warsaw home. She has no fondness for the Germans who patrol her streets and impose their curfews, but has never given much thought to what goes on behind the walls that contain her Jewish neighbors. She knows all too well about German brutality–and that it's the reason she must conceal her true identity. But in befriending Sara, a nurse who shares her apartment floor, Elzbieta makes a discovery that propels her into a dangerous world of deception and heroism.
Using Sara's credentials to smuggle children out of the ghetto brings Elzbieta face-to-face with the reality of the war behind its walls, and to the plight of the Gorka family, who must make the impossible decision to give up their newborn daughter or watch her starve. For Roman Gorka, this final injustice stirs him to rebellion with a zeal not even his newfound love for Elzbieta can suppress. But his recklessness brings unwanted attention to Sara's cause, unwittingly putting Elzbieta and her family in harm's way until one violent act threatens to destroy their chance at freedom forever.
Available at:
Amazon | Barnes & Noble | Google Play | Kobo | Apple Books | Indiebound | Indigo | Audible | Goodreads
Find Me in Havana by Serena Burdick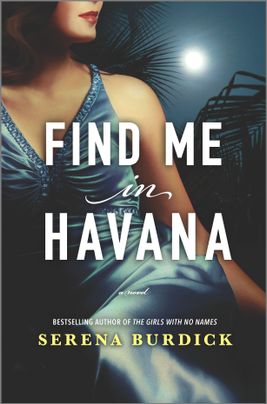 A novel based on the dazzling story of one of Hollywood's most celebrated Hispanic actresses and her daughter's search for closure.

Cuba, 1936: When Estelita Rodriguez sings in a hazy Havana nightclub for the very first time, she is nine years old. From then on, that spotlight of adoration—from Havana to New York's Copacabana and then Hollywood—becomes the one true accomplishment no one can take from her. Not the 1933 Cuban Revolution that drove her family into poverty. Not the revolving door of husbands or the fickle world of film.
Thirty years later, her young adult daughter, Nina, is blindsided by her mother's mysterious death. Seeking answers, the grieving Nina navigates the troubling, opulent memories of their life together and discovers how much Estelita sacrificed to live the American dream on her own terms.
Based on true events and exclusive interviews with Nina Lopez, Estelita's daughter, Find Me in Havana weaves two unforgettable voices into one extraordinary story that explores the unbreakable bond between mother and child, and the ever-changing landscape of self-discovery.
Available at:
Amazon | Barnes & Noble | Google Play | Kobo | Apple Books | Indiebound | Indigo | Audible | Goodreads
The Rose Code by Kate Quinn
The New York Times and USA Today bestselling author of The Huntress and The Alice Network returns with another heart-stopping World War II story of three female code breakers at Bletchley Park and the spy they must root out after the war is over.
1940. As England prepares to fight the Nazis, three very different women answer the call to mysterious country estate Bletchley Park, where the best minds in Britain train to break German military codes. Vivacious debutante Osla is the girl who has everything—beauty, wealth, and the dashing Prince Philip of Greece sending her roses—but she burns to prove herself as more than a society girl, and puts her fluent German to use as a translator of decoded enemy secrets. Imperious self-made Mab, product of east-end London poverty, works the legendary codebreaking machines as she conceals old wounds and looks for a socially advantageous husband. Both Osla and Mab are quick to see the potential in local village spinster Beth, whose shyness conceals a brilliant facility with puzzles, and soon Beth spreads her wings as one of the Park's few female cryptanalysts. But war, loss, and the impossible pressure of secrecy will tear the three apart.
1947. As the royal wedding of Princess Elizabeth and Prince Philip whips post-war Britain into a fever, three friends-turned-enemies are reunited by a mysterious encrypted letter–the key to which lies buried in the long-ago betrayal that destroyed their friendship and left one of them confined to an asylum. A mysterious traitor has emerged from the shadows of their Bletchley Park past, and now Osla, Mab, and Beth must resurrect their old alliance and crack one last code together. But each petal they remove from the rose code brings danger–and their true enemy–closer…
Available at:
Amazon | Barnes & Noble | Google Play | Kobo | Apple Books | Indiebound | Indigo | Audible | Goodreads
Have you read any of these books yet? Let us know in the comments below!