We're taking you from one wedding to another with our latest Read With BookClubbish Pick! Her Dark Lies by J.T. Ellison is a fast-paced thriller that takes place off the Italian coast. While it's certainly feels like an idyllic and romantic setting, nothing's as it seems in this story. Buckle up and get ready for menacing texts, a ruined wedding dress and more!
ARE YOU READING ALONG WITH US THIS MONTH?
RSVP TO OUR FACEBOOK EVENT PAGE TO PARTICIPATE IN A LIVE CHAT WITH THE AUTHOR ON TUESDAY, APRIL 20 AT 1:00 P.M. EST TO GET ALL YOUR QUESTIONS ANSWERED! CAN'T MAKE IT TO THE LIVE? NO PROBLEM! LEAVE A COMMENT BELOW WITH YOUR QUESTIONS FOR J.T. ELLISON.
And, as always, don't forget to join in on the conversation all month long on social by using the hashtag #ReadWithBookClubbish.
April 2021 Read With BookClubbish Pick: Her Dark Lies by J.T. Ellison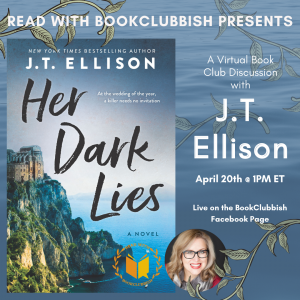 Fast-paced and brilliantly unpredictable, J.T. Ellison's breathtaking new novel invites you to a wedding none will forget—and some won't survive.
Jutting from sparkling turquoise waters off the Italian coast, Isle Isola is an idyllic setting for a wedding. In the majestic cliff-top villa owned by the wealthy Compton family, up-and-coming artist Claire Hunter will marry handsome, charming Jack Compton, surrounded by close family, intimate friends…and a host of dark secrets.
From the moment Claire sets foot on the island, something seems amiss. Skeletal remains have just been found. There are other, newer disturbances, too. Menacing texts. A ruined wedding dress. And one troubling shadow hanging over Claire's otherwise blissful relationship—the strange mystery surrounding Jack's first wife.
Then a raging storm descends, the power goes out—and the real terror begins…
Pick up your copy at:
Amazon | Barnes & Noble | Google Play | Kobo | Apple Books | Indiebound | Indigo | Audible | Goodreads
Discussion Questions
Weddings are extremely emotional events and can trigger a lot of intense and often negative feelings. Have you ever attended a wedding that you felt was doomed from the start…and were you right?
Destination weddings are a dream for many brides but they can be expensive and a logistical nightmare. Have you attended or chosen not to attend a destination wedding and do you regret that decision?
Marrying into a wealthy family is a dream for many people but all families have secrets and unwritten rules. What advice would you give to someone marrying into your family?
Second marriages are complex and whether through divorce or death the specter of a former spouse is never completely absent. How does that impact second marriages you are familiar with?
The role of social media and being and influencer is prominent in this novel, specifically the lengths people will go to present an image of perfection. What are your thoughts on social media influencers?
The setting of this novel sets the stage and the mood for the events that follow. Have you ever been to a location where you could feel the history of the place just by walking its corridors?
One of the main themes of Her Dark Lies is the idea that everyone lies to protect something or someone. Is it ever okay to keep the truth hidden from your spouse? If so, why?
Can you ever completely trust another person?
What are your thoughts on Claire's decision at the end of the novel. Why do you think she makes the choice she does and is it justifiable?
What's the biggest lie you've ever told?
You May Also Like…
Do you have a question you'd like to ask J.T. Ellison? Let us know in the comments below!