New season, new reads? We think so! Spring into a season of suspense with these thrilling books by J.T. Ellison, Tarryn Fisher, Mary Kubica, and more! These breathtaking, unpredictable, wild and sinister books all deserve a spot on your TBR list.
Her Dark Lies by J.T. Ellison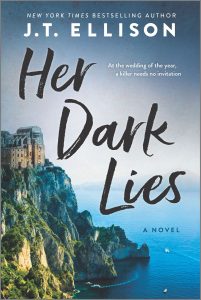 Fast-paced and brilliantly unpredictable, J.T. Ellison's breathtaking new novel invites you to a wedding none will forget—and some won't survive.
Jutting from sparkling turquoise waters off the Italian coast, Isle Isola is an idyllic setting for a wedding. In the majestic cliff-top villa owned by the wealthy Compton family, up-and-coming artist Claire Hunter will marry handsome, charming Jack Compton, surrounded by close family, intimate friends…and a host of dark secrets.
From the moment Claire sets foot on the island, something seems amiss. Skeletal remains have just been found. There are other, newer disturbances, too. Menacing texts. A ruined wedding dress. And one troubling shadow hanging over Claire's otherwise blissful relationship—the strange mystery surrounding Jack's first wife.
Then a raging storm descends, the power goes out—and the real terror begins…
Available now:
Amazon | Barnes & Noble | Google Play | Kobo | Apple Books | Indiebound | Indigo | Audible | Goodreads
The Jigsaw Man by Nadine Matheson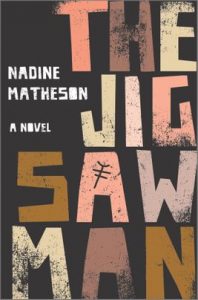 A serial killer and his copycat are locked in a violent game of cat and mouse. Can DI Anjelica Henley stop them before it's too late?

On the day she returns to active duty with the Serial Crimes Unit, Detective Inspector Anjelica Henley is called to a crime scene. Dismembered body parts from two victims have been found by the river.
The modus operandi bears a striking resemblance to Peter Olivier, the notorious Jigsaw Killer, who has spent the past two years behind bars. When he learns that someone is co-opting his grisly signature—the arrangement of victims' limbs in puzzle-piece shapes—he decides to take matters into his own hands.
As the body count rises, DI Anjelica Henley is faced with an unspeakable new threat. Can she apprehend the copycat killer before Olivier finds a way to get to him first? Or will she herself become the next victim?
Drawing on her experience as a criminal attorney, debut novelist Nadine Matheson delivers the page-turning crime novel of the year. Taut, vivid and addictively sinister, The Jigsaw Man will leave you breathless until the very last page.
Available now:
Amazon | Barnes & Noble | Google Play | Kobo | Apple Books | Indiebound | Indigo | Audible | Goodreads
The Wrong Family by Tarryn Fisher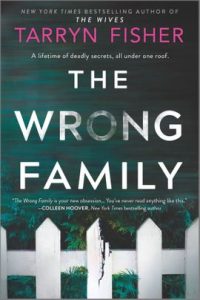 Have you ever been wrong about someone?
Juno was wrong about Winnie Crouch.
Before moving in with the Crouch family, Juno thought Winnie and her husband, Nigel, had the perfect marriage, the perfect son—the perfect life. Only now that she's living in their beautiful house, she sees the cracks in the crumbling facade are too deep to ignore.
Still, she isn't one to judge. After her grim diagnosis, the retired therapist simply wants a place to live out the rest of her days in peace. But that peace is shattered the day Juno overhears a chilling conversation between Winnie and Nigel…
She shouldn't get involved.
She really shouldn't.
But this could be her chance to make a few things right.
Because if you thought Juno didn't have a secret of her own, then you were wrong about her, too.

From the wickedly dark mind of bestselling author Tarryn Fisher, The Wrong Family is a taut new thriller that's riddled with twists in all the right places.
Available now:
Amazon | Barnes & Noble | Google Play | Kobo | Apple Books | Indiebound | Indigo | Audible | Goodreads
The Favorite Daughter by Kaira Rouda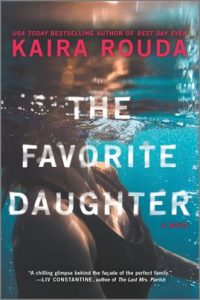 "An exceptional psychological thriller." — Publishers Weekly, STARRED review
Fans of B.A. Paris and Shari Lapena will love this gripping novel of psychological suspense set in an upscale Southern California community by USA Today bestselling author Kaira Rouda.
The perfect home. The perfect family. The perfect lie.
Jane Harris lives in a sparkling home in an oceanfront gated community in Orange County. It's a place that seems too beautiful to be touched by sadness. But exactly one year ago, Jane's oldest daughter, Mary, died in a tragic accident and Jane has been grief-stricken ever since. Lost in a haze of anti-depressants, she's barely even left the house. Now that's all about to change.
It's time for Jane to reclaim her life and her family. Jane's husband, David, has planned a memorial service for Mary and three days later, their youngest daughter, Betsy, graduates high school. Yet as Jane reemerges into the world, it's clear her family has changed without her. Her husband has been working long days—and nights—at the office. Her daughter seems distant, even secretive. And her beloved Mary was always such a good girl—dutiful and loving. But does someone know more about Mary, and about her last day, than they've revealed?
The bonds between mothers and daughters, and husbands and wives should never be broken. But you never know how far someone will go to keep a family together…
Available now:
Amazon | Barnes & Noble | Google Play | Kobo | Apple Books | Indiebound | Indigo | Audible | Goodreads
Tell No Lies by Allison Brennan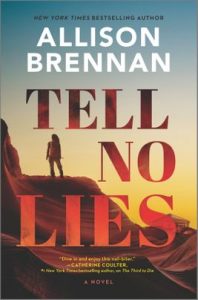 The unsolved murder of a young activist leads to the discovery of much darker crimes in New York Times bestselling author Allison Brennan's latest compelling thriller to feaure the young, edgy detective Kara Quinn and the loner FBI agent Matt Costa. This time they work to uncover possible ties to a high-stakes cartel in the Southwest desert.
Something mysterious is killing the wildlife in the mountains just south of Tucson. When a college intern turned activist sets out to collect her own evidence, she, too, ends up dead. Local law enforcement is slow to get involved. That's when the mobile FBI unit goes undercover to infiltrate the town and its copper refinery in search of possible leads.
Quinn and Costa find themselves scouring the desolate landscape, which keeps revealing clues to something much darker—greed, child trafficking and more death. As the body count adds up, it's clear they have stumbled onto much more than they bargained for. Now they must figure out who is at the heart of this mayhem and stop them before more innocent lives are lost.
Available March 30, 2021:
Amazon | Barnes & Noble | Google Play | Kobo | Apple Books | Indiebound | Indigo | Goodreads
Just My Luck by Adele Parks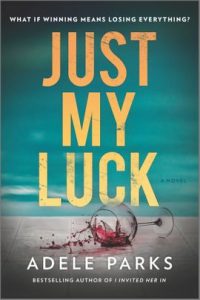 New from the author of Lies, Lies, Lies and I Invited Her In!
It was supposed to be the lottery win they'd always dreamed of…
For fifteen years, Lexi and Jake have played the same six numbers with their friends. Over drinks, dinner parties and summer barbecues, the three couples have discussed the important stuff—kids, marriages, careers—and they've laughed off their disappointment when they failed to win anything.
But then the unthinkable happens. There's a rift in the group. Someone is caught in a lie. And soon after, six numbers come up that change everything forever.
Lexi and Jake have a ticket worth millions. And their friends are determined to claim a share.
#1 Sunday Times bestselling author Adele Parks returns with a riveting look at the dark side of wealth in this gripping tale of friendship, money, betrayal and good luck gone bad…
Available April 6, 2021:
Amazon | Barnes & Noble | Google Play | Kobo | Apple Books | Indiebound | Indigo | Audible | Goodreads
Just Get Home by Bridget Foley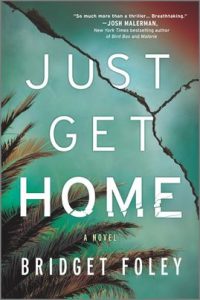 When a devastating earthquake—the Big One—hits Los Angeles, two strangers are brought together by an act of violence and must help each other survive the wrecked city.

Beegie is riding the bus when the quake hits. The teenager was heading back to her unhappy foster home, but then she's thrown into a broken world. Roads crumble, storefronts shatter and people run wild.
Dessa, a single mom, is enjoying a rare night out when it strikes. Cell towers are down, so without even knowing if her three-year-old daughter is dead or alive, she races to get back across town.
As danger escalates in the chaotic streets, Beegie and Dessa meet by a twist of fate. The two form a fragile partnership, relying on each other in ways they never thought possible, and learn who they really are when there's only one goal: just get home.
Available April 13, 2021:
Amazon | Barnes & Noble | Google Play | Kobo | Apple Books | Indiebound | Indigo | Audible | Goodreads
A Good Mother by Lara Bazelon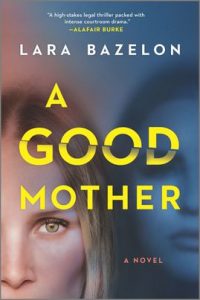 "A high-stakes legal thriller packed with intense courtroom drama." -Alafair Burke
A gripping debut thriller about two young mothers, one shocking murder and a court case that puts them both on trial.
When a soldier is found stabbed through the heart at a US Army base, there is no doubt that his wife, Luz, is to blame. But was it an act of self-defense? An attempt to save her infant daughter? Or the cold-blooded murder of an innocent man?
Ambitious public defender Abby is determined to win at all costs. As a new mother herself, she wants to keep Luz out of prison and with her daughter. But when the surprises stack up and shocking new evidence emerges, Abby realizes the task proves far more difficult than she suspected and will require a terrible sacrifice.
As the trial hurtles toward an outcome no one expects, Abby, Luz and a captivated jury are forced to answer the question that will decide everything—what does it mean to be a good mother?
Available May 11, 2021:
Amazon | Barnes & Noble | Google Play | Kobo | Apple Books | Indiebound | Indigo | Audible | Goodreads
Local Woman Missing by Mary Kubica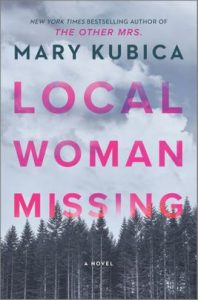 People don't just disappear without a trace…

Shelby Tebow is the first to go missing. Not long after, Meredith Dickey and her six-year-old daughter, Delilah, vanish just blocks away from where Shelby was last seen, striking fear into their once-peaceful community. Are these incidents connected? After an elusive search that yields more questions than answers, the case eventually goes cold.
Now, eleven years later, Delilah shockingly returns. Everyone wants to know what happened to her, but no one is prepared for what they'll find…
In this smart and chilling thriller, master of suspense and New York Times bestselling author Mary Kubica takes domestic secrets to a whole new level, showing that some people will stop at nothing to keep the truth buried.
Available May 18, 2021:
Amazon | Barnes & Noble | Google Play | Kobo | Apple Books | Indiebound | Indigo | Audible | Goodreads
You Will Remember Me by Hannah Mary McKinnon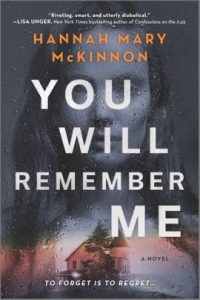 Forget the truth.

Remember the lies.

He wakes up on a deserted beach in Maryland with a gash on his head and wearing only swim trunks. He can't remember who he is. Everything—his identity, his life, his loved ones—has been replaced by a dizzying fog of uncertainty. But returning to his Maine hometown in search of the truth uncovers more questions than answers.
Lily Reid thinks she knows her boyfriend, Jack. Until he goes missing one night, and her frantic search reveals that he's been lying to her since they met, desperate to escape a dark past he'd purposely left behind.
Maya Scott has been trying to find her estranged stepbrother, Asher, since he disappeared without a trace. Having him back, missing memory and all, feels like a miracle. But with a mutual history full of devastating secrets, how far will Maya go to ensure she alone takes them to the grave?

Shared fates intertwine in a twisty, explosive novel of suspense, where unearthing the past might just mean being buried beneath it.
Available May 25, 2021:
Amazon | Barnes & Noble | Google Play | Kobo | Apple Books | Indiebound | Indigo | Audible | Goodreads
What suspense books are you looking forward to most this season? Let us know in the comments below!