How did you like reading Saving Ruby King with us last month? This month, we're taking a step back in time and reading The Woman Before Wallis by Bryn Turnbull! In it, we're told the true story of the American divorcée who captured Prince Edward's heart before he abdicated his throne for Wallis Simpson. Throw in scandal, glamour and even the Vanderbilts and you've got one unputdownable story.
Feel free to share all month long with us on social media by tagging @bookclubbish and using the hashtag #ReadWithBookClubbish. And don't forget — we'll be taking the discussion live on Facebook Live with Bryn Turnbull on August 25 at 1:00 p.m. EST!
August's Read With BookClubbish Pick: The Woman Before Wallis by Bryn Turnbull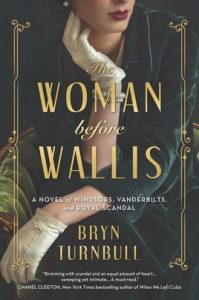 For fans of The Paris Wife and The Crown, this stunning novel tells the true story of the American divorcée who captured Prince Edward's heart before he abdicated his throne for Wallis Simpson.
In the summer of 1926, when Thelma Morgan marries Viscount Duke Furness after a whirlwind romance, she's immersed in a gilded world of extraordinary wealth and privilege. For Thelma, the daughter of an American diplomat, her new life as a member of the British aristocracy is like a fairy tale—even more so when her husband introduces her to Edward, Prince of Wales.
In a twist of fate, her marriage to Duke leads her to fall headlong into a love affair with Edward. But happiness is fleeting, and their love is threatened when Thelma's sister, Gloria Morgan Vanderbilt, becomes embroiled in a scandal with far-reaching implications. As Thelma sails to New York to support Gloria, she leaves Edward in the hands of her trusted friend Wallis, never imagining the consequences that will follow.
Bryn Turnbull takes readers from the raucous glamour of the Paris Ritz and the French Riviera to the quiet, private corners of St. James's Palace in this sweeping story of love, loyalty and betrayal.
Get your copy at:
Amazon | Barnes & Noble | Google Play | Kobo | Apple Books | Indiebound | Audible | Goodreads
Discussion Questions
How does Thelma's relationship with her mother fundamentally shape her attitude towards men and money ?
Thelma's abusive first marriage occurs in the years before the book begins. How does that experience impact her relationships, not only with David and Duke but with all of the people in her life?
Thelma's relationship with Gloria has room for criticism, but never disloyalty. How does her attitude towards homosexuality differ from other characters in the novel? How does class distinction play into rules of gender in the 1930s?
When Thelma first meets Gertrude Whitney, Gertrude blames Reggie's choices for leaving Gloria in such a dire financial state. Do you think her own choices are justified in seeking custody of Little Gloria?
Thelma is genuinely surprised that Duke believes their marriage fell apart because of her relationship with David. Do you think this is fair judgement on Duke? How do Duke's own actions contribute to the end of the marriage?
Thelma's relationship with Averill grows and deepens over the course of the book, but Thelma struggles with the idea of being Averill's stepmother. How does that struggle shape her decision to tell Duke about Averill's plan to elope?
At the end of the book Thelma calls David a "weak" man. Given his actions over the course of the novel, do you feel he would have made a weak king?
Thelma considers Wallis a trusted friend. Do you think her feelings were reciprocated? How does Wallis's conduct change during the course of the book?
For Your Book Club Meeting: The Wallis Blue Cocktail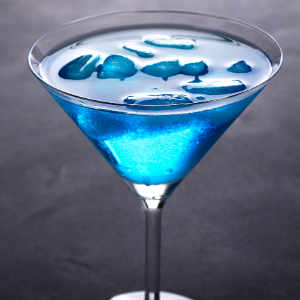 Wallis Simpson was known as one of the best cocktail hostesses in London in the 1930s, due in no small part to her ability to brandish a cocktail shaker. When Wallis accepted David's proposal in 1936, David supposedly took one of those cocktail parties as an opportunity to create a new drink fit for his new bride: one which matched her famously blue eyes.
Ingredients
1 1/2 oz Gordon's Dry Gin
1 oz cointreau
1 lime, juiced
1 dash creme de violette
Directions
Mix all ingredients in an iced shaker and shake well.
Strain into cocktail glasses and serve with a garnish of acerbic wit.
Books To Read After Finishing The Woman Before Wallis
Download Your Book Club Kit!
Get an exclusive look behind the book as well as a timeline of events, an interview with the author and even more cocktail recipes when you download our The Woman Before Wallis book club kit!