This month, we've got a Read With BookClubbish pick that will not disappoint! Saving Ruby King by Catherine Adel West is an unforgettable debut novel about race, family secrets, faith and redemption. Read along with us!
Feel free to share all month long with us on social media by tagging @bookclubbish and #ReadWithBookClubbish. And don't forget — we'll be taking the discussion live on Facebook Live with Catherine Adel West on July 21 at 1PM EST! RSVP for the free event and follow us on social media so you don't miss a beat.
July's Book Club Pick: Saving Ruby King by Catherine Adel West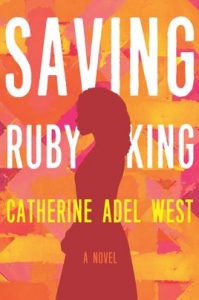 Named a Most Anticipated Book of 2020 by The Every Girl, PureWow, Book Riot, Library Journal and more.
"Forever and to the end. That's what they say instead of I love you."
When Ruby King's mother is found murdered in their home in Chicago's South Side, the police dismiss it as another act of violence in a black neighborhood. But for Ruby, it's a devastating loss that leaves her on her own with her violent father. While she receives many condolences, her best friend, Layla, is the only one who understands how this puts Ruby in jeopardy.
Their closeness is tested when Layla's father, the pastor of their church, demands that Layla stay away. But what is the price for turning a blind eye? In a relentless quest to save Ruby, Layla uncovers the murky loyalties and dangerous secrets that have bound their families together for generations. Only by facing this legacy of trauma head-on will Ruby be able to break free.
An unforgettable debut novel, Saving Ruby King is a powerful testament that history doesn't determine the present and the bonds of friendship can forever shape the future.
Get your copy at:
Amazon | Barnes & Noble | Google Play | Kobo | Apple Books | Indiebound | Audible | Goodreads
Discussion Questions
Saving Ruby King is written from multiple characters' perspectives. Which of the perspectives most resonated with you?
What impact does Alice's death have on the characters in the book? Do you think she would have eventually left Lebanon? Why or why not?
In Saving Ruby King, Alice's death is dismissed by the police as another act of violence on Chicago's South Side. In what ways does that speak to our current moment?
Friendship, particularly Black female friendship, plays a critical role in Saving Ruby King. Why do you think Layla was so intent on "saving" her friend?
Why do you think the author gave Calvary Hope Church its own consciousness? What did the church's perspective add to the story?
Both the Potters and the Kings have family secrets. How would the story be different if Jackson didn't hold onto his secret for so long? Would it have helped his family, or destroyed them like he feared?
Chicago is described as a "beautiful city with a lot of broken parts." What would you consider to be the "broken" parts? How are the characters broken?
Saving Ruby King examines the way suffering and trauma can be passed down through generations. Do you think Ruby will be able to break the cycle in her own family? Does the book end on a hopeful note?
For Your Book Club Meeting: Devil's (in the Details) Eggs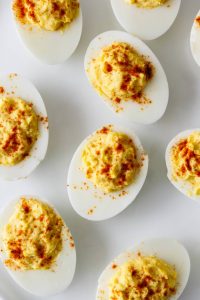 If you're wondering what to make for your meeting discussing Saving Ruby King, take some inspiration from Catherine Adel West. We asked her for her go-to book club recipe and she delivered with these deviled eggs. Follow along the recipe and you'll end up with delicious deviled eggs to serve to your book club with one.. or two.. or three for yourself!
Ingredients
12 hard-boiled eggs, peeled and halved
1/4 cup mayonnaise
3 tbsp. rice vinegar (see note)
3 tbsp. sweet pickle relish
3 tbsp. Dijon mustard, or more to taste
2 tbsp. cream cheese
1 tbsp. white sugar
1/4 tsp. cayenne pepper, divided
1/4 tsp. ground black pepper, divided
1/2 tsp. Sriracha, or to taste
Smoked paprika, for garnish
Dill, for garnish
Directions
Place your eggs in a large pot and set them over a low-medium heat until they boil. Once the eggs are done, let them set for a few minutes and then place them in a bowl of cold ice water. This will shock them and helps slip the shells loose.
Slice the eggs lengthwise into long mirror-image halves.
Extract the yolks by spooning them out and into a bowl.
Keep the empty wells of the egg whites covered with a slightly damp paper towel.
Mash the yolks with a fork but do not overwork the yolks. They should still be slightly lumpy.
Add mayonnaise, Dijon mustard, salt and pepper, along with Sriracha and cream cheese.
Then add rice vinegar to the mix. Note: You can use other types of vinegar if you don't have rice vinegar (i.e. champagne or white vinegar).
Mix them together until the filling and smooth and the texture is to your liking.
Once the filling is completed, use a spoon to scoop it into the empty wells of the egg whites. You can use a piping bag if you want to get a bit fancier with the presentation.
Add the smoked paprika on top of the eggs.
you can add a sprig of dill to garnish if you choose but it's not at all mandatory.
Chill your delivered eggs in the fridge for at least half an hour before serving.
Join the Conversation
Let us know what you think of Saving Ruby King by posting with these templates on Instagram. Remember to tag @bookclubbish and #ReadWithBookClubbish for your chance to be featured on our feed.