We love our long weekends around here—especially when our TBR lists are full and our days are not! With a few long weekends on the horizon, it's best to give your bookshelf a little refresh. Here's a roundup of books that are just perfect for those bright summer days of R&R ahead.
She's Faking It by Kristin Rockaway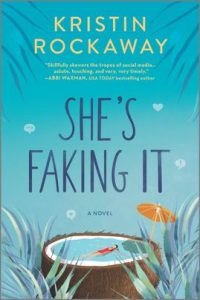 You can't put a filter on reality.
Bree Bozeman isn't exactly pursuing the life of her dreams. Then again, she isn't too sure what those dreams are. After dropping out of college, she's living a pretty chill life in the surf community of Pacific Beach, San Diego…if "chill" means delivering food as a GrubGetter, and if it means "uneventful".
But when Bree starts a new Instagram account — @breebythesea — one of her posts gets a signal boost from none other than wildly popular self-help guru Demi DiPalma, owner of a lifestyle brand empire. Suddenly, Bree just might be a rising star in the world of Instagram influencing. Is this the direction her life has been lacking? It's not a career choice she'd ever seriously considered, but maybe it's a sign from the universe. After all, Demi's the real deal… right?
Everything is lining up for Bree: life goals, career, and even a blossoming romance with the chiseled guy next door, surf star Trey Cantu. But things are about to go sideways fast, and even the perfect filter's not gonna fix it. Instagram might be free, but when your life looks flawless on camera, what's the cost?
Available at:
Amazon | Barnes & Noble | Google Play | Kobo | Apple Books | Indiebound | Audible | Goodreads
East Coast Girls by Kerry Kletter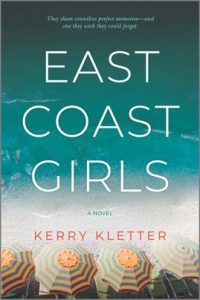 Childhood friends Hannah, Maya, Blue and Renee share a bond that feels more like family. Growing up, they had difficult home lives, and the summers they spent together in Montauk were the happiest memories they ever made. Then, the summer after graduation, one terrible night changed everything.
Twelve years have passed since that fateful incident, and their sisterhood has drifted apart, each woman haunted by her own lost innocence. But just as they reunite in Montauk for one last summer, hoping to find happiness once more, tragedy strikes again. This time it'll test them like never before, forcing them to confront decisions they've each had to live with and old secrets that refuse to stay buried.
Available at:
Amazon | Barnes & Noble | Google Play | Kobo | Apple Books | Indiebound | Audible | Goodreads
The Black Swan of Paris by Karen Robards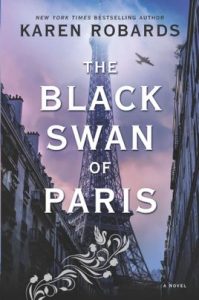 From New York Times bestselling author Karen Robards comes one of the most anticipated novels of the summer…
A world at war. A beautiful young star. A mission no one expected.
Paris, 1944
Celebrated singer Genevieve Dumont is both a star and a smokescreen. An unwilling darling of the Nazis, the chanteuse's position of privilege allows her to go undetected as an ally to the resistance.
When her estranged mother, Lillian de Rocheford, is captured by Nazis, Genevieve knows it won't be long before the Gestapo succeeds in torturing information out of Lillian that will derail the upcoming allied invasion. The resistance movement is tasked with silencing her by any means necessary—including assassination. But Genevieve refuses to let her mother become yet one more victim of the war. Reuniting with her long-lost sister, she must find a way to navigate the perilous cross-currents of Occupied France undetected—and in time to save Lillian's life.
For fans of The Nightingale, The Women in the Castle and The Lost Girls of Paris, this exquisite novel illuminates three women's strength, courage and capacity for unconditional love.
Available at:
Amazon | Barnes & Noble | Google Play | Kobo | Apple Books | Indiebound | Audible | Goodreads
Broken People by Sam Lansky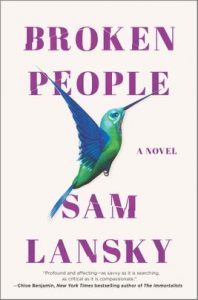 A groundbreaking, incandescent debut novel about coming to grips with the past and ourselves, for fans of Sally Rooney, Hanya Yanagihara and Garth Greenwell
"He fixes everything that's wrong with you in three days."
This is what hooks Sam when he first overhears it at a fancy dinner party in the Hollywood hills: the story of a globe-trotting shaman who claims to perform "open-soul surgery" on emotionally damaged people. For neurotic, depressed Sam, new to Los Angeles after his life in New York imploded, the possibility of total transformation is utterly tantalizing. He's desperate for something to believe in, and the shaman—who promises ancient rituals, plant medicine and encounters with the divine—seems convincing, enough for Sam to sign up for a weekend under his care.
But are the great spirits the shaman says he's summoning real at all? Or are the ghosts in Sam's memory more powerful than any magic?
At turns tender and acid, funny and wise, Broken People is a journey into the nature of truth and fiction—a story of discovering hope amid cynicism, intimacy within chaos and peace in our own skin.
Available at:
Amazon | Barnes & Noble | Google Play | Kobo | Apple Books | Indiebound | Audible | Goodreads
Saving Ruby King by Catherine Adel West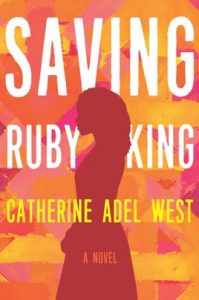 Family. Faith. Secrets. Everything in this world comes full circle.
When Ruby King's mother is found murdered in their home in Chicago's South Side, the police dismiss it as another act of violence in a black neighborhood. But for Ruby, it's a devastating loss that leaves her on her own with her violent father. While she receives many condolences, her best friend, Layla, is the only one who understands how this puts Ruby in jeopardy.
Their closeness is tested when Layla's father, the pastor of their church, demands that Layla stay away. But what is the price for turning a blind eye? In a relentless quest to save Ruby, Layla uncovers the murky loyalties and dangerous secrets that have bound their families together for generations. Only by facing this legacy of trauma head-on will Ruby be able to break free.
An unforgettable debut novel, Saving Ruby King is a powerful testament that history doesn't determine the present and the bonds of friendship can forever shape the future.
Available at:
Amazon | Barnes & Noble | Google Play | Kobo | Apple Books | Indiebound | Audible | Goodreads
The Bitter and Sweet of Cherry Season by Molly Fader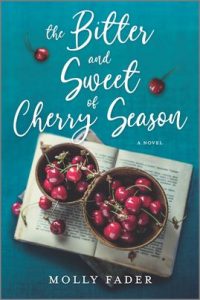 "A stunning story about family and hope that unfolds unexpectedly but beautifully, like a Michigan summer sunset over an orchard." —Viola Shipman, bestselling author of The Heirloom Garden and The Summer Cottage
In cherry season, anything is possible…
Everything Hope knows about the Orchard House is from the stories of her late mother. So when she arrives at the northern Michigan family estate late one night with a terrible secret and her ten-year-old daughter in tow, she's not sure if she'll be welcomed or turned away with a shotgun by the aunt she has never met.
Hope's aunt, Peg, has lived in the Orchard House all her life, though the property has seen better days. She agrees to take Hope in if, in exchange, Hope helps with the cherry harvest—not exactly Hope's specialty, but she's out of options. As Hope works the orchard alongside her aunt, daughter and a kind man she finds increasingly difficult to ignore, a new life begins to blossom. But the mistakes of the past are never far behind, and soon the women will find themselves fighting harder than ever for their family roots and for each other.
Available at:
Amazon | Barnes & Noble | Google Play | Kobo | Apple Books | Indiebound | Audible | Goodreads
A Good Family by A.H. Kim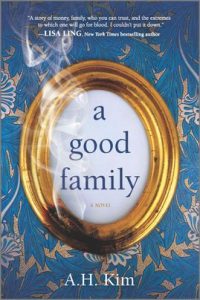 "A story of money, family, who you can trust, and the extremes to which one will go for blood. I couldn't put it down." —Lisa Ling, host of CNN's This Is Life
Keep your family close and your enemies closer.
Beth is the darling of God Halsa, a pharmaceutical giant, and she's got the outrageous salary and lifestyle to prove it. Until she lands in white-collar women's prison, thanks to a high-profile whistleblower suit.
Sam, Beth's husband, used to be the town's most eligible bachelor, and he's never had to do anything for himself. Until his wife goes to jail, and he's left to raise two daughters on his own.
Lise, the au pair, is the whistleblower. But is she? Everyone knows she's not clever enough to have done it alone.
Hannah, Sam's sister, is devoted to her family. There's nothing she wouldn't do for them.
Eva, Beth's sister, is the smart one. (Read: not the pretty one.) Her life seems perfect on the surface, but sibling rivalry runs deep.
Martin, Beth's brother, is the firstborn, the former golden boy turned inside-the Beltway businessman. But what is he hiding?
Someone knows something. Someone betrayed Beth.
This is the story of the Min-Lindstroms. This is the story of the all-American family as it implodes under the weight of secrets, lies and the unchecked desire for wealth and power.
Available at:
Amazon | Barnes & Noble | Google Play | Kobo | Apple Books | Indiebound | Audible | Goodreads
Share with us! Tell us what books you're planning to read during your next long weekend?