You know that feeling you get after finishing an amazing book book? When you're debating whether or not your next read will really top the rest? We get it.
We felt such a book hangover when we finished reading the bestselling novel Where the Crawdads Sing by Delia Owens. The beautiful setting, the heartbreaking coming-of age-story and the remarkable characters really got us. But after a few months, we were once again itching for another southern coming of age story… you know, as you do and that's when we discovered Deb Spera's Call Your Daughter Home.
Call Your Daughter Home by Deb Spera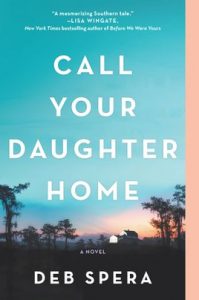 This extraordinary historical debut novel follows three fierce Southern women in an unforgettable story of motherhood and womanhood.
It's 1924 in Branchville, South Carolina and three women have come to a crossroads. Gertrude, a mother of four, must make an unconscionable decision to save her daughters. Retta, a first-generation freed slave, comes to Gertrude's aid by watching her children, despite the gossip it causes in her community. Annie, the matriarch of the influential Coles family, offers Gertrude employment at her sewing circle, while facing problems of her own at home.
These three women seemingly have nothing in common, yet as they unite to stand up to injustices that have long plagued the small town, they find strength in the bond that ties women together. Told in the pitch-perfect voices of Gertrude, Retta, and Annie, Call Your Daughter Home is an emotional, timeless story about the power of family, community, and ferocity of motherhood.
Available at:
Amazon | Barnes & Noble | Google Play | Kobo | Apple Books | Indiebound | Audible | Goodreads
Have you read Where the Crawdads Sing or Call Your Daughter Home...or both? Let us know what you thought in the comments below!