This season, escape into a different time period with these historical fiction reads! From South Carolina, 1924 to Paris, 1944 and everywhere in between, these five historical fiction books will take you on compelling journeys. What are you waiting for? Start exploring them below!
The Black Swan of Paris by Karen Robards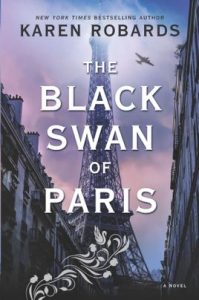 From New York Times bestselling author Karen Robards comes one of the most anticipated novels of the summer…
A world at war. A beautiful young star. A mission no one expected.
Paris, 1944
Celebrated singer Genevieve Dumont is both a star and a smokescreen. An unwilling darling of the Nazis, the chanteuse's position of privilege allows her to go undetected as an ally to the resistance.
When her estranged mother, Lillian de Rocheford, is captured by Nazis, Genevieve knows it won't be long before the Gestapo succeeds in torturing information out of Lillian that will derail the upcoming allied invasion. The resistance movement is tasked with silencing her by any means necessary—including assassination. But Genevieve refuses to let her mother become yet one more victim of the war. Reuniting with her long-lost sister, she must find a way to navigate the perilous cross-currents of Occupied France undetected—and in time to save Lillian's life.
For fans of The Nightingale, The Women in the Castle and The Lost Girls of Paris, this exquisite novel illuminates three women's strength, courage and capacity for unconditional love.
Available at:
Amazon | Barnes & Noble | Google Play | Kobo | Apple Books | Indiebound | Audible | Goodreads
Call Your Daughter Home by Deb Spera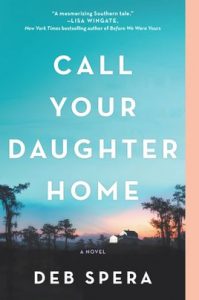 For readers of Delia Owens' Where the Crawdads Sing and Sue Monk Kidd's The Secret Life of Bees, this extraordinary historical debut novel follows three fierce Southern women in an unforgettable story of motherhood and womanhood.
It's 1924 in Branchville, South Carolina and three women have come to a crossroads. Gertrude, a mother of four, must make an unconscionable decision to save her daughters. Retta, a first-generation freed slave, comes to Gertrude's aid by watching her children, despite the gossip it causes in her community. Annie, the matriarch of the influential Coles family, offers Gertrude employment at her sewing circle, while facing problems of her own at home.
These three women seemingly have nothing in common, yet as they unite to stand up to injustices that have long plagued the small town, they find strength in the bond that ties women together. Told in the pitch-perfect voices of Gertrude, Retta, and Annie, Call Your Daughter Home is an emotional, timeless story about the power of family, community, and ferocity of motherhood.
Available at:
Amazon | Barnes & Noble | Google Play | Kobo | Apple Books | Indiebound | Audible | Goodreads
The Woman Before Wallis by Bryn Turnbull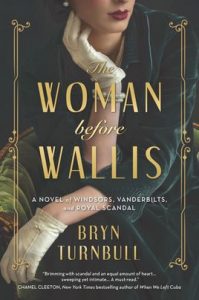 For fans of The Paris Wife and The Crown, this stunning novel tells the true story of the American divorcée who captured Prince Edward's heart before he abdicated his throne for Wallis Simpson.
In the summer of 1926, when Thelma Morgan marries Viscount Duke Furness after a whirlwind romance, she's immersed in a gilded world of extraordinary wealth and privilege. For Thelma, the daughter of an American diplomat, her new life as a member of the British aristocracy is like a fairy tale—even more so when her husband introduces her to Edward, Prince of Wales.
In a twist of fate, her marriage to Duke leads her to fall headlong into a love affair with Edward. But happiness is fleeting, and their love is threatened when Thelma's sister, Gloria Morgan Vanderbilt, becomes embroiled in a scandal with far-reaching implications. As Thelma sails to New York to support Gloria, she leaves Edward in the hands of her trusted friend Wallis, never imagining the consequences that will follow.
Bryn Turnbull takes readers from the raucous glamour of the Paris Ritz and the French Riviera to the quiet, private corners of St. James's Palace in this sweeping story of love, loyalty and betrayal.
Available July 21:
Amazon | Barnes & Noble | Google Play | Kobo | Apple Books | Indiebound | Audible | Goodreads
Red Sky Over Hawaii by Sara Ackerman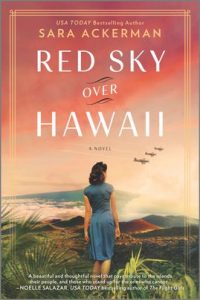 Inspired by real places and events of WWII, Red Sky Over Hawaii immerses the reader in a time of American history full of suspicion and peril in this lush and poignant tale about the indisputable power of doing the right thing against all odds.
The attack on Pearl Harbor changes everything for Lana Hitchcock. Arriving home on the Big Island too late to reconcile with her estranged father, she is left alone to untangle the clues of his legacy, which lead to a secret property tucked away in the remote rain forest of Kilauea volcano. When the government starts taking away her neighbors as suspected sympathizers, Lana shelters two young German girls, a Japanese fisherman and his son. As tensions escalate, they are forced into hiding—only to discover the hideaway house is not what they expected.
When a detainment camp is established nearby, Lana struggles to keep the secrets of those in her care. Trust could have dangerous consequences. As their lives weave together, Lana begins to understand the true meaning of family and how the bonds of love carry us through the worst times.
Available at:
Amazon | Barnes & Noble | Google Play | Kobo | Apple Books | Indiebound | Audible | Goodreads
How We Disappeared by Jing-Jing Lee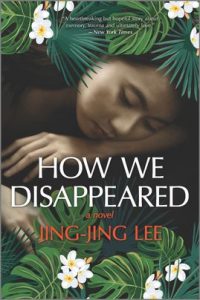 A mesmerizing novel of World War II Singapore, "a story about memory, trauma, and ultimately love" (New York Times)—for fans of Pachinko and We Were the Lucky Ones
Singapore, 1942. As Japanese troops sweep down Malaysia and into Singapore, a village is ransacked, leaving only two survivors and one tiny child.
In a neighboring village, seventeen-year-old Wang Di is strapped into the back of a troop carrier and shipped off to a Japanese military brothel where she is forced into sexual slavery as a "comfort woman." After sixty years of silence, what she saw and experienced still haunts her.
In the year 2000, twelve-year-old Kevin is sitting beside his ailing grandmother when he overhears a mumbled confession. He sets out to discover the truth, wherever it might lead, setting in motion a chain of events he never could have foreseen.
Weaving together two timelines and two very big secrets, this stunning debut opens a window on a little-known period of history, revealing the strength and bravery shown by numerous women in the face of terrible cruelty. Drawing in part on her family's experiences, Jing-Jing Lee has crafted a profoundly moving, unforgettable novel about human resilience, the bonds of family and the courage it takes to confront the past.
Available at:
Amazon | Barnes & Noble | Google Play | Kobo | Apple Books | Indiebound | Audible | Goodreads
Are you a fan of historical fiction? Share the last great historical fiction novel you've read below!