We're leaving 2021 behind and heading back to Cuba in the 1930s with this month's Read With BookClubbish pick! Find Me in Havana by Serena Burdick is a beautiful story about mothers, daughters, and the American Dream. If you're a fan of historical fiction, Hollywood, and family drama, then you'll love this read!
ARE YOU READING ALONG WITH US THIS MONTH?
RSVP TO OUR FACEBOOK EVENT PAGE TO PARTICIPATE IN A LIVE CHAT WITH THE AUTHOR ON TUESDAY, FEBRUARY 23 AT 1:00 P.M. EST TO GET ALL YOUR QUESTIONS ANSWERED! CAN'T MAKE IT TO THE LIVE? NO PROBLEM! LEAVE A COMMENT BELOW WITH YOUR QUESTIONS FOR SERENA BURDICK.
And, as always, don't forget to join in on the conversation all month long on social by using the hashtag #ReadWithBookClubbish.
February Read With BookClubbish Pick: Find Me in Havana by Serena Burdick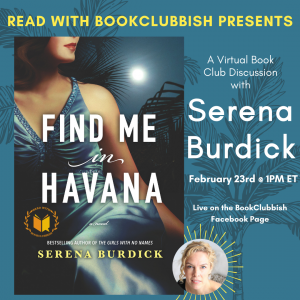 A novel based on the dazzling story of one of Hollywood's most celebrated Hispanic actresses and her daughter's search for closure.

Cuba, 1936: When Estelita Rodriguez sings in a hazy Havana nightclub for the very first time, she is nine years old. From then on, that spotlight of adoration—from Havana to New York's Copacabana and then Hollywood—becomes the one true accomplishment no one can take from her. Not the 1933 Cuban Revolution that drove her family into poverty. Not the revolving door of husbands or the fickle world of film.
Thirty years later, her young adult daughter, Nina, is blindsided by her mother's mysterious death. Seeking answers, the grieving Nina navigates the troubling, opulent memories of their life together and discovers how much Estelita sacrificed to live the American dream on her own terms.
Based on true events and exclusive interviews with Nina Lopez, Estelita's daughter, Find Me in Havana weaves two unforgettable voices into one extraordinary story that explores the unbreakable bond between mother and child, and the ever-changing landscape of self-discovery.
Pick up your copy at:
Amazon | Barnes & Noble | Google Play | Kobo | Apple Books | Indiebound | Indigo | Audible | Goodreads
Discussion Questions
Find Me in Havana is a historical novel, but in what ways is it relevant to contemporary society? Are women treated differently now than they were then? If not, why? If so, how?
Written as a conversation between mother and daughter, which character resonated with you the most and why?
By the end of the book, Estelita has had several husbands. After so many marriages gone wrong, why do you think she continues getting involved with men who don't have her best interests at heart? How do these relationships impact how Nina views men?
The novel takes place in Cuba, Mexico and the United States. Where do you think Estelita considers her home to be? Where for Nina?
Why do you think Estelita's mother decided to go with her to America and to leave behind her other children in Cuba? What makes her relationship with Estelita different than with her other children?
After her mother's death, no one believes Nina when she says her mother was murdered. Why do you think no one would listen to her? Do you think the same thing would happen today?
For Estelita, music and singing is an outlet for her emotions. What are key moments in the book where singing is essential for her? How does singing change her life?
Find Me in Havana is based on the true events that happened to Estelita and Nina, as told by the real Nina to the author. Were there any questions about their story that you wish had been addressed in the novel? Does the true-story element add to your reading experience?
You May Also Like…
Do you have a question you'd like to ask Serena Burdick? Let us know in the comments below!