This month, we're going to be reading Confessions on the 7:45 by Lisa Unger, one of our favorite thriller writers! Whether you're still working from home and feeling strangely nostalgic about your commute into work (I mean, when was the last time you rode a subway?) or you actually like sleeping with the lights on, this book will pull you into a web of lies and deceit!
Are you reading along with us this month?
Make sure to tune into our Facebook page to participate in a LIVE chat with the author on Tuesday, November 17 at 1:00 p.m. EST to get all your questions answered! Can't make it to the live? No problem! Leave a comment below with your questions for Lisa Unger.
And, as always, don't forget to join in on the conversation all month long on social by using the hashtag #ReadWithBookClubbish.
November's Read With BookClubbish Pick: Confessions on the 7:45 by Lisa Unger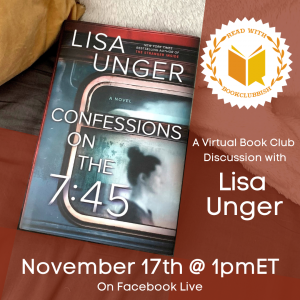 "[A] taut, beautifully-written novel." —Sarah Pekkanen, #1 New York Times bestselling author of An Anonymous Girl
From master of suspense Lisa Unger comes a riveting thriller about a chance encounter that unravels a stunning web of lies and deceit.
Be careful to whom you tell your darkest secrets…
Selena Murphy is commuting home from her job in the city when the train stalls out on the tracks. She strikes up a conversation with a beautiful stranger in the next seat, and their connection is fast and easy. The woman introduces herself as Martha and confesses that she's been stuck in an affair with her boss. Selena, in turn, confesses that she suspects her husband is sleeping with the nanny. When the train arrives at Selena's station, the two women part ways, presumably never to meet again.
But days later, Selena's nanny disappears.
Soon Selena finds her once-perfect life upended. As she is pulled into the mystery of the missing nanny, and as the fractures in her marriage grow deeper, Selena begins to wonder, who was Martha really? But she is hardly prepared for what she'll discover.
Expertly plotted and reminiscent of the timeless classic Strangers on a Train, Confessions on the 7:45 is a gripping thriller about the delicate facades we create around our lives.
Pick up your copy at:
Amazon | Barnes & Noble | Google Play | Kobo | Apple Books | Indiebound | Audible | Goodreads
Discussion Questions
Warning! Some of these questions contain spoilers. Proceed with caution!
At the end of her terrible day, Selena meets a beautiful stranger on her commuter train home. Maybe it's the dark of the train, or the drink she shouldn't have had. Whatever the reason, Selena tells this woman something she has never told anyone. Why did she do that? Why do you think a person would share something personal or private with someone they don't know?
Selena talks about the liminal spaces in her life, the places between all the different roles she plays — wife, mother, professional — where she can be just herself, just Selena. What do you think she means by that? Have you ever felt that way in your own life?
Oliver makes the observation that grown-ups lie all the time. Do you think that's true? Do we lie to our children more than we should, even in acceptable ways — Santa Claus, the Easter Bunny? What effect does it have on our relationships with our children?
Selena is very good at presenting a perfectly curated version of her life on social media. But the truth of her marriage and her family is very different indeed. Do you think a lot of people are guilty of this, making their lives look "Instagrammable" when they are anything but? What effect does this type of dishonesty have on us, on our friends and family?
What role does Charlie play in Pearl's life at first and how does it evolve throughout the book? Ultimately, is he her savior? Or is he a villain?
Discuss the role that trauma plays in Pearl's life. How do her experiences as a teenager shape who she becomes as an adult and her actions in the story in the present?
Discuss Pearl and Selena's relationship. Under other circumstances, how might it be different?
Hunter Ross has spent years tirelessly looking for answers about Stella and Pearl. What do you think motivates him to keep looking long after both mother and daughter seem to have been forgotten by the world?
What are some of the reasons that Pearl might reach out to Hunter Ross at the end of the book? What did she want from him? What did she want to give him?
Have you ever struck up a conversation with a stranger on a train, or on a plane, or someplace unexpected? What is the most interesting or memorable encounter you've had with a stranger?
What is something no one in the room knows about you?
You May Also Like…
Do you have a question you'd like to ask Lisa Unger about her latest release? Let us know in the comments below!