We're going back to the 1970s this month with The Wrong Kind of Woman by Sarah McCraw Crow, our new Read With BookClubbish pick! It's an engrossing and powerful story about what a woman can be when what she should be is no longer an option. If you love stories featuring strong women, you're going to want to read this one!
Are you reading along with us this month?
Make sure to tune into our Facebook page to participate in a LIVE chat with the author on Tuesday, October 20 at 1:00 p.m. EST to get all your questions answered! Can't make it to the live? No problem! Leave a comment below with your questions for Sarah McCraw Crow.
And, as always, don't forget to join in on the conversation all month long on social by using the hashtag #ReadWithBookClubbish.
October's Read With BookClubbish Pick: The Wrong Kind of Woman by Sarah McCraw Crow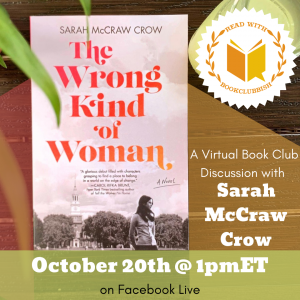 A powerful exploration of what a woman can be when what she should be is no longer an option
In late 1970, Oliver Desmarais drops dead in his front yard while hanging Christmas lights. In the year that follows, his widow, Virginia, struggles to find her place on the campus of the elite New Hampshire men's college where Oliver was a professor. While Virginia had always shared her husband's prejudices against the four outspoken, never-married women on the faculty—dubbed the Gang of Four by their male counterparts—she now finds herself depending on them, even joining their work to bring the women's movement to Clarendon College.
Soon, though, reports of violent protests across the country reach this sleepy New England town, stirring tensions between the fraternal establishment of Clarendon and those calling for change. As authorities attempt to tamp down "radical elements," Virginia must decide whether she's willing to put herself and her family at risk for a cause that had never felt like her own.
Told through alternating perspectives, The Wrong Kind of Woman is an engrossing story about finding the strength to forge new paths, beautifully woven against the rapid changes of the early '70s.
Pick up your copy at:
Amazon | Barnes & Noble | Google Play | Kobo | Apple Books | Indiebound | Audible | Goodreads
Discussion Questions
Throughout the book, Virginia, Rebecca, and Sam all struggle to feel like they belong. How does that struggle shape the choices they make?
Virginia has never thought of herself as a feminist, but that starts to change after the "gang of four" befriends her. Would that friendship have been possible if Oliver had lived?
Sam and Oliver's friendship is complicated by Sam's confusion about his sexuality, but without the romantic implications, are Oliver's friendly advances toward an undergrad appropriate? What about his visits to his old fraternity?
The most visible activists are often like Elodie, young people who are loud and sometimes reckless in pursuit of a cause. Why do you think that is? Do you think their violent actions are justified?
What parallels do you see between the time when this novel is set, and our current day, fifty years later? What has changed? What has not?
How might each of the main characters' lives have been different if they were living now?
You May Also Like…
Do you have a question you'd like to ask Sarah McCraw Crow yourself? Let us know in the comments below!