We get it. Things are very busy this season. Sneak away from it all and carve out some reading time with these fantastic books. If you love thrilling suspense, heartwarming fiction or inspirational reads, you're going to certainly want to book some time in your calendar for these reads!
When I Was You by Amber Garza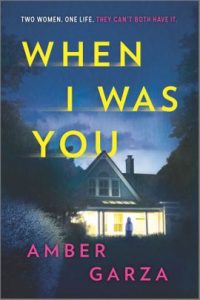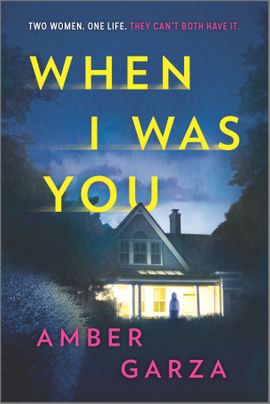 You meets Fatal Attraction in this up-all-night story of suspicion, obsession and motherhood.

It all begins on an ordinary fall morning, when Kelly Medina gets a call from her son's pediatrician to confirm her upcoming "well-baby" appointment. It's a cruel mistake; her son left for college a year ago, and Kelly's never felt so alone. The receptionist quickly apologizes: there's another mother in town named Kelly Medina, and she must have gotten their numbers switched.
For days, Kelly can't stop thinking about the woman who shares her name. Lives in her same town. Has a son she can still hold, and her whole life ahead of her. She can't help looking for her: at the grocery store, at the gym, on social media. When Kelly just happens to bump into the single mother outside that pediatrician's office, it's simple curiosity getting the better of her.
Their unlikely friendship brings Kelly a renewed sense of purpose—taking care of this young woman and her adorable baby boy. But that friendship quickly turns to obsession, and when one Kelly disappears, well, the other one may know why.
Available at:
Amazon | Barnes & Noble | Google Play | Kobo | Apple Books | Indiebound | Audible | Goodreads
The Book of Hidden Wonders by Polly Crosby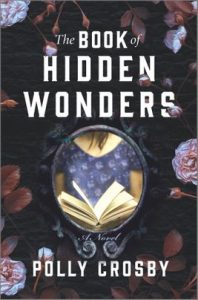 A charming, deeply imaginative debut novel about a young girl who is immortalized in her father's illustrated books containing clues to their family secrets.
Romilly Kemp and her eccentric painter father have happy but sheltered lives in a ramshackle mansion in the English countryside. When her father finds fame with a series of children's books starring Romilly as the main character, everything changes: exotic foods appear on the table, her father appears on TV and strangers appear at their door, convinced the books will lead them to a precious prize.
But as time passes, Romilly's father becomes increasingly suspicious of the outside world until, before her eyes, he begins to disappear within himself. She returns to his illustrations, looking for a way to connect with her ailing father, and finds a series of clues he's left just for her. This treasure hunt doesn't lead her to gold or jewels, but something worth far more—a shocking secret that is crucial to understanding her family.
Written with tremendous heart and charisma, The Book of Hidden Wonders is an unforgettable story about growing up, facing mortality and discovering the hidden wonders that make us who we are.
Available at:
Amazon | Barnes & Noble | Google Play | Kobo | Apple Books | Indiebound | Audible | Goodreads
Snow by John Banville
The incomparable Booker Prize winner's next great crime novel—the story of a family whose secrets resurface when a parish priest is found murdered in their ancestral home

Detective Inspector St. John Strafford has been summoned to County Wexford to investigate a murder. A parish priest has been found dead in Ballyglass House, the family seat of the aristocratic, secretive Osborne family.
The year is 1957 and the Catholic Church rules Ireland with an iron fist. Strafford—flinty, visibly Protestant and determined to identify the murderer—faces obstruction at every turn, from the heavily accumulating snow to the culture of silence in the tight-knit community he begins to investigate.
As he delves further, he learns the Osbornes are not at all what they seem. And when his own deputy goes missing, Strafford must work to unravel the ever-expanding mystery before the community's secrets, like the snowfall itself, threaten to obliterate everything.
Beautifully crafted, darkly evocative and pulsing with suspense, Snow is "the Irish master" (New Yorker) John Banville at his page-turning best.
Available at:
Amazon | Barnes & Noble | Google Play | Kobo | Apple Books | Indiebound | Goodreads
Return to Virgin River by Robyn Carr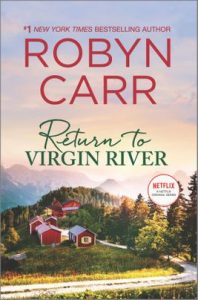 #1 New York Times bestselling author Robyn Carr returns to the beloved town of Virgin River with a brand-new story about fresh starts, new friends and the magic of Christmas.

Kaylee Sloan's home in Southern California is full of wonderful memories of the woman who raised her. But the memories are prolonging her grief over her mother's recent death. A successful author, Kaylee hoped she could pour herself into her work. Instead she has terrible writer's block and a looming deadline.
Determined to escape distractions and avoid the holiday season, Kaylee borrows a cabin in Virgin River. She knows the isolation will help her writing, and as she drives north through the mountains and the majestic redwoods, she immediately feels inspired. Until she arrives at a building that has just gone up in flames. Devastated, she heads to Jack's Bar to plan her next steps. The local watering hole is the heart of the town, and once she crosses the threshold, she's surprised to be embraced by people who are more than willing to help a friend—or a stranger—in need.
Kaylee's world is expanding in ways she never dreamed possible. And when she rescues a kitten followed by a dog with a litter of puppies, she finds her heart opening up to the animals who need her. And then there's the dog trainer who knows exactly how to help her. As the holidays approach, Kaylee's dread turns to wonder. Because there's no better place to spend Christmas than Virgin River.
Available at:
Amazon | Barnes & Noble | Google Play | Kobo | Apple Books | Indiebound | Audible | Goodreads
These Vengeful Hearts by Katherine Laurin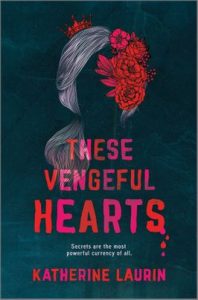 A thrilling novel about a secret society and the dangers that lie in wait for anyone brave enough to join—perfect for fans of Karen M. McManus, Kara Thomas, and Maureen Johnson.
Whenever something scandalous happens at Heller High, the Red Court is the name on everyone's lips. Its members deal out social ruin and favors in equal measure, their true identities known only by their leader: the Queen of Hearts.
Ember Williams has seen firsthand the damage the Red Court can do. Now, she's determined to hold the organization accountable by taking it down from the inside. But will the cost of revenge be more than she's willing to sacrifice?
Available at:
Amazon | Barnes & Noble | Google Play | Kobo | Apple Books | Indiebound | Goodreads
Chance of a Lifetime by Jude Deveraux and Tara Sheets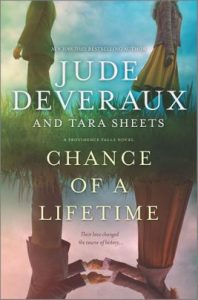 In one century she loved him madly, and in another she wants nothing to do with him

In 1844 Ireland, Liam O'Connor, a rogue and a thief, fell madly in love with a squire's daughter and unwittingly altered the future. Shy and naive Cora McLeod thought Liam was the answer to her prayers. But the angels disagreed and they've been waiting for the right moment in time to step in.
Now Liam finds himself reunited with his beloved Cora in Providence Falls, North Carolina. The angels have given Liam a task. He must make sure Cora falls in love with another man—the one she was supposed to marry before Liam interfered. But this Cora is very different from the innocent girl who fell for Liam in the past. She's a cop and has a confidence and independence he wasn't expecting. She doesn't remember Liam or their past lives, nor is she impressed with his attempts to guide her in any way.
Liam wants Cora for himself, but with his soul hanging in the balance, he must choose between a stolen moment in time or an eternity of damnation.
Available at:
Amazon | Barnes & Noble | Google Play | Kobo | Apple Books | Indiebound | Audible | Goodreads
Confessions on the 7:45 by Lisa Unger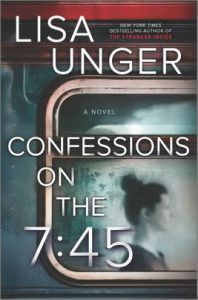 From master of suspense Lisa Unger comes a riveting thriller about a chance encounter that unravels a stunning web of lies and deceit.
Be careful to whom you tell your darkest secrets…
Selena Murphy is commuting home from her job in the city when the train stalls out on the tracks. She strikes up a conversation with a beautiful stranger in the next seat, and their connection is fast and easy. The woman introduces herself as Martha and confesses that she's been stuck in an affair with her boss. Selena, in turn, confesses that she suspects her husband is sleeping with the nanny. When the train arrives at Selena's station, the two women part ways, presumably never to meet again.
But days later, Selena's nanny disappears.
Soon Selena finds her once-perfect life upended. As she is pulled into the mystery of the missing nanny, and as the fractures in her marriage grow deeper, Selena begins to wonder, who was Martha really? But she is hardly prepared for what she'll discover.
Expertly plotted and reminiscent of the timeless classic Strangers on a Train, Confessions on the 7:45 is a gripping thriller about the delicate facades we create around our lives.
Available at:
Amazon | Barnes & Noble | Google Play | Kobo | Apple Books | Indiebound | Audible | Goodreads
Daughters of the Wild by Natalka Burian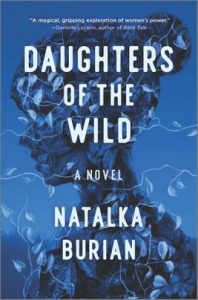 "A gorgeous, different, and completely engrossing book. Burian's writing is transporting — and exactly what I needed right now."
— Jessica Valenti, author of Sex Object: A Memoir
In rural West Virginia, Joanie and her foster siblings live on a farm tending a mysterious plant called the vine. The older girls are responsible for cultivating the vine, performing sacred rituals to make it grow. After Joanie's arranged marriage goes horribly wrong, leaving her widowed and with a baby, she plots her escape with the help of her foster brother, Cello.
But before they can get away, her baby goes missing and Joanie, desperate to find him, turns to the vine, understanding it to be far more powerful than her siblings realize. She begins performing generations-old rituals to summon the vine's power and goes on a perilous journey into the wild, pushing the boundaries of her strength and sanity to bring her son home.
Daughters of the Wild is an utterly absorbing debut that explores the female mind in captivity and the ways in which both nature and women fight domination. Like The Bell Jar set in rural Appalachia, Daughters of the Wild introduces a fierce new heroine and a striking new voice in fiction.
Available at:
Amazon | Barnes & Noble | Google Play | Kobo | Apple Books | Indiebound | Audible | Goodreads
The Lady from the Black Lagoon by Mallory O'Meara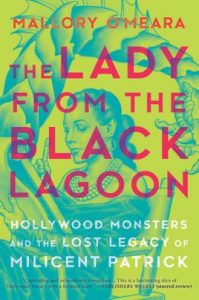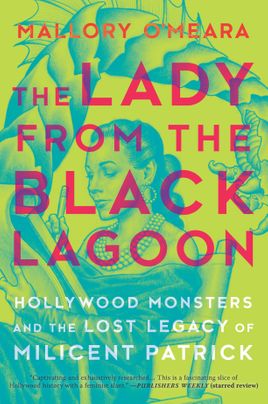 2019 SCIBA Book Award Winner for Biography
The Lady from the Black Lagoon uncovers the life and work of Milicent Patrick—one of Disney's first female animators and the only woman in history to create one of Hollywood's classic movie monsters
As a teenager, Mallory O'Meara was thrilled to discover that one of her favorite movies, Creature from the Black Lagoon, featured a monster designed by a woman, Milicent Patrick. But for someone who should have been hailed as a pioneer in the genre, there was little information available. For, as O'Meara soon discovered, Patrick's contribution had been claimed by a jealous male colleague, her career had been cut short and she soon after had disappeared from film history. No one even knew if she was still alive.
As a young woman working in the horror film industry, O'Meara set out to right the wrong, and in the process discovered the full, fascinating story of an ambitious, artistic woman ahead of her time. Patrick's contribution to special effects proved to be just the latest chapter in a remarkable, unconventional life, from her youth growing up in the shadow of Hearst Castle, to her career as one of Disney's first female animators. And at last, O'Meara discovered what really had happened to Patrick after The Creature's success, and where she went.
A true-life detective story and a celebration of a forgotten feminist trailblazer, Mallory O'Meara's The Lady from the Black Lagoon establishes Patrick in her rightful place in film history while calling out a Hollywood culture where little has changed since.
Available at:
Amazon | Barnes & Noble | Google Play | Kobo | Apple Books | Indiebound | Audible | Goodreads
The Orphan of Cemetery Hill by Hester Fox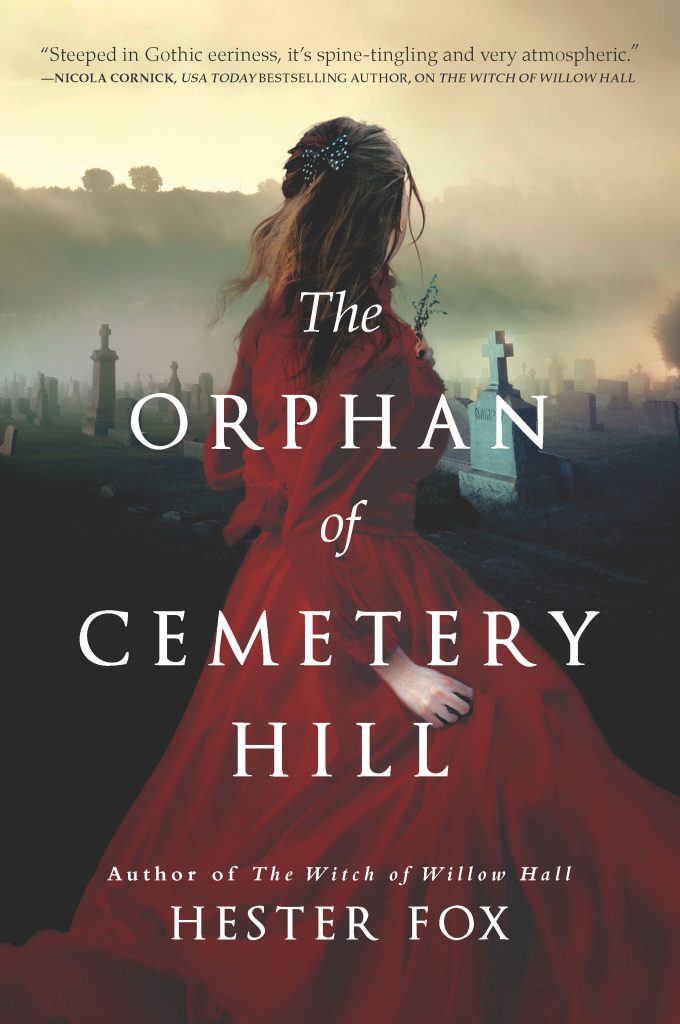 The dead won't bother you if you don't give them permission.

Boston, 1844.
Tabby has a peculiar gift: she can communicate with the recently departed. It makes her special, but it also makes her dangerous.
As an orphaned child, she fled with her sister, Alice, from their charlatan aunt Bellefonte, who wanted only to exploit Tabby's gift so she could profit from the recent craze for seances.
Now a young woman and tragically separated from Alice, Tabby works with her adopted father, Eli, the kind caretaker of a large Boston cemetery. When a series of macabre grave robberies begins to plague the city, Tabby is ensnared in a deadly plot by the perpetrators, known only as the "Resurrection Men."
In the end, Tabby's gift will either save both her and the cemetery—or bring about her own destruction.
Available at:
Amazon | Barnes & Noble | Google Play | Kobo | Apple Books | Indiebound | Audible | Goodreads
Toil & Trouble by Jessica Spotswood and Tess Sharpe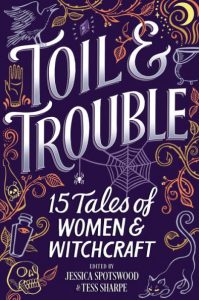 Scorn the witch. Fear the witch. Burn the witch.
History is filled with stories of women accused of witchcraft, of fearsome girls with arcane knowledge. Toil & Trouble features fifteen stories of girls embracing their power, reclaiming their destinies and using their magic to create, to curse, to cure—and to kill.
A young witch uses social media to connect with her astrology clients—and with a NASA-loving girl as cute as she is skeptical. A priestess of death investigates a ritualized murder. A bruja who cures lovesickness might need the remedy herself when she falls in love with an altar boy. A theater production is turned upside down by a visiting churel. In Reconstruction-era Texas, a water witch uses her magic to survive the soldiers who have invaded her desert oasis. And in the near future, a group of girls accused of witchcraft must find their collective power in order to destroy their captors.
This collection reveals a universal truth: there's nothing more powerful than a teenage girl who believes in herself.
Available at:
Amazon | Barnes & Noble | Google Play | Kobo | Apple Books | Indiebound | Goodreads
What books are on your fall TBR list? Let us know in the comments below.