Looking for an escape from the mundane of every day? Retreat with these sweet romance books from the likes of Lori Foster, Maisey Yates, Sarah Morgan and more! We promise you're going to fall in love with them.
The Somerset Girls by Lori Foster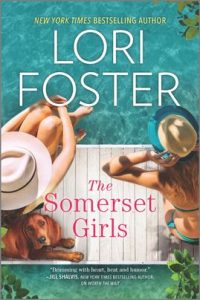 No one knows you quite like a sister…
Summer in Sunset, Kentucky, means long, hot days—and sometimes surprising new beginnings. Through it all, the ties of sisterhood will be there, guiding Autumn and Ember to the lives, and loves, they need…
When they're running the animal-rescue farm they inherited from their grandparents, Autumn and Ember Somerset are perfectly in sync. At all other times, not so much. Dependable Autumn would rather curl up with a good book than paint the town red with Ember. After the disaster that was Autumn's last relationship, it's pure self-protection. But when her high school crush comes back to town with his adorable young daughter, igniting memories best left forgotten, there's only one person Autumn can turn to…
Beneath Ember's free-spirited facade is a layer of deep hurt. She'll gladly nudge Autumn toward a second chance. But risk her own heart? Not likely. The closer Autumn gets to her own happily-ever-after, the more Ember wonders what she might be missing—and if it isn't her time to be bold, too.
Available at:
Amazon | Barnes & Noble | Google Play | Kobo | Apple Books | Indiebound | Audible | Goodreads
The Summer Set by Aimee Agresti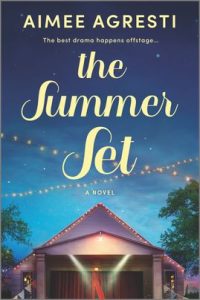 The best drama happens offstage in this undeniably charming novel about an idyllic summer theater where hot stars, has-beens and hopefuls chase roles—and each other.
Charlie Savoy was once Hollywood's hottest A-lister. Now, ten years later, she's pushing forty, exiled from the film world and back at the summer Shakespeare theater in the Berkshires that launched her career—and where her old flame, Nick, is the artistic director.
It's not exactly her first choice. But as parts are cast and rehearsals begin, Charlie is surprised to find herself getting her groove back, bonding with celebrity actors, forging unexpected new friendships and even reigniting her spark with Nick, who still seems to bring out the best in her despite their complicated history.
Until Charlie's old rival, Hollywood's current It Girl, is brought on set, threatening to undo everything she's built. As the drama amps up both on the stage and behind the curtains, Charlie must put on the show of a lifetime to fight for the second chance she deserves in career and in love.
Available at:
Amazon | Barnes & Noble | Google Play | Kobo | Apple Books | Indiebound | Audible | Goodreads
Family for Beginners by Sarah Morgan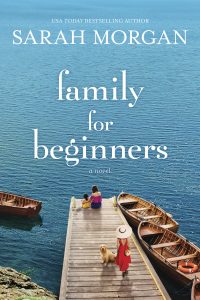 USA TODAY bestselling author Sarah Morgan returns with a life-affirming exploration of love, loss, and how families come in all shapes and sizes…
New York florist Flora Donovan is living the dream, but her bubbly optimism hides a secret. She's lonely. Orphaned as a child, she's never felt like she's belonged anywhere…until she meets Jack Parker. He's the first man to ever really see her, and it's life changing.
Teenager Izzy Parker is holding it together by her fingertips. Since her mother passed away a year ago, looking after her dad and little sister is the only thing that makes Izzy feel safe. Discovering her father has a new girlfriend is her worst nightmare—she is not in the market for a replacement mom. Then her father invites Flora on their summer vacation…
Flora's heart aches for Izzy, but she badly wants her relationship with Jack to work. As the summer unfolds, Flora must push her own boundaries to discover parts of herself she never knew existed—and to find the family she's always wanted.
Available at:
Amazon | Barnes & Noble | Google Play | Kobo | Apple Books | Indiebound | Audible | Goodreads
Secrets from a Happy Marriage by Maisey Yates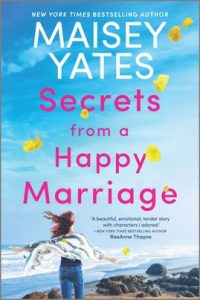 New York Times bestselling author Maisey Yates's new novel introduces the women of the Lighthouse Inn B&B. They might not have it all together, but this summer, they'll discover that together, they might still have it all…
Rachel Henderson's family is falling apart. Becoming a widow—especially at this age—is heartbreaking. With her teenage daughter, Emma, leaving soon for college, Rachel needs a friend—but local diner owner Adam is the last person she ever thought she'd lean on.
From the outside, her little sister, Anna, has a picture-perfect marriage. But the weight of it is suffocating her. The only way for her to breathe again comes at a high price, one she's not so sure she can pay.
After raising two daughters on her own, their mother, Wendy, knows just how hard life can be. She's done things she's not proud of, things she desperately wants to keep from her girls—until keeping quiet is no longer an option.
As long-held secrets bubble up and their old lives unravel, this family will need all their strength to start again and open their hearts up to the possibility of more. But most of all, they'll need each other…
Available at:
Amazon | Barnes & Noble | Google Play | Kobo | Apple Books | Indiebound | Audible | Goodreads
The Secret of You and Me by Melissa Lenhardt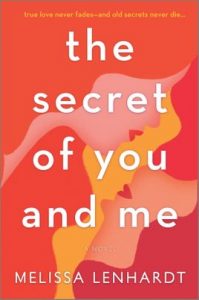 True love never fades—and old secrets never die…
Nora hasn't looked back. Not since she fled Texas to start a new life. Away from her father's volatile temper and the ever-watchful gaze of her claustrophobically conservative small town, Nora has freed herself. She can live—and love—however she wants. The only problem is that she also left behind the one woman she can't forget. Now tragedy calls her back home to confront her past—and reconcile her future.
Sophie seems to have everything—a wonderful daughter, a successful husband and a rewarding career. Yet underneath that perfection lies an explosive secret. She still yearns for Nora—her best friend and first love—despite all the years between them. Keeping her true self hidden hasn't been easy, but it's been necessary. So when Sophie finds out that Nora has returned, she hopes Nora's stay is short. The life she has built depends on it.
But they both find that first love doesn't fade easily. Memories come to light, passion ignites and old feelings resurface. As the forces of family and intolerance that once tore them apart begin to reemerge, they realize some things may never change—unless they demand it.
Available at:
Amazon | Barnes & Noble | Google Play | Kobo | Apple Books | Indiebound | Audible | Goodreads
What's the best romance book you've read recently? Let us know in the comments below!