Friendship is so important—now more than ever. Did you know that July 30 was International Friendship Day? In honor of this great day, we've rounded up six books that show us how amazing friends can stick together through thick and thin.
The Friendship List by Susan Mallery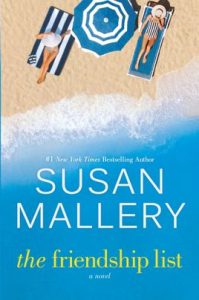 Ellen and Unity are such close friends they are practically sisters!
[ ] Dance till dawn

[ ] Go skydiving

[ ] Wear a bikini in public

[ ] Start living

Two best friends jump-start their lives in a summer that will change them forever…Single mom Ellen Fox couldn't be more content—until she overhears her son saying he can't go to his dream college because she needs him too much. If she wants him to live his best life, she has to convince him she's living hers.
So Unity Leandre, her best friend since forever, creates a list of challenges to push Ellen out of her comfort zone. Unity will complete the list, too, but not because she needs to change. What's wrong with a thirtysomething widow still sleeping in her late husband's childhood bed?
The Friendship List begins as a way to make others believe they're just fine. But somewhere between "wear three-inch heels" and "have sex with a gorgeous guy," Ellen and Unity discover that life is meant to be lived with joy and abandon, in a story filled with humor, heartache and regrettable tattoos.
Available at:
Amazon | Barnes & Noble | Google Play | Kobo | Apple Books | Indiebound | Audible | Goodreads
The Book Club by Mary Alice Monroe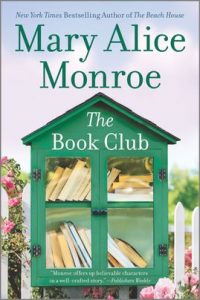 On the surface, it is a monthly book club. But for five women, it is so much more.
For Eve Porter, whose husband's sudden death cheats her of every security she had planned on, the club is a place of sanctuary. For Annie Blake, a brilliant attorney intent on starting a family late in life, it is the chance to finally let down her guard and dream of other possibilities. For Doris Bridges, it is her support group as she acknowledges her dying marriage and finds the ultimate freedom in her husband's betrayal. For Gabriella Rivera, the "perfect" wife, mother and friend who offers support to everyone but is afraid to ask for it herself, it is a sense of community. And for Midge Kirsch, an artist who has always lived her life against the grain, it is a haven of acceptance.
They are five women from different walks of life, embracing the challenge of change. And as they share their hopes and fears and triumphs, they will hold fast to the true magic of the book club—friendship.
Available at:
Amazon | Barnes & Noble | Google Play | Kobo | Apple Books | Indiebound | Goodreads
Saving Ruby King by Catherine Adel West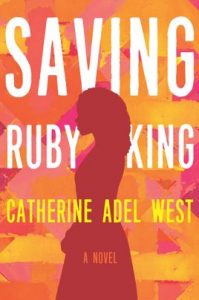 Family. Faith. Secrets. Everything in this world comes full circle.
When Ruby King's mother is found murdered in their home in Chicago's South Side, the police dismiss it as another act of violence in a black neighborhood. But for Ruby, it's a devastating loss that leaves her on her own with her violent father. While she receives many condolences, her best friend, Layla, is the only one who understands how this puts Ruby in jeopardy.
Their closeness is tested when Layla's father, the pastor of their church, demands that Layla stay away. But what is the price for turning a blind eye? In a relentless quest to save Ruby, Layla uncovers the murky loyalties and dangerous secrets that have bound their families together for generations. Only by facing this legacy of trauma head-on will Ruby be able to break free.
An unforgettable debut novel, Saving Ruby King is a powerful testament that history doesn't determine the present and the bonds of friendship can forever shape the future.
Available at:
Amazon | Barnes & Noble | Google Play | Kobo | Apple Books | Indiebound | Audible | Goodreads
The Summer List by Amy Mason Doan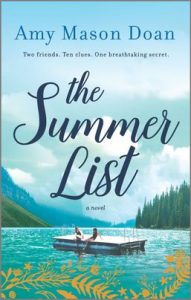 In the tradition of Judy Blume's Summer Sisters, The Summer List is a tender yet tantalizing novel about two friends, the summer night they fell apart, and the scavenger hunt that reunites them decades later—until the clues expose a breathtaking secret…
Named a Best Book of Summer by PopSugar, Coastal Living, Family Circle, and The Globe & Mail
Laura and Casey were once inseparable: as they floated on their backs in the sunlit lake, as they dreamed about the future under starry skies, and as they teamed up for the wild scavenger hunts in their small California lakeside town. Until one summer night, when a shocking betrayal sent Laura running through the pines, down the dock, and into a new life, leaving Casey and a first love in her wake.
But the past is impossible to escape, and now, after seventeen years away, Laura is pulled home and into a reunion with Casey she can't resist—one last scavenger hunt. With a twist: this time, the list of clues leads to the settings of their most cherished summer memories. From glistening Jade Cove to the vintage skating rink, each step they take becomes a bittersweet reminder of the friendship they once shared. But just as the game brings Laura and Casey back together, the clues unravel a stunning secret that threatens to tear them apart…
Mesmerizing and unforgettable, Amy Mason Doan's The Summer List is about losing and recapturing the person who understands you best—and the unbreakable bonds of girlhood
Available at:
Amazon | Barnes & Noble | Google Play | Kobo | Apple Books | Indiebound | Goodreads
East Coast Girls by Kerry Kletter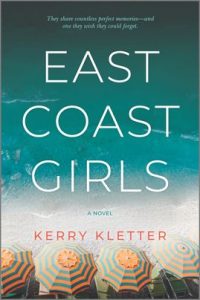 Childhood friends Hannah, Maya, Blue and Renee share a bond that feels more like family. Growing up, they had difficult home lives, and the summers they spent together in Montauk were the happiest memories they ever made. Then, the summer after graduation, one terrible night changed everything.
Twelve years have passed since that fateful incident, and their sisterhood has drifted apart, each woman haunted by her own lost innocence. But just as they reunite in Montauk for one last summer, hoping to find happiness once more, tragedy strikes again. This time it'll test them like never before, forcing them to confront decisions they've each had to live with and old secrets that refuse to stay buried.
Available at:
Amazon | Barnes & Noble | Google Play | Kobo | Apple Books | Indiebound | Audible | Goodreads
Home Front Girls by Suzanne Hayes and Loretta Nyhan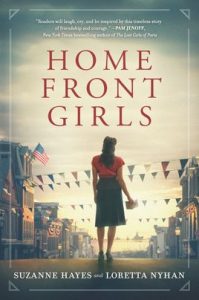 Dear Glory,
Loneliness is built into the fabric of this war, isn't it? I say a little prayer before I stick my hand in the mailbox. The "Rockport, Massachusetts" stamp on the front of an envelope means the clouds will part, revealing a brilliant sun….
It's January 1943 when Rita Vincenzo receives her first letter from Glory Whitehall. Glory is an effervescent young mother from New England, impulsive and free as a bird. Rita is a Midwestern professor's wife with a love of gardening and a generous, old soul. These two women have nothing in common except one powerful bond: the men they love are fighting in a war a world away from home.
Brought together by an unlikely twist of fate, Glory and Rita begin a remarkable correspondence. The friendship forged by their letters allows them to survive the loneliness and uncertainty of waiting on the home front, and gives them the courage to face the battles raging in their very own backyards. Connected across the country by the lifeline of the written word, each woman finds her life profoundly altered by the other's unwavering support.
Filled with unforgettable characters and unbridled charm, Home Front Girls is a timeless celebration of the strength and solidarity of women. It is a luminous reminder that even in the darkest of times, true friendship will carry us through.
Available at:
Amazon | Barnes & Noble | Google Play | Kobo | Apple Books | Indiebound | Goodreads
Share one of these books with your friends and let us know how it goes!